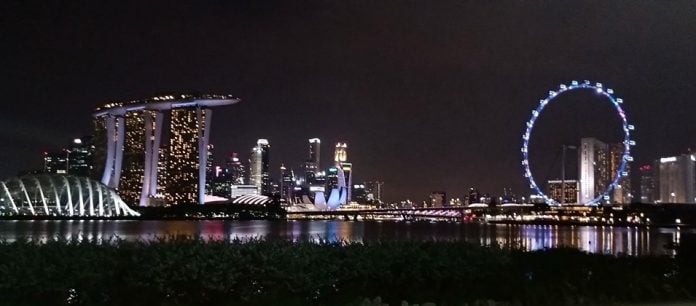 This is my first time participating in the CSC Run. I had previously read many good comments regarding this race. Hence, this year I decided to take part in the event on 12 Oct at the Gardens By the Bay East (GBBE). In addition, this was a nice run up before the Standard Chartered Singapore Marathon and I had the intention to use this race to gauge my fitness level to progress beyond 21 km. It certainly has not been easy training for the full marathon because I got to stop during runs to address my knee pain.
Race Day
It started to drizzle at 3.30 pm in the afternoon. I was wondering if the race would still carry on. There was no mention of cancellation in the event facebook. Fortunately the rain stopped by 4.30 pm. I took the train and alighted at Stadium MRT, taking a slow walk to the event site. As I walked on, I saw Soh Rui Yong doing his warm-up run along the Tanjong Rhu Promenade Park Connector. I wish him well.
There were quite a number of activities lined up, such as Pilates and stretching exercises. A booth called The Mix Bar provided complimentary drinks and there was a small bouncy castle for kids.
The 21 km runners were flagged off at 5.45 pm. There were 3 phases to the run route, according to how I perceived it. The first phase brought the runners to Marina East Drive and East Coast Park (ECP). We U turned after a short distance into ECP and headed back towards GBBE.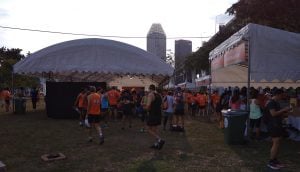 This was where a small confusion occurred. At GBBE, we were required to enter the event site in order to re-run the GBBE Park Connector towards Marina Barrage. Although this was highlighted in the route map, I thought it wasn't very clearly indicated. There was also no crew on ground to guide runners towards the right direction. Hence, I was not surprised to see some runners stopped, looking lost and trying to find the correct way.
The second phase took the runners to Gardens By The Bay (GBB), Marina Bay Sands (MBS) and Downtown Singapore. As it was the weekend, there were many visitors and the pathway became slightly congested due to the influx of runners. Also, I felt the GBB and MBS were not conducive places for night running as these places were not brightly lit. The stretch of roads along Downtown were not broad enough for so many runners running together at the same time.
The third phase took the runners to F1 Pit, Kallang Riverside Park and finished back at GBBE. I had been to these places and somehow I find them, as in phase 2, more suitable for a day run.
I managed to complete the race within 3 hrs. Though I did not hit a PB, I had deliberately  run at a slower and comfortable pace to assess if I still had the 'energy' to progress beyond 21 km.
I rested a while before taking the shuttle service back to Sports Hub.
Comments
1) Hydration stations were sufficient, at approximately every 2 km. However, cups were  depleted at most stations after 10 km.
2) Event organizer Metasport usually engages Finisherpix to take race photos. While many moments were captured, I do mind paying for these photos since we had paid quite a price for the race. The event organizer or owner should have been more generous and upload the photos for free.
3) The design of the medal looks like a water droplet. I think there is little correlation to the race. Or was there a theme which I was not aware of?
4) I feel by virtue of its race routes, this event is more suited for a day race. Perhaps a "spectacular sunrise race" next year?