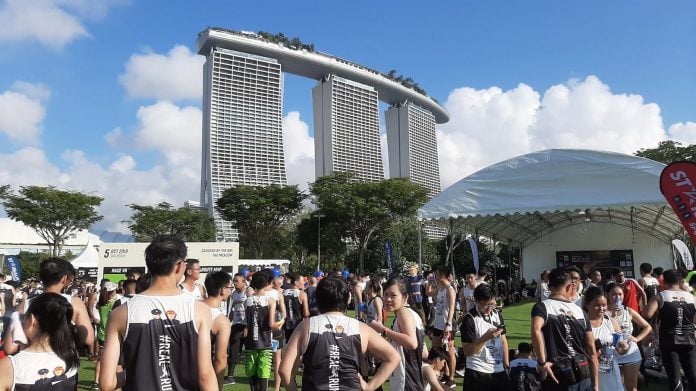 This is my first time taking part in HomeTeamNS Real Run. It is an annual run organised by HomeTeamNS. Thank you JustRunLah! for the race slot.
The race was held at The Meadow, Gardens By The Bay on Saturday, 5th October 2019 and flagged off at 7.00 am in waves.
I arrived pretty early at around 6.15 am and many runners had already arrived. I saw many NS men took part in the run. Baggage deposit was available. I did not hear any announcements to gather runners at the starting pen and missed the first wave. The starting and finishing arch was put on the wrong side. At the start, you see the word 'Finish' and at the finish, you see the word 'Start'.
SCDF sprayed water into the sky at the starting line when runners were crossing, making everybody wet. But it was quite an interesting start. We ran around Gardens by the Bay towards Marina Barrage, Gardens by the Bay East and made a U-turn at Tanjong Rhu Promenade. It was a scenic route and the usual training ground for many runners.
Hydration stations were available throughout the route but I only drank at the first station and skipped the others. They served cold Pocari Sweat and Water.
I was running with pain in my left foot and did not have any expectations in terms of timing and just did the best I could. I finished at 1:11 on my watch and was quite satisfied, even though it was not my best time.
Upon finishing, I had to queue for about 5 – 8 minutes to get the finisher entitlements. I was not sure what was the reason for this queue as I seldom encountered this situation. I received a can of Pocari Sweat, a banana, medal and finisher tee.
At the race village, there was a Starbalm massage booth, Pocari Sweat photo booth, hydration, various games available such as shooting, archery, etc. As I needed to rush back home to bring my child to her tuition centre, I did not stay around for long and quickly left.
Other than the minor issues highlighted, the race was well-organised and I enjoyed the run. Well done HomeTeamNS!