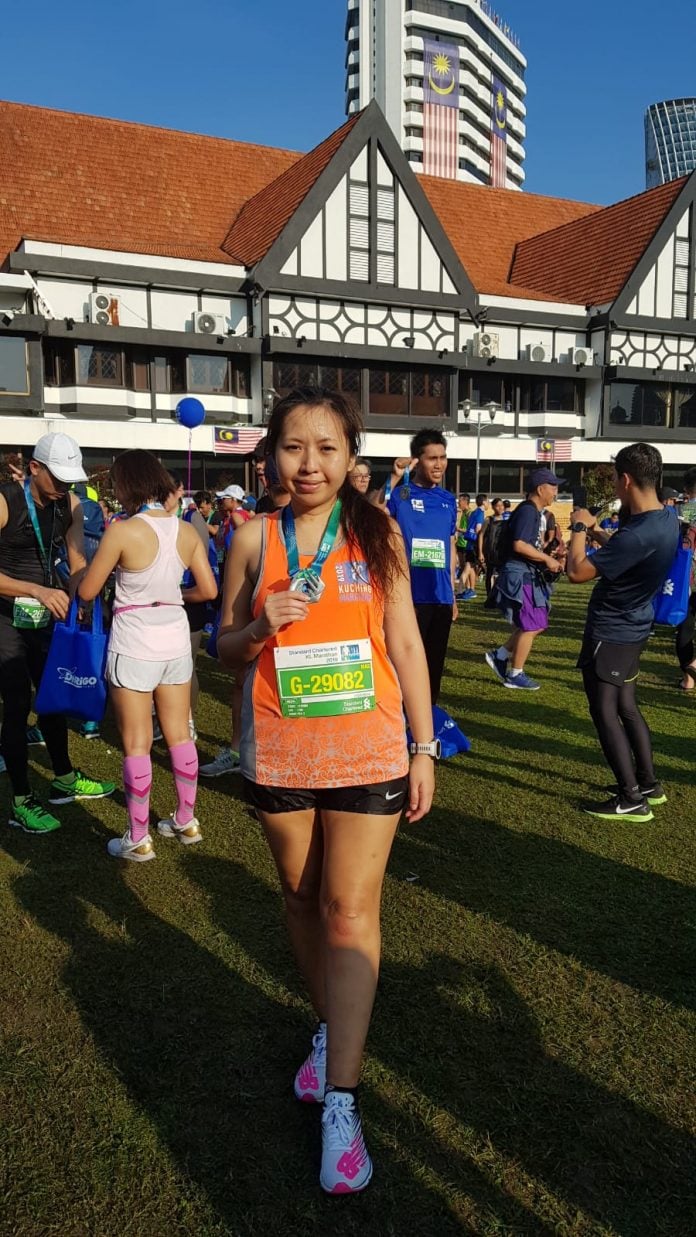 A few days before SCKLM I thought haze seems gone and it looks safe to say the race may carry on and indeed race did went ahead and it's really lucky as the previous week many races around Malaysia was cancelled due to haze. But just two days before race, it wasn't so lucky for me. On Friday early morning when the sky still dark dark I very hardworking went for a run, then tripped on a tree root that protrudes out from the pavement and I flew for three seconds in the air then piak on the floor with 2 knees and 2 palms down 😭 It felt like a three seconds fall as I have the time to scold myself before I found myself on the ground. I do need a pair of glasses actually so pardon me if I didn't say hi first as I can't recognise you unless you are just 5 centimetres near 😆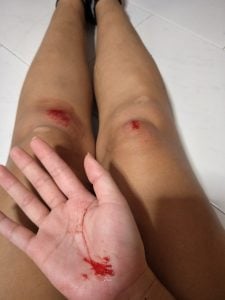 To consider the amount of days I run compared to the number of times I fell and injured myself during a run, after doing some PSLE maths calculation is an estimation of perhaps just 0.3% 😙 Not that bad though. At least there's no strain or sprain. At least nobody saw. Damn, I'm good at consoling myself 😂 It's not a light fall so I sat aside to make sure other than the bleeding parts I am not nauseous or giddy before I go wash up.
Didn't attend any first aid course before but well, it's not the first time I had a fall 😂 When I was 12, I had a very bad fall and I consulted a GP because I vomited after that fall. After that went to the nurses for a couple of times for dressing till I feel that I'm rather good at handling minor wounds and be able to do some simple dressing myself. So I cleaned my wound and make sure no more soil or debris or hair which I found on my wounds remains there 😫 Fortunately, my wound is healing well now.
This was my 4th SCKLM, Willis and I ran the half marathon category. It was guaranteed slots for us as we were past participants. We collected our race pack on Saturday at Putra World Trade Centre where the race expo was held. It was rather out of the way and I prefer it to be at the location near Petronas Twin Tower. It's a long but fast moving queue for collection of bib and singlet/tee and we were out shortly. It's also the day for kids dash and the 5km race and friendship run as well whereas the rest of the categories flags off the next day.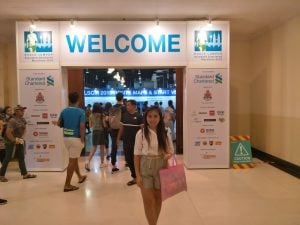 Don't say bo jio, there's 7 Standard Chartered Marathons on Earth. In Singapore, Malaysia, Hong Kong, Taipei, Dubai, Jersey and Nairobi. I've so far ran in 3 countries and I think this would be the sequence I hope to complete all the 7 SCM if I were to complete the whole series 😊 If got a special medal or something like the Abott WMM I might be motivated to complete all the 7 SCM. Hong Kong for the next year have to consider wisely for those who wants to go as protests is still ongoing. Taipei's Standard Chartered Marathon registration for January 2020 is now opened 😏
On race day, Willis and I walked to the race site near to our stay at Space Hotel. It's very interesting as we sleeps inside a capsule designed like space capsule. It's an awesome stay and it's cheap, will definitely want to stay there again as it's clean, I had good sleeps and it's a comfortable stay. I give it 2 thumbs up! 😍 It's also just about a 5 minutes walk to Dataran Merdeka the race venue.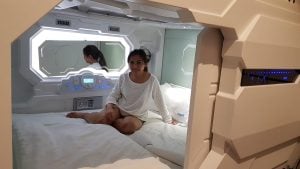 Flag off was on time at 5.30am. It was a great morning without haze. Not sure of the temperature but it's Malaysia and there's no winter here. I got all sweaty and wet by the first few km.
Sibeh sian 1/2, it's the time of the month for me again. Comparing the pain ratio of my wound from the fall to the pain from dysmenorrhea is 2:7. Think I will just cry father cry mother all the way till I hit menopause maybe? 😂 Well, the correct thing to do ladies, is to visit the gynaecologist and find the cause and solve the problem.
As usual, the pampered me got Willis to run the entire distance with me except for that 2 to 3km when he went to the portable toilet and catch up with me shortly. Then it's my turn for the toilet, I went twice 🐒 The toilet on the expressway after the toll was really a heaven compared to the portable toilet which I can faint 😖 But no choice I gotta use the toilet so I just train my legs like a kungfu half-squat 😂 Willis waited for me. I'm an injured person so I have the privilege to run first while he catch up 😆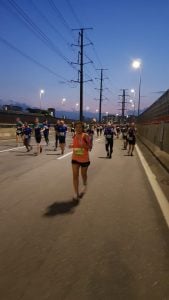 I think that about 3/4 of the route is running on the expressway so not really much to sightsee. There's many upslopes as well but still manageable for me as it's a rather lazy run for me as my average heart rate was rather low and I only have a total of 5 minutes in zone 4 and 5. Not every race must chiong, when the time not right just enjoy the race and complete will be good enough. Since I wasn't feeling well, shouldn't torture myself. Not worth to take my health and life up for a gamble.
Unfortunately, there was an accident of hit and run and the injured runners was sent to the hospital. It was a rented car and the driver was arrested as the car rental company lodge a police report.
About every 2km there's hydration point off carbonated 100 Plus and Plain water but I aim for the cold ones which the volunteers just freshly poured 😂 Not cold not shiok lah! 😆 Also, I took cold sponges and enjoyed the bananas.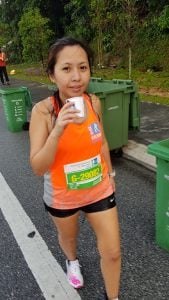 Something new this year was that the aid station provides ice cubes inside surgical gloves 😍 It's for icing purpose lah but I put one of the ice cube inside my mouth hoping the hygiene was alright then held it in my neck to cool myself 😆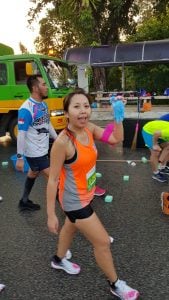 Like always, very soon Willis and I were finishing the race. Like always, the last km is full of supporters and photographers. The spirit was high and shortly we are collecting our finisher entitlements. A pretty finisher medal and a cold can of 100 Plus, a banana and a pear. There's mostly the booths from the race expo at the race village as well but Willis and I left immediately as we have plans for a day trip to go Genting Highlands for sight seeing.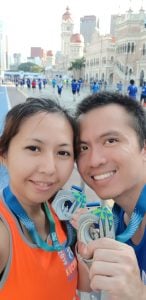 I will want to run SCKLM again next year as it's like a short vacation away from the hectic life in Singapore and KL is quite convenient to get to from Singapore. Though it's my 4th year at KL, every year there's different tourist attractions to go to and I still have places in KL I want to visit 😊