"We Run the World" – These are really inspiring and empowering words from this year's SHAPE Run. SHAPE Run is the leading all-women's race in Singapore since it first started in 2006 and has been attracting runners of all levels and all walks of life. The last time that I joined this event was in 2016 and that was a fun experience itself too.
I love SHAPE Run and like every year, they lift up to their reputation of impeccable event organisation, on-trend sponsors, exciting fringe activities and high-value goodie bags!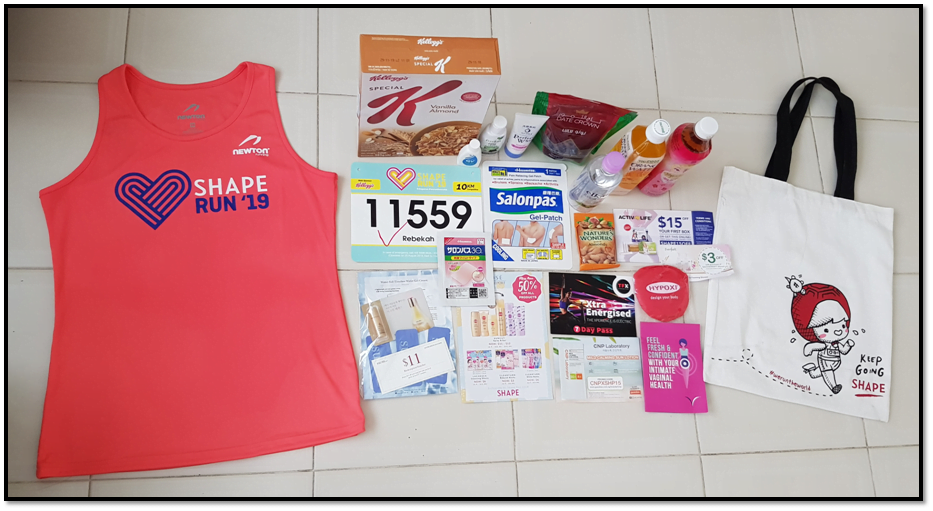 Speaking of goodie bags, this year goodie bag was as good as the previous years. There were soooo many goodies inside like a box of Kelloggs Special K cereal, various skincare products, bottled drinks and a packet of dates. The Ang Ku Kway Girl design of the tote bag was soooo cute and is definitely Instagrammable.
GETTING TO RACE SITE
This year SHAPE Run took place at the Kallang Practice Track. My bestie, Cheng Yee (CY) and I took part in the 10KM category which flagged off at 06:45hrs. Both of us had opted to take the shuttle bus service provided by Share Transport to the race site. Share Transport is a "bus pooling" app and purchasing of tickets via the app are very simple and efficient. Cost-wise, it was $7 for a very comfortable and convenient ride. Both of us reached the race site on good time, giving us ample time to do our bag drop, visit the toilet and take part in the mass warm-up.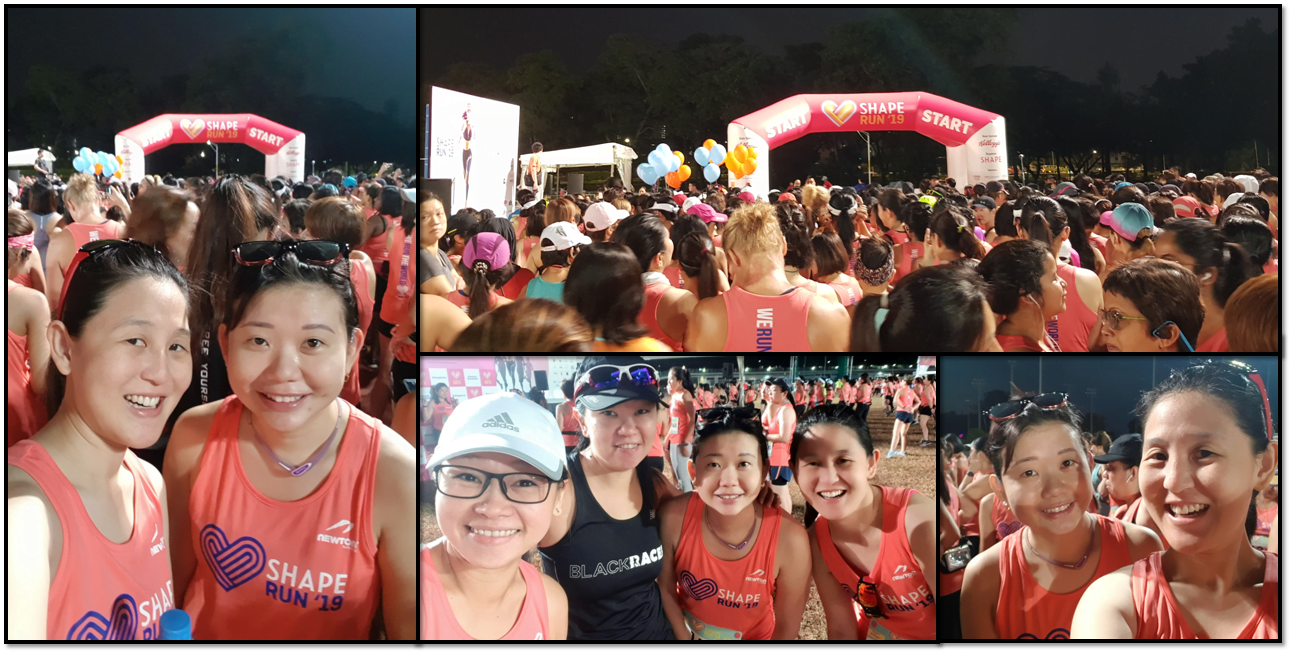 RACE SITE
The Kallang race track was buzzing with activity even though it's like 06:00hrs! Bag drop was fast and efficient. CY and I decided to join in the mass warm-up which was conducted by TFX instructors. Catchy music and simple aerobics moves definitely set the tone for the run. It kind of reminded me of my times when I used to attend Hi-Lo class at the gym. Conducting the warm-up at the main stage area instead of inside the START pen was a fantastic move by the organisers. There was definitely more space to move around and I could see the participants enjoying themselves doing the moves and getting hyped up for the run.
RACE
The race was flagged off promptly at 06:45hrs and all of us headed off past the START Line and to our race. The 1st KM was a bit congested due to the narrow roads but thereafter it spread out. The route brought us along Nicoll Highway, Kallang basin, Rocher River and back to the Kallang Practice Track. I have not attended run events that took us by this route so it was a pleasant change in scenery.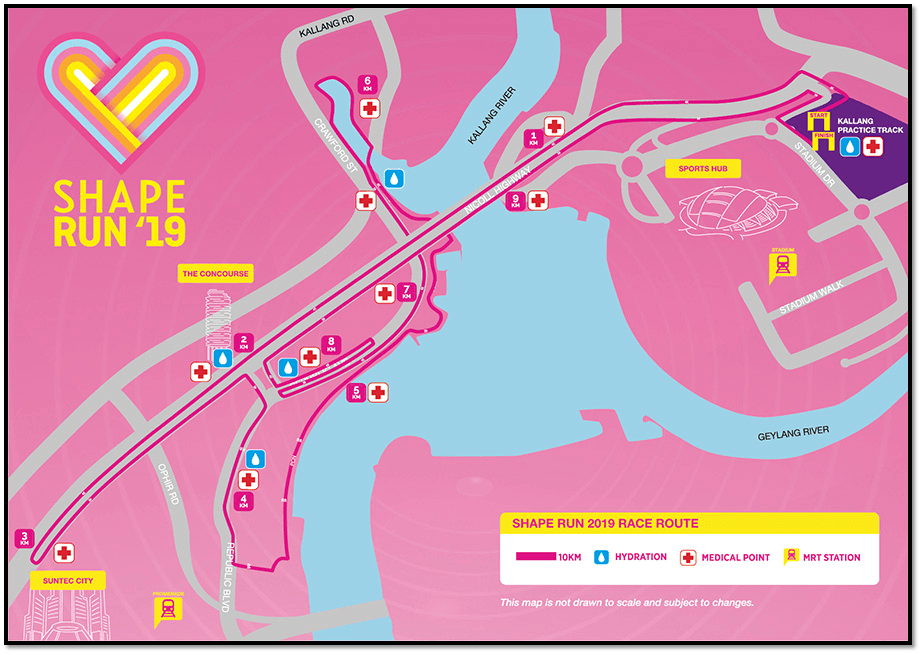 For this year, they had an all ladies pacer team and my dear Xiao Mei, Rachel got selected to be a pacer for the 80 minutes group. I was hoping not to fall too far behind and did my best to keep ahead of the 1hr 15 mins pacers.
Though I had carried a water bottle with me while running, I noted there were sufficient water points along the way and they were positioned strategically along the route and with cold water and 100 plus which was a welcome treat for all!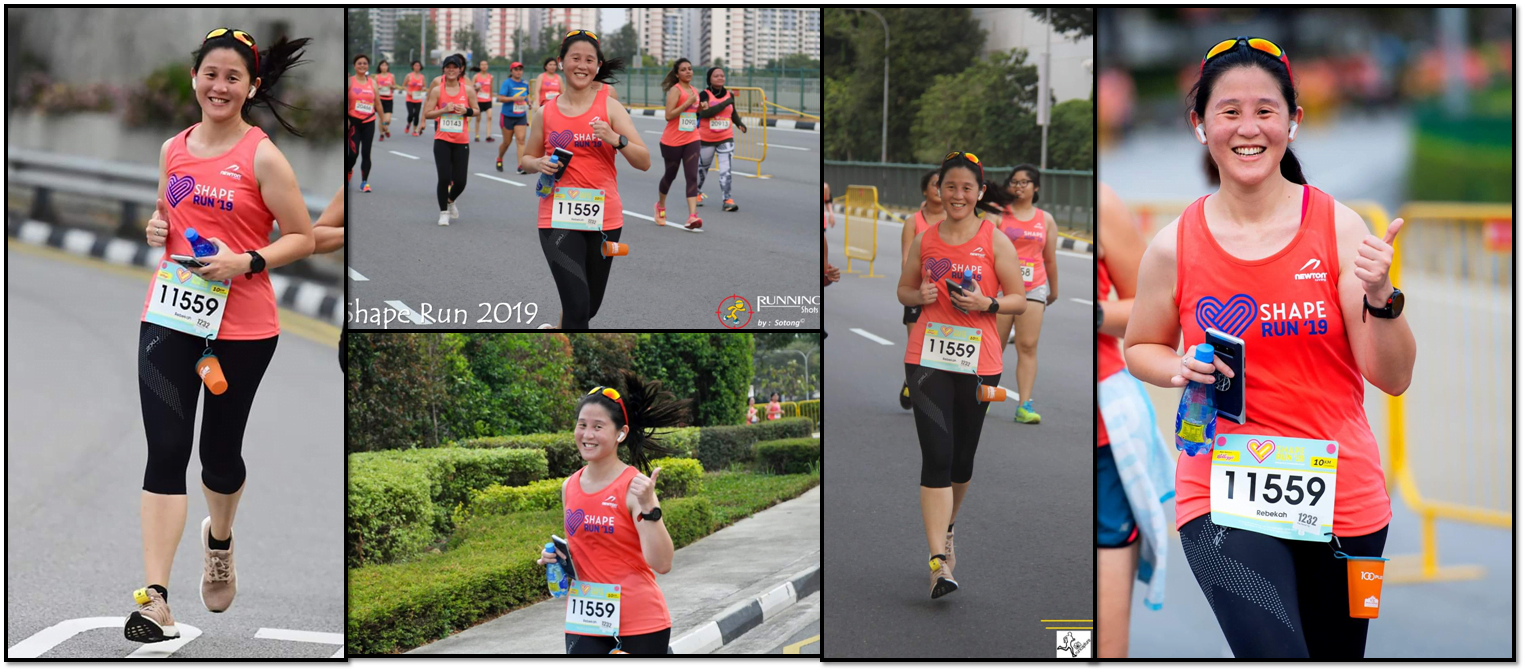 There were lots of photographers along the way and flashing that smile was a great way to take your mind off the monotony of the run. A big thank you to you guys ( Terence Ang, Dave Poh, RunCapture, Running Shots and Run Photo Run Gallery) for capturing these wonderful race moments. Check out some of my favourite shots (above)!

Overall I enjoyed this year edition of the SHAPE Run. They never fail to provide an awesome experience for their participants! Kudos to all who made this event a successful one.
REVIEW OVERVIEW

Getting to Race Site
Race Site Festivities and Facilities
Race Organisation
Race Route
Race Pack Goodie Bag

SUMMARY