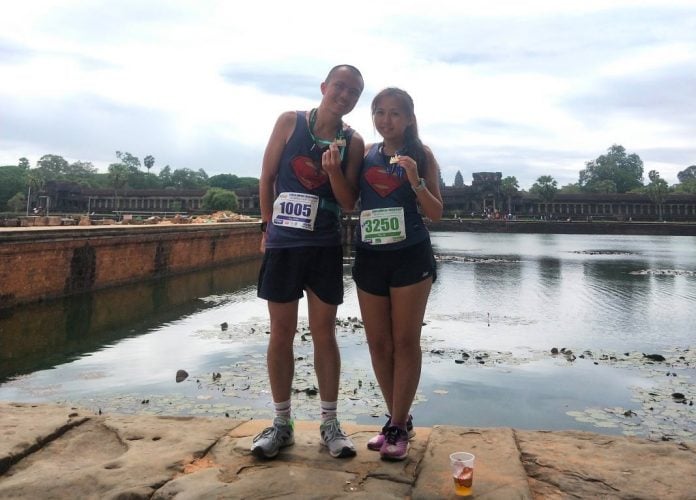 Told myself every year to travel to somewhere I've never been to before. So taaadaaaa, it's Cambodia's Siem Reap this time! 😍 It's both Willis and my first time to Cambodia. It's the 6th edition of Khmer Empire Marathon this year and I must say I enjoyed the half marathon very much! 💗
I was super Rambo last year December, I booked flight tickets to Siem Reap immediately as I found it cheap and registered for the race without jio-ing anyone yet and after that Willis couldn't confirm with me whether he can go or not as his workplace need to ballot for leave. I thought at first well, I can go alone.
About two months before the race, honestly I thought of forfeiting the entire trip to Cambodia when I couldn't successfully "poison" my friends to go with me, I got a little chickened out when I was told that it's not a safe place lah, got drugs got prostitution lah 😨
Luckily, Willis told me he managed to get the leave this time. I also asked my parents to come for a short holiday to Cambodia as well 😊 I'd never bring my parents overseas by myself alone, all the previous trips with my parents were planned by my sisters. Guan Yin Ma is kind to me, when I purchased my parents air tickets it's super cheap at only about $150 as there's a sale, even cheaper than when I purchased the air tickets for myself at about $200. Accommodations in Siem Reap is cheap as well, a 4 star hotel with buffet breakfast cost only about sgd50 per night .
Though there's tour package offered by the race organizer, it's at a super crazy rate of more than USD600 per pax for just 3 days with nothing much included but just a tour, pre-race gala dinner, return airport transfers with accomodation excluding air tickets 😨 Instead, I booked a tour with option of Chinese speaking guide on Klook for a day tour in Angkor Wat and it's only about SGD$16 per pax, though bear in mind a day visit pass to AngKor Wat is USD37. In our tour group there's also 4 other runners who came here for the Khmer Empire Marathon as well and I'm glad my parents enjoyed the tour 😊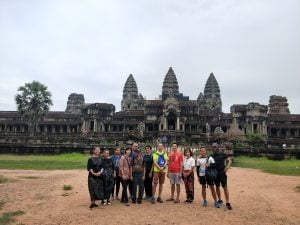 We stayed in Apsara Angkor Resort and Conference, it's also the place for race pack collection.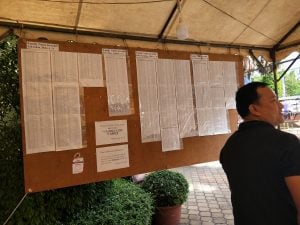 First, we need to find our bib number on the lists according to our category and then search for our name to collect the race pack. There's 42km, 21km, 10km and 3km. We found our name pretty quickly. I realised there's many overseas runners on the list, mostly from Vietnam and China.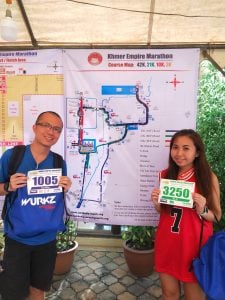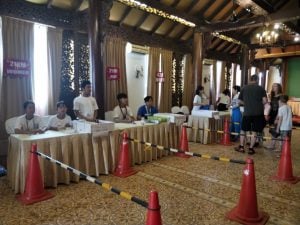 Race pack collection was fast and first thing Willis thought is that there's plenty of child labour in this country. I love the race singlet! There's a Buddha head printed on the singlet 😍 Though there's an error on my name printed on the race bib, it's rather inauspicious if I were to pronounce it in Hokkien 😂 There's a coupon for foot massage, beer and drinks at the event site 😍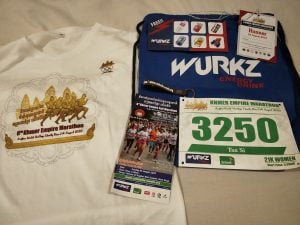 We didn't really had a great stay in the hotel as no matter how we adjust the temperature to 30 degrees, it's still super cold. On race day at about 12am I woke up suddenly as there's no air conditioning, there's no electricity as well but I didn't really mind at first. When we woke up at 3am, the issue isn't resolve yet 😤 Willis had to switch on the torch light on his phone while we wash up and get ready for the race. It's actually one of the official hotel partners and yet no bus transfers for runners to race site and we needed to pay the hotel USD10 for tuk tuk which I found that Grab in Siem Reap is actually rather cheap. As we thought it's in the middle of the night and we didn't want to risk not getting a Grab in a country we are not familiar with so we booked the USD10 tuk tuk with the hotel beforehand instead. Yes there's Grab in Siem Reap and then I found out that if we go to the race site which is about 15 minutes away by tuk tuk it actually would cost only about 13000 Riel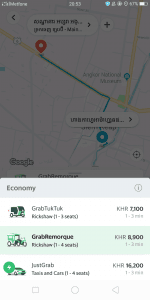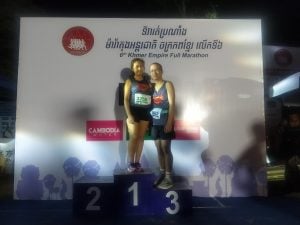 Funny thing was Willis thought I registered for full marathon but I only registered for half marathon 😂 So he ran the full marathon category while I ran the half marathon 😆 Full marathon flag off timing was at 4.30am in the morning while half marathon was at 5.30am but we went to the race site together. After Willis started running, I find a place to sit down and waited for my turn to run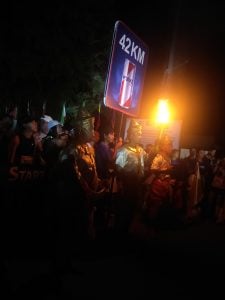 Flag off was on time and when I started running, sky was brightening already. It was a cooling morning and it drizzled slightly for a while while we ran. I saw hydration points at aevery 2km and the energy drink tasted like Red Bull but it isn't. Distance marker was very accurate. The entire distance we ran on tarmac and it's a very flat route. Most of the road were blocked from vehicles till the last few km then I noticed we were running alongside the vehicles.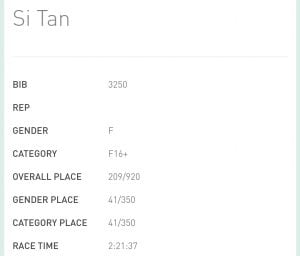 There's quite a few local kids picking up the plastic bottles and cups near every hydration points. But there were some local kids just there to give high-5s and to cheer for runners 😊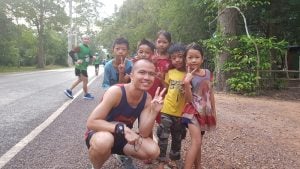 I enjoyed the route because there's no high rise buildings but just greenery and ancient temples and some ruins of the temples along the way.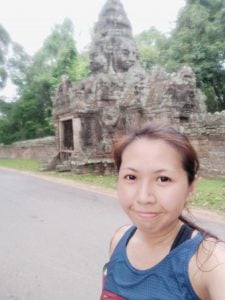 I stopped quite a couple of times along the route to take pictures because it's too pretty 😍 I'm not rushing because I'm going to wait for Willis to finish his 42km too.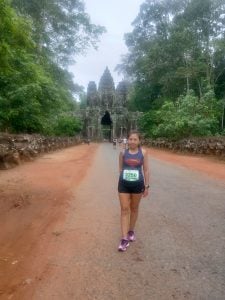 Miraculously, I think I did pretty well for this half marathon though after Gold Coast Marathon last month I didn't run much and I stopped quite a couple of time for photos and at hydration points.
Though the cut off time for half marathon is just 3 hours and full marathon at just 6 hours. But I saw runners completing way after the cut off time still gets their finisher medal. The medal design is so pretty, it's Angkor Wat 😍 But I think only the full marathon runners have their medal with distance engraved while the 3km/10km/21km runners all get the same medal which doesn't have any distance engraved on it. There's no finisher tee for all runners.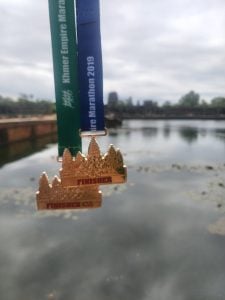 After I finished the run, immediately I head towards the race village, it's very lively, there's like a dance battle which looks like the emcee host on the spot. I head towards the stage for foot massage. I did the foot massage twice as Willis had given me his coupon and tell me to enjoy while I wait for him 😊 There isn't much queue at all for the foot massage as well and I only waited like 5 minutes each time. The foot massage was at least 10 minutes each time. The boy who did my foot massage striked a conversation with me, it was then I knew he worked 12 hours a day with only 2 off days a month. Earning a living isn't easy here.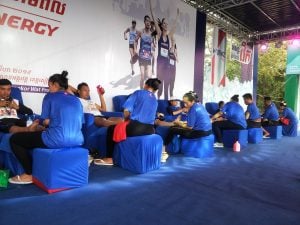 There's a counter that gives out a tee shirt as well and I went to collect it. It's not a finisher tee but a tee from one of the sponsor and I took it anyway. Two young boys looked like they are just 5 or 6 years old approached me and one of them pointed his tee shirt and pointed to the tee shirt that I was holding. I gave the tee shirt to him and the other one was sad because I only had 1 tee shirt of give 😂
I only redeem a can of drink from the coupon as I wasn't very thirsty then I started walking back to the race course hoping to catch Willis and ran towards the finishing together.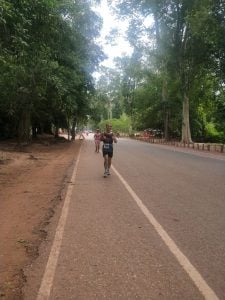 Willis did quite well for his run though he had broken his toe nail while we were sightseeing the day before and it was rather painful 😂 He said some of the last few hydration points ran out of water or already packed up. We then redeemed all the coupons of the drinks, there was at least 20 local kids crowding around Willis while he gave away all the can drinks we redeemed with just the beer to us 😊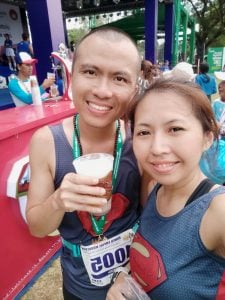 It's a nice marathon and a nice place to go for a short and relaxing vacation/runcation. Will definitely want to run in Cambodia again but like always, I have other places I would want to explore first. It's quite easy to travel around in Siem Reap with Grab available. Massage is very cheap at USD4 for an hour near Pub Street and beer is super cheap at just USD fifty cents. I think there's no need to purchase a tour package and free and easy won't be much of any hassle.