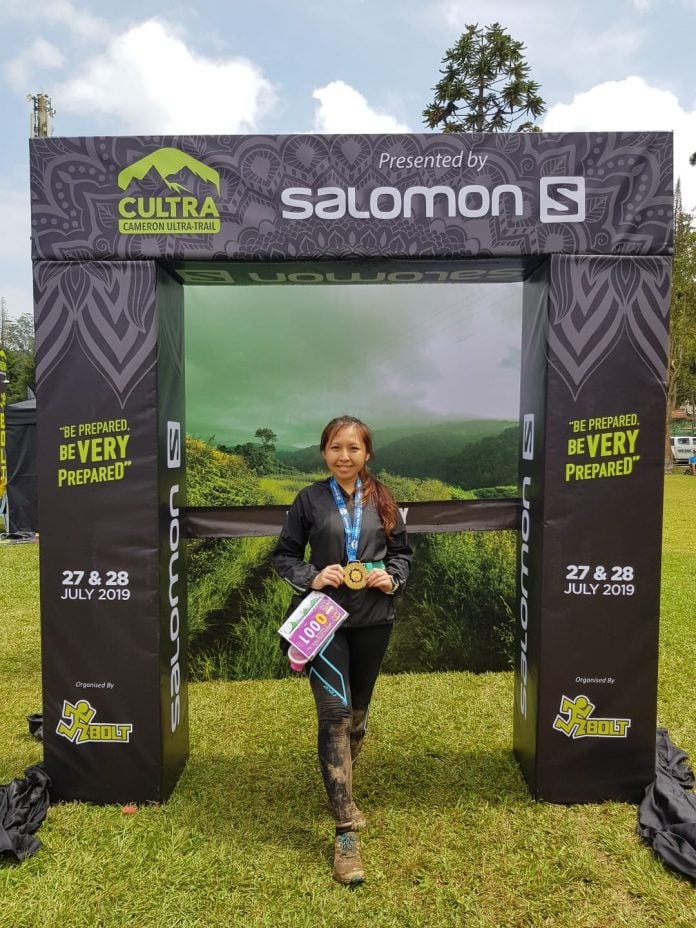 It's my first Cultra Cameron Ultra-Trail 😍. They say it's the most scenic ultra trail run in Malaysia. The trail isn't really my type of vegetable after the super exhausting and scary experience in Gopeng Ultra Trail. Also, I have Khmer Empire Marathon which I'll be running half marathon category next week, so I did 15km for Cultra Cameron. 15km seems like a super cute distance and category as compared to 30km, 55km and 100km 😆. But seriously, this 15km also not easy due to the elevation hor, and it's one of my toughest race ever. It's sibeh tough.
We joined a group with two buses of Cultrarians heading over from Singapore and paid SGD$260 for the accommodation and coach to ferry us from Singapore to Cameron Highland. It also included some sightseeing tour and two meals but exclusive of race fee. The bus driver Abang must have thought that we are penguins and polar bears because it's freaking cold lah! 😂 Fortunately, it's a smooth and comfortable journey. Once I woke up like magic and realized we've miraculously arrived in Ipoh, super near to Cameron Highland.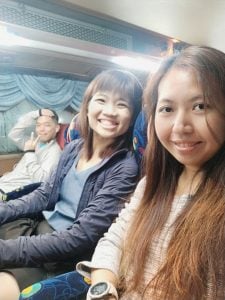 It was the 4th edition of Cameron Ultra Trail this year and the tickets were selling like hotcakes, for some distance categories. It's so popular that a ballot was needed to get a slot. I like the slogan, "Be prepared. Be very prepared," but honestly I didn't prepare leh. Hurhurhur 😂 I didn't go trail training or stairs training at all and suffered big time during the race.
We reached Cameron Highland on Friday afternoon. We stayed in Century Pine Resort, conveniently it's the site for Cultra Race pack collection and it's also just a less than 5 minutes walk to the race site. Firstly, it's the verification counter for our identifications and race registration confirmation. It was a long queue but it was also a fast-moving one. Then, we proceeded to another counter for mandatory items check. For 15km, the mandatory items are our handphone, hydration of at least 500ml and a cup. For other categories, mandatory items include headlamp, blinkers, raincoat, first aid kit etc.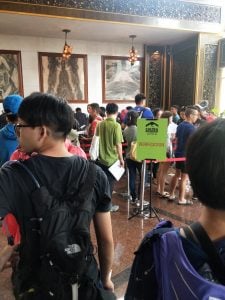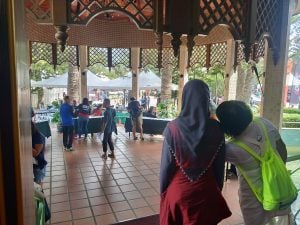 Only after these two counters, we were then able to proceed to collect our bibs and race pack containing a very chio duffel bag, a wrist band for a tea party on Friday afternoon, a temporary tattoo of the elevation map and a super nice Salomon Tee with Malaysia flag on it. It was my first event tee with Malaysia flag on it. I was a Malaysian 💗 Till now, I only have ONE event Tee with a Singapore flag from The Great Relay Singapore 3 years ago and another Vietnam flag on the event tee from Vietnam Mountain Marathon. Maybe I should start a new hobby, collecting race tee with flags 😆. Love my race bib, it has Singapore's flag on it and I have a super nice bib number O001 😍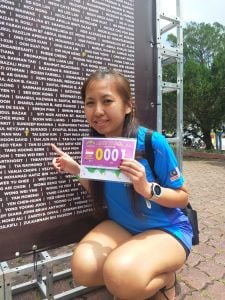 The elevation map was printed super accurately and it tallied with my GPS watch and I can expect the ascending and descending. My name was printed as "???" because I gei kiang, I typed in my Chinese name during the registration 😆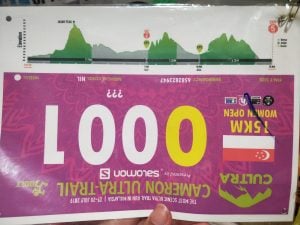 Explored the area around and discovered a lot of the shops there sell many trail running-related stuff. I also bought an official merchandise cap 😍. Though the cap is rather expensive, selling at RM100, it's very chio I have to buy it! 😆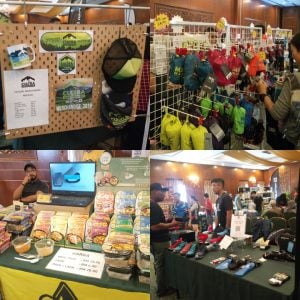 We didn't know there's a tea party for participants! 😍 It's awesome, there were performances by the local kids and most of all, I enjoyed the food! There was soya bean curd, cakes, roti prata etc etc and I eat fat fat 😆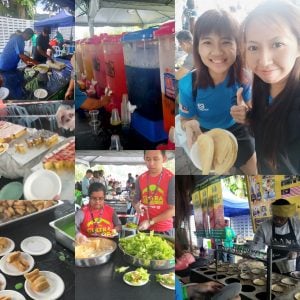 Flag off for the 15km race was at 7.30am on Saturday and the longest distance 100km was flag off earliest at 3.45am. The hotel was so sweet to accommodate runners with buffet breakfast starting at 2 am in the morning 💗.
It doesn't feel very cold, maybe about 20 degrees when I was waiting in the start pen, but I wore a jacket to run. It was better to be warm than cold. But also, it was to protect myself from getting cuts from branches and rain since the weather forecast predicted rain. Lesson learned from GUT is to wear long pants to avoid bruises and cuts and I'm glad I wore my compression tights. There were occasions during the race that I accidentally brushed my legs at protruding branches and without the compression tights, I would have gotten huge cuts. Flag off was on time at 7.30am after Malaysia's National Anthem.
The first km or so was tarmac, I tried to chiong and have a fast start because I heard of human jams at the ascendings into the trails. It was a tough climb so it's really expected to have caused a jam. Some paths are only wide enough for 1 person. It was due to nature and we should respect that and we shouldn't do much more to destroy it. It's muddy and slippery as the path was already stomped through by hundreds of participants from the other categories earlier. I was careful because safety is utmost importance on my list. I even brought whistle along with me as well just even though it's not a mandatory item for 15km category.
And luckily I chionged and luckily, throughout my entire course there weren't any bottlenecks. I heard that there were quite a long jam and had caused many runners their precious time that they almost could not make it to the first checkpoint within the cut off time. I had a pair of leather gloves with me, but I took them off after 2km because it was starting to get too warm and I had to continually remind myself to be alert where I place my hands. A friend of mine received a DNF at the first checkpoint at 7.7km with a cut off time of 2 hours. They had to cut her race bib and she was not allowed to carry on the race and was ferried back to the race venue. The race crew were very strict at the cut off time at the checkpoints. No matter how much you cry, beg, or argue with them, they still cut your bib 😭.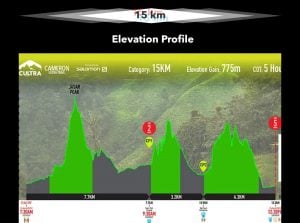 It was like experiencing Gopeng Ultra Trail again. But this Cultra was actually much tougher in comparison. Gopeng's elevation for 25km was 600+ metre but Cultra's 15km's was almost 800 😅. I had to climb on all fours, pulling tree roots and holding onto tree trunks to climb up and down, rolling over fallen tree trunks, slide down on butt, many near falls and luckily just two very light fall on my butt. Felt like I was in a survival/obstacles course. It's also pretty stressful as I'm not very fast at the ascending and descending, the stress felt machiam like there's a shark behind chasing you, so after a few climbs, I kept standing by the side to let people overtake.
At the 2nd ascend, it's like I've entered the Mossy Forest (I came before about 8 years ago with my family), but I'm not very sure whether it's the Mossy Forest. All the trees and surrounding were so mossy and pretty. Wanted to take out my phone and snap a few pictures but I decided to forget it lah since my hands were all wet and muddy 😂 My face was itchy want to give it a scratch but I also don't dare to use my hand to scratch 😆
I felt that the 2nd ascend was much tougher than the first one 😵 It's all muddy and it was drizzling. Some runners said they encountered heavy rain but maybe I was just blessed. I was getting a little more alone already as many runners already were at the front. The sky was dark, the forest was dark and it was cold. It's pretty scary as well. I was going slower and slower as I was getting very breathless and tired. Legs were getting jelly and arms were getting heavier. I paused many times to catch my breath. I also started praying to complete the race safely as I had really too many near falls. Praying really maybe did help as I successfully completed the race safely after all 😊. Also, over here I had a record-breaking of 1km at 44 minutes pace 😆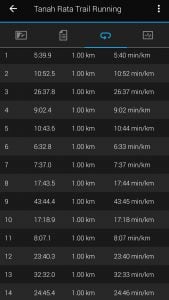 Finally reached checkpoint 2, then I realised that for the first 2 checkpoints all participants will pass through here. Really idolise the other distance category runners, 15km already felt so tough to me and they are doing so much more. There was a first aid station and a waterpoint which has 100 plus, coke and cold ice water ❤. At this checkpoint, there isn't any cut off time. I took a while to clean my hands, ate some oranges and bananas then carry on.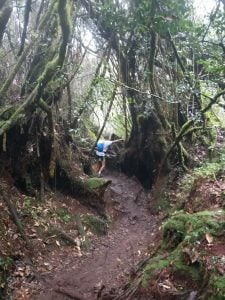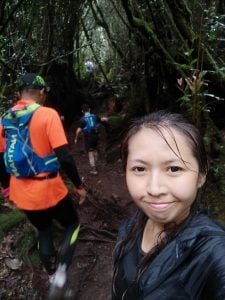 At the later part of the route I thought if I walked all the way I could still manage before the cut off time. I was already all wet, muddy, smelly, super drained and grumpy. I met a Singaporean zeh zeh who I just met for the first time and we completed the last 3km or so together. I'm sure the distance would be much gruesome and torturing without her. It's only then I realized 5hours cut off time for 15km is not really generous like I thought it was at all. I managed to complete in 4hours and 27minutes. It's not just a 15km. It's not a walk in the park and definitely not for people who don't run/train regularly.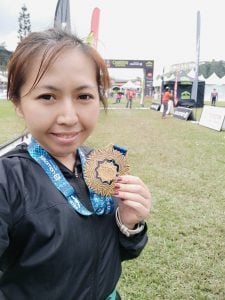 I didn't download GPX file into my watch as I still didn't figure out how to 😂 But the route for 15km was well guided with a wrong-way sign planted, there were blinkers and also ample red and white tape around to guide runners along the route.
Heard from one past participant that it was tougher this year because of the wet weather and the trails were so much muddier and slippery this time. Out of 450 participants for the 15km category this year, only about half, finished the race within the 5 hours cut off time and the rest were either DNF, DNS or finished after the cut off time. To run Cultra again? Maybe if it's with Willis, was hoping he would be by my side while I'm on the trail, then something torturous and gruesome would actually become something sweet and romantic 😆