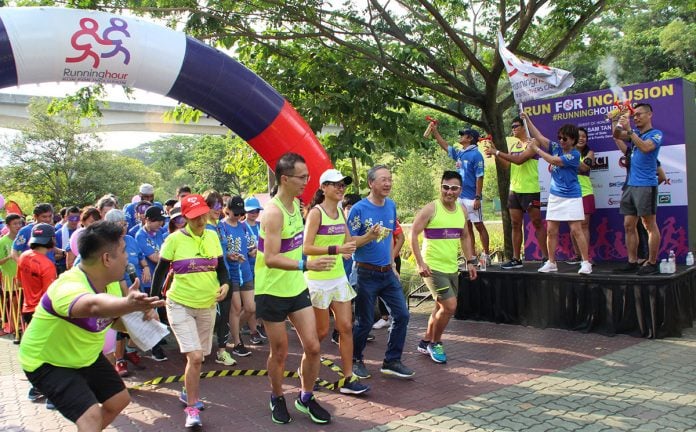 Punggol SAFRA saw over 2000 participants earlier this evening at Singapore's only integrated race where participants ran alongside visually, intellectually, physically, hearing and mental health challenged runners and walkers – Run For Inclusion 2019. Organised by Runninghour, the fifth edition of the race was graced by Guest-of-Honour Mr Sam Tan Chin Siong, Minister of State, Ministry of Social and Family Development & Foreign Affairs.
There was a total of 2043 participants at RFI2019. Starting at Punggol SAFRA and stretching across the Punggol Waterway zone, a record 638 Persons with Special Needs (PWSN) attended this year's event, from 571 at last year's event.
This year's event marked the debut of a new category – the 20km Cycling (non-competitive), where participants cycled alongside PWSN on single bicycles and together with them on tandem bicycles. This new category aimed to showcase more activities suitable for special needs participants.
Making its return at Run For Inclusion 2019 was the popular Empathy Run segment, where participants took on challenges to experience the everyday difficulties faced by PWSN, including Runninghour's signature 'Blindfold' run – where participants ran in pairs, with one of them guiding the other along while he or she runs blindfolded.
As with the previous year's runs, Run For Inclusion 2019 continued to offer complimentary slots to PWSN and their caregivers (limited to one caregiver per PWSN), to encourage them to join in the run and to promote an active lifestyle among the community. This year, 1000 complimentary slots were extended to special needs participants and caregivers, up from 700 in 2018. This year's race route was also wheelchair friendly.
Mr John See Toh, Co-founder of Runninghour shared, "Integration for the PWSN community has always been Runninghour's goal since we came together 10 years ago. We also believe that fitness is something for everybody regardless of ability. It is heartening to see more people join our run and we hope that this number continues to grow in the years to come as we educate more people about what inclusivity is truly about." 
To conclude the event, Runninghour guides and PWSN members put together performances to entertain participates, this included performances by Delta Senior School and Metta School students.