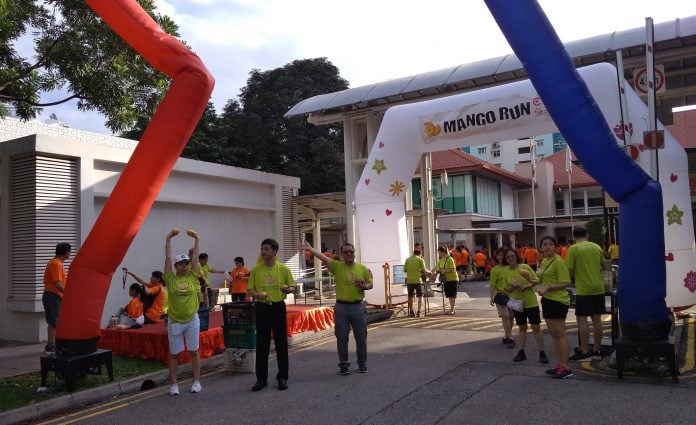 Run for Good Mango was organized by the Whampoa CSC on the 9th June. There were 2 categories to the fun run: 4 km and 2 km. My friend Skye and myself signed up for the 4 km run.
On race day, I took a direct bus from home and reached Kallang Community Club at 7.00 am. Upon registration, I was given a green coloured wristband which I was told I could later use it to redeem a drink after the run. Skye arrived at 7.30 am, just in the nick of time to participate in the mass warm-up exercises.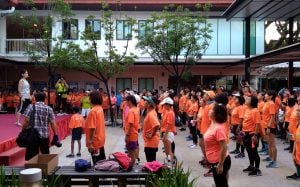 At 7.45 am, Mr Heng Chee How, Senior Minister of State for Defence, flagged off the 4 km runners. The 4 km route was basically just an additional round of the 2 km route. It was a pavement run and thus at times, runners had to slow down and negotiate when the path got too narrow or congested. Anyway, this was a fun run and not gunning for any PB, so we had no complaint.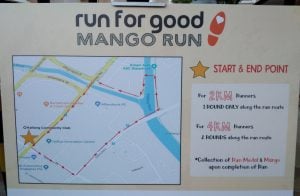 There was no hydration station along the route, which I believe was probably due to logistic issue or the organizer felt it wasn't necessary. But on hindsight, I thought the organizer could have highlighted prior to the run so that anyone who wishes to hydrate could just carry along their own water.
The volunteers, which comprised mostly of senior citizens were great. They were deployed at critical turning points as well as entrances to industrial buildings, stopping any oncoming vehicles for the safe passageway of the runners. Kudos to them!
Upon completion, we received the finisher medal, bottled water and of course, a mango. We redeemed an ice cream and mango drink from SawadeeCup food truck using our wristbands.
We also took our 'stage photos', but the 'Live' processing was rather slow and took a long time even after we returned from our breakfast. However, the print quality was quite good and acceptable.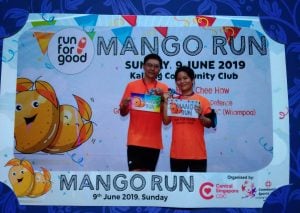 My last comment was perhaps the organizer could have increased the fun by having the participants walk/run with mango in hand? This was done during the Run for Good Durian organized by the Ang Mo Kio-Hougang CCC two years. If the participants then were able to improvise methods to carry durians during running, surely there wouldn't be an issue for us holding a mango?