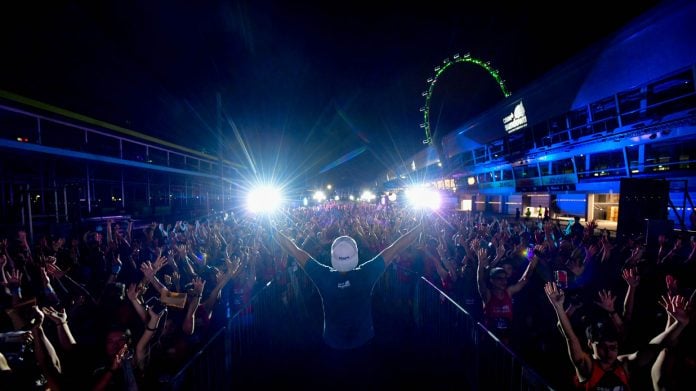 Asia's largest night race, the OSIM Sundown Marathon Singapore, marks another successful race this year with close to 25,000 runners flagged off at the F1 Pit Building last night.
The 12thedition of the event saw participants enjoying a cool run under the stars as the race took them through some of Singapore's most iconic landmarks. Thousands of runners pounded the streets as they embarked on their quest to beat the sunrise and break their personal bests.
Clinching the Marathon Men's title was Hillary Kipkering (Kenya), with a timing of 02:49:33; while Singapore's very own Sharon Tan clocked a timing of 03:23:16 to finish as the first in the women's category.
The Half Marathon saw the return of familiar local faces such as Soh Ruiyong and Rachel See. With a winning time of 01:11:47, Soh clinched the first place for the Men's category while Maki Inami (Japan) took the women's category at 01:22:19.
This edition saw great enhancements at the race village too, with an array of refreshing new experiences lined up till the break of dawn. Participants were treated to post-race massages, Marvel movies being screened through the night, and even sunset yoga sessions for runners and supporters. Football fans were also very pleased to catch the UEFA Champions League Finals early this morning and witness Liverpool clinched the coveted title with their running buddies.
Results of OSIM Sundown Marathon 2019
Full Marathon Men's Category
Hillary Kipkering
02:49:33
Lee Wai Kin
03:03:55
Jinchao Qu
03:04:45
Full Marathon Women's Category
Sharon Tan
03:23:16
Jade Chow
03:29:01
Naum Jepkosgei
03:29:01
Half Marathon Men's Category
Soh Ruiyong
01:11:47
Kiptanui Rodgers
01:12:30
Matthew Smith
01:18:51
Half Marathon Women's Category
Maki Inami
01:22:19
Mok Ying Rong
01:24:32
Rachel See
01:31:39
About Sundown Marathon
Sundown Marathon was created in 2008 as part of a unique training programme for ultra-marathons that require running through the night. Since then, as Singapore's first official night marathon, the Sundown Marathon has grown from strength-to-strength, beginning with 6000+ participants in the inaugural race in 2008 to a total of 25,800 participants in 2018 across all four categories, making it Asia's largest night run. Participants have included tourists and professional runners from the UK, USA, France, China, India, Japan, Philippines, Indonesia, Malaysia and Taiwan. In 2015, OSIM became Sundown Marathon's title sponsor and the race is named the OSIM Sundown Marathon Singapore. It is also Singapore's first night race to be nominated twice for the prestigious International Sports Event Management (ISEM) Awards and, more recently, Marketing Events Awards, for the Best Sport Oriented Event.