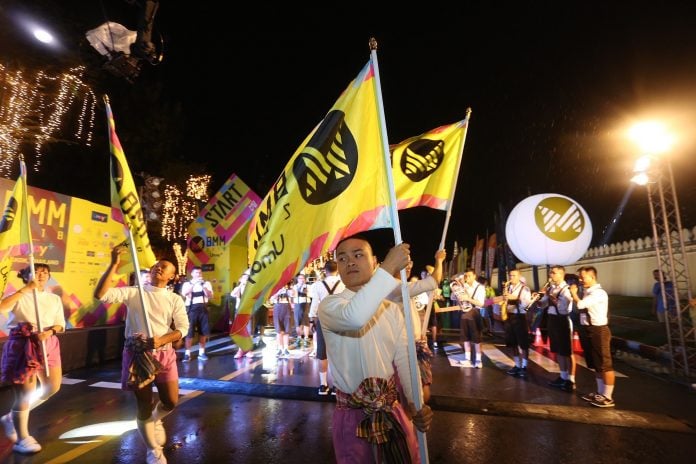 The third edition of the Bangkok Midnight Marathon (BMM) is back! It will take place on 25th August 2019, starting at Sanam Chai Road and finishing at Sao Ching Cha (Giant Swing) in Bangkok, Thailand.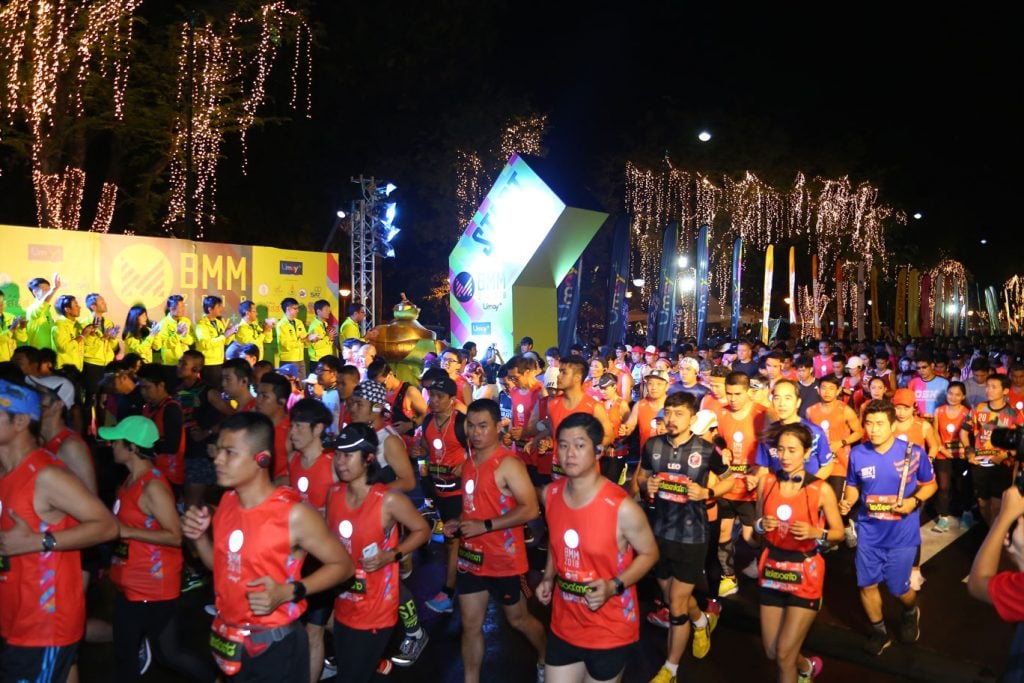 As this is one of the few night races across the region, runners will get a different experience running through the cool temperature, quiet surroundings and closer to the historical, religious sites, cultural and rich heritage landmarks where Bangkok has been known for.
BMM is one of the only three IAAF/AIMS-certified road races in Bangkok and as a certified course, the event adhered to strict measurement criteria to ensure the accuracy of the race distances and also the safety of all participants are of paramount concern in planning for this event.
Bangkok is notorious for its heavy traffic flow, but BMM allow runners to run on the same tarmac where tuks tuks and colorful taxi buzzes around during most part of the day and at the same time , being greeted by the stunningly brightly lit landmarks and the cool breeze. Runners will be whizzing around the Victory monument (where the famous boat noodles are), be inspired by the majestic looking King Chulalongkorn Statue, get a picturesque view of Chao Phraya River from the Rama VIII Bridge or feel the aura from the sacred Wat Saket (Temple of the Golden Mount) before dashing towards the finishing line at the Red Giant Swing!
Scroll to the bottom for exclusive registration/discounts promo codes
for all JRL members
Another unique feature of BMM is that it focuses on what Bangkok has to offer: its amazing food culture. Unlike most other running events in the region where snacks, fruits, and drinks are being served, finishers at BMM will be extremely happy to know that a local delights feast awaits them upon their completion, besides the race's entitlements such as the finisher medals and t-shirts!
After putting their bodies to the test, finishers of BMM may choose to take a short rest after the event at their own leisurely pace before resuming their free and easy tour down local streets, indulge in happy shopping time at local shopping malls or night markets and could even throw in a massage or two before flying home. Well, isn't that what most of us travel to Bangkok for?
Event Details
When: 25th August 2019
Where: Sanam Chai Road
Flag off time: 00:59 am onward
Registrations fee: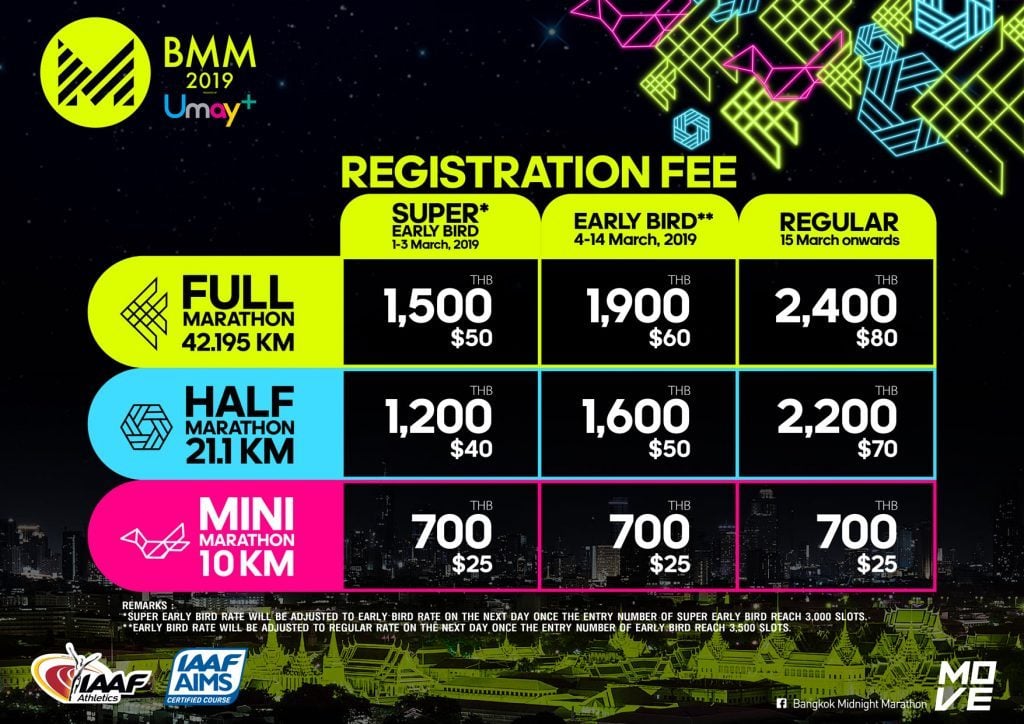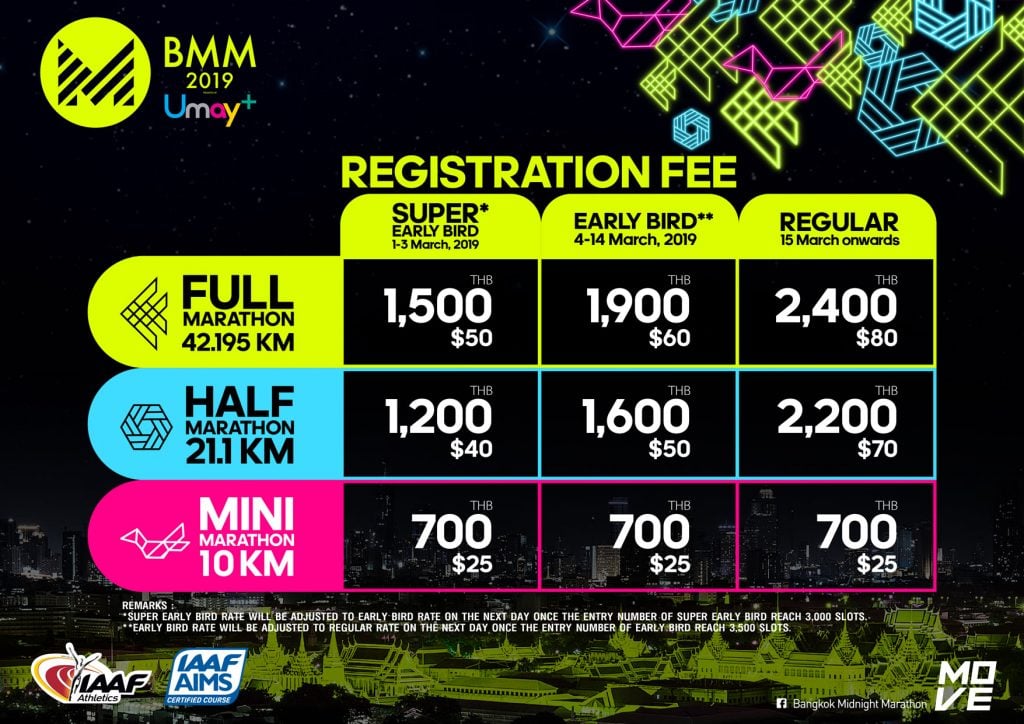 For more information, please visit http://www.bangkokmidnightmarathon.com/
Enjoy exclusive registration / discounts for all JRL members when you register here with the promo codes below:
~ Full Marathon – 42km Promo Code: JR42-71974  (200 baht off Original Price of 2,400 baht)
~ Half Marathon – 21km Promo Code: JR21-16394 (200 baht off Original Price of 2,200 baht)
~ 10km Promo Code: JR10-24322 (Exclusive registration: 700 baht)