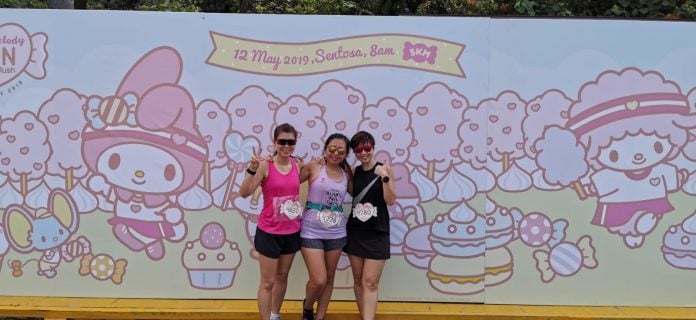 Sometimes I find it super sian to travel the distance just to run a 5KM run. The traveling time to the event site might even be longer than the run itself! Hahaha!! 😂 But I just need to remind myself, years ago when I started running, even 1km was far too long for me to run.
And it's My Melody Run and also the first My Melody Run on Planet Earth! 😍 I'm quite a fan of Sanrio characters ❤ This isn't my first Sanrio Run. My 2nd ever race that I've participated in my running journey was Hello Kitty Run in 2014, which was also held in Sentosa. It was an unforgettable race as it was raining and I was damn poor thing carrying a heavy bag the entire distance. New into running events, I didn't check and didn't know there's no baggage deposit 😂 The weather looked threatening machiam it would rain, at least we get to start but while after flagged off, it drizzled and then it became heavy downpour. Phew, it didn't got cancelled halfway through and I got my super cute Hello Kitty finisher medal ❤ Not a collector of race bibs back then and I threw away the cute cute meow meow bib 😭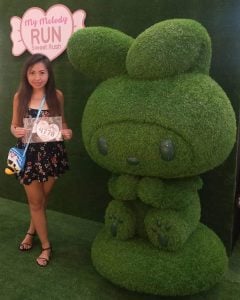 Met Sabrina for the race pack collection at Novena on Saturday. As Sabrina was early she started queueing and I was showed a super sian photo as the queue was sibeh long like a snake 😨 Fortunately, the entire waiting time was at most about 15-20 minutes. There's a super cute race bib, tee shirt and a plush toy 😍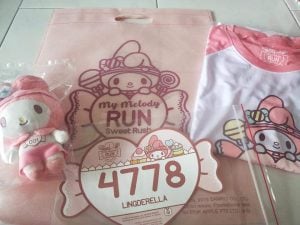 Flag off was at Palawan beach in Sentosa at 8.30am on Mother's Day. There's only the 5km fun run category. On event day, I ran to Sentosa from Novena MRT station wanting to clock some mileage with some of my hardcore running friends who'd even started their runs from Yishun to train for their upcoming Sundown Marathon. It was about a 8km run for me before the event. We reached the event site slightly before 8am, the place was already sibeh crowded with many people eagerly waiting to start. The start pen opened at 8am and we went in the start pen and were lucky enough to be in the first wave. Phew, the intervals for each wave was an additional of 10 minutes. We waited a long 30 minutes till 8.30am under the sun to start. I felt that the race should start earlier at 8am as 8.30am was rather late and we waited long under the hot sun.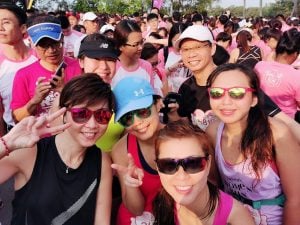 It was a run without a timing chip meaning our timing wasn't recorded so we thought we should have fun unlike the usual runs where we usually run without stopping. Once flag off want to run actually also quite tough lah, too many people already and many families with kids and prams. It's a very warming family day for the mamas ❤ Happy Mother's Day! 😍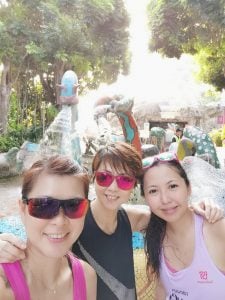 After the first km, the route was another good km of upslopes. We sweat a lot even we didn't really run. It's sunny, temperature high, should be high humidity as well. We were already looking for water point just shortly after 1km but almost 2km then there's the water point.
While some of our friends got caught up in the later waves, we took this opportunity to walk, talk, enjoy the route and took many many pictures while we waited for them to catch up 😊 Distance boards were available every km but the total distance was only about 4.5km.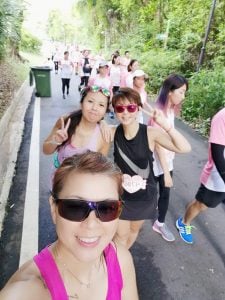 And that 2km water point was the one and only water point along the entire route 😢 Really not enough, think minimum also need to have 2 water points. Must consider there are many many kids eh. Adults can tahan a bit without water but the kids? And heard from a friend that the most jialat thing was that they run out of water at that single water point 😨 At least hope that after completing the run, there's still mineral water left for them at the finish line.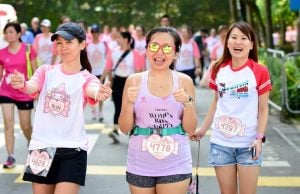 There's some activities and photo booths at the race village but we didn't explore around because everywhere people mountain people sea with long and scary queues. We left shortly for breakfast to fill our stomach 😊 When I meet up Christine for dinner, she said I looked burnt 😭