Earlier on this year, I went to Hong Kong en route to Taiwan for the Chinese Lunar New Year.  Trails in Hong Kong are popular among Singaporeans because it is relatively cheap and there are many trails and mountains to choose from.
The last time I faced Needle Hill was quite some time ago.  There is actually a short cut to the Needle Hill if you do not have enough time and maybe only half a day or so.
Where is Needle Hill
The Needle Hill (針山) is a mountain in the New Territories in Hong Kong.  With an altitude of 532m, it got its name because of the resemblance of a needle top by its peak's shape.  It is a popular hiking spot and also very good for photography.  Many trail races in Hong Kong also passes by the Needle Hill.
Public Transport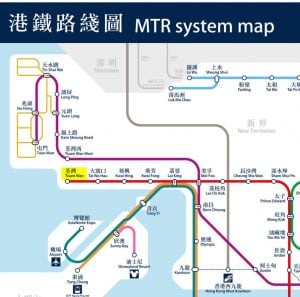 First take the Red MTR line to Tsuen Wan.  From there, you need to go to the Mini Bus pick up points which are opposite the station.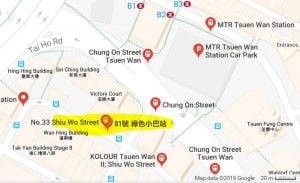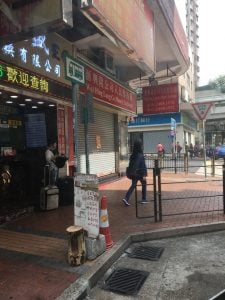 This special pick up point is only for Mini buses, there are many small shops around selling finger food and also giving massage.  Its kinda messy here, but you should be able to locate the Mini Bus 82 which takes you to the Shing Mun Reservoir.  You will alight at the end if this route, most people taking this bus will end there.  The trip is not long only at most 20 minutes, but it gets really crowded on the weekends and Public holidays, so do set off early.
On foot all the way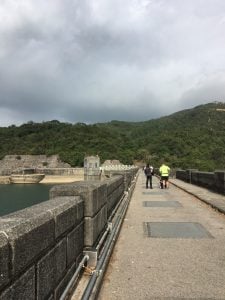 You will see a public toilet and a small store outside the toilet selling snacks and drinks, the price is not very high so it is okay if you did not prepare some drinks and snacks.  As for the toilet, it is relatively clean and do use it here as it will take a bit more before you can use the toilets again.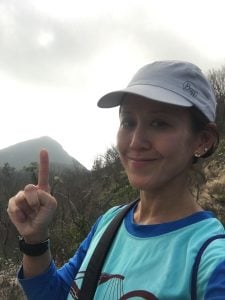 Once ready.  Simply walk along the right of the route from the terminal small bus station.  Along this route, you will see some monkeys and wildlife along both side of the road.  It can get really hot here so make sure you prepare sunscreen and hat.  The area is totally not sheltered so also be prepared for wet weather contingency.
Soon you will see the reservoir on the left.  It is actually quite scenic here and one might wonder whether this is really Hong Kong, minus the tall buildings in Kowloon and Hong Kong Island, it is really quite amazing to know that there such places still existing in Hong Kong.
Start of MacLehose Trail
To the end of the reservoir is the Stage 7 for Maclehose trail.  From here it will be quite a forest walk with many slopes ups and down.
Then finally from afar, you will see this pointy hill with a trail of steps leading to the top.  It looks very amazing from afar, it can also feel quite scary at the same time.
Climbing up the Needle Hill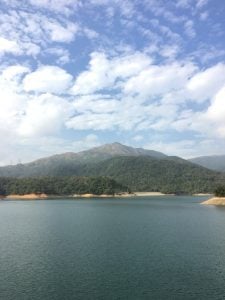 It can be quite a dizzy feat if you turn back and look when you are climbing up the steps of Needle Hill.  The stairway is very narrow and sometimes traffic is coming from the opposite direction so you will have to give way to them.  The scenery up there is amazing and it is good to have some cameo shots here.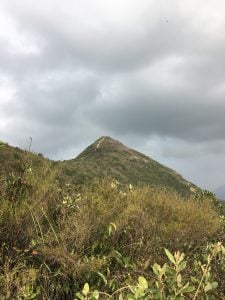 Although it can be quite tedious and tiring climbing the needle hill, it is quite fufiling and at the same time a sense of accomplishment will overcome you when you finish the climb.  Coming down is also not that easy because there are no handles around for you to hold.  So just be extra careful.
Going Home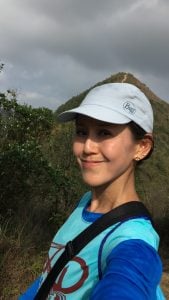 After the descent, you will be led into the forest again. Keep walking and you will see a sign on the right point to go down to Sha Tin MTR station.  From here on, it is all the way stairs with handles to hold on.  Just keep going down.  Then you will come to this kind of meditation centre, very tranquil and peaceful, from there. Keep going down wards and you come to a village.  It gets a bit confusing here but if you got lost , do ask the villagers, they are more willing to show you the direction to Sha Tin MTR.
Once you reach the MTR a strong sense of civilization will overwhelm you, for a moment you will remember you are in Hong Kong.  Do give Needle Hill a try if you get too bored dim suming or shopping around Hong Kong Island.  To speak the truth this trail if done slowly is doable for those who does not really exercise that frequently.