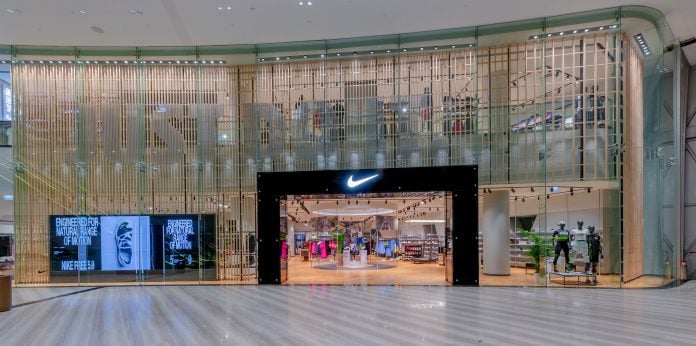 More than 1,000 sqm, this is the largest partner-owned Nike store in Southeast Asia and India to date
Local elements injected into store design by Singaporean contemporary artist, Samantha Lo
First ever "Nike By You" in-store customization service in Southeast Asia
SINGAPORE – 18 April 2019 – Nike officially opens its doors to their largest partner-owned store in South East Asia and India at Jewel Changi Airport today. Spanning more than 1,000 sqm, the store aims to provide a unique and interactive retail experience for locals and travelers at Changi Airport Terminal 1.
Located in the heart of Jewel and occupying a duplex unit, the Nike Jewel store adopts the latest architectural design used in all Nike stores around the world. Hyperlocal is core to the Nike Jewel store design. Walking into the store, consumers are greeted with a series of vibrant and locally inspired artwork by Singaporean contemporary artist, "Sticker Lady" Samantha Lo. Exclusively designed for this store, her artwork was inspired by local elements such as traditional tiles and patterns, to its street signage and colloquial language.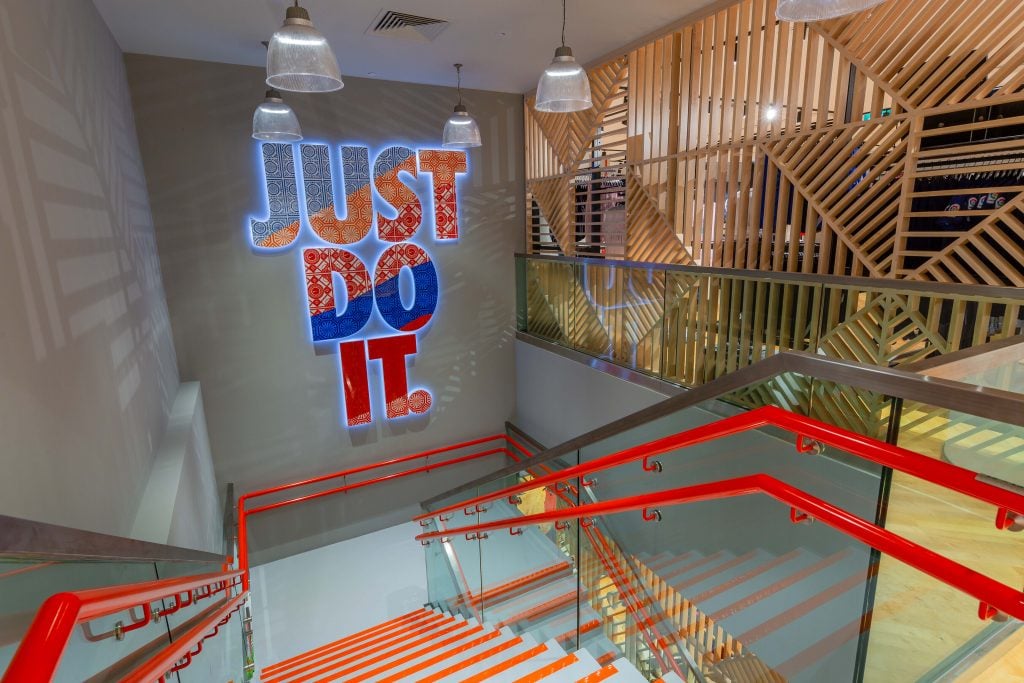 "My designs are a reflection of the energy and spirit of Nike, showcasing how we can be the truest and best versions of ourselves through sport, while telling the stories of who we are. Each design features my take on what makes us Singaporean – our unique blend of languages and cultures, celebrated in colloquialism and in the tapestry of visual elements. My personal favorite is the t-shirt design sporting the term 'can' – it really is the most Singaporean way to say 'Just Do It.'." – Samantha Lo
The second floor of the Nike Jewel store houses the first ever full-fledged "Nike By You" in-store customization service in Southeast Asia, where a variety of items can be personalized. Consumers customizing tee-shirts can select their design from a range of graphics, including original artwork from Samantha Lo, to be printed on selected Nike store offerings. The entire process is done digitally, and the final product is printed on the spot in less than 30 minutes.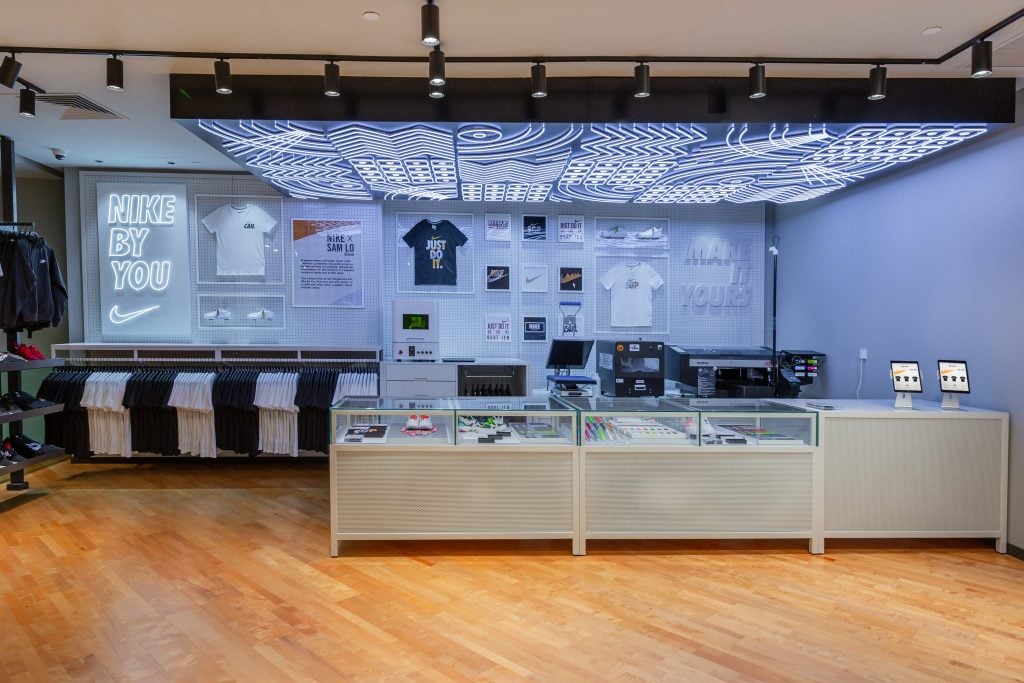 "We believe that brick-and-mortar spaces remain integral for consumers to achieve the best brand experience. With the opening of Nike at Jewel Changi Airport, we are set to propel our consumer-direct strategy through the integration of digital and physical retail. The best Nike products and offerings have
been carefully selected for this community, and the store has been conceptualized with multiple touch points for a fully immersive and seamless Nike experience that is personalized and unique." – Tarundeep Singh, Director Nike Stores, Southeast Asia & India
The store also boasts the latest and most extensive range of Nike merchandise in the region. It offers a comprehensive range of running, training, lifestyle and basketball products through carefully curated seasonal looks and displays. The latest Nike Free Running Collection takes center-stage, Nike's latest addition that provides an enhanced barefoot-like feel experience.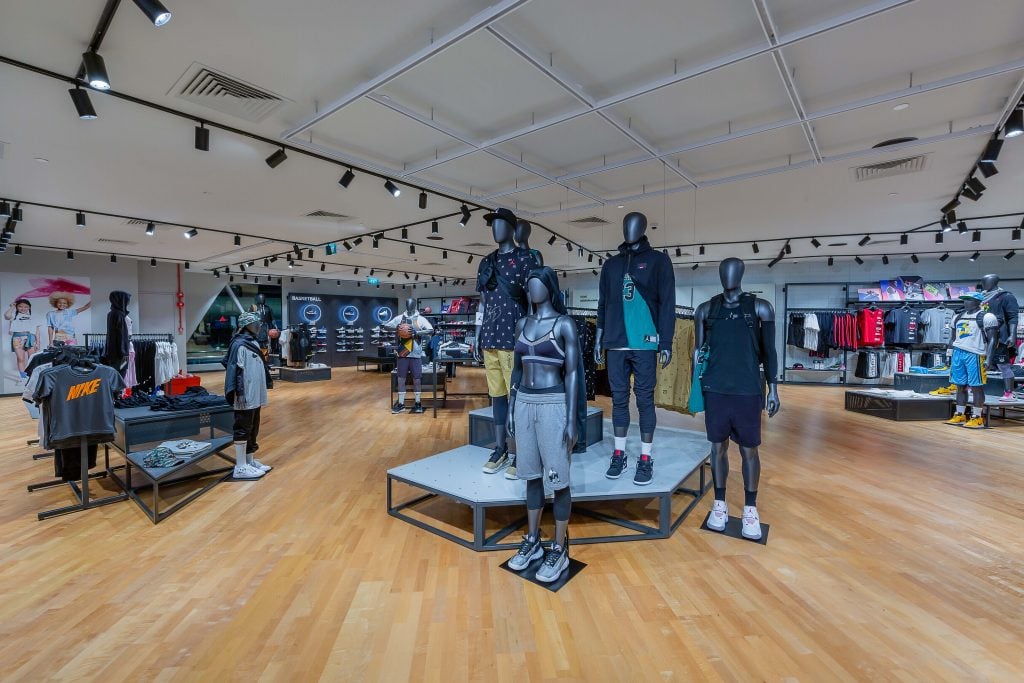 In addition, NikePlus members can enjoy member-exclusive products, early access to new products and access to Nike events ahead of the public.
"As the largest Nike-only retail group in Singapore, we look forward to partnering with Nike on its ongoing journey to impact the sporting lifestyle. The presence of Nike at Jewel Changi Airport is a clear signal of SUTL's ambitions in the retail sector and stands as a testament to our established track record in that space." – Mr Arthur Tay, Chairman, SUTL Corporation
NIKE JEWEL
Location: Jewel Changi Airport, #02-232/233
Opening hours: 10am to 10pm daily