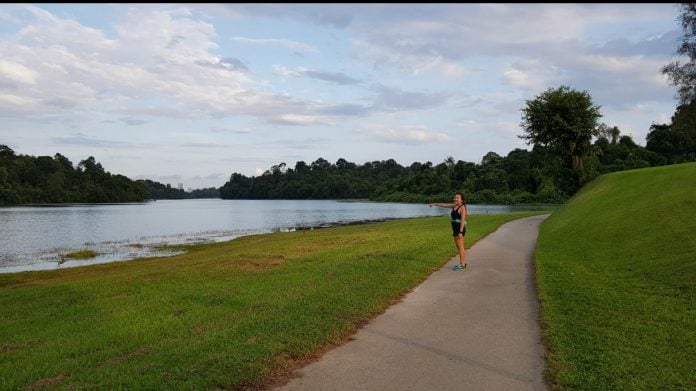 This time, it's exploring MacRitchie Reservoir 😍 It's one of the Singapore most popular trail running location and I have a love-hate relationship with it 😂 It's a good place to do some slopes training but it's so damn tiring to run at.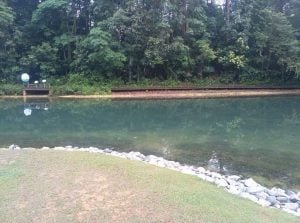 Although I've recently run quite a couple of times around Macritchie Reservoir but I couldn't submit those runs for the JustMove! Asia challenge because the verification checkpoint for the challenge is the HSBC Tree Top walk and I didn't make the slight detour to go there.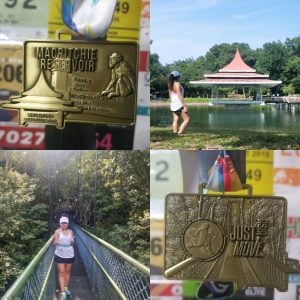 The medal is very nice with engraved Treetop Walk and the pavilion at the zig zag bridge, the main highlights of Macritchie Reservoir. I think JustMove! Asia could actually place vending machines at locations such as the Ranger Station to sell the medal! It would be a great memento to those who visited and there's actually quite a lot of tourists who went MR and hike around in backpacks!👍 Supposedly if this really happens can JustMove! Asia split some percentage of the earnings to me? 😏😆😂
The treetop walk is a 250m long suspension bridge between two of the highest points in Macritchie. While on the suspension bridge, we can enjoy the view of the forest canopy 😍 The suspension bridge is quite a pretty stable bridge but people with fear of heights may still get jelly though 😂 Bear in mind it's only one direction of no u-turning after entering the entrance of the treetop walk, there's certain opening hours and it's not open on Mondays unless it's a Public Holiday.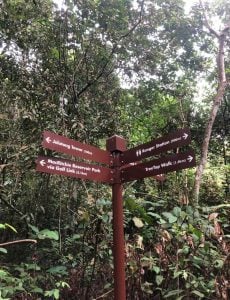 There is multiple entrance and ways to go into the nature reserves and depending on the directions you're going, along the trail there's signages around the nature reserve guiding the way to the treetop walk or to the exit. One of my favourite route is to start at Windsor Nature Park as it's shorter distance to the Treetop walk 😆
The treetop walk is located just a few hundred metres away from the Ranger Station but there's a steep slope to overcome first before arriving at the entrance to the treetop walk.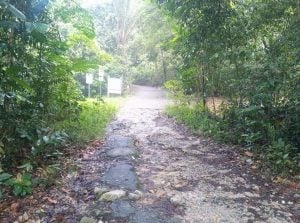 I find it pretty funny, it's called the Ranger Station but I've never seen any Park Ranger or Power Ranger there before 😆 I don't know what's there at the Ranger Station other than toilets and water cooler.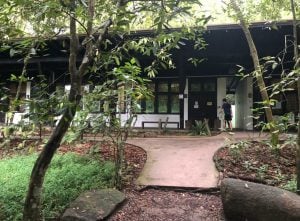 The challenging part is after the suspension bridge there's many flights of stairs to climbed up and down 😂 Sometimes we may spot monkeys along the way but so far so good, I didn't tio attack by them before.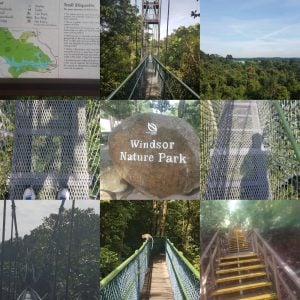 Macritchie reservoir is a beautiful place surrounded by greenery and offers beautiful scenery. Other than running, it's a place good for hiking, appreciating nature and other activities such as kayaking and canoeing. Saw quite a couple of people fishing around as well but I think it's only allowed at certain designated area. Sometimes I see people sitting on the benches and reading books.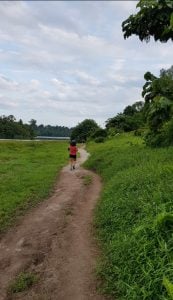 Although I've been to Macritchie Reservoir countless times, but I didn't fully explore the area yet as I know there's the tomb of Mr Lim Bo Seng, our national war hero but I didn't visit the memorial tomb before. Maybe next visit I shall go and have a look! There's also a Shrine, which I only know of this year when I was looking at Google Maps zooming in and out and saw it accidentally. It's called the Syonan Jinja. Unfortunately, after Google on it and found out that its not accessible and it's actually prohibited to visit the historical site. It was built by the Japanese army during the Japanese occupation of Singapore in World War II.
There's many trees along the trails to provide some shades and there's quite a few huts along the way to rest. Taller people have to be alert while walking or running there because I got a taller friend who hit her forehead on a low laying branch as she was used to looking on the trail while running. Poor tree 😂 And I was so worried if she might faint sia 😨
Only a certain area without much shelter is near the golf course area, bringing a cap or a pair of sunglasses really helps a lot. I think handphone is a must to bring along, in case if you're lost, there's gps or when you're injured, you can get help to exit the place. Touch wood, I hope nobody would get injured halfway inside of MR, if not it would be difficult for rescuers as well. First aid kit can come in handy but I don't carry them out with me actually. I've come across people who fell and was bleeding from the head while in MR, I have nothing with me but just a bottle of plain water that at least helped to clean away the dirts from the wound.
The effort for running in trails is more than running on normal pavements or tracks because of the up slopes and uneven terrain and have to be extra alert because if not, we may easily twist our ankle when stepped on a loose stone, tripped on tree branches or when running downslopes and unfortunately fell, might even roll a few rounds and land at the bottom of the slope at a PB pace 😂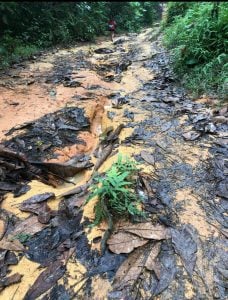 There's quite a few areas with boardwalks and it's super scenic. The water is clear and I think the NParks is taking good care of the place. Sometimes I can see workers in boat picking up litters in the water, they also hike along the trail with thrash bags to pick up litters left by inconsiderate people who litter.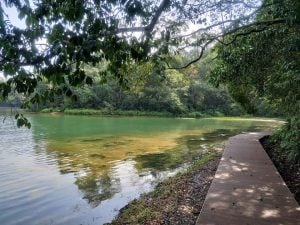 At the main amenities centre there are lockers available, but need $1 or $2 depending on the locker size. There are also shower facilities, but the last time I shower there was at least a year or two ago and I didn't bother to check it out anymore as there's no hot water 😆There are vending machines selling drinks and there's Old Chang Kee there. Didn't really check out what other food or drinks they sell because as long as they sell Ice Milo, it's like Michelin star, more than enough already ❤
One must always be careful and alert while running to their surrounding, no matter where we are running at. I remembered reading news about people getting lost inside of MacRitchie Reservoir and got stuck in it for days and couldn't find their way out as well as cases where people getting and raped there. Just stay on the trail, run before dark and when there's people around and also not to explore unfamiliar route alone. Also, try not to listen to music and stay aware of surrounding sound, so if someone shouts for help, you could hear and even save a life.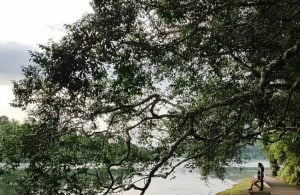 ---