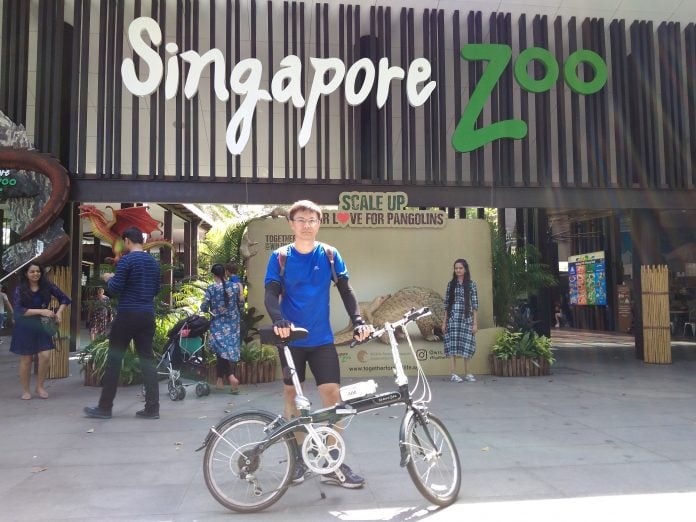 I have always wanted to cycle along Mandai area and had intended to do that last year. But it did not happen because of my lack of determination. Fortunately, my Pengerang expedition gave me a lot of confidence to step beyond my comfort zone. Hence, I decided to check off this to-do item this March, since there is no race I intend to participate in this month.
The Route
The route should consists of places or landmarks I had never been to, or not often, with a bicycle. After much consideration, I decided on the following must-visit places of interest:
Northern – Safari Zoo, Upper and Lower Seletar Reservoirs
North Eastern – Seletar Industrial Park, Sengkang and Coney Island
Eastern – Tampines Quarry
I screenshot portions of each stage of the route to my phone for reference. Although Singapore is small, it is still possible to be lost travelling on unfamiliar roads.
Expedition Day
I did not wake up too early for the ride. It is important for me to have enough rest to brave the afternoon sun. Though I did target to be back in Tampines before 7.00 pm.
I took the train from Bedok North to Kranji via Bishan. I had to transit at least twice in order to get to Kranji via the North-South Line. It is thus important to learn how to correctly transport your foldable bike with minimum fuss so that you will not find it a hassle to commute using the train. I carted my bike using the seat-post.There is another method using the handlebar. But this method is not suitable for train rides as the upright handle may pose a safety concern to fellow commuters.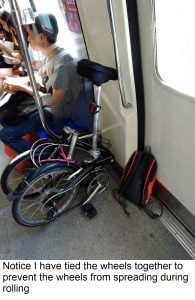 Nevertheless, I reached Kranji and commenced my ride at 10.30 am.
The Northern Ride
It is not easy to orientate myself on the ground even though I had prepared the maps.
The pedestrian path along Woodlands Road and Mandai Road were quite narrow and at times, obstructed. Hence most of the time I prefer cycling on the road instead. This was certainly a risk as there were many heavy vehicles in this area. So if you are cycling here, do keep to the left and stop whenever necessary.
It is not a long ride to reach Safari Zoo after passing Mandai Camps. However, there is ongoing construction on both sides of the Mandai Lake Road, which cause the surrounding areas to be very dusty and parts of the roads in one direction to be single lane. It is definitely not an enjoyable ride along this stretch at this moment.
There were many visitors to the Zoo today, especially so since it was a Saturday. I took some rest here before continuing to Upper Seletar Reservoir via the Mandai Park Connector. It was a quiet PCN ride with occasional pocket views of the reservoir.
Upper Seletar Reservoir is one of the challenges in JustMove Asia and this was my first visit here. It offers a scenic view and who can miss the iconic Rocket Tower here? It was an extremely hot day and there were not more than 10 people (myself included) that were here taking a break at the shelter near the 'jetty'.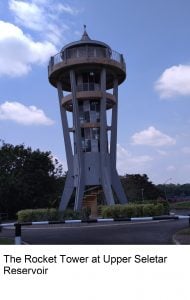 After a while, I left by Track 7 and rejoined the Mandai Road at the junction, turning right. The 'Meng Suan estate' came into view and before long, I reached the junction to Sembawang Road. I stopped for lunch at the 1st coffee shop. This eatery seems to be a 'rest point' for cyclists and it offers quite a variety of food, such as chicken rice and zi char.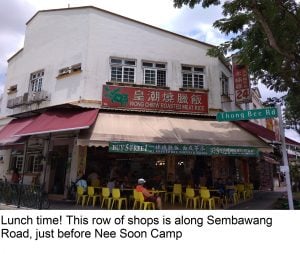 After lunch, I continued to cycle along Sembawang Road, passing Nee Soon Camp. I went through my basic military training here more than 20 years ago. So inevitably, I did a small detour and visited the external premises of the camp to revive some memories of the good old days.
Reaching at the junction to Yishun Ave 1 Road, I turned right towards Lower Seletar Reservoir. This is one reservoir I had always wanted to visit. I feel its scenery is quite unique with a big satellite dish on the opposite side of the reservoir. Otherwise, there is nothing much here, other than water venture having an outlet here. Those interested in kayaking in this reservoir can contact them. But I guess water activities may have temporarily stopped due to the sighting and capture of a crocodile here a few weeks ago.
I continued on, passing Orchid Country Club and finally reaching the 'linkway' leading to Seletar Airport. On the map, this 'linkway' is still 'Yishun Ave 1 Road'. I wonder if it has a proper name?
The North Eastern Ride
This was my first time cycling along this 'linkway'. On my left was the open sea, while my right was the Lower Seletar Reservoir. The passageway is narrow, allowing only 1 cyclist to pass at any one time. Thus, I had to take the initiative to stop and give way to approaching cyclists if necessary.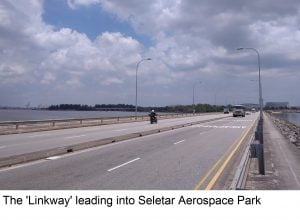 At the end of the 'linkway', I turned right to Seletar West Link. The pavement here is well maintained and the ride is good and smooth. I passed Seletar Country Club before turning left into Seletar Aerospace Drive.
My last visit to Seletar Aerospace Park was during the 2017 Puma Night Run. Even though some parts of the run were on pavement, I had enjoyed this run because of its unique location, just like the Yellow Ribbon Run. But alas, last year it was not being organised.
It was a Saturday afternoon and the park was relatively 'deserted'. This is a good place to cycle during the weekends as the roads here are wide and almost depleted of vehicles. The only issue is its accessibility.
I passed many international aerospace companies such as Rolls Royce and Airbus before reaching Soek Seng 1954 Bicycle Cafe. This is a must-visit cafe for cyclists. But it is not easy to locate. The tip is after passing Pratt & Whitney, look out for the cafe signboard and turn into the lane. This cafe sells western food and you can enjoy a good meal with a look over the runway.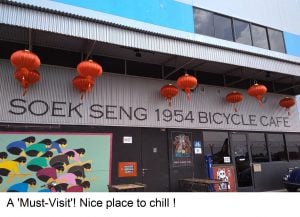 I continued on to Piccadilly and reached the Piccadilly Circus. This used to be the entrance to the old Seletar Camp, where the current Seletar Aerospace Park is. I paid the Church of the Epiphany a visit and thereafter crossed the Jalan Kayu Flyover to Jalan Kayu.
It was time to take an afternoon break and of course, what else is a must-eat when you are in Jalan Kayu?
The roads along the eateries here are often congested. For safety reasons, there were parts either I dismounted to push my bike, or just wait for the traffic to pass before carrying on to Seng Kang West Way. It was not long before I turned left to Anchorvale and Punggol Park Connector. It was not a scenic ride, but the surrounding was peaceful with glimpses of the Sungei Punggol on my left.
I turned right once I saw Marina Country Club and continued towards Waterway Point. It was now almost 5.30 pm and the mall was bustling with crowds and activities. I wasn't new to Punggol Waterway, having ran here for a couple of races.
The sun was about to set when I reached the East Gate of Coney Island. On hindsight, I did not run in Coney Island last year. So perhaps this year I may just give it a thought.
The Eastern Ride
I continued my journey along Pasir Ris Farmway 2. This area used to strive with many pet shops and even an animal shelter. It used to be a great place to chill out for fish hobbyists like myself, as there used to have many fish farms located here. However due to the land being set aside for industrial development, all (except OTF) these tenants have already vacated. Riding here gave me a sense of nostalgia.
Tampines Ikea and Giant were within sight in just 10 mins. I turned in towards Tampines Link and had dinner at Good Year Seafood Village. This place serves good bak ku teh and zi char. It is a favourite haunt for road cyclists, MTB riders and even trail runners at the nearby forest. Tampines Quarry is located just within. It is secluded and not many people are even aware there is a quarry here!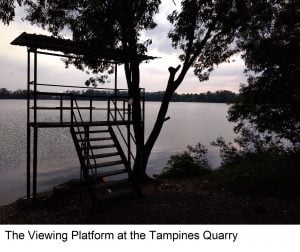 The nearby big empty plot of land was the venue for Spartan 2017, which was my favourite race till date. People will usually come here to fly their remote control planes or drones.
My expedition formally ended when I reached the top slope at Bedok Reservoir, at around 7.00 pm.
After Thoughts
I estimate that I had covered a total distance of approximately 50 km.
The Northern route is scenic, especially at the reservoirs. There are, however, quite a number of slopes and also areas where you will probably have to cycle on the roads. Hence, it may not be suitable for those that are risk-averse.
I enjoyed the ride in the Seletar Aerospace Park. This is a big place and families (or cyclists) can mingle here during the weekends to enjoy the wide space and airport views.
I am not new to the Eastern route since I stay at Bedok. But the really scenic and good ride at the East is actually the Loyang, Changi Coastal and East Coast Park.
I am happy that I had undertaken this North East expedition. I am looking forward to the next expedition at the West, which most likely I will plan after the OCBC Cycle.