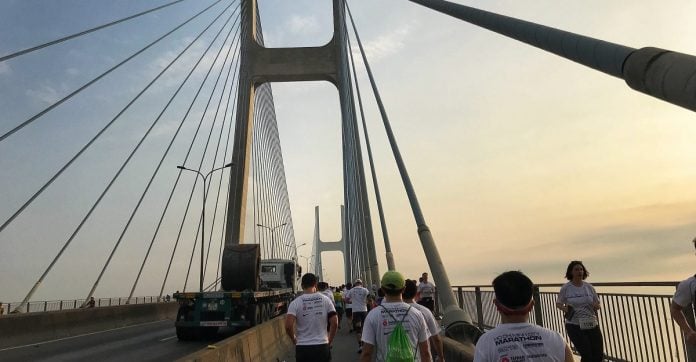 Many have already heard or experienced the greatness of Ho Chi Minh City, both as a  leisure and a business traveller. To top things up, I also had the opportunity to run on the roads of Ho Chi Minh City, which are otherwise crazily packed with cars and motorbikes if not for the Ho Chi Minh City Marathon event by Pulse Active (Powered by Taiwan Excellence).
Arrival at Hotel
When we arrived at our hotel on Saturday (12 Jan), we were pleasantly surprised by the clean streets and nice buildings. This area, District 7, is somewhat unlike the usual District 1 and 3 which most foreigners would have visited. We were then warmly welcomed by the friendly staff and modern furnishing of the hotel which we stayed at, Capri by Fraser. The stay was very comfortable and there was a huge gym where I did some light run after the event-day.
Ho Chi Minh City Marathon Day 1 (REPC and Kids Dash)
After checking in to the hotel, we quickly grabbed some food at the nearby Crescent Mall. The mall is pretty much similar to one you can find in Malaysia. Headed to the food court to have some Vietnamese traditional food but as expected, they didnt taste so good and costed us close to prices we pay in Singapore food courts.
Nonetheless, we headed to the race pack collection which was situated just 5 minutes walk from our hotel. The collection was a breeze with a well-organised layout and helpful crew members. We also checked out the Kids Dash where I saw parents who were equally or even more excited than the kids. It was a challenge for the race officials to contain both the participants' and spectators' excitement. It ended up on a high note eventually.
For the rest of the night, we took a Grab ride to the bustling District 1 area, which took about 20 minutes to have a more decent local meal and to immerse ourselves into the nightlife at the Bui Vien Walking Street.
Ho Chi Minh City Marathon Day 2 (Full Marathon, Half Marathon, 10km and 5km)
The full marathon started at 4am and we could not help but to check out the start. There was a slight delay in the flag-off and I could feel the participants' adrenalin pumping!
As the hotel was so near the start line, we went back to catch some more rest before our 10km event flagged-off at 6.30am.
There were no race jitters at the start as we only wanted to finish the 10km run together, at a manageable pace. It was an enjoyable run where we get to see a glimpse of the Phu My Bridge, a 705-metre long bridge soaring across the Saigon River with a height of 145 metres. Coupled with the beautiful sunrise, it was a sight which no runner will want to miss. The cheerleaders stationed at various points were very energetic and encouraging, even though the event started since 4am.
The only pity was that there were certain parts of the course which were narrow and yet used for 2-way participants access. This would have caused a huge problem for runners who were going at fast speeds. Their performance and runners' safety would have been compromised. A quick chat with one of the race official revealed that authority's approval was obtained to close 2 lanes of the road for the run but there was some last-minute change. The organisers had to adopt other mitigating measures such as flagging off in more waves and also urging participants to keep to one side of the road.
There was also some chaos towards the finishing point whereby drivers and riders were cutting into the runners' path despite race and government officials, and road marshalls trying their best to stop the cars and motorbikes.
Overall, it was an enjoyable experience, a truly Vietnamese one. I was also happy to meet fellow Singaporeans, friends from Malaysia and more.
Post-Run Activities
As with most overseas runners, the post-run activities were very much anticipated. Walking along the streets of District 1, chilling at the cafe and tasting the local delicacies were some of the activities we enjoyed very much.
Streets of Ho Chi Minh City
Vietnamese Delicacies
We will love to visit Vietnam again for a Run & Experience trip, be it Ho Chi Minh City or other cities.
REVIEW OVERVIEW

Event Management
Race Pack Collection Management
Transparency and Communication
Overall Race Experience

SUMMARY