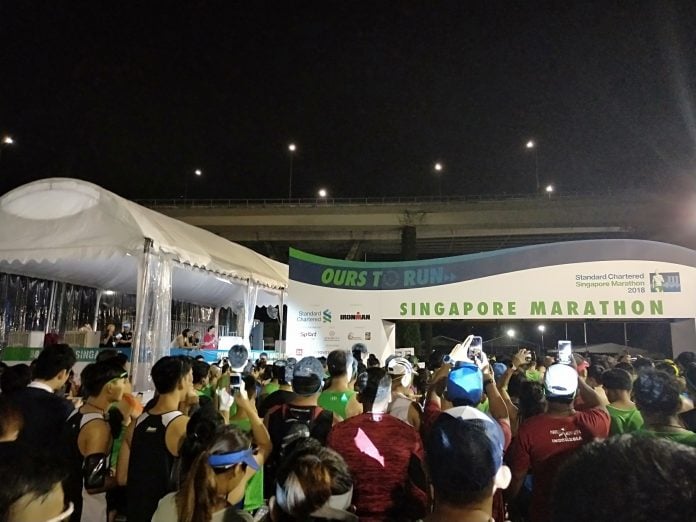 Just when I received an email reminding me to sign up for this year's Standard Chartered Singapore Marathon (SCSM) on the last day of early bird promotion, I went ahead to sign up for it. I didn't think if my run will be near my exam date knowing that I will be studying by then. I went ahead to sign up thinking that my ex-collegue will join me.
This year's route was very different from last year as it will take you from F1 pit, to Nicole Highway all the way to the west coast. Which was new to me. I missed the route along Orchard Road last year.😣
Just when I reminded my ex-colleague to collect his race pack, I realised he didn't even sign up for it. I guess I will be running the race alone😥.
Race pack collection was quick as it took me about 5 minutes to collect my race pack followed by the event shirt as they were at seperate counters. As I walked pass the collection counter to the race expo, I noticed a store that sells Standard Chartered merchandise collectibles such as bags, caps, tee shirts, water bottles, plush lion toy and etc. There were large posters with names of runners written in each category.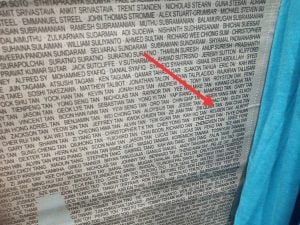 In addition, there's a booth where poster of pacers were showcased followed by many more booths selling products from running gears to electronic gadgets such as Bluetooth earpieces.
I went to the race village via shuttle bus on race day. So I had enough time to warm up and prepare myself for the race. This year's baggage deposit was pretty much improved from more than an hour last year to just few minutes for this race. I flagged off together with all the pen F runners at 5.15am.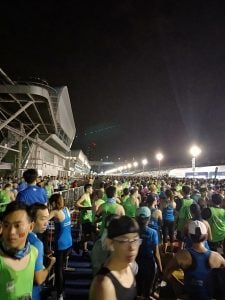 I ran as per normal for 4km then I felt a little pain at my left hamstring and also a small bit of water from the right ear. Think it's the water from the swimming I did the day before but I'm not worried about that. I Started to worry about my legs not being able to endure for another 17km😮. So I prayed for strength to endure.
Surprised to meet my friend from my university's swimming club at 9km mark when he called me 😊. We had a conversation along the way. In fact, we had enough breath to converse while running for the next 7km! Actually he used me as a pacer too😂. Through the conversation, I learned that he had signed up for a full marathon (42.2km) without any running training prior to the race, but he's a swimmer. I only had 1 long run (17km) as training prior to this race and that's it. So I thought, WOW, even swimmers can run full marathon! 😂. This gives me a little motivation to sign up for future running races for year 2019 hoping that he could tag along with me.
At around 16km, me and my friend went separate ways. However, my thighs felt really sore after running for 17km and also felt like puking. I endured for another 18km until I started walking. Then guess what? My thighs begin cramping, especially on the right one. I felt that I'm really weak, despite slowing down my pace while conversing with my friend I experienced cramps at 18km. I had another 3.1km to go. So I slowed down even more by adding more walk breaks in between making sure that my calves do not cramps up as well. I took a spare banana which was in my pocket to eat hoping that it will give me the strength to finish the race. I actually took 2 bananas from the banana station earlier on. I eventually finished the race despite the challenges faced in 2 hours 46 minutes.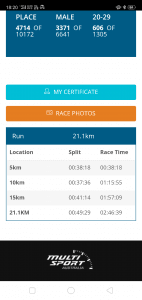 This was my slowest personal half-marathon record for me. I do hope for a faster and injury-free finish for my next half-marathon.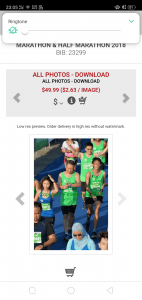 However, what I dislike about the organiser is that they directed the runners away from the shortcut path that leads to Promenade station to a path that requires us runners to cross over a road occupied with racing runners. It was super difficult to cross as marshallers kept giving way to the runners instead of pedestrians. So some runners including myself walked a long way across a temporary bridge and into the underpass that eventually leads to City Hall station. It was a super long walk considering that I walked with my worn out legs 😣.