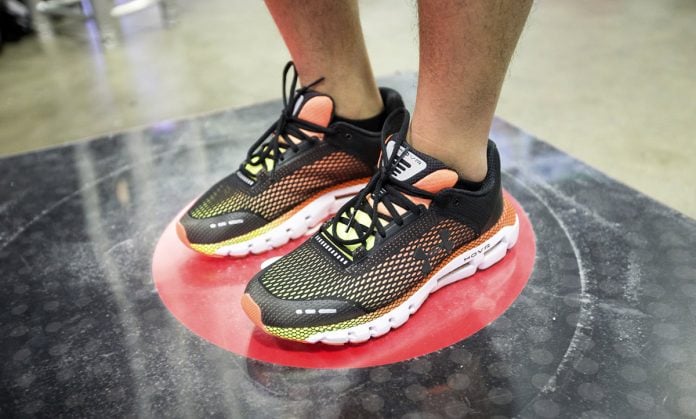 As part of its expansion in the Run footwear category, high performance sportswear label Under Armour (UA) will be launching the HOVR Infinite in February 2019, following its 2018 roll-out of the HOVR Phantom and HOVR Sonic Connected models across the world. The latest addition to UA's digitally savvy "Connected" line and designed for high-impact, long-distance runners, HOVR Infinite enhances how consumers experience UA's proprietary HOVR technology – its cushioning platform that features a sturdy foam compound, providing energy return and shock absorption with every foot strike.
Personalized Gait Coaching Amongst New Connected Features
Connectivity is the focus for the coming year. In 2019, the HOVR Infinite, alongside every HOVR performance running shoe around the world, will connect to UA's "MapMyRun" application – allowing runners to track basic statistics introduced in 2018 such as running distance, pace and splits – but also more advanced gait metrics like cadence and stride length.
The Spring 2019 HOVR line will be where physical meets digital. The HOVR Infinite will include a feature that analyzes run data and provides runners with real-time, in-depth gait coaching; almost like a personalized run coach that all customers will have access to. Runners will be able to evaluate their precise progress and check their historical data, allowing for better pace prediction and planning for future runs.
"The sports industry is constantly being reshaped by technology, and digitalization is changing the way we interact with sports like running," said Michael Binger, Chief Executive Officer, Triple Pte Ltd. "In 2019, we aim to elevate our customers' running experiences by connecting them to digital platforms that will understand their needs and improve their performance. Our Connected Fitness investment gives us the unique ability to go wherever our runners are, via our digital community, and speak to them in a personal and intimate way."
"Since we unveiled HOVR, all HOVR Connected workouts have tracked over 1 million miles in MapMyRun. In 2019, we are committed to continue investing in our Connected community – delivering a seamless digital running experience and building onto our current network of over 245 million users."
The HOVR Infinite features a neutral cushioned model with 29 MM heel and 21 MM forefoot (8 MM offset), with the shoe's foam designed to provide a sensation of 360 coverage for enhanced comfort – enabling runners to go further and longer with every run. It anchors a full suite of new HOVR running shoes that will be launched in January 2019 – the Guardian, Velociti 2, Sonic 2 and Phantom SE.
HOVR Infinite will be available for purchase in UA outlets at Orchard Central, Bugis Junction, and VivoCity. It will retail at 219 SGD. For more information, please visit http://www.underarmour.com.sg.
Upcoming SS19 HOVR Suite: The Power of the Connected Experience
UA HOVR Guardian
A stability trainer for the runner that needs support for overpronation. The UA HOVR Guardian features support elements in the heel and in the midfoot, which help to guide the foot into the most efficient kind of transition. The Guardian also contains a pronation decelerator chassis, with a dual density foam construction to help guide any overpronation and provide a stable ride.
Specs:
• Stability
• 26.5 MM Heel / 18.5 MM Forefoot
• Weight: Men's 12 oz (340 grams) / Women's 9.8 oz (278 grams)
• 219 SGD for the HOVR Guardian Connected
UA HOVR Velociti 2
A fast-tempo, lightweight trainer for the runner who's focused on speed. HOVR Velociti 2 is an evolution of the original Velociti, which uses Charged cushioning.
Specs:
• Neutral
• 23 MM Heel / 15 MM Forefoot (8 MM offset)
• Weight: Men's 9 oz (255 grams) / Women's 7.5 oz (213 grams)
• 199 SGD for the HOVR Velociti 2 Connected
UA HOVR Sonic 2
An evolution of the original HOVR Sonic released in 2018, the UA HOVR Sonic 2 is designed to provide the smoothest ride for the everyday runner. It contains enhanced cushioning of the tongue for more lockdown over the top of the foot and offers an overall flexible, responsive and smooth transition underfoot.
Specs:
• Neutral
• 24 MM Heel / 16 MM Forefoot (8 MM offset)
• Weight: Men's 10 oz (283 g) / Women's 8.3 oz (235 g)
• 179 SGD for the HOVR Sonic 2 Connected
UA HOVR Phantom SE
Compared to the previous generation of UA HOVR Phantom, the Phantom SE (Sports Edition) offers a more anatomical shaping of the collar to add to that sporty edge, as well as more breathability with engineered mesh. It is built for the runner who wants ultimate plush cushioning underfoot and an overall luxury ride.
Specs:
• Neutral
• 24 MM Heel / 16 MM Forefoot (8 MM offset)
• Weight: Men's 10.4 oz (295 g) / Women's 8.6 oz (244 g)
• 229 SGD Connected