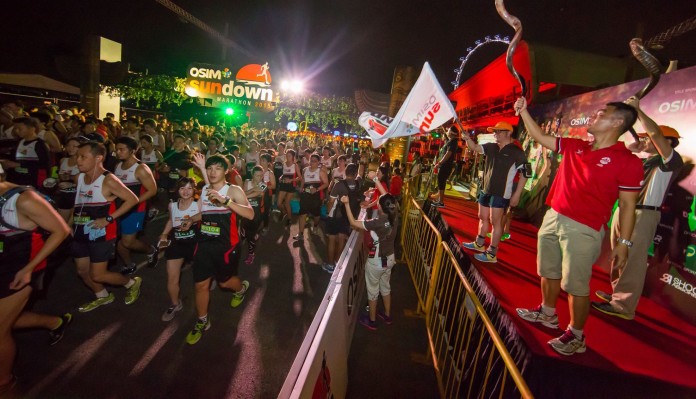 Asia's biggest night run, OSIM Sundown Marathon is set to return to Singapore on June 1, 2019, under the new event management of Infinitus Productions. Bringing a fresh perspective to Asia's biggest night run, the team will preserve the unique characteristics that make the race a favourite amongst the running community, and yet expand its focus to highlight inclusivity in sports.
Reflecting on the brand's success, Max Phua, Director, F4U Pte Ltd says, "the OSIM Sundown Marathon Singapore is our flagship event and we are happy to partner Jeffrey Foo, Director of Infinitus Productions Pte Ltd who was one of the co-founders of Sundown Marathon when we first started."
"We are thrilled to be working with F4U again and to continue our journey on Sundown Marathon. We look forward to contributing our experience and expertise to this well-loved and established race and to create an unforgettable experience for our runners, returning and new ones alike," says Jeffrey Foo, Director of Infinitus Productions Pte. Ltd.
Set to take place at F1 Pit Building, runners can look forward to striving for greatness beneath a starlit sky and cooler temperatures. Registration for the OSIM Sundown Marathon Singapore will commence on December 5, 2018, online as well as at the roadshow launch at the Standard Chartered Marathon Singapore Expo from December 5 – 8, 2018. Runners who register at the roadshow will enjoy a special registration rate and receive an OSIM Sundown Marathon Singapore goodie bag. Loyal runners are also being looked after, with special loyalty rates available until January 31, 2019. The loyalty rates will be open to participants who joined the race from 2016 – 2018.
Race categories are the 42.195km Full Marathon, the 21.1.km Half Marathon, the 10km Challenge (individual and Team of 4), and the 5km category which is open for both adults and children. New race experiences include an immersive race pack collection at the OSIM Sundown Marathon Singapore Expo and Sundown Summer Night Fest on race day.
This year, the OSIM Sundown Marathon Singapore also aims to champion the cause of inclusivity in sports and the wider community and Infinitus Productions will lead by example and contribute funds to the ongoing charity initiative, Sundown with Love. Some of the beneficiaries include the Singapore Disability Sports Council, The Straits Times School Pocket Money Fund and RunningHour. For every race slot purchased, $1 of the registration fee will be donated to the adopted beneficiaries, and runners will also have the opportunity to donate additional funds to the causes via the official event website.
Phua further commented, "we are really pleased that we can promote sports inclusivity via our brand. We are proud that Infinitus Productions is aligned with us on our objectives aswe expand further afield, creating footprints in Southeast Asia, China and to the US."
"2019 and 2020 are critical years which will see Singapore's top athletes vying for qualification to the Paralympic and Olympic Games, the world's most prestigious multi-sport events. This journey will be expected to be another tough cycle for us as a charity, as we support not only top para athletes like Yip Pin Xiu towards their Paralympic qualification, but also enable talented youth with disabilities like Wong Zhi Wei to continue their pathways towards achieving that dream some day. We cannot express our appreciation enough to the organisers of OSIM Sundown Marathon Singapore, for giving us a lift towards our cause," said Kelly Fan, Executive Director of the Singapore Disability Sports Council.
From strengthening community bonds in the present to building towards excellence in future, the race organisers are also setting their sights on being certified by the International Association of Athletics Federations (IAAF) by 2020, thus becoming the second race in Singapore to achieve this status. The upcoming event in 2019 is set to be the stepping stone for this prestigious aspiration, and Sundown Marathon invites the community to follow their journey towards greatness.
Lynn Tan, Deputy Managing Director of OSIM, title sponsor of Sundown Marathon since 2015, concluded, "OSIM is a home-grown brand that is now renowned internationally and synonymous with the pursuit of wellness. Through our activities and products, we aim to inspire well-being and encourage a healthy lifestyle, and as such the Sundown Marathon, which champions the journey towards greatness, is a superb fit for our brand. We are pleased to continue to be a part of the Sundown Marathon and support the growth of the Singapore brand on a global stage."