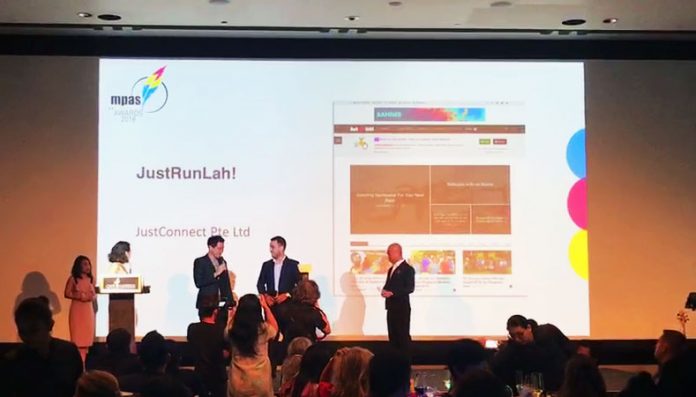 The Asia Pacific Publishing Awards (APPA) and MPAS Awards 2018 — organised by Media Publishers Association Singapore — took part last night, the 8th of November 2018, in One Farrer Hotel Grand Ballroom, Singapore.
On its 12th year, the awards ceremony was attended by over 35 publishing companies and 180 stakeholders in the industry.
Recent elected President of the media association, Mr John Thet said, "The MPAS and APPA Awards represent the best of industry practice in published media – whether it is in print, online, or across a variety of platforms."
"Our industry is facing its share of disruption, but it's also loaded with creativity, boldness, and a love of hard work that is helping many businesses to thrive in difficult times. It's heartening to know that so many media members of the association look forward to our annual awards gala dinner," said Miss Chrystal Wong, Executive Director of MPAS.
JustRunLah! (www.justrunlah.com) is honored to have won two MPAS awards this year: Sports and Recreational Media of the Year – GOLD and Consumer Website of the Year – SILVER. "Thank you MPAS for acknowledging our hard work. We love what we do and we hope to continue to inspire more people to get fit and healthy through our content.", said Mr. Brian Liu Zhiyong, co-founder of JustConnect Pte Ltd, holding company of JustRunLah!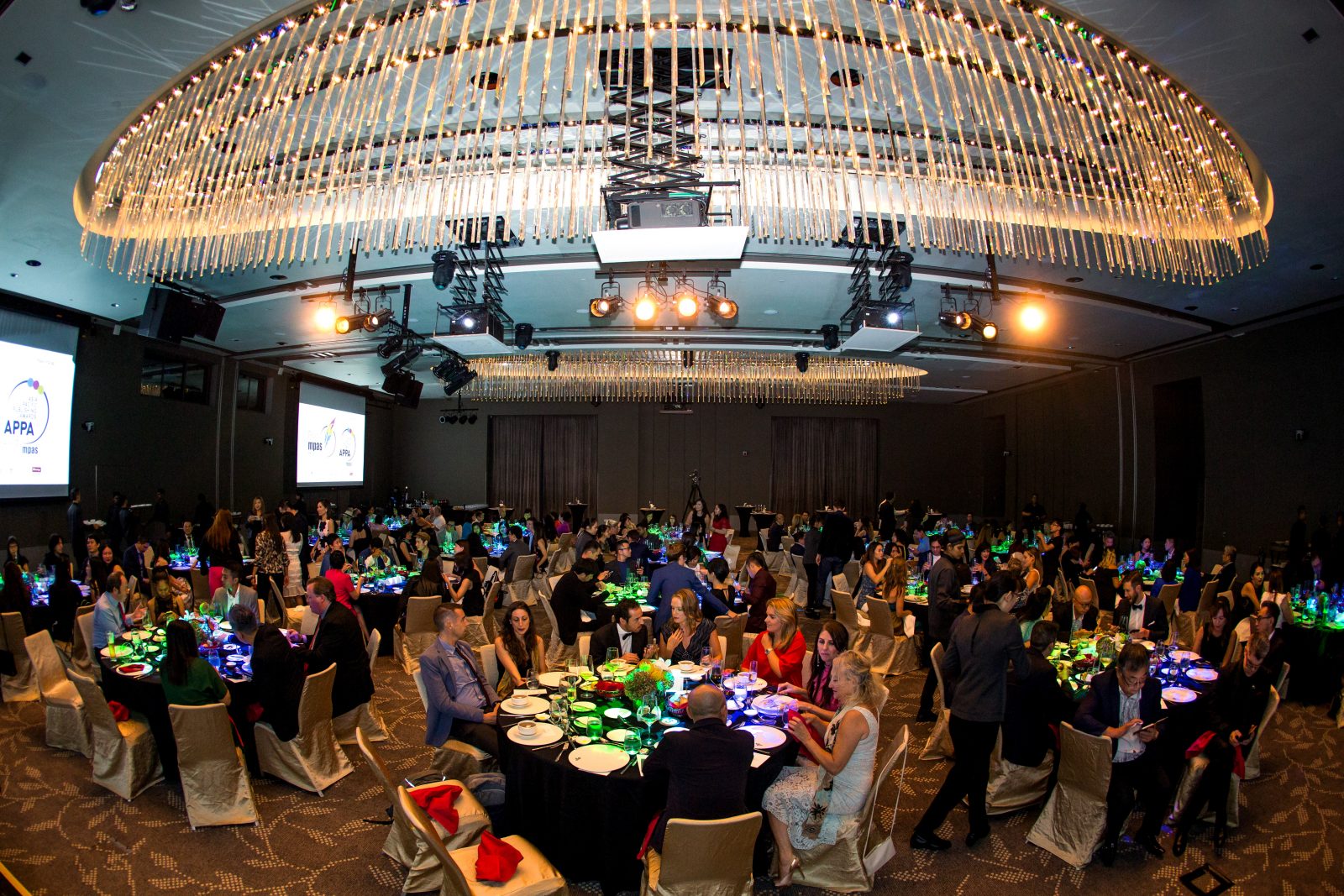 The awards were judged by a panel of 6, ranging of veterans in the creative sector, public relations and media publishing. The panel also includes fresh faces like James Lim, Creative Director of Hakuhodo, Dean Carroll, Publisher of Mumbrella Asia, James Hewes, President and CEO of FIPP and David Tay, former President of Photographic Society. Miss Lynda Williams, Managing Director of Vim & Vigour, was one of the only 2 judges retained from last year's panel, together with Ms Marina Mathews.
ASIA PACIFIC PUBLISHING AWARDS WINNERS
Business/ Professional Media of the Year – GOLD
Asian Banking & Finance
Charlton Media Group
Food Media of the Year – GOLD
epicure
Magazines Integrated
In-Flight Media of the Year – GOLD
Smile
INK
Integrated Media of the Year – GOLD
ScubaDiver Ocean Planet
Asian Geographic Magazines
Lifestyle Media of the Year – GOLD
We the Pvblic
News Media of the Year – GOLD
Mumbrella
Mumbrella Asia
Media of the Year (Original Content) – GOLD
Asian Geographic
Asian Geographic Magazines
Luxury Media of the Year – GOLD
Prestige Singapore
Burda
Men's Media of the Year – GOLD
AugustMan Singapore
Burda
Special Edition of the Year – SILVER
India needs proper Biosuppliers' ecosystem
MM Activ Sci-Tech Communications
Special Edition of the Year – GOLD
ScubaDiver Ocean Planet : Celebrating Sharks
Asian Geographic Magazines
Special Interest Media of the Year – SILVER
Insurance Asia
Charlton Media Group
Special Interest Media of the Year – GOLD
ScubaDiver Ocean Planet
Asian Geographic Magazines
Sports and Recreation Media of the Year – GOLD
ScubaDiver Ocean Planet
Asian Geographic Magazines
Trade Media of the Year – SILVER
HRM Magazine Asia
HRM Asia
Trade Media of the Year – GOLD
Mumbrella
Mumbrella Asia
Travel Media of the Year – GOLD
Asian Geographic Passport
Asian Geographic Magazines
Personality Awards
Art Director of the Year
Marlon Espino
INK
Blogger of the Year
Nic Tse
SeriouslyMan
Editor of the Year
Stefan Pertz
Asian Trucker Media
Designer of the Year (Runner up)
Justin Tin Htwe
Asian Geographic Magazines
Designer of the Year
Tio Pei Moon
MIMS Pte Ltd
Journalist/ Writer of the Year
Melinda Murphy
Expat Living Publications
Digital Awards
Consumer Website of the Year – SILVER
JustRunLah! – www.justrunlah.com
Just Connect
Consumer Website of the Year – GOLD
Expat Living – www.expatliving.sg
Expat Living Publications
Trade Website of the Year – GOLD
Underwater 360 – www.adex.asia
Conference/Exhibition of the Year – Silver
Underwater360: ADEX Singapore 2018
Asian Geographic Magazines
Conference/Exhibition of the Year – Gold
MillionaireAsia Blockchain & Cryptocurrency Summit – The Future Of Money MillionaireAsia
Event/Party of the Year – Gold
ONE: Unstoppable Dreams
ONE Championship
Feature Article of the Year (Consumer) – Bronze
AUGUSTMAN Singapore – Wild Nights: The Women of Thai Discos
Burda Singapore
Feature Article of the Year (Consumer) – Silver
Asian Geographic – Back from the Dead
Asian Geographic Magazines
Feature Article Of The Year (Consumer) – Gold
Asian Geographic – China Manufactures the Future
Asian Geographic Magazines
Feature Article of the Year (Trade) – Bronze
Asian Trucker Singapore – Challenges & Opportunities in Timor-Leste
FCowan Media
Feature Article of the Year (Trade) – Silver
TTG Asia April 2018 Issue
TTG Asia Media Pte Ltd
Feature Article of the Year (Trade) – Gold
SilverKris – Wild Kitchen
INK
Front Cover of the Year (Consumer) – Bronze
NÜYOU December 2017 Issue
SPH Magazines
Front Cover of the Year (Consumer) – Silver
Prestige Singapore August 2018 Issue
Burda Singapore
Front Cover of the Year (Consumer) – Gold
Asian Geographic 2017 Issue 126
Asian Geographic Magazines Pte Ltd
Front Cover of the Year (Trade) – Bronze
MIMS DOCTOR February 2018 Issue
MIMS
Front Cover of the Year (Trade) – Silver
H4ufme June/July 2018 Issue
Colour Symphony
Front Cover of the Year (Trade) – Gold
MIMS DOCTOR July 2018 Issue
MIMS
Illustration of the Year – Bronze
SilverKris – Curators
INK
Business/Professional Media of the Year (Print) – Gold
Singapore Business Review
Charlton Media Group Pte Ltd
Business/Professional Media of the Year (Online) – Gold
The Luxury Network Magazine
The Luxury Network Singapore
Closed Circulation Media of the Year – Gold
Audi Singapore
Edipresse Media Singapore
Custom Publication of the Year – Bronze
Ascent Magazine
Media Group
Custom Publication of the Year – Silver
Sands Style Edipresse
Media Singapore
Custom Publication of the Year – Gold
Audi
Edipresse Media Singapore Pte Ltd
Food Media of the Year – Silver
T.Dining by Singapore Tatler
Edipresse Media Singapore Pte Ltd
Food Media of the Year – Gold
epicure
Magazines Integrated
Fashion Media of the Year – Silver
FEMALE
SPH Magazines Pte Ltd
Fashion Media of the Year – Gold
Harper's BAZAAR Singapore
SPH Magazines
In-Flight Media of the Year – Gold
SilverKris
INK
Integrated Media Brand of the Year – Gold
Expat Living
Expat Living Publications
Lifestyle Media of the Year – Bronze
Expat Living
Expat Living Publications
Lifestyle Media of the Year – Silver
Sands Style Singapore
Edipresse Media Singapore
Lifestyle Media of the Year – Gold
Singapore Tatler Homes
Edipresse Media Singapore
Luxury Media of the Year (Online) – Silver
The Luxury Network Magazine
The Luxury Network Singapore
Luxury Media Of The Year (Online) – Gold
SingaporeTatler.com
Edipresse Media Singapore
Luxury Media Of The Year (Print) – Bronze
Singapore Tatler
Edipresse Media Singapore
Luxury Media of the Year (Print) – Silver
Portfolio Magazine
Media Group
Luxury Media of the Year (Print) – Gold
The Peak
SPH Magazines
Media of the Year (Original Content) – Silver
Go! Singapore Magazine
Go! Asia Magazine
Media of the Year (Original Content) – Gold
Expat Living
Expat Living Publications
Men's Media of the Year – Gold
AUGUSTMAN SINGAPORE
Burda Singapore
Parenting Media of the Year – Gold
Sassy Mama Singapore
Sassy Group Singapore Pte Ltd
Special Edition of the Year – Bronze
D+A Annual 2018 & 100th Issue
Media Group
Special Edition of the Year – Silver
Expat Living City Guide
Expat Living Publications
Special Edition of the Year – Gold
Kids' Guide
Expat Living Publications
Special Interest Media of the Year – Bronze
The Peranakan Magazine
The Peranakan Association Singapore
Special Interest Media of the Year – Silver
Square Rooms
Media Group
Special Interest Media of the Year – Gold
Singapore Tatler Generation T
Edipresse Media Singapore
Sports and Recreational Media of the Year – Gold
JustRunLah!
Just Connect
Trade Media of the Year – Bronze
Asian Trucker Singapore
Asian Trucker Media
Trade Media of the Year – Silver
HRM Magazine Asia
HRM Asia
Trade Media of the Year – Gold
Asian Power
Charlton Media Group Pte Ltd
Travel Media of the Year – Bronze
Asian Journeys
FCowan Media
Travel Media of the Year – Silver
Travel By Lightfoot
Lightfoot Travel
Travel Media of the Year – Gold
SilverKris
INK
Women's Media of the Year – Gold
HER WORLD
SPH Magazines Pte Ltd