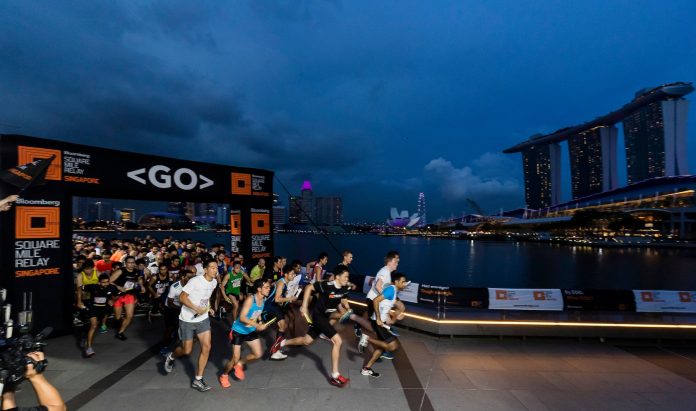 Standard Chartered Bank were crowned the "fastest firm in the city" following their first-place finish in the sixth running of the Bloomberg Square Mile Relay Singapore, as 166 teams took to the city's financial district to battle it out for top spot in the annual event, with 22% more teams on the start line than previous years.
Each team consisted of 10 members who were tasked with running the one-mile course in the fastest possible time before passing on the baton to the next colleague. The team to complete its 10 cumulative one-mile laps in the fastest time was Standard Chartered Bank who were winning the race for the very first time, with the firm crossing the line in 53 minutes and 50 seconds. In second place, were Macquarie completing the course in 54 minutes and 35 seconds and Norges Bank Investment Management finished third with a time of 1 hour and 41 seconds.
Standard Chartered Bank team captain, Mohammed Rahim said: "This is our sixth attempt at the relay, and it feels great to have finally won! This year, we had more training sessions and worked at maintaining our consistency throughout the race. The team performance exceeded our expectations and we are extremely proud of our achievement."
The fastest runner on the night was Ashley Miles from Macquarie, who ran his leg in 4 minutes and 51 seconds. The highly competitive Fastest Mixed Team award was won by GIC with a time of 1 hour, 1 minute and 58 seconds. Their team captain Sylvester Wee said, "We are ecstatic about our securing our first win at the Bloomberg Square Mile Relay! It was a great team bonding experience, and to be part of an event that is supporting the community is even better. We have been training together with weekly runs and occasional time trials, so we are glad that our efforts have paid off! This is our fourth year participating in the relay, and we definitely hope to be back next year."
Building on Bloomberg's long-standing tradition of supporting local communities and giving back, the Bloomberg Square Mile Relay in Singapore teamed up with sport-for-development charity SportCares to give back to the community as part of the global "The Extra Mile" initiative. The Extra Mile aims to address unique social challenges in each city where the relay race takes place.
Runners are encouraged to vote for one of three causes that will have yearlong support via a US$25,000 donation and runners will have a chance to volunteer in activities that address the winning challenge.
Maggie Ng, Head of ASEAN Bloomberg, said: "Square Mile Relay offers a perfect opportunity for the city's most competitive runners to come together for a night of camaraderie, teamwork, celebration and networking. At the same time, it gives us the chance to contribute to the overall wellness of the communities we operate in. We hope to see more teams next year, as more companies continue to instill healthy lifestyles within the workplace!"
166 teams competed in the Singapore leg of the global race series, which takes place annually in 10 cities world-wide, with two more cities being added in 2019. Headline sponsor Bloomberg returned for its sixth year of sponsorship in Singapore, joined by Virgin Active as fitness partner, Conrad Centennial Singapore as hotel accommodation partner, Grand Hyatt Singapore as catering supplier and Peroni as beer supplier.
"Our global race series is like no other sporting event, as the city's workers come together for a night of camaraderie, teamwork, celebration and networking, all whilst supporting a fantastic cause. We are excited to announce that two new cities are being added to the annual series next year, but we now look ahead to our final race of the global series which will be hosted in Hong Kong on 8th November," said James Hassett, Managing Director of event organizer Square Mile Sport.
Adapted from Press Release