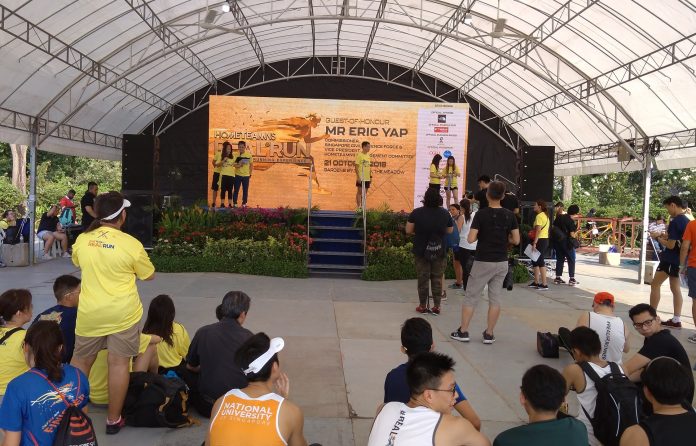 This year's Home TeamNS Real Run is held at The Meadow, Gardens By The Bay on 21st October. Compared to last year's run at Punggol Waterway,  this year's incorporates 2 new categories: 3 km fun walk and 21 km run. I am participating in the 21 km run, while my friends Angie and Kamal are participating in the 10 km category – all thanks to JustRunLah! for providing us with 3 complimentary slots (thank you, JRL!).
The 21 km route brings the runners to East Coast Park, u-turn and back to The Meadow via Gardens By The Bay East. It is different from the 10 km route, which covers mainly Gardens By The Bay East. This must be one of the few morning races where the 21 km flags off late at 5.30 am and the 10 km flags off early at 5.50 am, a mere 20 mins apart. I believe the organizers made this arrangement to facilitate a single shuttle service pick up time for all runners and at the same time, minimal 'idle time' for the 10 km runners awaiting for their flag off.
Race pack collection at Novena Square was relatively fast and done within 5 mins. There were quite a few useful items in the race pack, such as the Superbowl vouchers.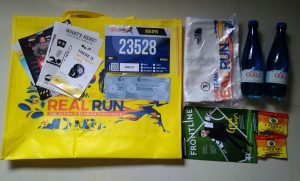 My 2 Goals for this Run
I never enjoy long distance running. But I do like to challenge that distance once in a while. So I set a rule that I will not run more than 2 half marathons within in a year and they should preferably be at least 4 months apart.
Having said that, my last half marathon was The Income Eco Run at end April. I completed that race at a time of 3 hr 07 mins and with knee pain. For this Real Run, I decided to try a different approach, with a primary goal to eliminate the knee pain. I think it just doesn't make sense to complete a race resulting in pain or injury. Finish the race within 3 hrs is my secondary goal. This was my plan:
After the 12 km mark, slow to a walk for a min or two before covering the next 1 km. I used my Runkeeper app to monitor and repeat this cycle.
Perform quadricep stretches during each walk/stop.
Apply pain relief ('Star Balm') if necessary. So yes, I actually brought it along with me for the run.
Race Day
It was warm and humid on race day morning. I took the shuttle service at 4 am at Bedok and reached the race site at 4.30 am. Volunteers were setting up the various booths and the bouncy castle. I was pleasantly surprised that drinks were already available at the hydration point. I think this is good as runners could hydrate themselves before their run. I deposited my bag and explored the site with my friend, Angie, who was taking part in the 10 km run. We had a good catch-up before we proceed to the Start Point.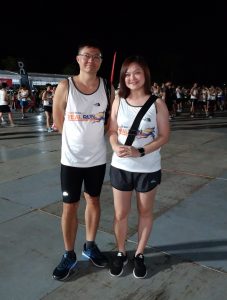 There were 2 waves to the 21 km flag off at 5.30 am. I joined the 2nd wave. This was my first time running at Gardens By the Bay, Marina Barrage and East Coast Park (ECP) at this early hour. The surroundings were quiet and peaceful, though there were already pockets of other runners enjoying their morning jog. By the time I hit the 9 km u-turn mark at ECP, it was already 7 am and the sun was up. The weather was hot. Apart from hydrating myself with pocari sweat at the hydration stations, I wet my face and neck with water to cool down. I have been to ECP many times, hence did not specifically take time to enjoy the scenery and sea views. I guess my focus was on the run itself.
Once I reached the 12 km mark, I slowed and acted according to my plan, performing quadricep stretching and taking it easy. So much so that a volunteer thought I was in 'trouble' ! I repeat this cycle until I reached the Marina Barrage, where I felt exhausted. There was still 2 km to clear and I did it with a mixture of running and walking.
I managed to complete the race at a net time of 2 hr 45 mins and most importantly, without any knee pain. I had achieved my goals, feeling great and not overly exhausted.
Post Race
There wasn't much activities at the race site, apart from the free massage for the runners and the awards presentation to the top runners. I believe many runners (and their families) had left after collecting their entitlements, as the day was getting very hot and there was no shelter to offer respite from the sweltering heat.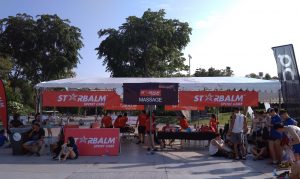 I took some photos at the photo booth and lingered a while before making my way home.
Did My Plan Work?
Frankly, I am not sure. What I know is that patellofemoral pain can occur when the muscles around the hip and knee don't keep the kneecap properly aligned due to repetitive stress on the knee joint. Hence, what I did was to prevent it from even happening by inducing lesser stress and periodically 'align' the kneecap. I have been doing vertical runs too. Perhaps the strengthening of core muscles help in some ways also.
Comments
1) The carrier bag for the race pack appears to be an 'over-kill'. I think a drawstring bag is more suitable and practical.
2) I didn't notice any sign directing to the Start Point. There was a white arch at the venue which I mistakenly thought was the Start Point. It was only after the race I realized that was the start for the 3 km walk.
3) There were sufficient hydration stations throughout the run. And they provided good choice of pocari sweat and water. But I feel the water was too chilled for consumption when you were exhausted. Having it just 'cold' may have been better.
4) There were sufficient volunteers and road marshalls. Many of them were enthusiatic and gave words of encouragement to runners to persist to the end.
5) I didn't notice medical support along the run. I thought an ambulance on standby at an 'out-lying' area such as ECP for a long distance run would have been re-assuring. Perhaps I didn't notice there was.
6) Personally, I prefer last year's edition at Punggol Waterway. There was a good theme (fire-fighters vs law enforcers) and the route took us to Coney island. City areas and ECP are just too common places to provide a refreshing experience. Perhaps for next year's edition, if it is feasible, could be held in conjunction with the SCDF Exhibition at the Singapore Expo? I believe such an experience would be more unique as participants can explore additional activities at the Expo after their run.