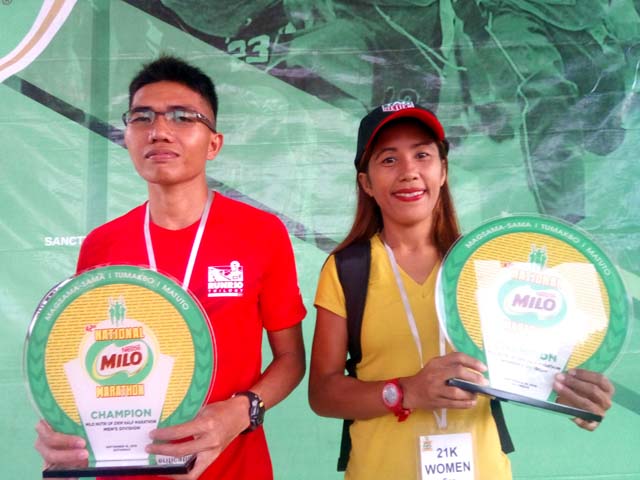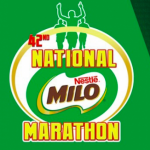 BATANGAS CITY – Former MILO Marathon King Rafael Poliquit took the first step to regain his throne by winning the 42nd National MILO Marathon Batangas City qualifying race last Sunday at Plaza Mabini.  Sharing the spotlight was Women's winner Luisa Raterta as well as all the runners that earned slots in the National Finals this December 9 in Laoag City.
Poliquit received a big challenge from his fellow Philippine Air Force soldier Anthony Nerza but in the end of the 21-kilometer mostly uphill race, Poliquit prevailed in a time of 1:11:19 compared to the 1:12:21 of Nerza.  Third Place went to another veteran runner Erineo Raquin in 1:15:53.
Poliquit first reigned from 2014 to 2015.  If successful this December, he will join the elite list of three-time or more champions that includes running legends Roy Vence, Eduardo "Vertek" Buenavista, Wilfredo Ballester, Jimmy de la Torre and Crescenciano Sabal.
Raterta finished topped the distaff side in a time of 1:34:04.  She was followed by Janice Tawagin-Nerza (1:38:53) who took runner-up honors like her husband Anthony while Third Place went to Luz Tiuseco (2:01:00).
It was a triple celebration for the Raterta family after Luisa's daughters Leonalyn (19:44) and Lyka Mae (14:02) ruled the five and three-kilometer side events respectively.  Other winners were Roberto Bacani Jr. (44:22) and Kyla Adell Viduya (58:50) in the 10 kilometers, Raffy Kalaw (16:08) in the five kilometers and John Cyril Torres (12:59) in the three kilometers.
Only one more race will be held in Luzon this September 30 in Lucena City.  After that, the MILO Marathon will move to the Visayas and Mindanao for races in Iloilo (October 7), Cebu (October 14), General Santos (October 21), Butuan (November 11) and Cagayan de Oro (November 18).