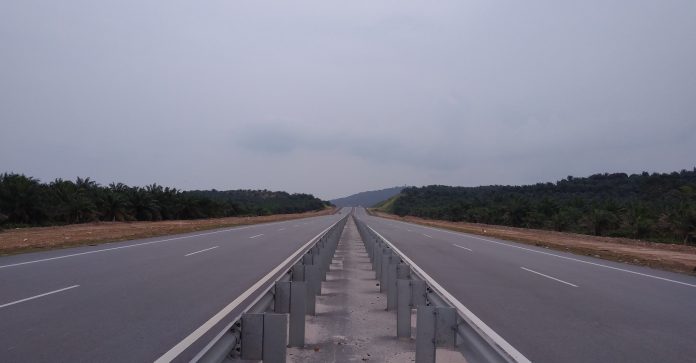 This blog is a record of my cycling trip to Pengerang. Unlike my usual blogs and comments on races, I hope the information contain within is useful to the cyclist who may want to venture there but is holding back due to lack of information.
Introduction to Pengerang
Soure: Wikipedia
Pengerang (Chinese: 边佳兰) is a mukim (county) and a new municipal area in Kota Tinggi District, southeastern Johor, Malaysia. It is also known as a small custom cum immigration post. It is separated from Pulau Tekong and Changi Airport, Singapore by the Tebrau Straits.
The Johor State Government has picked Pengerang for a catalyst project for rural transformation program. This project is the establishment of the Pengerang Integrated Petroleum Complex (PIPC), an oil and gas hub located on a single plot of land measuring of 20,000 acres. Upon completion, the project will house oil refineries, naphtha crackers, petrochemical plants as well as a liquefied natural gas (LNG) import terminals and a regasification plant.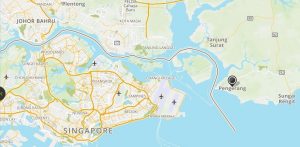 Sungai Rengit (Chinese: 四湾岛) is the town centre of Pengerang. Sungai Rengit is essentially a collection of fishing villages and is very popular with seafood lovers. The town usually comes alive during its weekend flea markets.
Cycling in Pengerang
Avid cyclists like to choose Pengerang as their first overseas cycling experience. It is in close proxmity to Singapore, offers beautiful landscape and relatively wide roads with road shoulders for safe cycling. However, due to the development of the PIPC, cyclists must expect the presence of heavy vehicles which at times can zoom past you at high speeds. It is definitely not for the faint hearted or risk adverse. The roads can get quite dusty too and be prepared to ride under unsheltered hot sun.
If these are not an issue with you, then you are rewarded with nice natural scenery and a good meal at the Sungai Rengit Town, which is well-known especially for its fresh lobsters.
The adventurous may choose to continue their ride to Desaru, visiting the Ostrich Farm and Fruit Farm. In all, there are several options which the cyclist can choose. It is a matter of how much distance you want to cover and if you intend to have just a day or 2 days trip.
A day trip usually involves cycling to Sungai Rengit Town, have a meal and retraced the same route to Singapore. This covers an estimated 50 km distance. A 2 days trip usually require you to stay 1 night at Desaru (e.g. Lotus Desaru Beach Resort) and cycle back the same way on the second day. This covers an estimated distance of 100 km.
There are other options too, such as returning to Singapore via cycling through the Woodlands customs. This is definitely highly adventurous! So it is really up to you!
Researching the Route
A combination of curiousity and the plus factors previously highlighted convinced me that I should make this my first overseas cycling expedition. Also, if not now, when then? All I need actually is to step out of my comfort zone. This is no different from my first race, first hike.
Next, I need to find out the cycling route. Thus, I did quite a bit of research by reading blogs from cyclists who had done that, as well as videos posted in You Tube. I need to know where the turning points are, iconic landmarks and potential 'danger points'. Familiarisation of the route is important so that I am mentally more prepared and confident.
There are available commercial packages which offer cycling expeditions to Pengerang. These packages usually include a lead cyclist, ferry fees, meals and support vehicle. They are designed to give cyclists a piece of mind. But I decided to have fun exploring on my own. I feel the satisfaction and sense of achievement would be greater.
The map below is for your reference: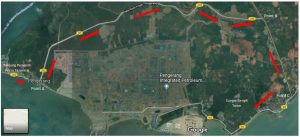 1) Take ferry from the Changi Point Ferry Terminal (Singapore) to Tanjung Pengelih Ferry Terminal (Pengerang). This may take between 35 mins to 75 mins, depending on the type of boat you are taking.
2) Cycle out from the terminal. Follow the main road and turn left towards 'Sg. Rengit' at the first junction – Point A.
3) Continue cycling until you hit the second junction. Turn right towards 'Sg. Rengit' – Point B.
4) Continue cycling until you hit the third junction. Turn right towards 'Sg. Rengit' – Point C. If you have time and wish to visit Desaru, turn left instead.
5) You have reached Sungai Rengit Town. Cycle straight ahead will bring you to the Town's mascot.
Note that you will see sign boards showing the directions before each junction. So do keep a look out for them!
Finding Kakis
In any sport, it is always more enjoyable if you are not doing it alone but with company, such as friends. I believe humans are not meant to be 'isolated islands', isn't it? Therefore, I tried to convince some friends to embark this expedition with me.
This was not easy as the trip involved a certain amount of risk (and 'suffering') and required reasonable fitness level. Also, not every one may be keen.
In the end, only my colleague Els and her friend Wee Chieh were keen to join me in the 1 day trip. We set the expedition on 15 Sep, Saturday.
The Preparation
These are the preparation which (I did) is applicable for any overseas cycling expedition.
1) Bikes – Engaged the service of bike shop owner to check the brakes, gears and tyres. I feel this is important as I am cycling overseas, whereby assistance for any breakdown may not be readily available.
2) Practice – I am an occasional cyclist. But I advise those who do not cycle that often should at least have some rides before the trip. Take it as a form of 'warm up'.
3) Checklist – Have a checklist of essential items so that none is missed out.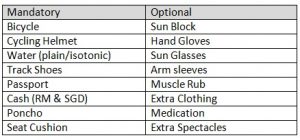 In addition, plan an itinerary – a list of 'must do' activities and allocate estimated time for each activity. In doing so, bear in mind of the time you want to take the boat back to Singapore. You won't want to miss the last boat and have to spend a night in Pengareng!
Below was my itinerary for your reference.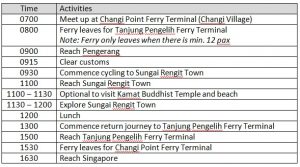 Please note that your itinerary may be subjected to changes, due to reasons such as longer cycling time and impact from weather conditions. You will have to act according to your situations.
Expedition Day – Ferry to Tanjung Pengelih
Els came to fetch me at 6:30 am. We stay relatively close to each other. She was bringing her own foldie (foldable bike) and I brought 2 foldies – one for myself and the other for Wee Chieh. We made our way to Changi Village and met Wee Chieh there at 7 am.
We off loaded the bikes from the car and took the lift down to the 'reception area' at Changi Point Ferry Terminal. We went to the counter and handed over our passports to the counter staff. They were responsible to consolidate the passports of passengers going to Pengerang until there were sufficient (10 – 12 pax) number.
There were already passengers waiting for the boat to Pengerang. Some of them were residents there and some were going for fishing at kelongs. I had the opportunity to speak with 2 cyclists, who shared that they were doing a 150 km trip to Pengerang and return to Singapore via Woodlands customs on the same day. This was indeed impressive. We wished each other well and they proceed to board the boat as they were in the queue earlier than us.
We waited till 7:45 am when there were sufficient passengers for the next boat. We pushed our bikes and waited in queue at the custom. This was a first for the 3 of us!
Clearing the custom was quite fast. We proceed to the dock and carried our bikes over to the waiting fiber boat. Fiber boat travels faster than the wooden boat (those we take to Pulau Ubin), but the fees are slightly higher. Note also there is a subcharge of $ 2 if you are bringing bicycles.
We parked our bikes at the external area. Els and Wee Chieh rested in the cabin, while I found a comfortable spot outside to enjoy the sea wind. The boat commenced the journey once all passengers were on board. We passed anchored ships, dredgers and police coast guards. The scenery was pretty much the same as what you would see to Ubin.
It took us approx 40 mins to arrive at Tanjung Pengelih Ferry Terminal.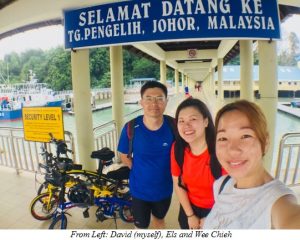 Get Set…..Go!
We off loaded our bikes from the boat and proceed to the customs. There were 2 counters, but only one of them was in operation. But we had no issue as we were the only visitors in queue. After clearing customs, we started to gear up – helmets, arm sleeves, hand gloves and sunblock.
I shared some general rules of thumb regarding safety:
1) Always keep to the left and in single file.
2) Look behind for clearance before over-taking.
3) If you need to avoid objects in your path, STOP if you are not able to filter to the left/right.
4) Keep at least 5 bicycles distance from the front cyclist.
5) Prepare to stop if the lead cyclist raises his hand to signal so.
After the safety briefing, we were good to go! I took the lead as I had researched the route and was looking out for the turning points. The roads were quite emptied of vehicles and we were enjoying the rural landscape. This was a refreshing change from urban Singapore, from park connectors and the usual cycling paths.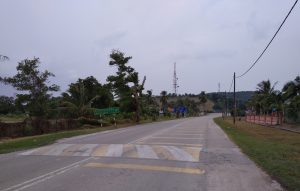 We passed by schools, mosques, roadside stalls and provision shops. These facilities appeared old and really gave me a nostalgic feel. The coast was actually on our right side. I couldn't see it but could hear at times the waves crashing onto the beach. I noticed there wasn't many street lamps. So this area must be very dark at night.
After a while, we saw the signage indicating left turn for 'Sg Rengit'. This is Point A in the map. We turned left accordingly into Jalan Kota Tinggi – Pengerang 'Highway'. We had basically left Tanjung Pengelih.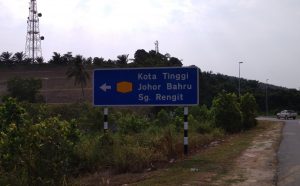 The scenery changed dramatically. We had clear views of the surrounding mountain and palm oil plantations. The roads were reasonably wide and we cycled safely in the road shoulder. Occasionally, we came across crushed and dried up carcasses of small animals, which I believe had met their grisly fate due to accidents.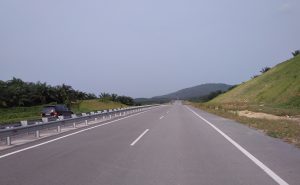 There were gradual slopes which we were able to overcome as we had just started not too long in our journey and thus still not 'shacked'. The blue fence which barricaded the PIPC development had been removed. Hence, we can actually see the constructed facilities in the far distance. Development is still on-going though.
Halfway into the highway, we started to encounter heavy vehicles driving out from the PIPC site (Rapid Gate 2). These vehicles were travelling in the same direction as us towards Sungai Rengit. From here onwards, the road shoulder was strewn with gravel, which most likely had dropped from these vehicles. The roads were getting quite dusty too. We had to cycle even more carefully to avoid skidding and stay as close to the left as possible to give the heavy vehicles a wider berth. Some of them zoomed past us at high speed.
We continued on till we saw the next signage to 'Sg Rengit' – point B. We turned right, as turning left would have led to Kota Tinggi.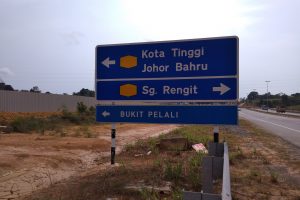 We began to see some signs of activities – provision shops, kiosks and eateries. These are tell tale signs indicating we will soon be reaching town area. After a short while, we reached the junction and turned right to Sungai Rengit Town. Turn left here if you plan to cycle up to Desaru.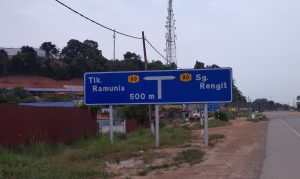 We cycled along Jalan Kerisi Road and reached (approx 10 mins) the town mascot  – the famed lobster statue. We took some photos with it before heading for lunch.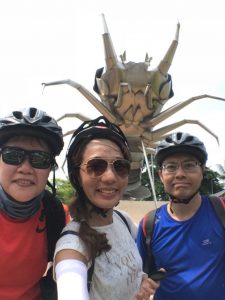 We had completed the first leg of our 50 km ride!
Lunch
As we entered into Sungai Rengit Town, the Super Lobster Restaurant was the first eatery that caught our attention. There was no way to miss its big signage. In fact, we passed by quite a number of eateries while looking for the town mascot. These eateries were often recommended by cyclists, such as: You Kee and Jade Garden. We decided to have our lunch at Super Lobster Restaurant.
It was still early at 11:15 am and there was no lunch crowd yet. We ordered claypot chicken, sambal kang kong, hot plate tofu and 1 kg of mini butter lobsters (a friend told me later the 'soup base' lobster taste better). The food was delicious and we finished everything! The lunch set us back by approx RM 240. I leave it to you to decide if this was cheap or expensive!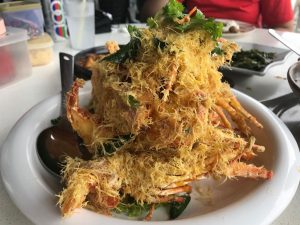 We rested till 12:45 pm before commencing our return journey.
Return Journey
We retraced the route where we came from, except that we were now in the opposite direction. We were cycling rather steadily, perhaps energized from the lunch. Somehow, we felt the return journey seemed faster.
Dark clouds loomed ahead in the distant horizon and I was worried it may rain, even though we had brought ponchos. But the weather had changed from 'sunny' to 'overcast' and it was even cooling to some extent. It was really enjoyable to cycle under this condition, and even more so after passing the PIPC construction site and absence of heavy vehicles. We stopped intermittenly to take short rest, more than during the initial leg as fatigue had set in. At the same time, we took in the nice scenery that surrounded us.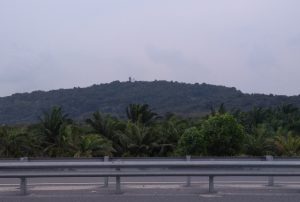 We took almost 2 hours to reach Tanjung Pengelih, at 14:45 pm. We still had time and took some drinks at a seaside eatery near the ferry terminal. It was soothing to listen to the waves just below our seats as we recounted what we went through hours earlier.
We reached the ferry terminal and boarded the next boat at 15:45 pm. It was an wooden boat and we paid $13 (inclusive $2 bicycle subcharge) for the trip. It took us approx 70 mins to reach Changi Point Ferry Terminal.
We off loaded our bikes from the boat and proceed to clear customs. There was no crowd and we were cleared within 10 mins.
Els and myself loaded up our bikes into the car and parted ways with Wee Chieh.
Our expedition had formally come to an end.
After-Thoughts
1)The 50 Km ride is achievable if you are physically and mentally prepared. We were travelling at around 12 – 15 km/h, which may not be fast and nevertheless still managed to complete the ride.
2) Go slow and stop if necessary. Practice good cycling habits. Safety comes  first.
3) The natural scenery is a nice departure from Singapore's urban landscape and park connectors. Do try it!
Acknowledgements
I would like to take this opportunity to thank Els and Wee Chieh for joining me in this expedition. They had trusted me to lead the way and stepped out of their comfort zones to explore a new territory. Kudos to them!