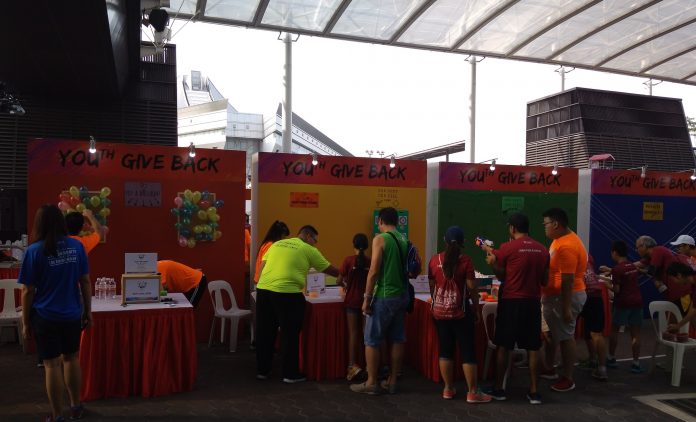 "I ran for a child!"
The Run & Raisin' Race was organized by Touch Community Services. The funds raised will go towards helping Touch Young Arrows (TYA) clubs to maintain the year round activities and weekly programmes with disadvantaged children.
The race comprised of 3 categories: 10 km competitive run, 5 km fun run and 1.2 km family run. I was taking part in the 10 km category. This was my 2nd charity related events in 2 weeks; where last Sat (25th Aug) I walked 4 km in the Community Chest Walk at the Marina Bay Sands.
Race Day
The race was held on 1st Sep, at the Singapore Sports Hub, OCBC Square. This was also the 1st day of 'The Giving Family Festival', a 2 day event which ended on Sunday.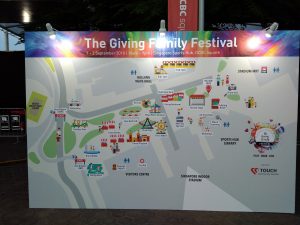 I reached Sports Hub at 7 am. Participants were depositing their bags at the Visitor Centre and volunteers were preparing to setup the various game booths, as well as the food stalls inside the Kallang Wave Mall.
The flag off time for 10 km runners were 7.30 am. I like this time as it gave me ample time to get to the race site at Sports Hub by public transport, though some runners would have preferred earlier to avoid the morning sun.
The 10 km runners were flagged off with no further delay. The route took us to the Bay East Garden, Marina Barrage and u-turn just after passing the Flower Dome. There were  hydration points at every 2 km, which I thought was adequate. There were also many volunteers cheering us on along the entire route, encouraging us to press on. I did a slow run, after having recovered from a fever and mindful not to 'overheat'.
I managed to complete the race just slightly beyond my usual timing. Rested a while and saw the family run being flagged off at 9 am. It was heart warming to see the parents running along with their young kids.
Back at the OCBC Square, the 'festival' had started. Some runners and the public were playing games at the various booths and buying food from the stalls. As it was still early, the crowds were manageable. I lingered a while more before departure for home.
This is definitely an event which is ideal for runners looking forward to run with their kids and at the same time doing charity and enjoying a kids carnival.