26 August 2018, Singapore – Over 2000 participants gathered at Bishan Stadium earlier this evening to join in Run For Inclusion 2018 – Singapore's only integrated race where participants run alongside visually, intellectually, physically, hearing and mental health challenged. Organised by Runninghour, the fourth edition of the race was graced by Guest-of-Honour Ms Denise Phua, Mayor, Central Singapore CDC and Member of Parliament for Jalan Besar GRC.
Spread across both Bishan Stadium and Bishan-Ang Mo Kio Park, members of the public ran alongside 571 Persons With Special Needs (PWSN) – a growing number since Runninghour's first event in 2015.
Kicking off the race were the non-competitive Junior Handcyclists from Para Cycling Federation of Singapore (PCFS). They are part of the many groups with PSWN who participated at Run For Inclusion 2018, alongside the Singapore Association for Mental Health (SAMH), Pathlight School, Rainbow Centre and more.
Similar to previous years, Runninghour extended complimentary slots to all special needs participants in efforts to encourage them to join in the fun. This year, the number of complimentary slots increased to 1000 from 500 in 2017, to include more caregivers. Each slot allows one caregiver to accompany the PWSN – this year close to 300 caregivers took part in Run For Inclusion 2018, up from 30 last year.
Co-founder of Runninghour, Mr John See Toh shared, "At our previous races we've had visually, intellectually and physically challenged runners. This year, we are happy to welcome those who are recovering from mental health issues. For them, the support and acceptance from the community is what they need in order to aid them in their recovery process. It is also very heartening to see more caregivers running together with the PSWN this year. On behalf of the Runninghour committee, we would like to thank all participants who joined us at Run For Inclusion 2018 – your support today will contribute towards nurturing an inclusive Singapore."
Empathy Run Segment
This year's run marked the debut of the Empathy Run Segment, where participants were encouraged to undergo hearing, physical, sensory and visual challenges to experience the difficulties faced by PWSN:
Autism Challenge – Participants had to go through a sensory tunnel experience filled with bright lights and loud sounds. This challenge signified how certain individuals with autism may be sensitive to lights and noises
Cerebral Palsy Challenge – Participants were required to run or walk for about 40 metres. This challenge encouraged empathy towards individuals who face movement issues on a daily basis
Hearing Challenge – Participants were required to put on a pair of ear plugs to walk or run for 700 metres. This challenge allowed participants to experience what it is like to be hard of hearing
Mental Health Challenge – Participants held on to a piece of rope and ran or walked for 300 metres on the running track. This challenge signified the importance of acceptance, companionship and encouragement which recovering mental health patients need to help their recovery process
Visual Challenge – Participants were required to pair up and take turns to run with a blindfold on. This challenge encouraged empathy towards visually challenged individuals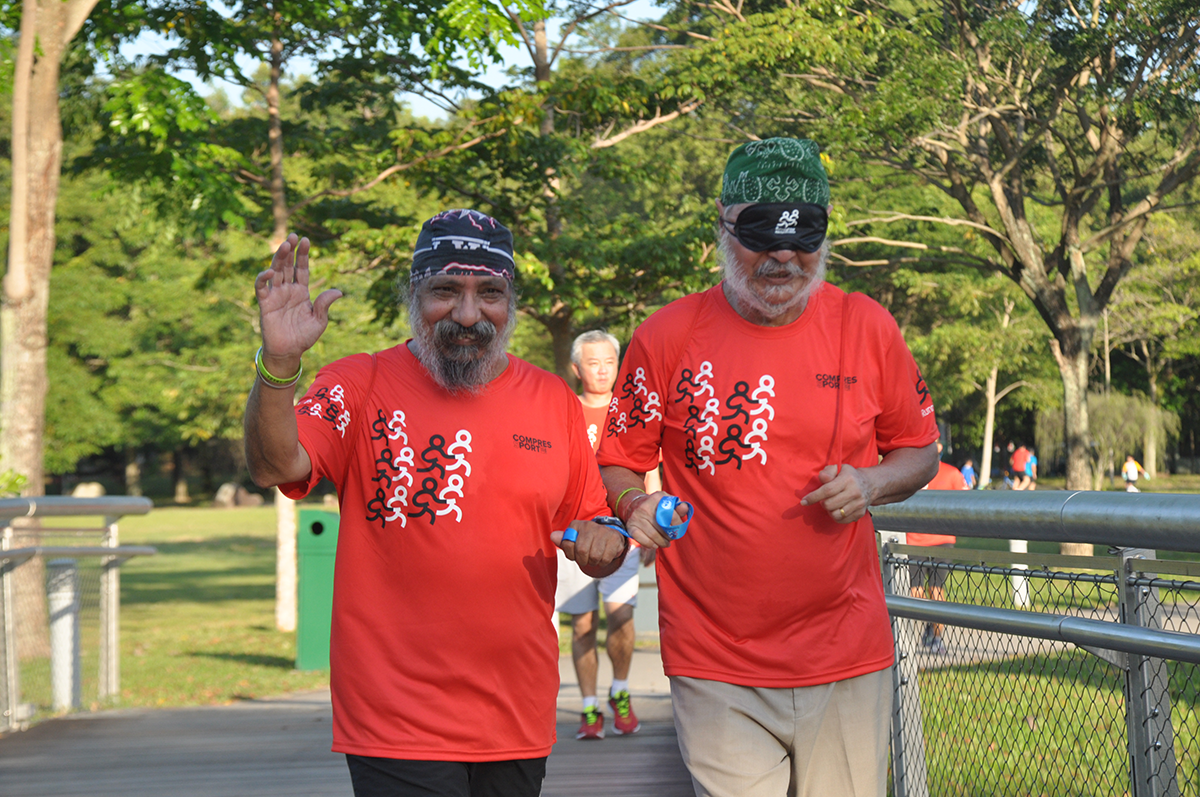 To conclude the event, guides and special needs members from Runninghour put together performances to keep the crowd entertained throughout the evening. This included a vocal performance by Clarissa Lin from Delta Senior School and Kiefer and Sarhan from Metta School who sang an original song composed by Sarhan, which won a consolation award at the Singapore Youth Festival 2018.
Runninghour continues to welcome more members Beyond today's event, Runninghour is open to anyone who wants to be part of the cooperative for a longer term. Interested members of the public can join the weekly trainings, held every Thursday and Saturday. New members will be given an introductory session on how to guide special needs runners, or how to run with a guide.
For more information on Runninghour, please visit www.runninghour.com, or their Facebook page, www.facebook.com/runninghour.