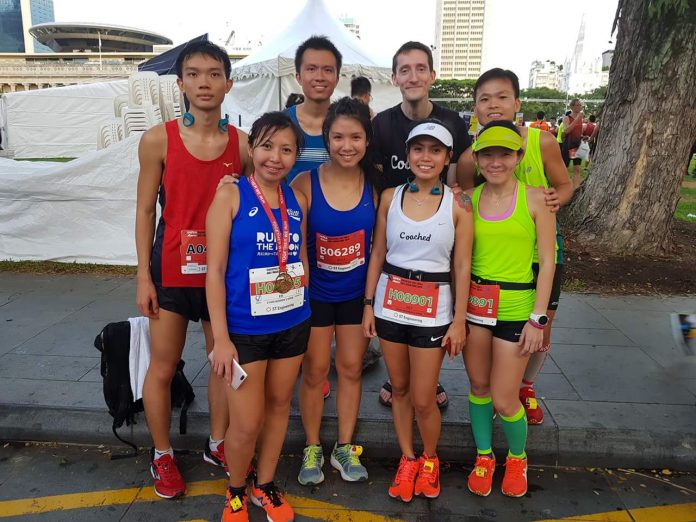 It's a busy weekend for many runners as there's many races in this weekend with races such as King of the Trails on Saturday morning, Nee Soon Fiesta 3 Ten Run in the evening, Sunday morning there's Safra Singapore Bay Run & Army Half Marathon and Running Hour in the evening.
It's my 3rd time participating in both Nee Soon Funtartstic Fiesta 3 Ten Run and SSBR&AHM, I am honoured to be one of the ambassador of 3 Ten Run 😊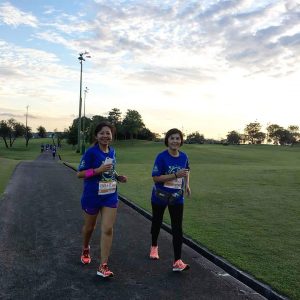 (Photo credits: Yi Qing)
With Orchid Country Club as the race owner, Nee Soon GRC, People's Association and Community Sports Club and many reputable partners, it was a well organised running event. Its really a must try running event honestly not because I'm the ambassador and I have to promote it but its truly an awesome running event as you don't usually get to run on golf course and the scenery is really pretty 😍 No regrets! What's good in the race pack was a towel, race tee and a pair of free bowling game voucher at Orchid Bowl in OCC 😍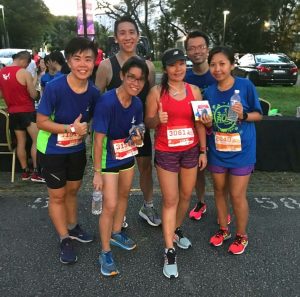 What's great was that after the run, all runners will get a medal and also given a complimentary ticket to Nee Soon Funtartstic Fiesta where participants get to redeem goodies and have fun in the game booths. Stupid me didn't know about the complimentary tickets and went to the Community Centre and bought the tickets but never mind, the tickets was super cheap lah! Only $2 and it's so worth it! 😍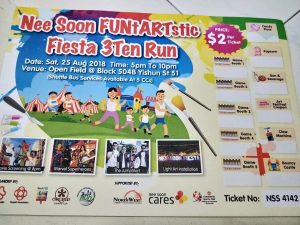 Event location was at Orchid Country Club in Yishun and free bus shuttle service is available from Khaib MRT station to Orchid Country Club.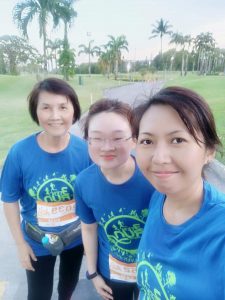 There's the 10km competitive cateory, 5km fun run and 1.5km family run. I ran the 5km category with my mum and Yi Qing while Willis ran the 10km category. Flag off for the 5km category was at 6.30pm, a super shiok timing as the sun was setting and it wasn't very hot.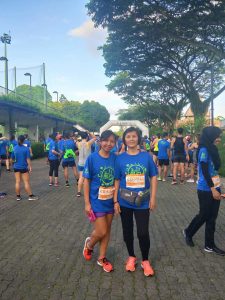 The amount of participants for the 5km was really only just as the photo above. I was really shocked to see the there were so few participants in the 5km category but it turns out that even the 10km category also had as little participants! All must saving energy for the next day's one of the biggest race in Singapore, I'm glad I didn't miss this.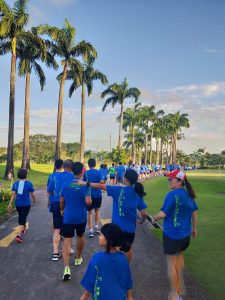 There were 3 water points for the 5km category and both 100 plus and water were provided. It was 5km of greenery 😍 Though its a challenging hilly terrain, but I find it tahanable as I was going at a slow and easy jog to run with my mum and also to save legs for the half marathon the next day.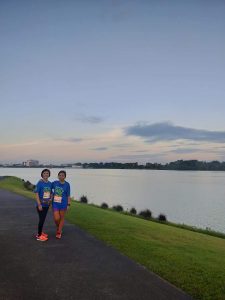 We took our time to complete the run and I'm glad that my mum enjoyed the run and the scenery 😊 Mum is still strong and healthy and she jogged all the way 😍 Would like to participate in more runs with her ❤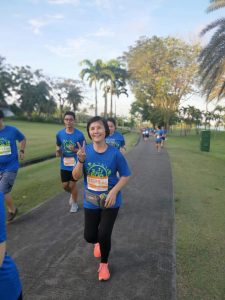 After the run, we proceed to the eventful Nee Soon Fiesta nearby to meet my sister and nephews. There were many Superheroes cosplayers around and many kids were super excited to take pictures with them, there were a few food trucks available and I bought Old Chang Kee. There's also free Movie Screening whereby mats were given out for free for residents and participants who wants to enjoy the movie! But both my nephews were more interested in the game booths and they really have great fun! I must say the the complimentary tickets was really sibeh worth it and all the additional tickets I bought were all well utilised. Glad my nephews would like to participate in the run as well next year 😍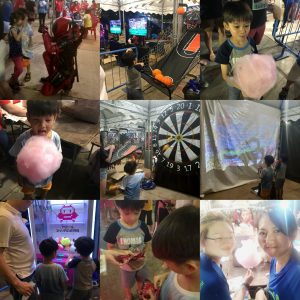 After I reached home and by the time I'm ready to sleep it's almost 10pm. Which means in just a few hours time, I would need to wake up for the SSBR&AHM. Willis and I tried to wake up early as I wanted to be in the first wave to avoid bottle necks and the people mountain people sea. Flagged off was at the usual Esplanade Bridge at 4.30am but when we reached the event site much earlier at around 3.30am, start pen was already opened. I remembered we were pretty late last year and we were squeezing with the people mountain people sea to even get into the start pen. It's one of the largest runs in Singapore, and it didn't disappoint me and somehow in my opinion, I felt the event was even better organized than Standard Chartered Marathon. I think there's also much more supporters as well. There's also many entertainments along the route such as drummers, cheer leaders and even belly dancers. Some of the hydration points were even themed and well decorated 👍
I didn't have any aims for this run but just to follow my training plan to run in a certain heart rate zone to train for my upcoming marathon next month. Recently I did a lactate test with Coached to find out what my heart rate zone is in and started to run in the heart rate zone as per Coached training schedule. It's only 3 weeks since I started to do my runs based on heart rate and so far, I think the results was good. Last week at Shape Run which I participated in 10km, I gotten a sub 1 hour, though its not a PB timing but I don't have the run die me feel and its my best timing for 10km so far this year and even for this SSBR&AHM half marathon is my best half marathon timing for this year too! 😍 And the best part is after the half marathon, I felt fresh, my legs weren't tired and I felt that I could go further.
Flag off was a few minutes delayed and I enjoyed the first few kms of spacious road. I counted 6 lanes of road available for the runners, the happy huge lanes were only till we turned into Gardens by the Bay. It was still runable for me, but for those who are faster runners may seems like they were jammed and forced to run slower. Tips to avoid human jams and lack of hydration at hydration points is to try to be in the first wave. Since not long after flagged off, Willis went missing because he went to the toilet and he was missing till I saw him again after the run in the Race Village at Padang 😆 I tried to run with Kelvin as I saw that he's running at a comfortable pace. This time, I felt I've done it right by not chionging at the beginning which I always tends to because everyone else is chionging. Till at the next half of the run after exiting Gardens By the Bay East I went faster a little as I felt I'm still energized.
It's really a great run for me as I finished the run feeling fresh, I wasn't panting and grasping for air and my legs were still light after the run 😍 Love the gorgeous finisher medal, finsiher tee and the cold towels and 100 plus❤ There's many activities in the race village but we didn't explore around and left after a while.