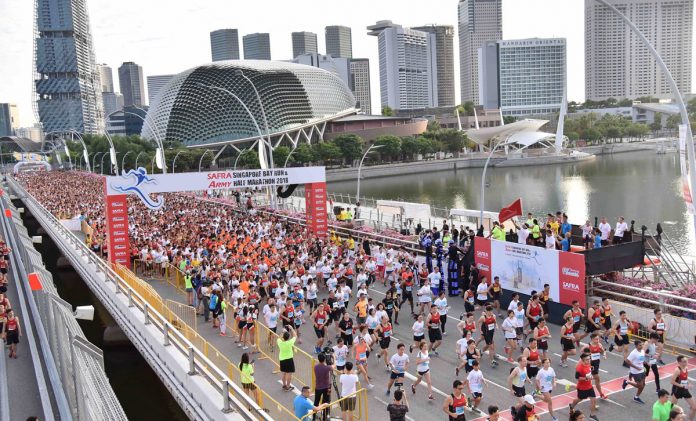 The Marina Bay was abuzz with over 41,000 runners this morning as they participated
in the 26th edition of SAFRA Singapore Bay Run & Army Half Marathon (SSBR&AHM)
2018.
Participation among families of Singapore Armed Forces (SAF) national servicemen
reached a record high of over 7,400 family members this year – a significant 40 percent
increase from 2017.
Jointly organised by SAFRA and the Singapore Army, the event encourages SAF active
servicemen, Operationally Ready National Servicemen (NSmen) and their families to
keep fit and bond as they train and run together. The event also provides an opportunity
for national servicemen to share a part of their NS experience with their families.
Themed 'Together We Run', this year's event was graced by Minister for Defence and
Chairman of SAFRA Board of Governors Dr Ng Eng Hen.
The Families for Life 800m Challenge continued to be the most popular category among
families, attracting a new record of 3,600 NSmen and their families. Participants also
had a memorable experience as they donned specially-designed, superhero-themed
event tees and face masks to break the Singapore record for the 'Largest Mass Run
Wearing Masks'. A total of 1,379 of the participants qualified for the record, eclipsing the
2014 record set by 1,191 fathers and their children.
The 'super kids', along with their 'super dads and mums', were flagged off by Senior
Minister of State for Defence and President of SAFRA Dr Mohamad Maliki Bin Osman.
He was accompanied by Families for Life Council Member Mr Jeff Cheong.
Families for Life 800m Challenge participant, Mr Umeer Hyder, said, "This is the first
year that my whole family has participated in the Families For Life 800m Challenge. We
enjoyed the the superhero theme and the event also did a great job in bringing up the
atmosphere with festivities at the end-point carnival."
Many more families also took part in the competitive 21km AHM and SAFRA 10km Run,
with family participation in the two categories doubling this year.
Colonel (NS) Simon Lim, Chairman of the SSBR&AHM 2018 organising committee,
commented, "The event continues to be a key platform for us to build strong soldiers who have the physical fitness, mental resilience and a strong belief why they serve
National Service (NS). Our servicemen's families are also a core part of that equation
and they enable our servicemen to give their whole-hearted commitment to their NS
duties. To attract more families to participate together with our servicemen this year, we
introduced a comprehensive series of training activities, including the Soldier Strong
Coaching Programme and fitness workshops, to encourage them to get active. We also
provided more fun-filled activities such as the superhero-themed record-breaking
attempt at the 800m Challenge and Soldier Strong activities at the carnival to provide
servicemen with the opportunity to bond with their families as they share a part of their
NS experiences with their loved ones. We are very glad to see the strong response from
servicemen's families across all the categories open to them and I am sure this makes
the event even more meaningful for our servicemen."
The end-point carnival held at the Padang was an action-filled affair. Families tried out
various exercises used by the Army to train their soldiers at the Soldier Strong booth,
including the agility ladder, sled, tyre flip and battle rope.
Mr Jeff Cheong commented, "Seeing so many dads and mums in the specially designed
superhero-themed tees and masks is a poignant reminder to parents that we need to be
role models for our children to look up to and call a hero. If parents can make the
conscious effort to spend more family time with their children through platforms like
today's event, we can not only strengthen the parent-child bond, but also guide our
children in developing their character and values positively."
The SSBR&AHM 2018 features two competitive categories – the 21km Arm\y Half
Marathon (AHM) and SAFRA 10km Race, as well as three non-competitive categories –
the SAFRA 5km Fun Run, NS Team Run and Families for Life 800m Challenge.
2018 SEA Games Marathon Gold Medallist Soh Rui Yong finished in first place in the
21km AHM Men's category this year. The 27-year-old exclaimed, "This year's event has
added significance for me as it is the first time in six years that I ran alongside my Army
buddies in the Armour formation during preparations for this race. I am moving one step
closer to achieving one of the major milestones in my career – setting a new national
record in a full marathon – and I am grateful to have started my journey at this event all
those years ago."
The event features a scenic running route that winds along the Marina Bay past several
iconic landmarks such as the new financial district, Marina Bay Sands, The Helix,
Gardens by the Bay, Sports Hub and the Singapore Flyer as a visual reminder to
national servicemen of the prosperous home and unique way of life they are defending.
Runners are also spurred on by a series of exhilarating street-side festivities along the
running routes such as LED stilt walkers, LED water drummers, cheerleaders and a
new music zone this year. The event attracted over 41,000 participants last year.
WINNERS LIST
1. 21km AHM Women's Master
Name Gun Time
Evelyn Lek 1h 48m 03s
Tan Bee Peng 1h 49m 07s
Ng Siew Bee 1h 59m 33s
2. 21km AHM Women's
Name Gun Time
Elaine Wai Sheng Young 1h 37m 48s
Audrey Williams 1h 46m 13s
Tan Si Ying Sharon 1h 49m 58s
3. 21km AHM Men's Master
Name Gun Time
Hua Yew Loong Michael 1h 23m 35s
Ning Wenlong 1h 25m 01s
Ku Seow Wee 1h 26m 43s
4. 21km AHM Men's
Name Gun Time
Soh Rui Yong 1h 11m 59s
Jeevaneesh 1h 13m 44s
Prashan D. Silva M P 1h 13m 45s
5. 10km AHM Women's Master
Name Gun Time
Fang Fang 52m 25s
Chow Siew Mee 53m 19s
Tan Yuet Kin 57m 24s
6. 10km AHM Women's
Name Gun Time
Katie Lin 45m 16s
The May Yong 46m 20s
Yap Hui Jun 49m 34s
7. 10km AHM Men's Master
Name Gun Time
Quah Boon Wee 38m 54s
Teo Hue Tat Ronnie 39m 04s
James Lee Chong Guan 39m 56s
8. 10km AHM Men's
Name Gun Time
Nabin Parajuli 34m 36s
Marcus Ong 34m 57s
Tan Lui Hua 35m 03s
9. 10km Open Men's
Name Gun Time
Joseph Ngare 30m 20s
Elkanah Arusey 30m 28s
Lel Kipchirchir 30m 46s
10. 10km Open Men's
Name Gun Time
Eileen Korir 38m 16s
Susan Kiplagat 40m 19s
Ng Yew Cheo 44m 29s
11. 21km Open Women's
Name Gun Time
Edinah Jeruto 1h 16m 23s
Alyce Koech 1h 19m 37s
Gladys Ruto 1h 21m 21s
12. 21km Open Men's
Name Gun Time
Benson Oloisunga 1h 04m 33s
Joshua Nakeri 1h 04m 53s
Matt Smith 1h 13m 43s
13. 21km Army Formation Team
Name Gun Time
ARMOUR 21km Competitive Team 20m 54s 18ms
6 DIV 21km Competitive Team 20m 56s 25ms
2 PDF 21km Competitive Team 21m 01s 25ms
Adapted from Press Release