The Petaling Jaya Half Marathon is considered one of the oldest HM races in Malaysia.  HM is never my interest, ever since I started with FM, HM has become more like for training.  Going for overseas HM is also not that frequent, this time round, since most of the running friends are doing this, I decided to just crash.  Having known that Malaysia is famous for many good runners, I thought just to go and see where I stand.
Logistics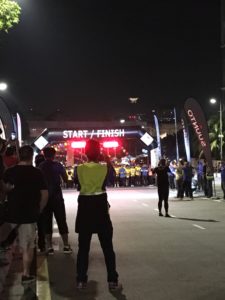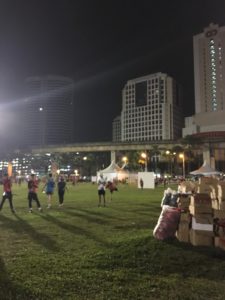 Petaling Jaya can be accessed via KLIA and is about 38KM away from this international airport. Although I was tempted to come here via bus, I found out that taking a plane over is about $150 via budget air,  that is only 50 plus more than I take bus and I was deterred by the customs.  Since now the budget airlines depart from Terminal 4 in Singapore, I thought of taking a look there too.  I was really quite impressed with the Terminal 4 and its efficiency, quite a good way to start the trip.  But unfortunately my Airasia flight was delayed by one and half hours, I guess there's nothing much I could do about that, just happy to laze around the nice big terminal.
From KLIA, you can take a taxi to PJ, that cost about 80 RM at most.  At the city centre there are many choices of stay, you can also opt for AirBNB.
THE RACE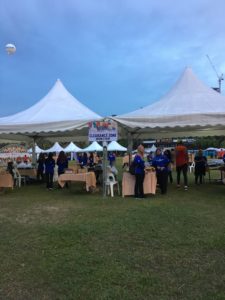 Taking place at Dataran Petaling Jaya @Padang Timur, PJ, Selangor.  The race flags off on 15 Jul at 5:15 am.  Quite an unearthly time for a sleepy head like me.  Thank god despite being late, my friends already helped me to get the race pack.  As such I was not able to check out the race expo.  Inside the race pack was a running tee and some brochures, there is also a tube of the muscle rub from Denmark.  Kinda interesting as it is Herbal.
The official website has enough information: http://www.pj-halfmarathon.com/
You can also do the registration here.  Finishers also get the medals and finisher tee shirt.  Best of all , there are many refreshments around.
RACE COURSE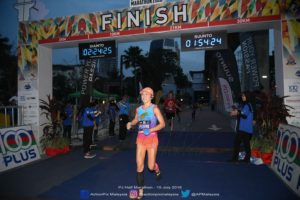 The race course is undulating, there were many slopes around circulating around PJ.  I guess this time many of the powerhouses went for the 30KM or gave it a miss.  The 30 Km is a new category only for this 30 special anniversary edition.  However, may suspect that the years to come there will be I was able to have a breezy run by myself after shaking off the crowd.  Running through half way, the 10km and other folks merged in and it got a bit crowded.  However, there were still ample space for us to run.  The motorcycle kept following me, making me wonder if I have a chance to stand on stage again.
The weather was humid and hot, I was all sweaty with my tortoise running shirt, and half way through I also splashed water on myself to cool myself down.  This time round I only brought one small hydration bottle, I guess my ultimate aim is to make FM like running a 10KM, without much baggage.  The water points are well stocked, towards the end there were gels available too.
The ending was really weird with a small u turn into the finishing pen.  Thank god the finishing was not filled with runners.  We were given drinks ( 100 plus and water) and also banana.  The volunteers also hand the finishing medal and very nicely ethnic designed finisher tee to the finishers.  The whole dataran is a large field with spectator seats.
The ending was a nice gala for all with tent with seats and also bouncy castles.  There were also massages and heat rubs.
As I waited for the rest, I just walked around and enjoy what the different booths have to offer.  There were many sponsors selling their stuff like sunglasses, nutritional items etc.  There is also a refreshment area with milo truck and many cereal stuffs.  Some booths were giving out ice cream too.
In conclusion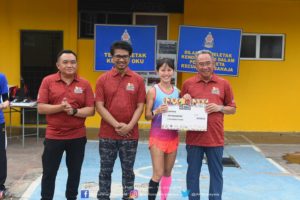 The race is really quite enjoyable for a short weekend touch and go trip.  I managed to keep up with my timing despite the slopes.  Maybe will come back again but doing the 30Km.