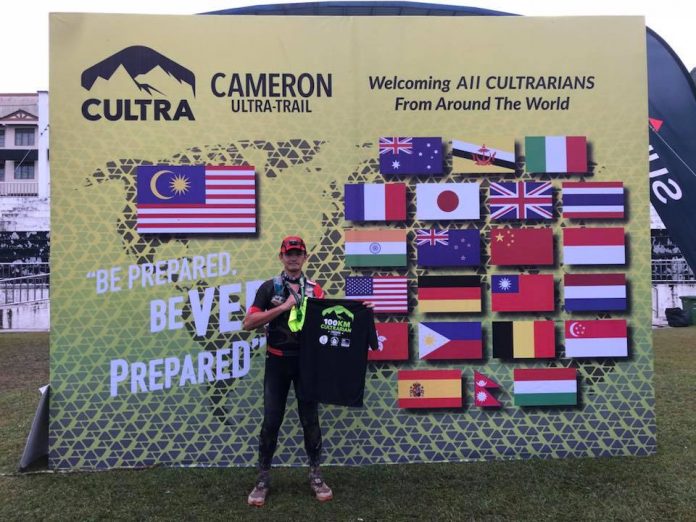 Pre-run
All run information including routes, elevation charts, updated mandatory gear and a race briefing video were made available to runners before race weekend.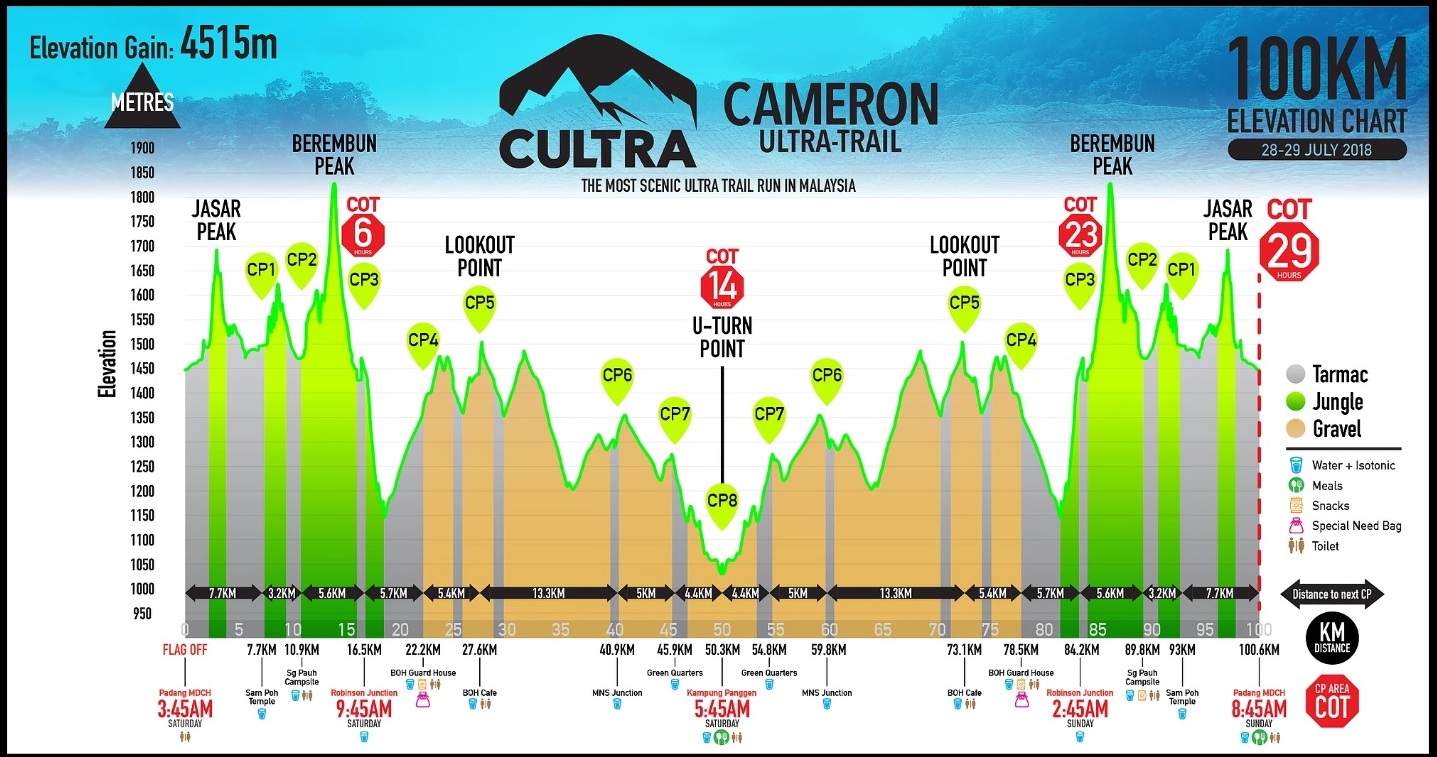 Upon reaching race pack collection point, we were directed to have our information checked and submitted our indemnity forms. Then we had our mandatory gear checked. Only after all these are done were we allowed to collect our BIBs.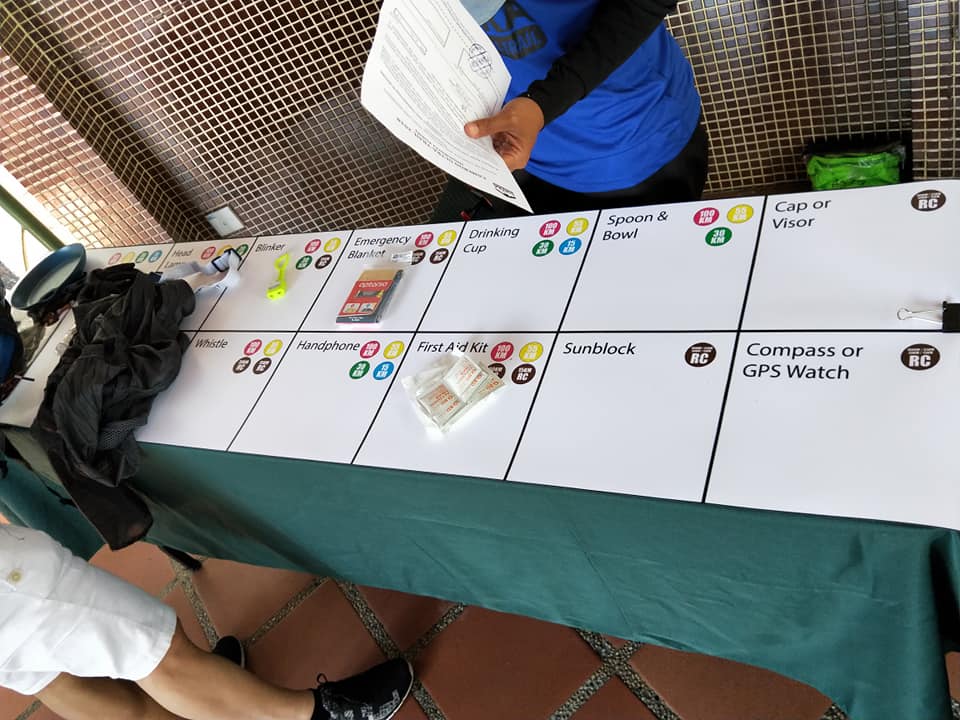 There was no actual race briefing this time. However they were playing the race briefing video at the BIB collection area.
There was a tea party for runners the day prior to race day. So we went there to eat and mingle with fellow runners.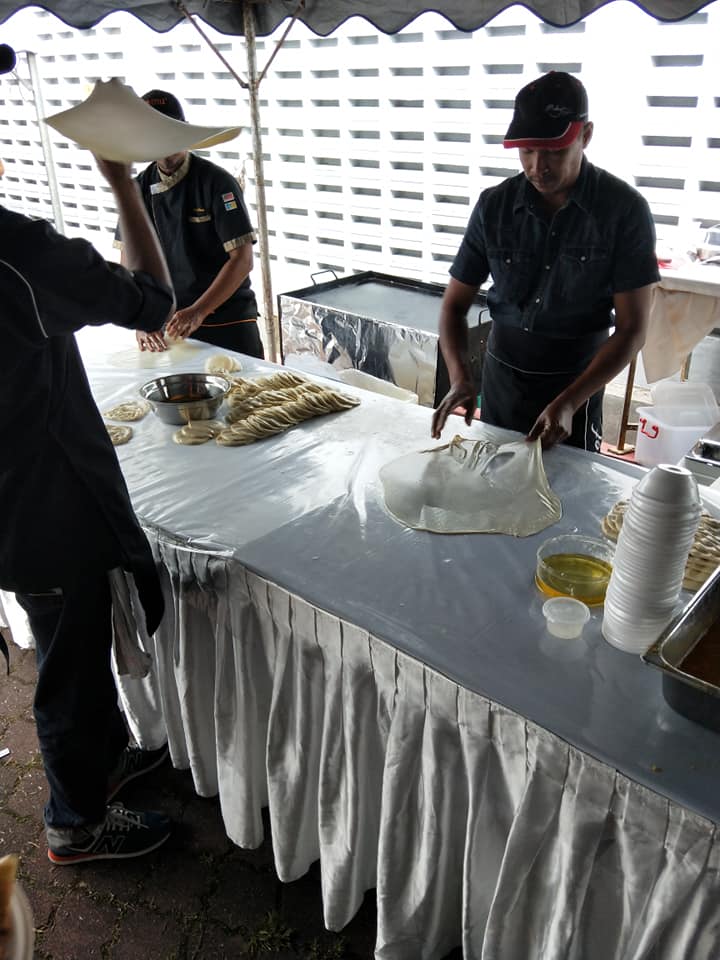 Run day
As the hotel I was staying at IS the event venue, I did not have to take a transport over. So I just went to have my breakfast at the hotel at around 0300hrs before walking over to the start point. It was no fault of the organiser but the hotel breakfast served was not hot at all. I guess they prepared the food early and did not heat them up before putting them out for our breakfast buffet.
Start Point
It was party atmosphere at the start point with music blasting and runners all mingling around. If I did not know any better, I would have thought this was the starting area for a 5km fun run. But it was to be the start of a gruelling 100km by 290 runners and at 0345hrs, off we went into the mountains.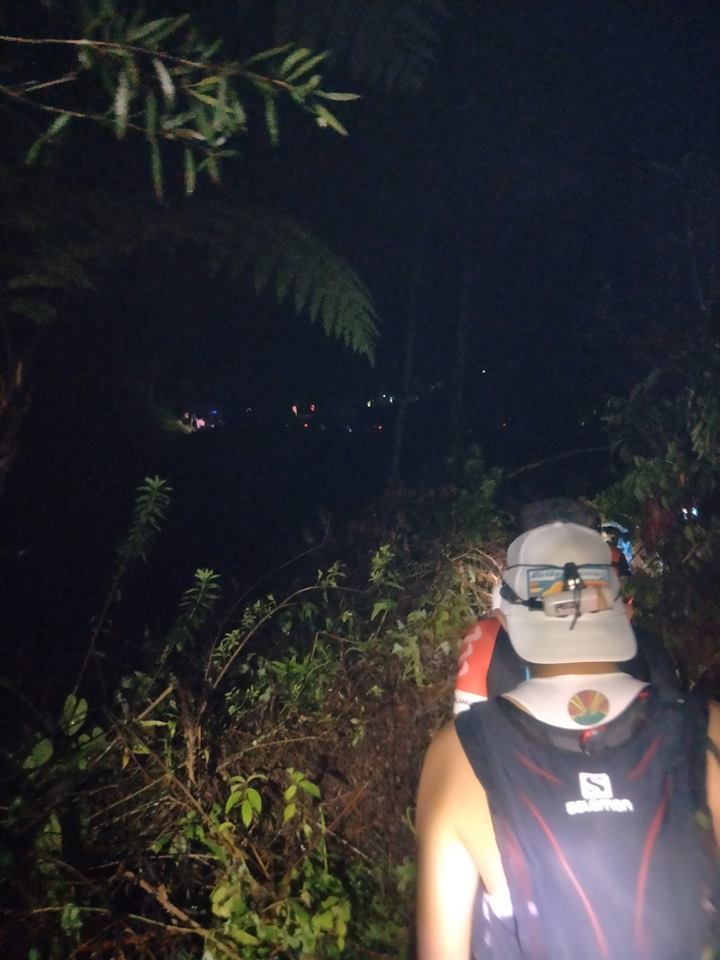 Start Point to CP 3 (16.5km)
The toughest section of the run with close to 80% of it in the jungle. I have been to a few technical trail runs but this was by far the most brutal. It rained for a while the day before thus the trails were wet. Many a times I had to use all 4 limbs to make my way up. Tree stumps, roots, rocks, branches; anything I can grab hold onto was used to climb up and down. Some parts were so muddy that I slipped a couple of times even with my TNF Ultra Vertical cos the lugs were thick with mud. But I was mindful not to trip on roots like I did in 2016 as I am not a big fan of becoming a flying Superman again. Even when the path looked runable I still chose to fast walk to be on the safe side what with the darkness and all. Whenever I heard foot steps behind me I will step aside for the faster runners to pass through as I really did not want to rush myself though I was moving at a much slower pace than I would have liked. But I know once I am out of this section, I would be able to make up time. Finally after close to 5hrs, I cleared this section and arrived at CP 3, with slightly more than an hour of buffer time.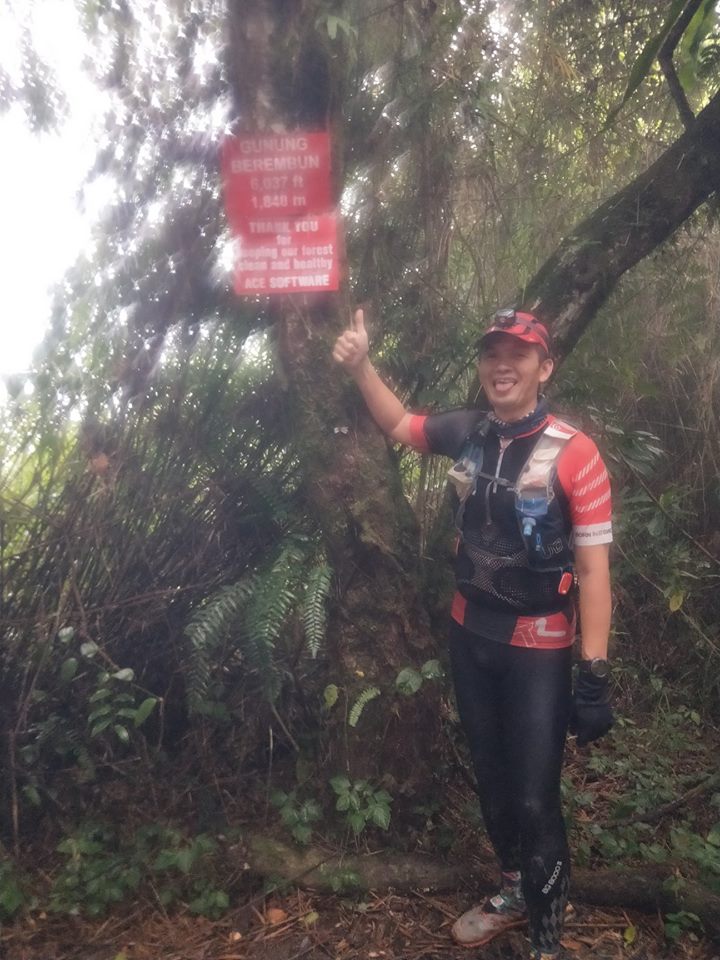 CP 3 to 4 (5.7km)
Was surprised to see her at CP 3 together with the wives of some of our friends who were also running waiting for us. It was definitely a morale booster. However I did not linger long as I wanted to gain more time in anticipation for the return route that night. I reckoned if I needed close to 5hrs for CP 1 to 3 while I was still fresh, I might need close to 8hrs for CP 3 to the End Point as I should be almost spent by then. So I bid her goodbye and went on towards CP 4. After another 2km or so of jungle trails with a steep descend, I hit the main road and that was when I opened up. And I arrived at CP 4 about an hour later.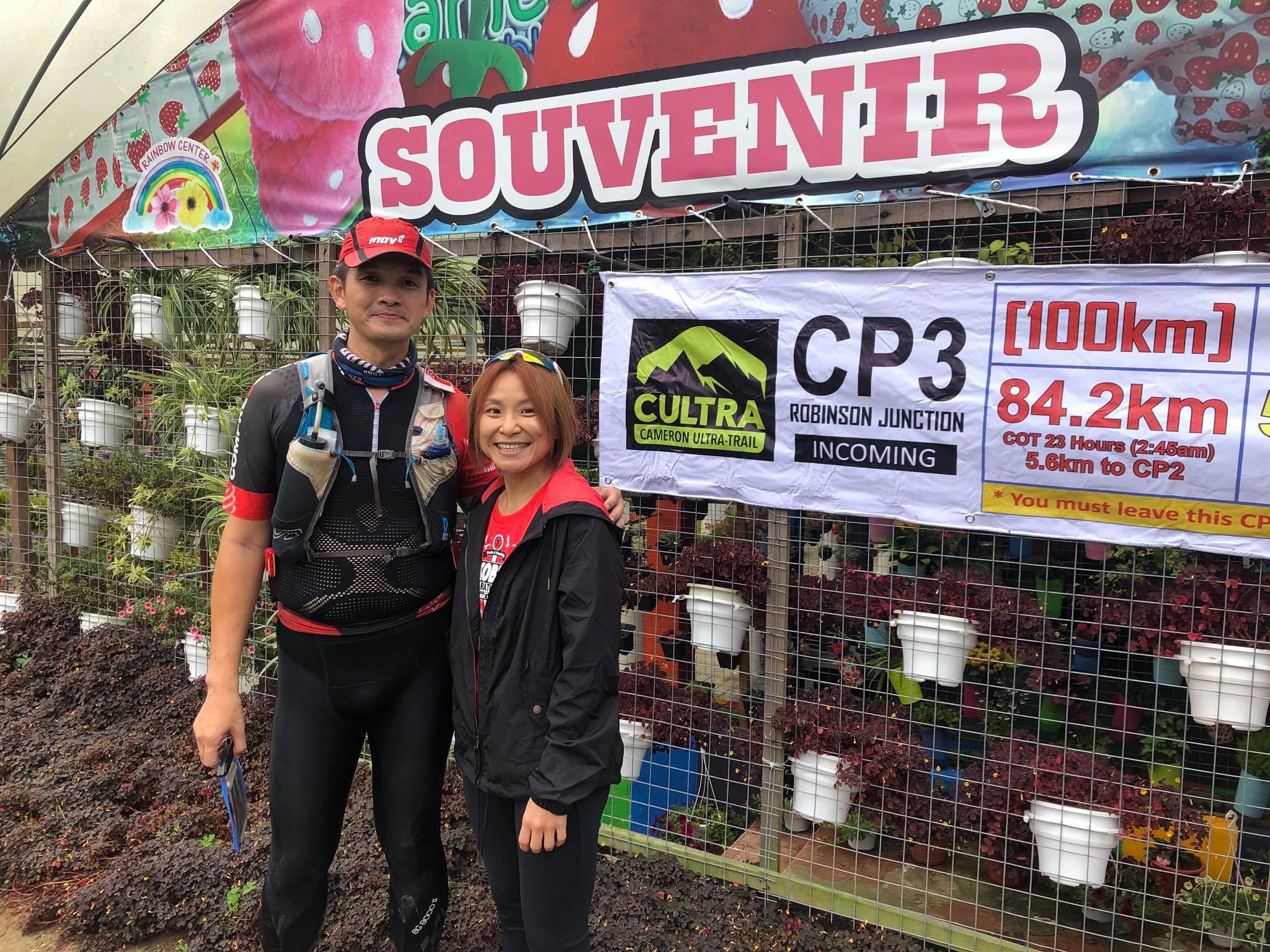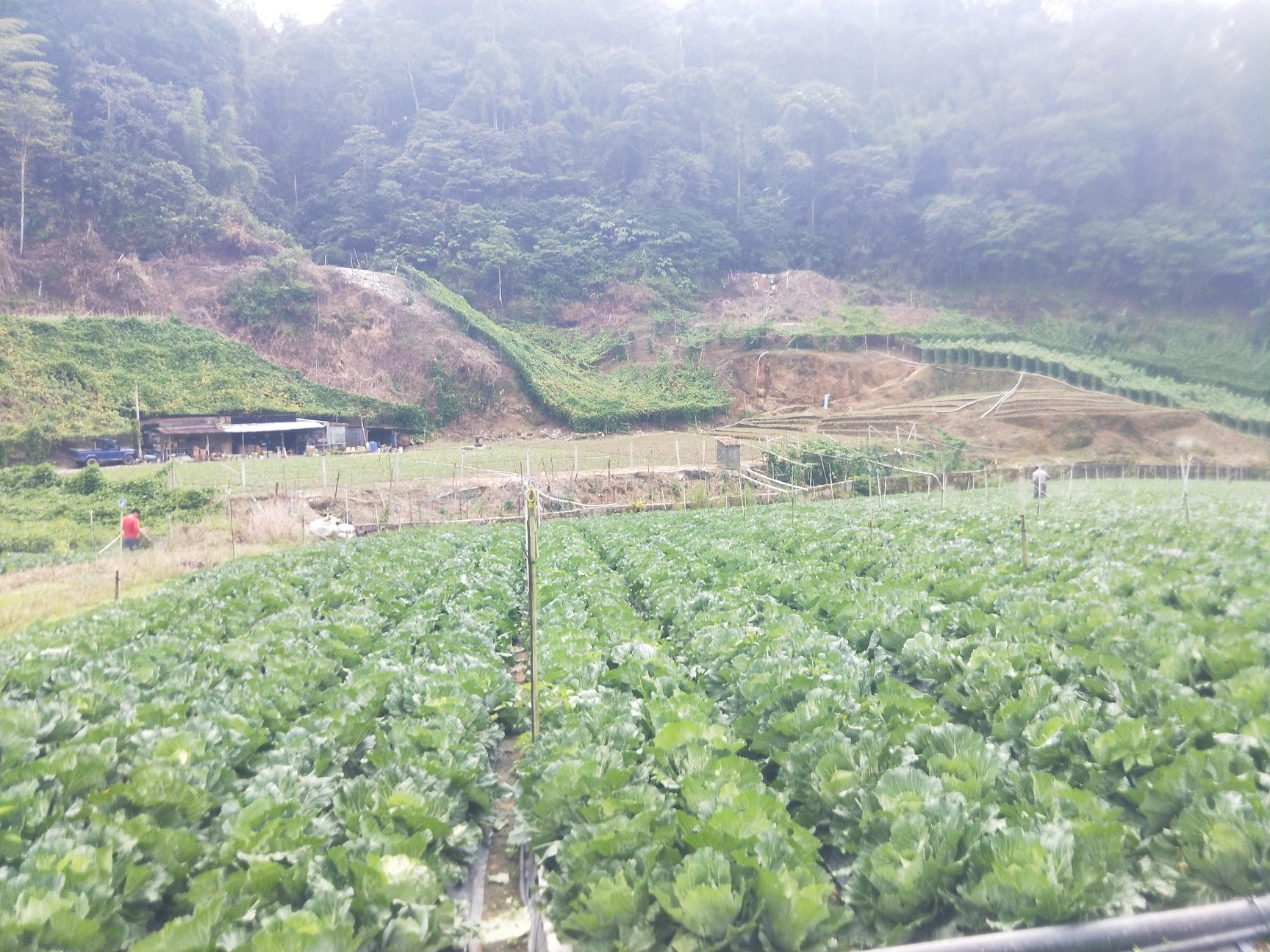 CP 4 to CP 8 (28.1km)
CP 4 was the U-turn point for the 30km runners and also where we can access our Special Needs Bag. As I have no special needs, I did not leave any bags here. Porridge was served here but I did not feel like having any food then. So i refuelled and left with 5mins. Since CP 1, I had been topping up 1 of my flask with 100 Plus and the other with Cola and that would remain my hydration plan for the whole run.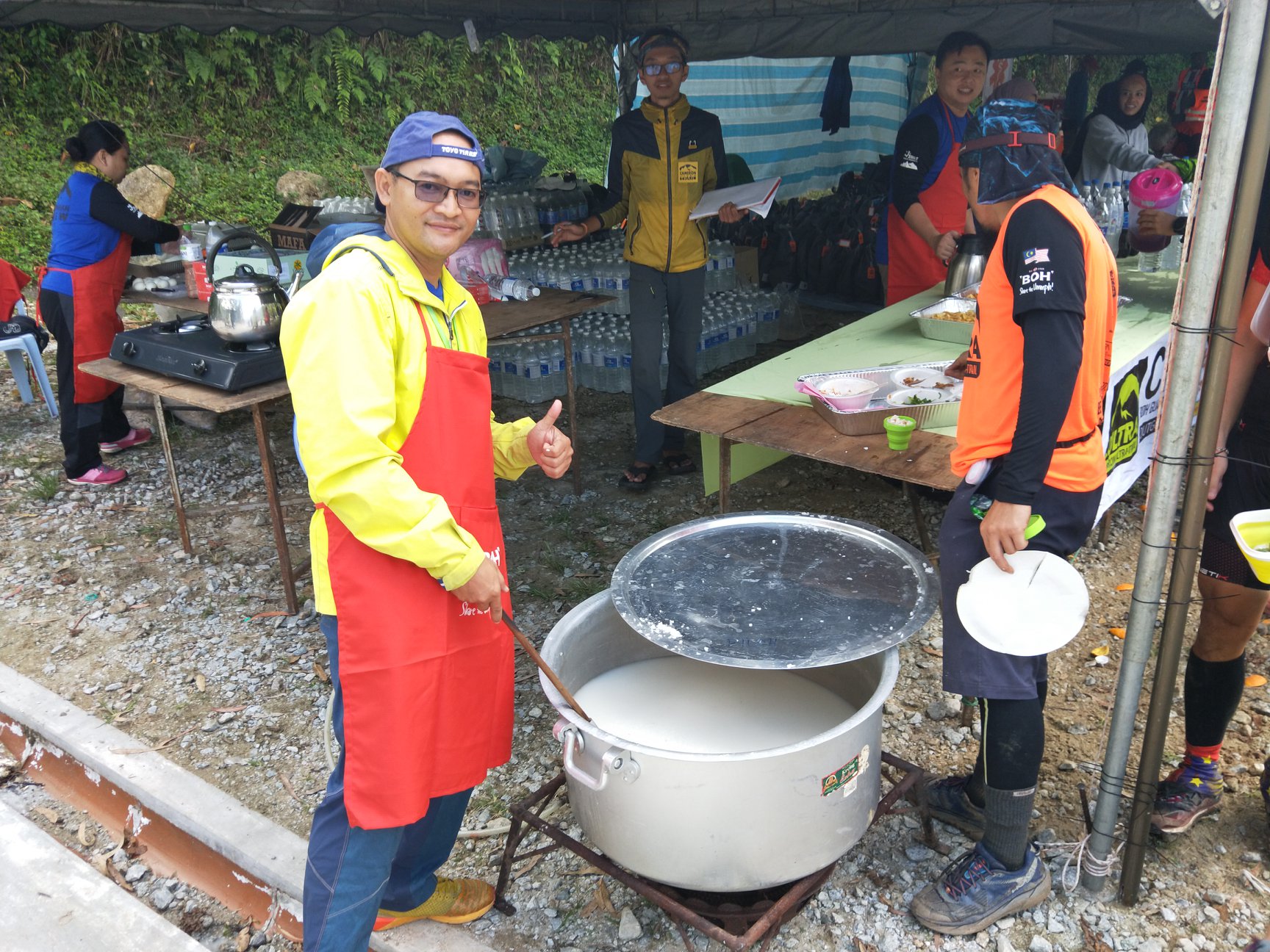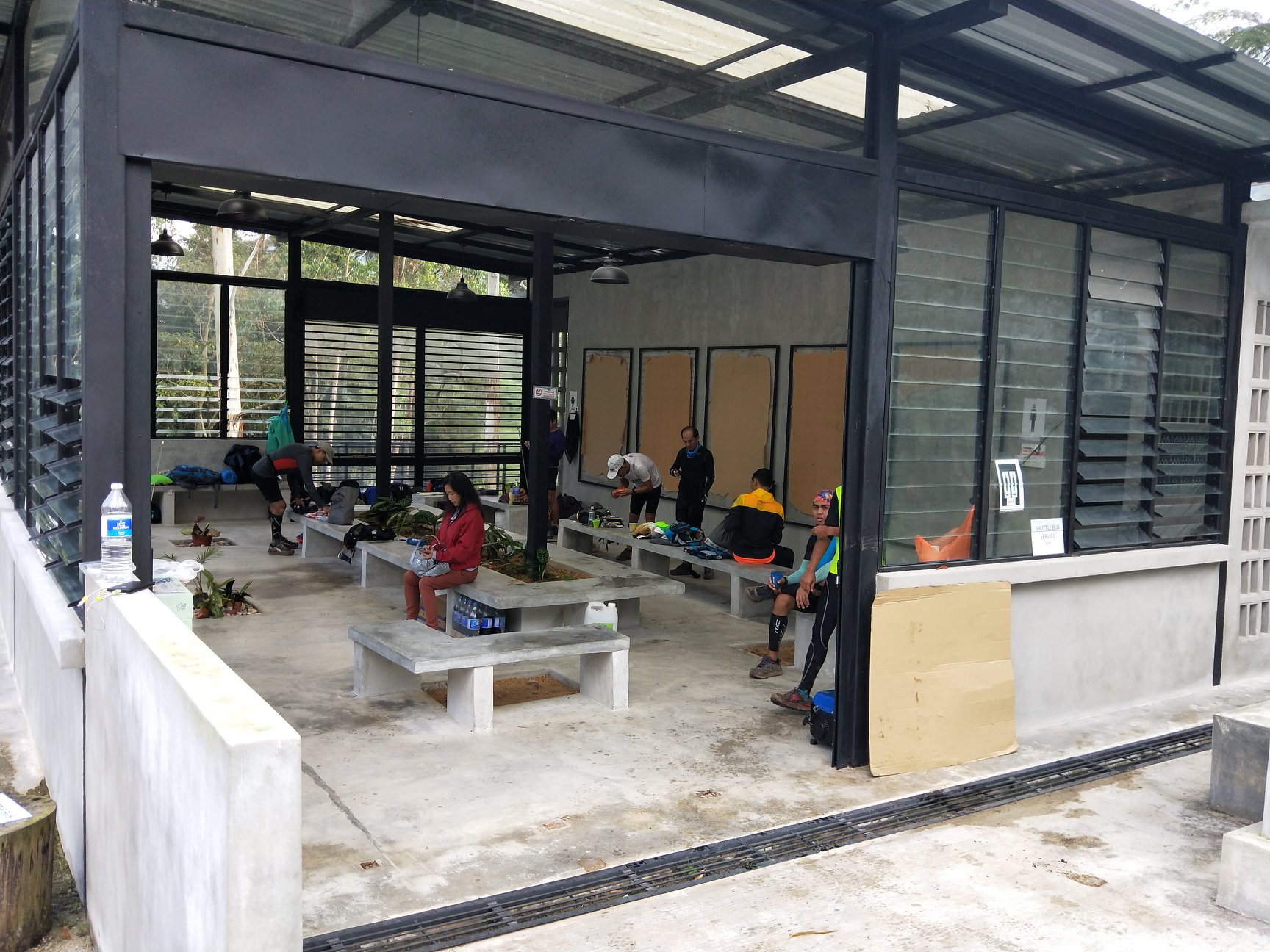 I enjoyed my run at this section as again I was running through the tea plantations with some magnificent views. Met many friends along the way and we kept on encouraging each other. My running strategy was up walk, flat and down run. So I took photos while walking uphills and run with no photos while downhills. CP 5 to 6 was the longest leg at 13.3km. With the sun in full blast then, it was challenging to keep going. I just refuelled at every CP and ate some oranges. I arrived at CP 8, which was my U-turn point after almost 11hrs. Which meant I now have a buffer time of 3hrs, which was still not enough from my estimation. So i tried to quicken my pace after.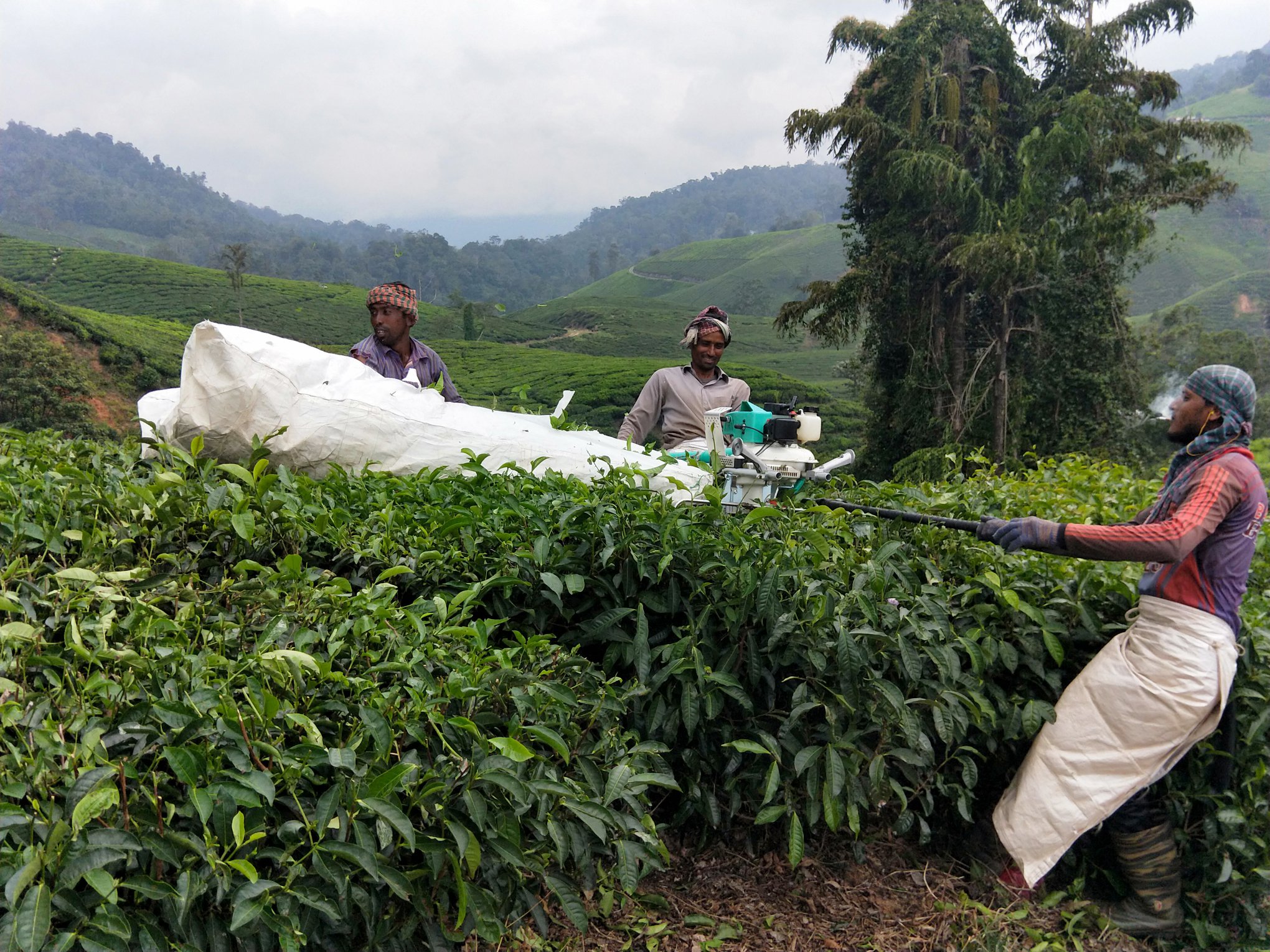 CP 8 to CP 4 (28.1km)
With fatigue setting in gradually, I adjusted my running strategy to up and flat walk, and down run as I figured making use of gravity to aid my runs would be better off than attempting to run on flat grounds. I was surprised I could still do sub-5 pace while bombing downhills in the dark after a long day. And I guess this strength of mine of being able to bomb downhills aided me a lot during this run. I overtook a lot of runners whenever I ran down but I know they will catch up later during the ups. It did not bother me that they will catch up as I know my goal was not to get good placing but just to get more time for the last section. I targeted to reach CP 4 by 2000hrs so I can reach CP 3 by 2200hrs. But I missed it and only reached CP 4 at close to 2030hrs.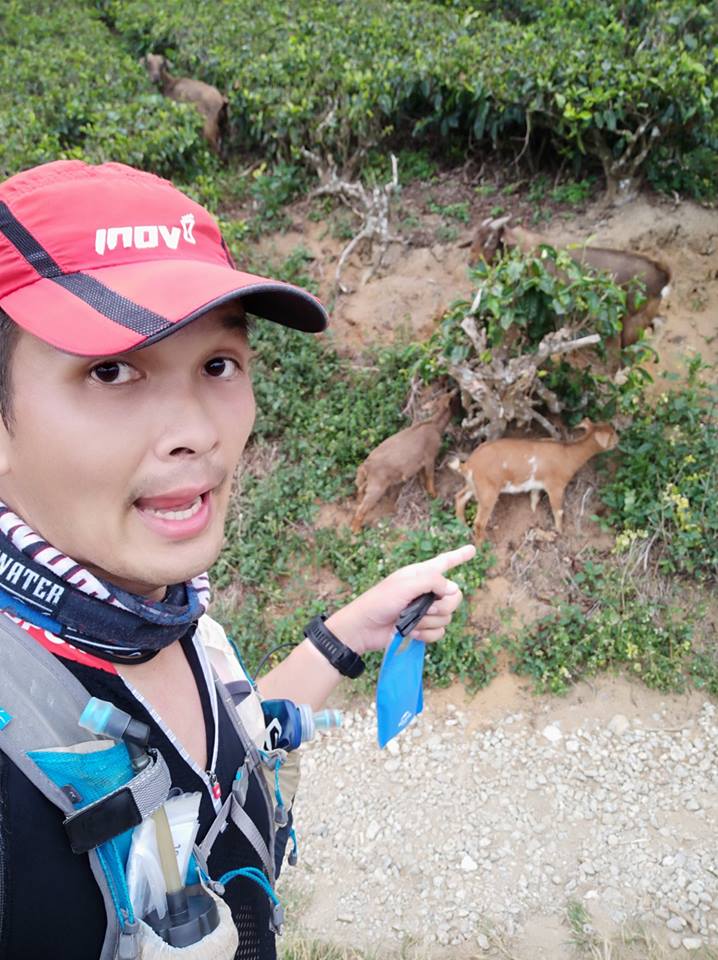 CP 4 to CP 3 (5.7km)
The Z monster started to get to me here and I felt sleepy and disorientated. So much so that I took a wrong turn and found myself in a unfamiliar place. I had earlier turned off the navigation function on my Fenix in a bid to conserve its battery so it did not prompt me that I was off course. It took me a while to realise I made a turn too early as I did not see any route markings around and so I turned back. I lost maybe 10mins there but well, if I blindly continued on, I may have lost more time. The 2km or so of jungle trails to reach CP 3 was unforgiving especially with my body condition then. I was so totally spent already. I kept digging within me to get myself going until I know I had almost nothing left in me. CP 3 arrival time; 2210hrs. buffer time 4hrs 30mins.
CP 3 to end point (16.5km)
I sent a text to her at this point letting her know I may not complete the run as I was really exhausted. It was also the first time I told her I was contemplating DNF as the last section was really daunting especially with my state of mind then. She encouraged me to keep going since I was not unwell or injured. So I told her I will try and budgeted 10hrs to clear this last 16.5km.
The climb to the summit at CP 3; Berembun Peak was a killer. I came across many runners just sitting along the route in a daze or napping. I myself took 2 short naps along the way as well as I was really tired. After what seemed like hours and still no summit in sight, I was so despondent that I shouted up "Summit?!" and was lagi demoralised when the reply was "Still far!" from a runner above. What to do? In the mountain now want to stop also cannot. So I just bite the bullet and kept pushing. CP 3 to CP 2 was a mere 5.6km but it took me 4hrs.
When I thought CP 3 to 2 was the worst because of the summit, I was in for a nasty surprise after CP 2. After about 2km of road, of which I took another wrong turn before turning back again, we entered the jungle again. There I came across one of the many volunteer tents and a volunteer took down my BIB number. I then asked her how far to CP 1 and she said about 950m. 950?! I was like finally! That was so near! I should be there within 30mins I told myself. I cannot be more wrong. It took me close to 2hrs to clear the 950m. Reason? Mud fest.
The trail was already muddy in the morning. After all the 100km runners ran through, came the 55km runners, then the 30km runners, then the 15km runners and finally the returning 100km runners. So what greeted me then was pure, mud, fest. I cannot stand without slipping, I cannot walk, I cannot run. I have forgotten how many times I had slipped. I was lucky that I did not ever fall face down. I did not need a face spa. Once I slipped and sat on the mud, and refused to move due to exasperation. 2 runners got by me and asked if I was okay. I just said lazy to move and told them to carry on. After a while I just continue slipping down on my buttocks as I figured getting up was futile. My gloves were thick with mud but I could not care for cleanliness then. I even used them to move my straw so I can drink. At close to 0500hrs, I reached CP 1 with only 3hrs 45mins left to Cut off time (COT).
I texted her again that I will likely miss the COT if the last part was another mud fest. So I told her not to wait for me at the finishing until about 0900hrs, which was after the COT. I will continue on but COT will likely be missed. Here I met a bunch of runners and we all agreed that we do not have much time left. So we quickly took off towards the end point with another summit; Jasar Peak to conquer.
This is where I got my big break. As I cleared this part in the morning while it was still dark, I could not remember the route condition. So I was expecting jungle terrain towards the summit just like CP 3 to 2. But we came to a mud road heading up instead. I looked at my Fenix for the expected elevation climb and saw that I needed to clear about 250m of elevation. As I slowly moved along upwards on the mud road, I kept telling myself this is good, better than being in the jungle going up. So I was hoping the 250m of elevation would have more of this mud road. However I was happy to be wrong this time; the whole 250m of elevation was on this mud road because soon after I heard some of the faster runners ahead shouting in elation and that was when I knew we had reached the summit.
With the summit cleared, I started to make my way down and it was down all the way now albeit on the jungle side; the side we came up from in the morning. But my spirits were high as I was quietly confident I would be able to meet the COT. I did tell myself not to count the eggs too soon as I still had this part to clear and who knows what might happen. Some parts of the trails were muddy but it was not as bad as the previous section. So I just slowly plowed my way through. After a while I started to see street lights, started to hear motorcycles passing by and even heard the prayers in a nearby mosque, but somehow I still have not seen the exit. It can be unnerving at times when you know the end is near but not near enough. Finally at 0650hrs, I reached the main road with 1.6km left to go.
I texted her that I was out from the mountains already and was slowly making my way back. So, after 27hrs 22mins, I crossed the finishing line to complete my 100km Cultra adventure, one of the 199 who completed out of 290.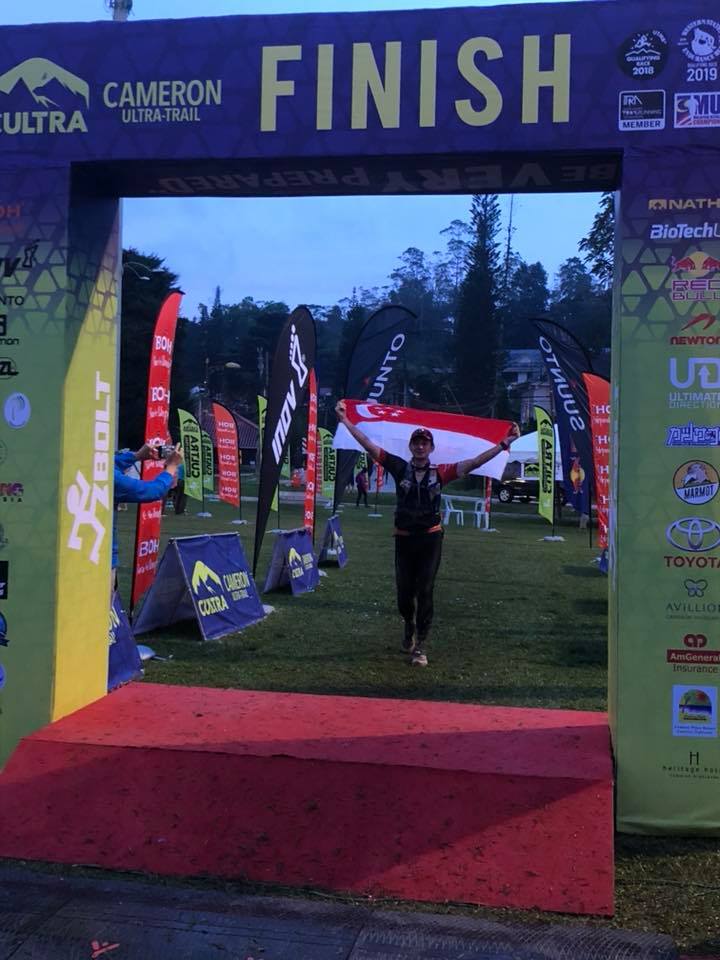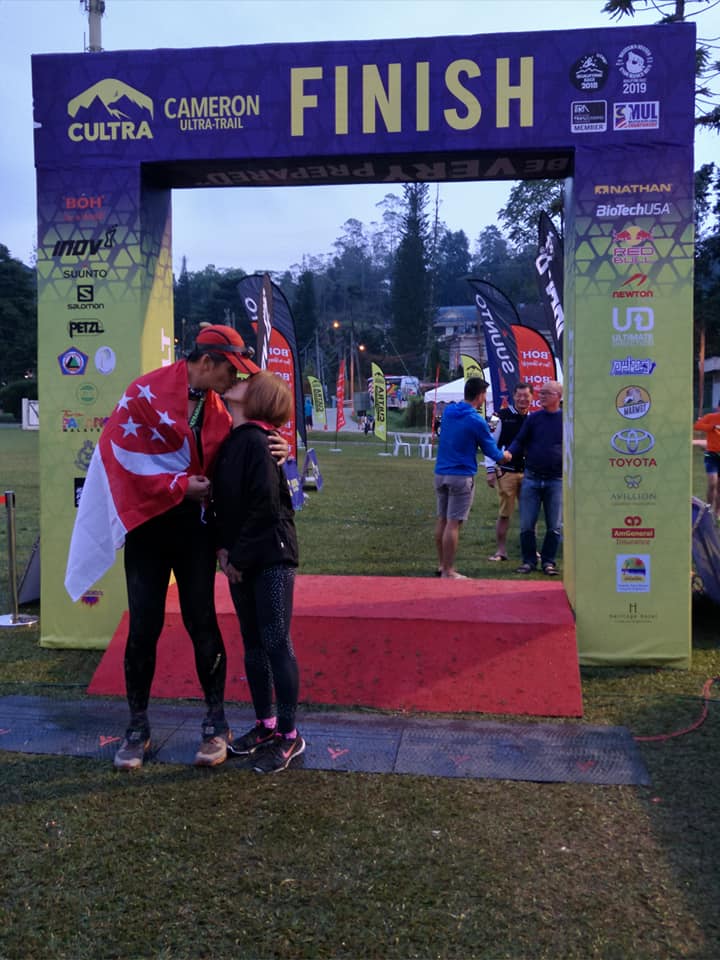 Post-run
Collected my medal and finisher tee before making it to the rest area to take photos and chat with her and friends. There was food being served there as well but I did not take any.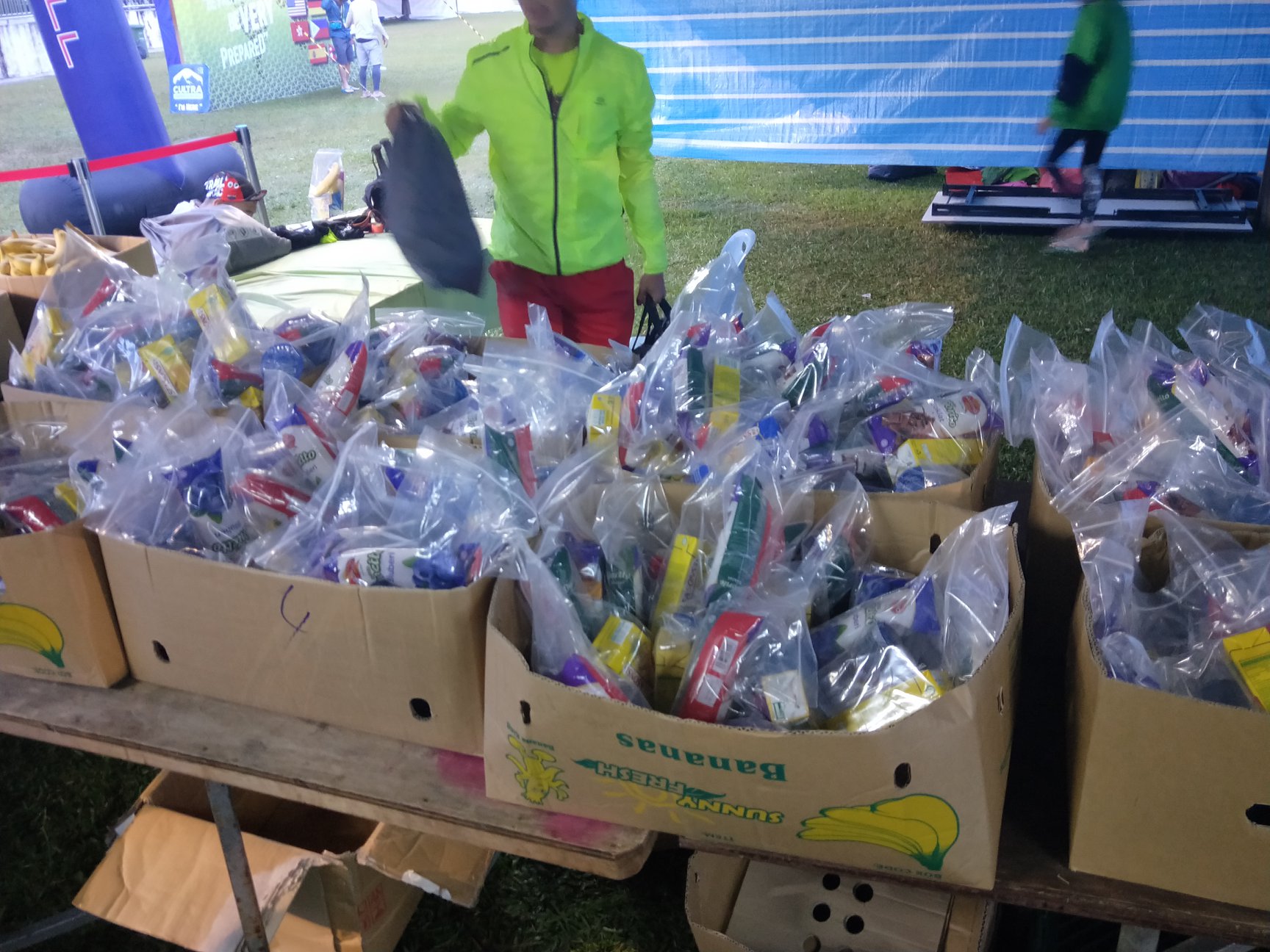 Takeaways
The course is beautiful with the vast mountain ranges and the tea plantations. Support stations were well stocked with isotonic drinks, cola, water, oranges, pears and dates. Some of the later CPs also have cup noodles for us. Volunteers were on hand eager to assist whenever they can. Route was well marked and as long as we pay attention to the markings, we should not get lost.
There was live tracking of runners available but apparently it was not really 'live' as it had delays in updating resulting in some anxieties amongst the supporters who were tracking their love ones and friends. Seeing your love ones last checked in 4hrs ago and not seen then can be a tad little nerve wrecking. Perhaps the poor network in the mountains played a part in this.
The weather was chilly in the morning and at night. In a way we were lucky it did not rain as forecasted if not the mud fest would have become a mud party. I did not have to wear my windbreaker at night as I felt ok and even hot when climbing though there were many runners who wore theirs at night. Some of my friends who did the course 2 years ago had to use their emergency blanket due to the extreme cold then.
The challenge is in the first 16.5km. All runners from 100km to 15km will have to go through this section with the 100km runners doing it twice (reverse on the way back). It is very technical and runners really need to be physically and more importantly, mentally prepared for it. Be prepared to climb on all 4s and a good pair of gloves is a must. I did not use any trekking poles as I personally did not find them helpful during VMM last year. But I did see many runners with poles. So it is really a matter of personal preference. To be honest, nothing we do in Singapore can prepare us for such a terrain there. So it would be good to do some trails nearby perhaps in Malaysia to be more familiar with this kind of technical terrain.
For those who intend to do this course, a word of advice;
Be Prepared
Be Very Prepared