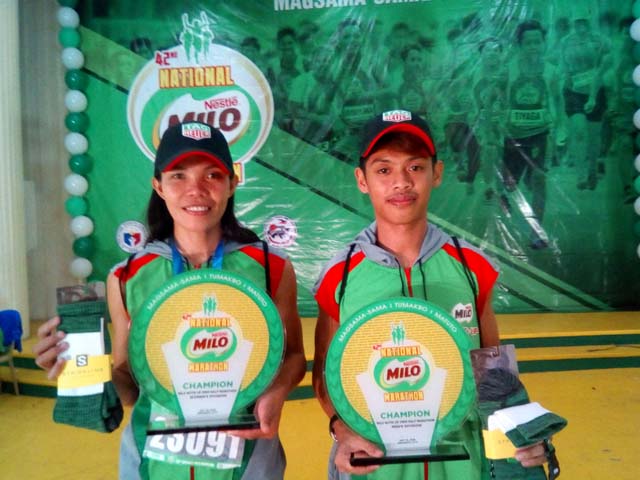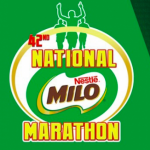 URDANETA CITY – Veteran runner Christabel Martes showed that she still has the speed and power by taking home the crown in the 42nd National MILO Marathon Urdaneta City qualifying race Sunday morning at the Urdaneta Sports and Cultural Center.  This marks the first of 10 races that will find participants for the National Finals set for December 9 in Laoag City.
The four-time MILO Marathon Queen Martes finished the basically flat 21-kilometer course in 1:31:25, much slower than her winning time of 1:23:45 in the same event last year.  "I am coming from an injury so I planned to join 10 kilometers only but I was advised by the organizers that I could be disqualified from competing in succeeding legs if I win or finish high so I decided to enter and defend my title even if I lacked training," explained Martes.
She also admitted that she started quite slow and only made her move to overtake the early leaders by the one-kilometer mark as the pack entered MacArthur Highway and she never looked back from there.  Coming in a far second was Rowena Valdez of Sante Barley (1:40:19) followed by Jocelyn Elijeran (1:46:53).
Meanwhile, a new name emerged in the Men's Division in the person of Kurt Jomar Lamparas, a member of the Arellano University Athletics varsity in a time of 1:14:26.  This is the first time the Dagupan City native participated in the 21-kilometer distance and he managed to upset the likes of last year's Laoag champion Cesar Castaneto by a mere five seconds (1:14:31) and multi-titled national Duathlon team member Robeno Javier (1:16:48) who is from Urdaneta.
"At first, Coach Paul Coloma did not allow me to join because I am only 19 years old but he eventually agreed to do so," said Lamparas, who is on his third year of Sports Management.  "I would run alone from the school to Luneta via Malacanang as my training but I will have to change that for the National Finals and I will ask my coach for tips."
Other winners for the day included Jelsie Sabado (40-:43) of the national Triathlon team and Rey Mark Quezada (34:52) in the 10 kilometers and Ira Mae Gali (20:38) and James Darrell Orduna (16:47) in the five kilometers.  Jena Valdez (13:55) and Glenn Cunanan (12:24) were victorious in the special three-kilometer race for children aged 12 and under.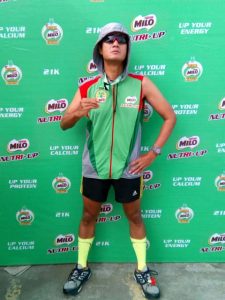 The next MILO qualifier will be the highly-anticipated Metro Manila qualifier at the SM Mall of Asia on July 29.  After that, the remaining races in Luzon will be hosted by the cities of Tarlac (August 26), Batangas (September 16) and Lucena (September 30).