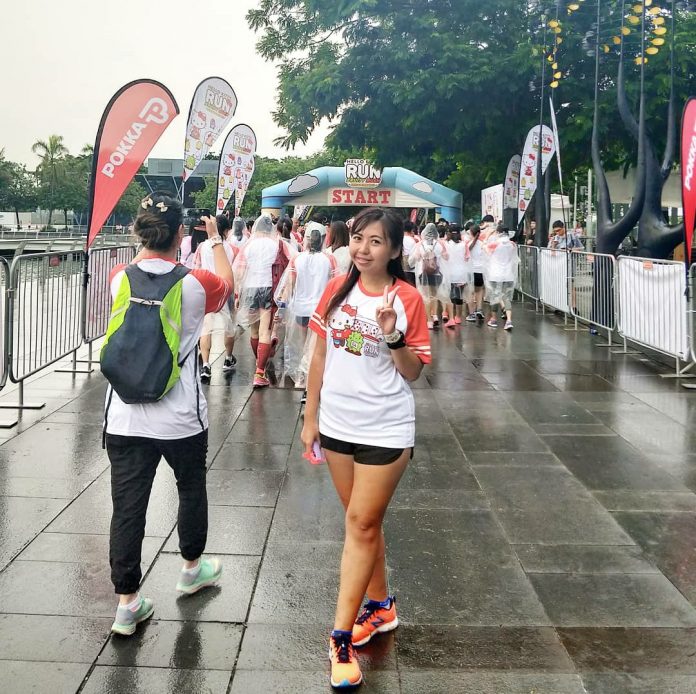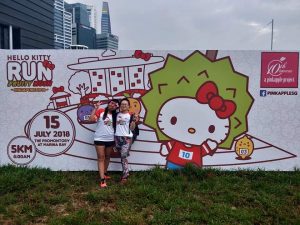 Woohooo! Finally Hello Kitty Run is back again this year! 😍 Don't know how come last year don't have Hello Kitty Run but this is my second Hello Kitty run 😄 Had participated in the first Hello Kitty run in Singapore back in 2014 which was held in Sentosa. I could still remember it rained so heavily that day and my friends and I were all drenched, at the same time fearing that the run was cancelled halfway but we didn't know as it only started raining after flagged off.
I didn't even watched any episode of the Hello Kitty cartoon at all but the meow meow is just so cute! 😍 In love with it since I was a kid and still remembered those crazy days in 2000, when I was still in primary school my friends and I queued overnight outside of McDonald's just for the meow meow plush toys 😅 Many people just went so crazy for the meow meows and I remembered there were very ridiculous news on the newspapers that period in regards to those Hello Kitty plush toys which I think pretty much is like collecting dust in everyone else's storeroom 😆
Collected the race pack on the second day of REPC with not much of a wait and there's a adoption drive for the cute kitties by the Cat Welfare Society at one corner which attracted quite a huge crowd. Super sad as my race pack don't have any Free Liho's fruit tea voucher which some runners did find it in their race pack 😭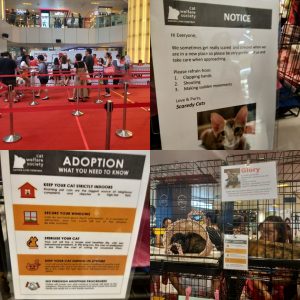 On the event day I was awakened by the sound of rain or was it thunder that woke me? 😨 It was raining super heavily and I thought this time hoseh liao, gonna walk in rain already like the one I participated a few years back 😂 Luckily by the time I got ready, the heavy rain became light drizzle 😄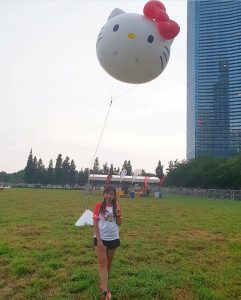 I meet my friend, Yi Jing directly at the event site at The Pomontory at 7.30am because I thought that the flag off was at 8am but it's actually at 8.30am. I thought that the flag off time was quite late, usually it would be super hot and sunny by then but luckily it was rainy weather on that day. By 8am the place was already people mountain people sea and waiting to start the run.
There were no baggage deposit available so I didn't bring much stuff along with me. Since I ran long distance the day before and my friend doesn't really run so I guess it would be a walk for us, so I put on some make up and at the same time hoping it won't melt or rain big big again if not I'll become 花猫 😂
Almost didn't want to wear the event tee but my friend convinced me that fun run should wear event tee to be in the fun. I'm glad I did if not I would be the odd few who didn't. I was actually hoping that we could get something cute like this instead of a normal event tee: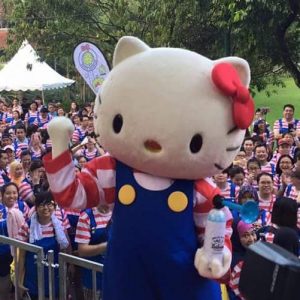 (Credit source: Hello Kitty Run Singapore Facebook page)
Once the start pen opens, I machiam no need to walk at all as I was pushed into the start pen 😐 The volunteers were giving out ponchos which was pretty good! Good planning by the organisers 😍 But it was just super light drizzle so we didn't put on the poncho. And we felt lucky that we didn't put on the poncho as we were already super hot with no air because of the human wall from all direction 😆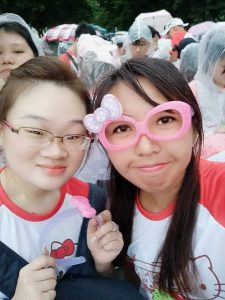 Saw a few cosplayers and many participants wore Hello Kitty's accessories. Like the glasses and hairband I brought for my friend and me were from McDonald's Happy Meal a few weeks back 😊 There's only the 5km category and we were flagged off in waves which was about 5 minutes apart. Most of the people walked and only a few ran. I felt that it would be great if there's another competitive category such as the timed 5km run 😍
There's 2 hydration points along the way offering different Pokka flavours drinks and water. Though I don't feel thirsty at all but the portion of Pokka drink is really "stingy". The cup is just like 5cm tall 😅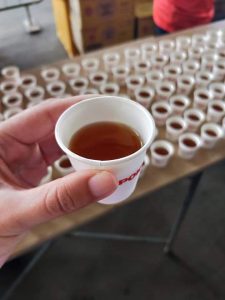 Pokka isn't really stingy lah, a 500ml bottle was given during REPC and another bottle given at the finisher entitlement collection point. It's my first time trying the strawberry flavour tea and it's super nice! 😍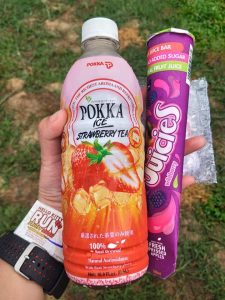 The medal this year is so cute! But I preferred the one I gotten in 2014 as it's coloured and like the only practical medal I've gotten so far as it can be used as a landyard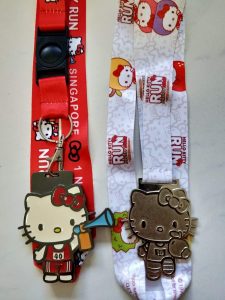 (Left medal gotten in 2014, Right medal gotten at this run)