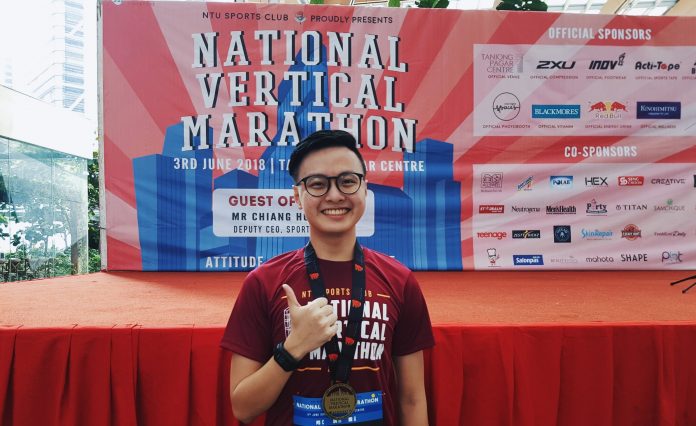 "Instead of trying to make your life perfect, give yourself the freedom to make it an adventure, and go ever upward."
– Drew Houston, Co-founder & CEO of Dropbox
This impactful quote from Drew Houston that I stumbled upon online resonated deeply with my current state of self-discovery, which set me thinking. In response, I rose up to the challenge (pun intended) and registered for the National Vertical Marathon 2018; I wanted to keep to my personal goal this year – seizing new opportunities and chasing new experiences.

The National Vertical Marathon (NVM) was first conceived in 1994, by Nanyang Technological University (NTU) Sports Club. An alternative way to race, participants ascend the entirety of a skyscraper, instead of flat-road running. Being an NTU undergraduate myself, I had yet another reason to support this event. This time, I rounded up several friends from NTU and my brother Justin to register along with me in the Men's Open Race Category. For the most of us, including myself, were first-timer-goers for the NVM.
In this year's NVM, participants were challenged to scale the stairs of a 37-storey-high building: Guoco Tower, Tanjong Pagar Centre. There was a wide selection of race categories to choose from and were mainly grouped according to the Individual, Team and Relay categories. Some were more unconventional but creative, such as the Lover's Challenge and the Family Fun Race.
Race Day – 3 June 2018
I arrived at Tanjong Pagar Centre at around 8:45 am and met up with my friends soon after. We then headed to the registration booth to collect our Race T-shirt and RFID Race Bib. Registration was a rather smooth process, with multiple counters available for participants to approach. Many volunteers were stationed around the booth – essential for an easy registration flow. There wasn't much of a queue during the time I registered, which was probably due to the pre-assigned timings as mentioned in the registration email. I was assigned to register at 8:57 am, so I had no qualms throughout this whole process.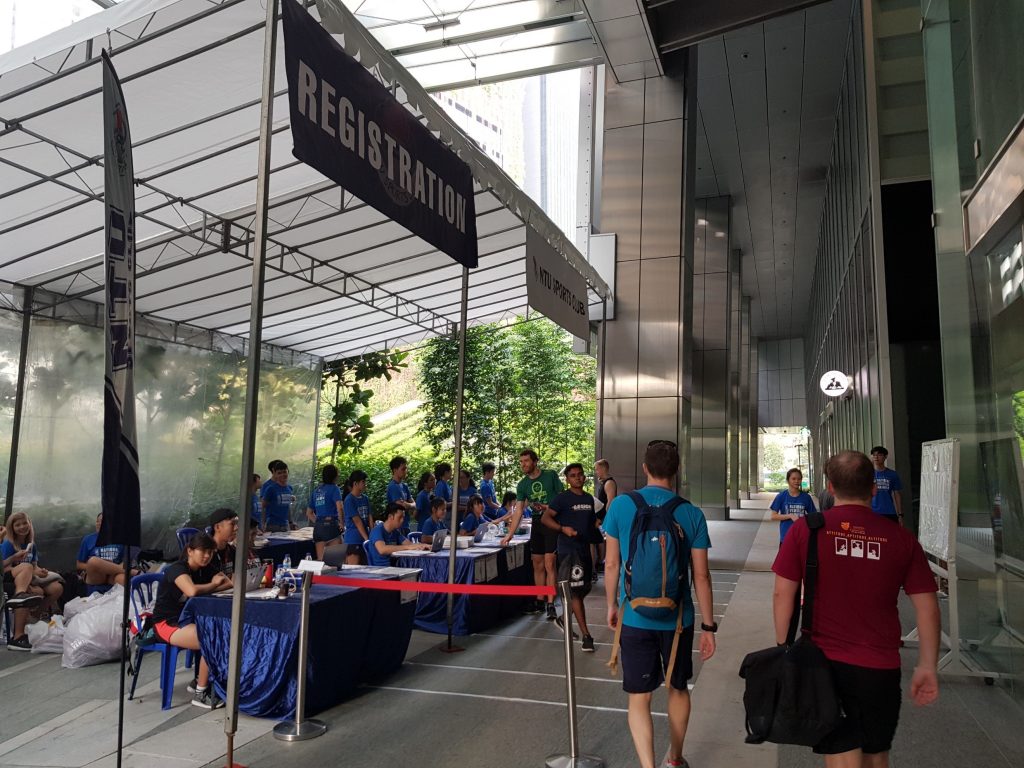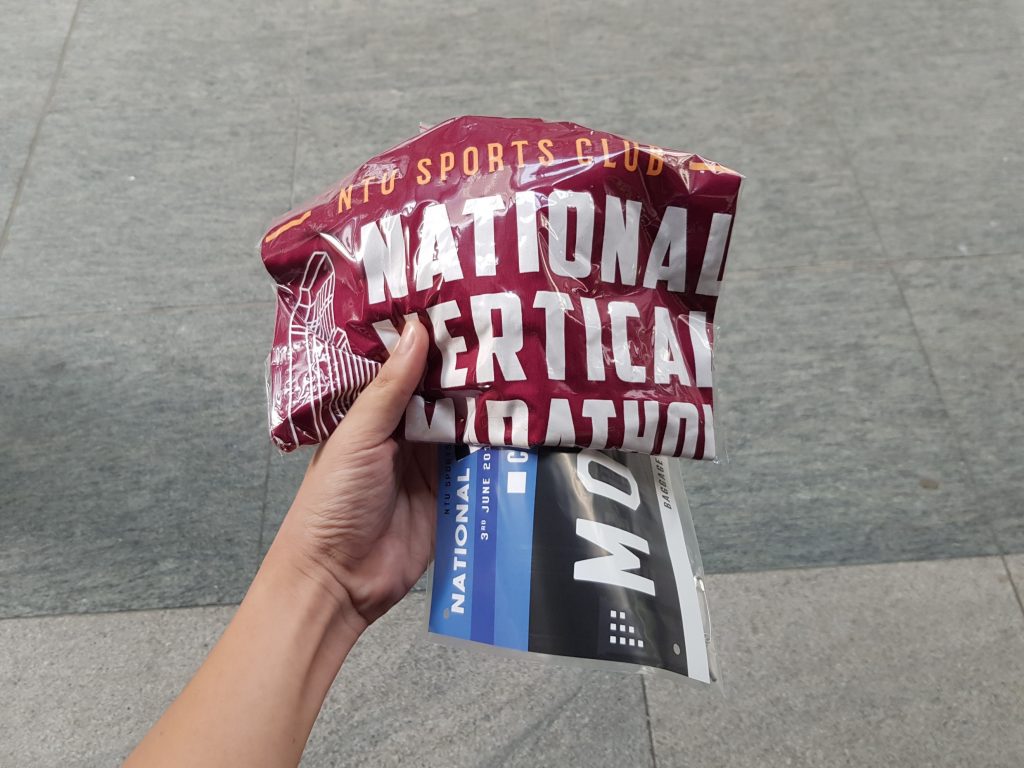 Upon receiving our race items, we changed into our Race T-shirts, pinned on our Race Tags did some light stretching to ready ourselves.
At around 9:30 am, we were called to the gathering area to be split into our details. My friends and I were put into the same detail and lined up to start our race. Each 5-man detail was released at intervals of every few minutes. I was impressed with the level of management and coordination of details.
Before long, the race horn sounded and we were off. We began with a slight jog just to warm up before arriving at the stairwell. Psyched for the race, most of us began the climb with large strides, skipping one step as we go.
As the race proceeded, several posters on the walls reminded us of the remaining floors to check our progress. My group of friends gradually split up, with each going at their own paces. At around the halfway mark, my legs had too much lactic acid built up and I was forced to a quick walk – no more skipping steps for me. In all honesty, it looked way easier than it actually was and I was underestimating it way too much. The stairwell was also stuffy – with little to no ventilation.
However, this was just what I signed up for – a new experience! Rather than chasing excellence, I was chasing after a different challenge, which makes the whole experience much more worthwhile.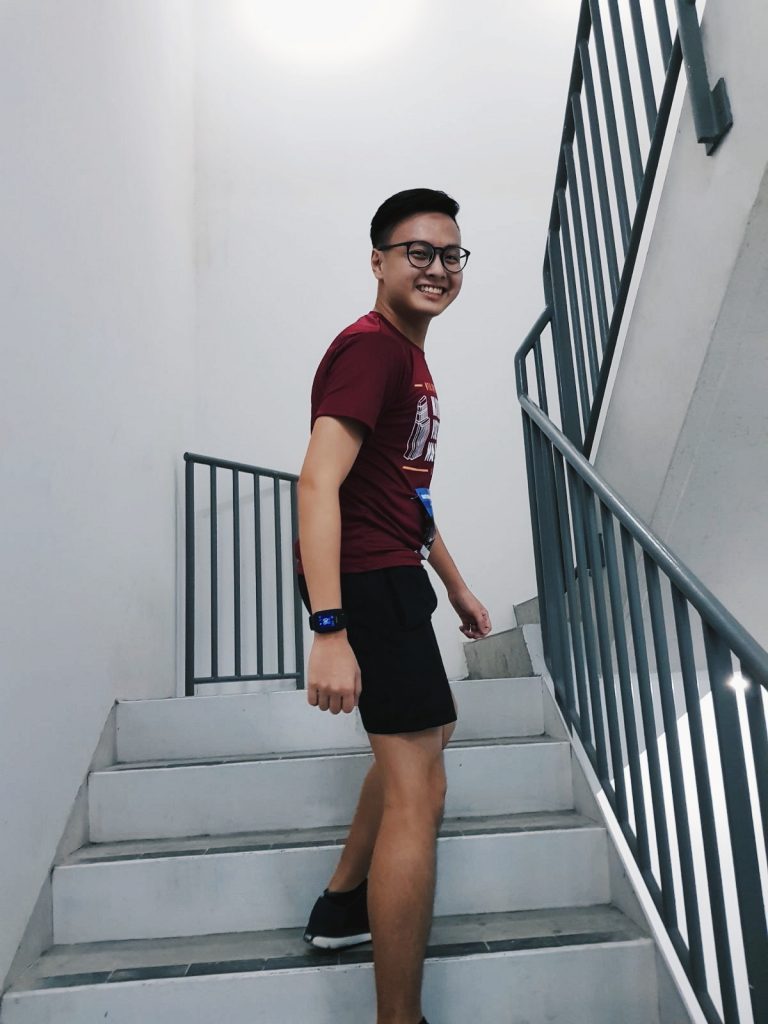 Hydration points were stationed at every 10 flights of stairs, which provided plain water in cups. Every few floors, there would be a volunteer supporter to giving encouragement to the participants.
Nearing the top, I noticed everyone around me picking up speed to give that last push for the finish and I followed suit. That last burst of motivation was all I need to muster a sprint up the remaining few flights of stairs. With the final few quick strides, I completed the race alongside my brother, Justin.
A familiar sense of accomplishment swelled within me, just like every other race I completed, no matter how easy or tough. At the top, my friends and I huddled for a group photo and started sharing with each other about the experience. Everything felt in-place but something was amiss: a breathtaking view! Or at the very least a view from a balcony. To our disappointment, we were only ushered to a lift lobby to take the lifts down. A friend of mine commented that last year's race rewarded participants with a view from the top, unlike this year.
Upon exiting the lift at ground level, we were given our finisher medals and some isotonic drinks and joined in with the crowd at the race carnival. Among all the festivity, I noticed race participants were either playing booth games, queueing for snacks redemption, taking photos at a photo booth or getting their caricatures drawn. All these were given complimentary to each race participant. Some snacks I redeemed for myself were Kacang Putih, Ice Cream and Muah Chee (breakfast was settled!). There were some live singing performances on stage throughout the carnival, which really brought the whole atmosphere of a fiesta.
Our group took some commemorative photos together and collected our goodie bags thereafter. These goodie bags were packed to the brim with mostly items from event sponsors.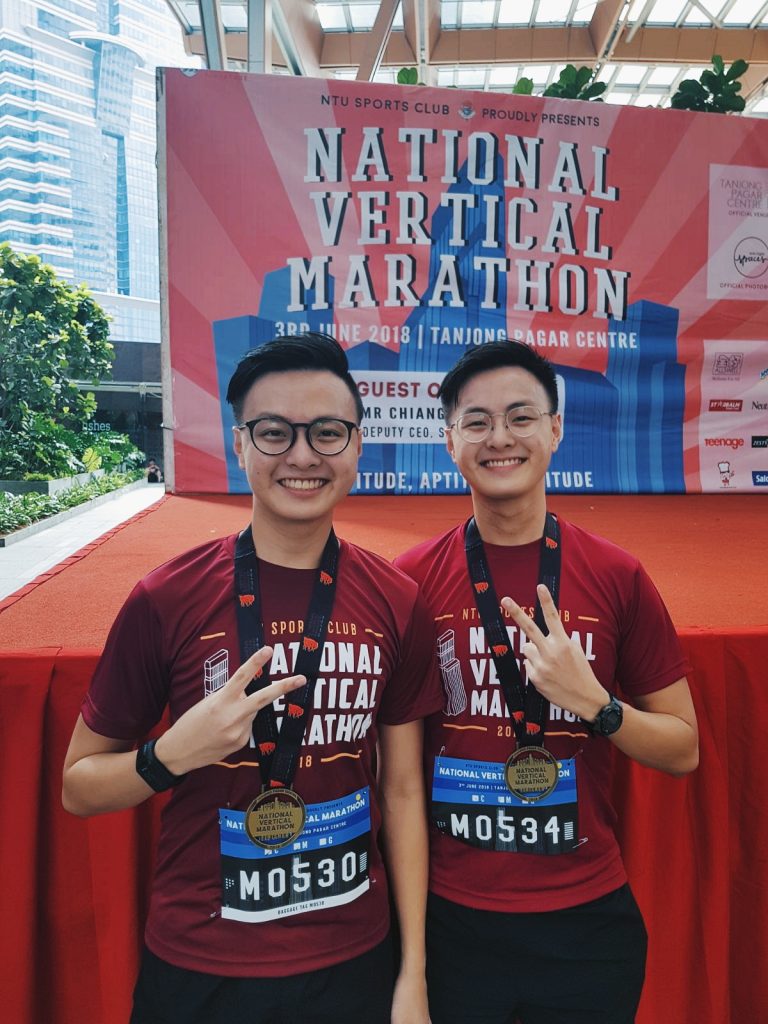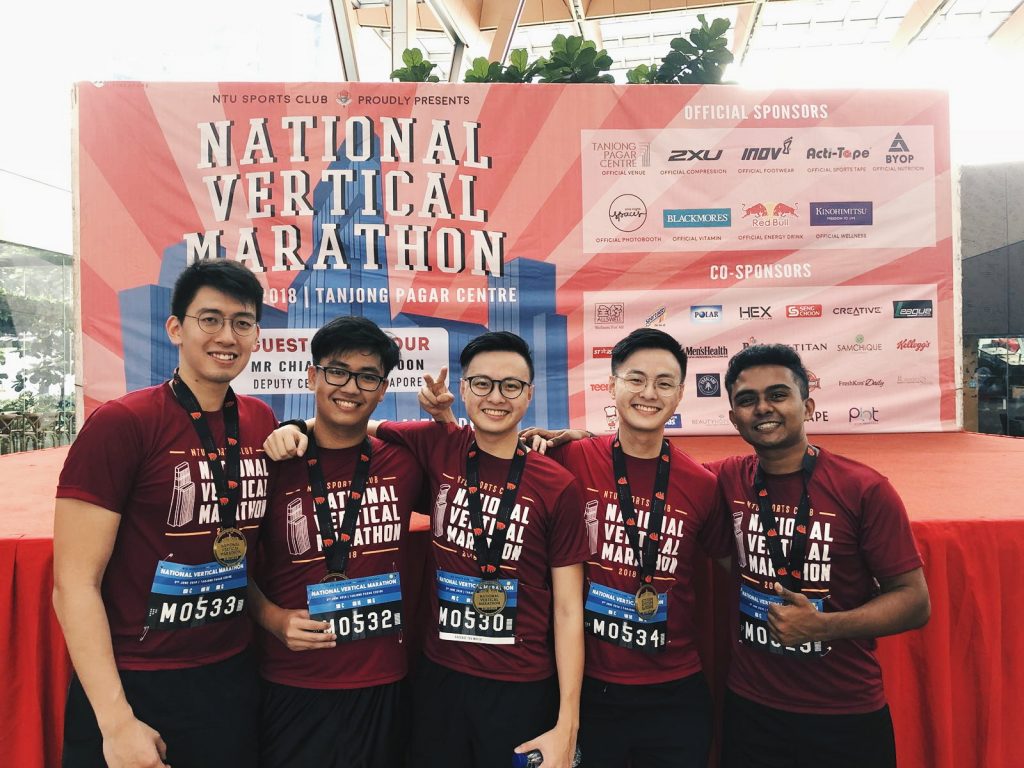 After spotting some familiar faces from NTU and catching up with them, we went to collect our deposited baggage. Once again, we had another quick and easy baggage collection with no queue.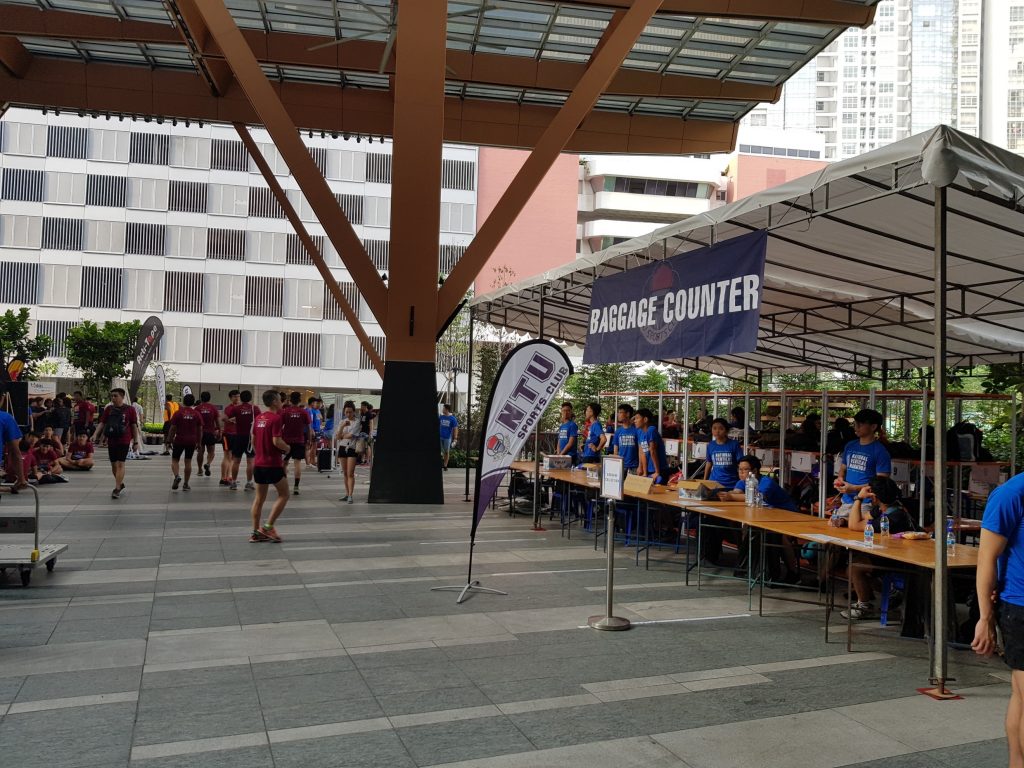 On the whole, NVM 2018 was considerably well-executed for a student-run initiative. Despite the minor disappointment of not having a view at the top, the race adequately brought across the whole idea of an alternative to running. One great point worth mentioning was the smooth management of details of the various categories, which can possibly be a logistical nightmare. I would recommend the NVM to any runner who seeks to try a different form of race. Kudos to NVM and NTU Sports Club!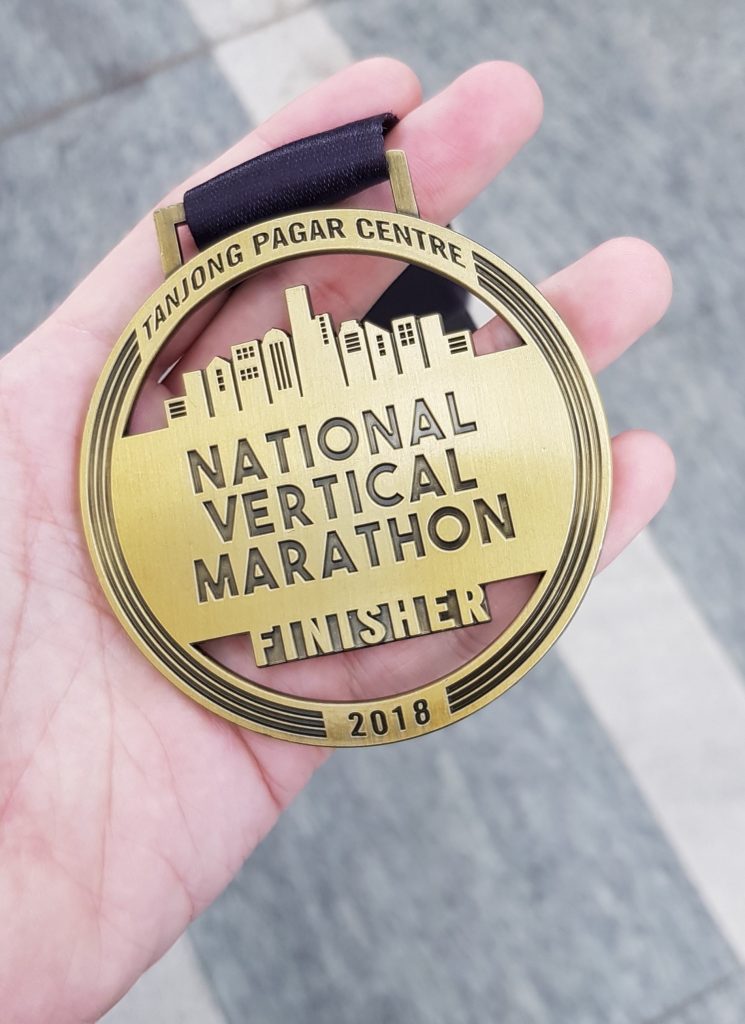 Final Thoughts
"Attitude, Aptitude, Altitude" was the tagline for this year's NVM, which challenges us to approach trials and tribulations with the right attitude, test the limits of our aptitude and reach a new level of altitude.
Hopefully, this would provide some inspiration to you not just in running, but also in the exciting roller-coaster of a race: life. As Drew Houston had mentioned, embrace the adventure and run skyward.
Till my next write-up, continue chasing after new experiences, God bless and have a great day ahead!