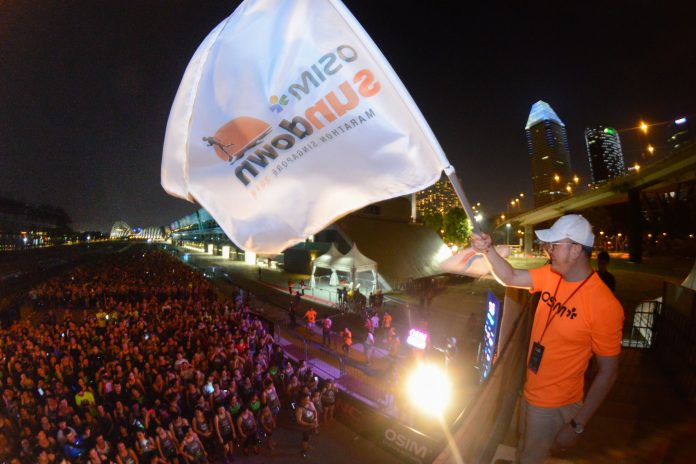 OSIM Sundown Marathon 2018 Improves the Race Experience from Start to Finish with New Initiatives and Engaging Partnerships
The OSIM Sundown Marathon 2018 raised the bar for the 11th edition of the race, attracting 25,500 runners and proving that Sleep Can indeed Wait for those looking for an enhanced race experience from start to finish. Improvements were made to race entry pack collection, an initiative towards zero waste was implemented and a more inclusive charity outreach programme was launched. It was an activity-filled night that saw flag-offs by a Zouk DJ and an Insta-worthy, interactive lighting display to get runners hyped up for the race start.

A smoother yet challenging route
While race routes were planned with the utmost safety and security in mind, including necessary detours to avoid congestion, each route offered a little challenge to seasoned runners who found them surprisingly tough. From sudden uphills a quarter way into the race to scaling the iconic Sheares Bridge midway into the full marathon, there were enough surprises to keep them pushing on.
Full-time athlete, Benjamin Quek, 26 who finished 2nd in the Individual Men's 10KM category said, "The 10KM race was a tough course with a number of sharp turns. But overall, I think the race organisers have raised their game this year!"
WINNERS
As expected, the Africans dominated the Individual Male Races with Kenyans, John Muriuri Mburu 27, winning the Full Marathon at 2:29:07; Lel Kipchirchir 24, the Half Marathon at 1:10:24 and Godfrey Ngetich 36, the 10KM race at 36:04 respectively. However, it was Singapore's women who were rising to the challenge with podium finishes, even twice emerging victorious.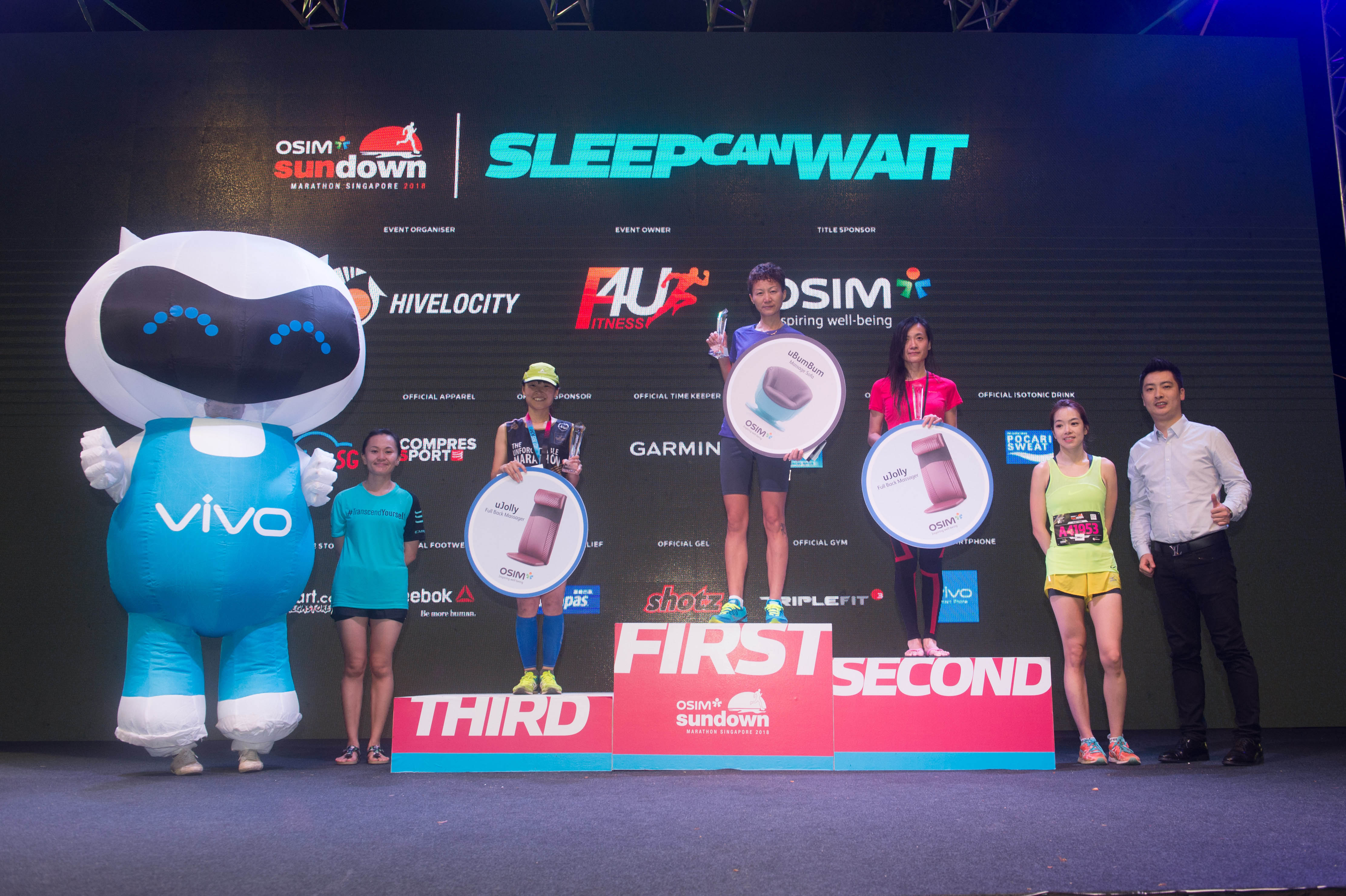 Winner of the 10KM Individual Women's Category, Phoebe Kee 18, said, "The race pushed my limits today. The route was not as flat as I thought it would be but was still a good route with sufficient water stations and race marshals. The race was really well organised too! No getting stuck at bottlenecks, or being merged with other runners."
Hu Xiu Ying, winner of the Women's Full Marathon said, "It was really special to run in the OSIM Sundown Marathon 2018. I struggled and overcame some difficulty but tried my best to enjoy it! Last year I placed second so I was determined to place first this year."
Singapore's Kelly Ho was placed 3rd in the Women's Half Marathon.
Race Village
This year's Race Village featured a variety of activities and food trucks as well as beer tents by Brewerkz to fitness classes by TripleFit x Pocari Sweat as well as movie screenings to help runners cool down after the race. Title sponsor, OSIM invited runners to try out their latest product, the sporty version of OSIM uStiletto leg massager that features a Sports Recovery programme to relieve runners' tense muscles and improve their performance.
"Once again, HiVelocity the organiser has outdone themselves and delivered a more engaging race experience this year," said Mr Charlie Teo, Managing Director of OSIM International Pte Ltd. "OSIM takes a holistic approach to wellness and Sundown Marathon has proven to be an exceptional platform for our community of runners who are dedicated to the pursuit of well-being from start to finish." he concluded.
Tech Enhancements
This year saw more technology being introduced like the Sundown Marathon app, launched at the start of May that not only complements the Athlete's Guide but provides runners and their supporters with real time updates. Runners who choose to share their current positions in the race to keep their family and friends updated, simply opt to share their location. Final race times are also recorded on the app.
A more streamlined approach to race entry pack collection was implemented, reducing collection times to less than 10 minutes. Collection took place a week before the race over four days where total man hours was increased by 250% compared to the previous year. For more convenience, participants could opt for a collection service provided by Official Logistics Partner, blu as well.
A three-step process for race entry pack collection was introduced along with a Fast Track system for efficiency. For the first time in Southeast Asia, the ACTIVE Network® On-Site Mobile App system with dynamic bib assignments used in other renowned events like Ironman Triathlons, Tough Mudder and the Hong Kong Marathon, was implemented for faster participant check-in, registration and collection. This globally-established, digital activity management system uses cloud-based technology and QR codes that are electronically assigned to participants and their bibs helping to reduce wait times overall.
A Greener Race Experience
This year, Sundown Marathon collaborated with the Public Hygiene Council and Green Ambassador, Tyre Lady to encourage both runners and supporters to "Bin It" and reduce large amounts of waste typically generated at large events. Furthermore, additional recycling bins, larger Screened Disposal Areas (SDA) and more signage encouraged runners to dispose of their trash in a responsible manner. Tyre Lady and her entourage of Green Ambassadors wore signs to lift runners' spirits while spreading the eco-message.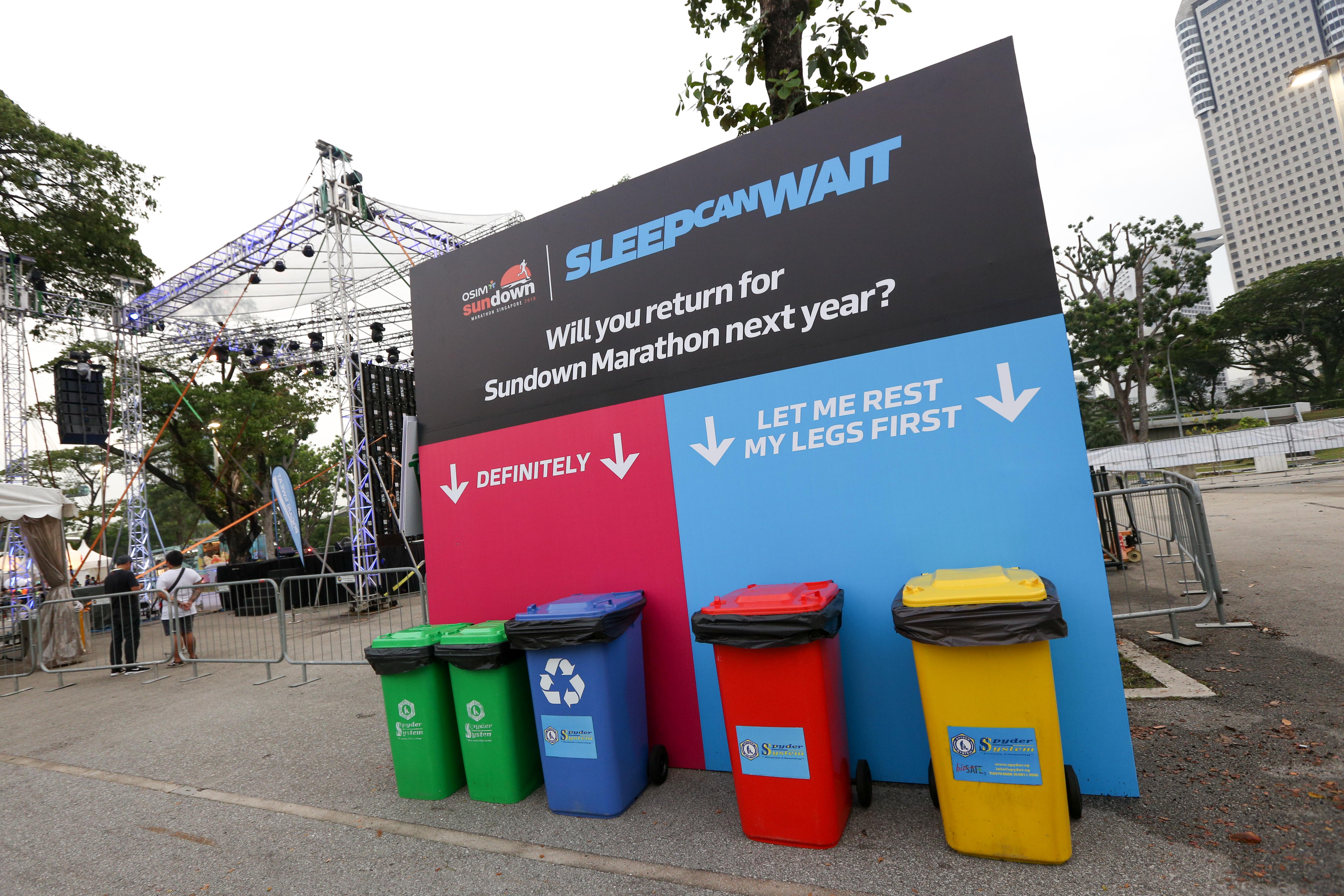 Giving back to the community
As part of a continued commitment to give back, SPD (formerly the Society for the Physically Disabled) was hired to help collate race entry packs for collection. The Singapore Association of the Visually Handicapped (SAVH) Mobile Massage Team was also engaged to provide massages post-race for runners in the Half and Full Marathon categories with massage cream sponsored by Salonpas.
The Sundown with Love charity outreach campaign was more deeply engrained as part of the Sundown Marathon culture. The Ambassadors were officially introduced for the first time at a lead-up run on 31 March where they ran with beneficiaries. A total of 10 Sundown with Love Ambassadors together with other individuals and groups or Sundown with Love Heroes, raised funds and awareness for seven charities – the Association for Persons with Special Needs (APSN), Food from the Heart (FFTH), Boys' Town, Oasis Second Chance Animal Shelter (OSCAS), Singapore Cancer Society (SCS), Alzheimer's Disease Association (ADA) and the Make-A-Wish-Foundation. A total of SGD11,506 has been raised so far. The Sundown with Love campaign is still ongoing and will close on 31 May 2018.
Adrian Mok, Managing Director of HiVelocity Pte Ltd, the organiser said, "OSIM Sundown Marathon is constantly evolving to find new and better ways to enhance the runner's experience. I'm really proud of my team at HiVelocity and hank Sundown Marathon's sponsors and partners who went above and beyond to deliver an exceptional experience this year."
He continued, "We created this iconic Singapore night marathon back in 2008 and developed its full potential into becoming the crown jewel in the Asia-wide Sundown Marathon series. We have always considered runners' feedback and have done our best to introduce new ways to improve the overall race experience. Thanks to all runners for staying patient and believing in us, without which our journey for constant improvement would not be realised."
OSIM Sundown Marathon 2018 Full Official Results ListR
Reference: OSIM Sundown Marathon Singapore 2018 Press Release.