I am known as Sudin and this post is the 1st entry indicating how I met and clicked with a guy, Hashim and end up forming a brotherhood-bonding which so-called known as "Twin Refugees".  And we "pacak" (Hashim's term of running) together whenever we can.  Really important for me to indicate this as this is the opening plot of this journey.  Even in movies, you need to know the character to follow the story.
It all begins after 20 years of being a typical potato couch.  I was an athlete last time during my school and varsity years until I got my degree and started my career in a private sector.  Being able to secure a position in the multinational organization really boost up my vision in climbing corporate ladder as high as possible.  And yes, once you targeted  high to the sky, you need to works twice as hard to reach there which sacrificed many things; in my case healthy lifestyle.  Daily, I started my work very early morning and most of the time I'm surely will scan out at night.  Weekends?  Mostly, I just hang out doing nothing since I work like hell during the weekdays.  So, it was self-proclaimed award by taking a "me time" to rest I guessed.  And this pathetic same routine lifestyles (robot-mode) remained for almost 20 years resulting my weight of 90kg (before was 68kg) and waist of 35″ (before was 30″-31″).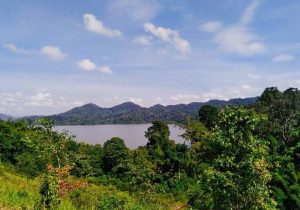 Last year by spontaneous, I was approached by a stranger at my workplace.  He's named as Hashim and seems to be very friendly in person.  He started telling me his story which puzzled me a lot as I am very well-known as an introvert and not socially approachable but of course introvert tends to be a very good listener (this is a fact).  Yet, I felt cozy and comfortable with him as if we known each other for a long time.  I put it as a great deal of life.  He told me his previous years where he was also a duathlon sportsman (cycling and running) and went through his up and down moments and worst of gaining up to 90kg which causing him breathing problem due to the loss of his neck (once you gained weight you tend to loss your neck) besides limitation of movements.  He even showed me his picture during his "dark period".  Very funny yet amazed (hahaha).  As his story ended (at least at that session), he didn't even bother to promote any supplement products but more into approaching me to run.  I usually ignore such calling yet his pureness and sincerity attract me in all ways to give it a consideration.
I started this joyous activity by googling the websites of running to see videos and articles related to it and spent 2 weeks to learn on the theory of best running tips for beginners.  Many might question why bother to learn in theory? Just run lah!  But the fact is, running is not as simple as that.  You need to have the basic knowledge in order to sustain it for long run.  When you are reaching 40s, you should never assume that your body is as fit as when you're kid.  Your recovery might takes longer period if you over-stressed yourself.  You need to know how to start at least by setting an appropriate goals of distance and speed.  From there only you could plan your techniques based on breathing, postures, attires etc. as each runner is unique.  Believe me, many newbies I talked with stop halfway after their 1st run due to sore muscles after their run.  Which is for me a total loss.
I myself faced the soreness and it wasn't pleasing at all after my 1st run, about 7km non-stop.  What to expect, after your muscles been put to sleep for 20 years and suddenly forced to work?  Definitely the post run affect will be there.  Literally, I was walking like a robot.  And I have to admit, half of myself screaming from inside asking me to stop this running activity and enjoy life in other ways while the other half is pushing me to keep on going.  I am normally a pusher which never give up but in this case, what should I do?
This is where my brother aka twin, Hashim came into the picture at a perfect timing.  He is not a professional trainer nor professional athlete.  He is just a regular guy like me but started his running few years before me.  He encouraged me to keep on running slowly regardless the pain which could not be described in words.  He told me to keep on running but maybe low down the pace and reduce the distance.  Until my nerves and muscles build up, then only increase the bar step by step.  But never stop no matter what.  It was a valid advise though as many blogs also mentioned the same.  Only that, once the advise received from him in-person, the impact is more meaningful.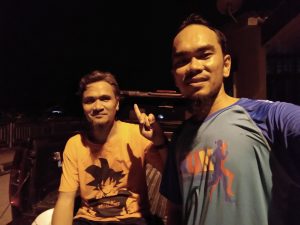 Those who're having the intention of start running, you may need to do some background research on the running tips on the internet (fast and free).  Best tip which I could recommend to all is to find someone as a partner (family members, friends or strangers).  Having someone by your side would really helps in ensuring you to sustain it because running requires commitment but it is worth it in many ways.  Also, you will feel the fun out of it if compared to solo running.  You do not need to have a huge group because it will be difficult to set your running plan as each might have their own commitments.  So, our magic number is two-ween (2 = twin) and not more than this.  Easier to managed and more flexibility as not many heads to decide.  Yes, once a while if there is another bigger group assembled, we just join in as well.
Before this intro chapter ends, we proudly accomplished the Courage 21km virtual run in 3 running sessions last week.  Why 3 sessions and not 1 session directly?  Because we run at our own pleasure and this is part of building confidence in entering a 21km marathon in future and even more.  We have to say, we do like the concept of this virtual run as it is so flexible as we could plan our own session of distance and pace (as no cut off date) and just record the distance of each session.  After the accumulative sessions meet the required distance which in this case the 21km, finishing t-shirt and medals awaits without prejudice.  Some people may cheat in getting these but as a true runner, integrity is the most important thing to ensure that you sustain with it.  It is not about the medal but it is more to your personal/team achievement.

Next chapter, our 1st official event.