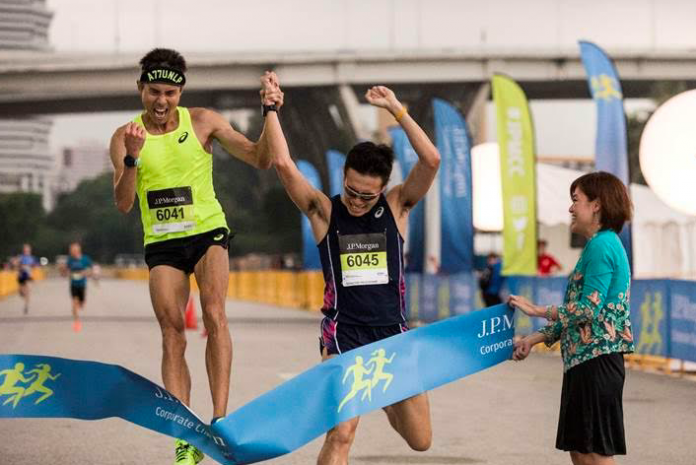 SINGAPORE, April 26, 2018 (Thursday) – The J.P. Morgan Corporate Challenge Singapore returned for its 15th edition this evening, flagging off on St. Andrew's Road in the historic Civic District. Minister of Culture, Community and Youth, Grace Fu, was Guest of Honour at the race, which saw a crowd of 14,256 participants from 387 companies run the scenic 5.6km route from the National Gallery Singapore to the F1 Pit Building.
"The J.P. Morgan Corporate Challenge is an incredible commitment to the corporate community in Singapore that brings thousands of executives and colleagues together for an evening of teamwork and fun. It's great that we flagged off the race in the Civic District – the birthplace of modern Singapore – for the second year in a row," said Edmund Lee, Senior Country Officer for J.P. Morgan Singapore. "This is the fifteenth year we have held the Corporate Challenge in Singapore and it was another successful and enjoyable night."
Joint winners, Gen Lin Foo, 35, and Joshua Li, 31, both from MOH Holdings, crossed the finish line with a time of 19:15.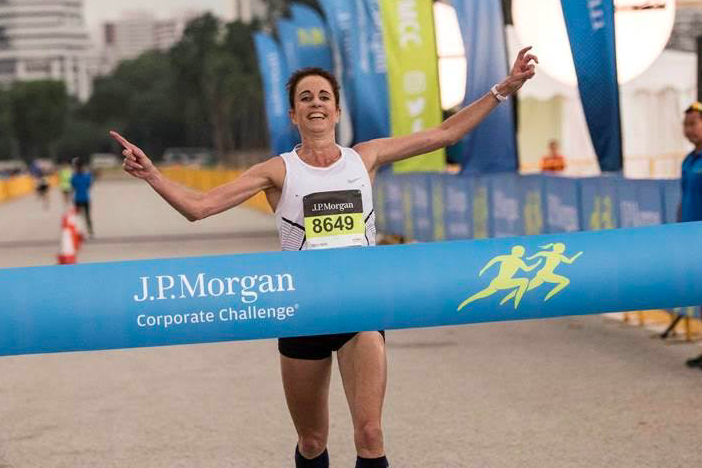 Suzy Walsham of Symantec was the fastest woman to finish the race with a time of 19:45. "It's pretty hard, I'm pretty tired but super happy to have won," said Walsham, 44. "It's such a great event; there is a lot of work camaraderie and it's fantastic to work with my colleagues as a team."
Keeping with tradition, J.P. Morgan will make a charitable donation on behalf of all participants. This year's beneficiary is the Movement for the Intellectually Disabled of Singapore (MINDS). MINDS caters to the needs of persons with intellectual disabilities (PWIDs) and had a number of runners participating.
The J.P. Morgan Corporate Challenge is Singapore's largest corporate running event by number of participants. The largest participating contingents are: StarHub (602 entrants), Deloitte & Touche (501), SAP (325), Visa (250), Cisco Systems (225), Standard Chartered (204), PWC (200), Oracle (199), Microsoft (169) and BNP Paribas (164).
The race is part of a global series that began on July 13, 1977 in New York's Central Park and is the longest-running corporate sporting event in the world. Singapore is the second stop of the J.P. Morgan Corporate Challenge Series 2018. The series will next hit Rochester, New York on Tuesday, May 22nd.