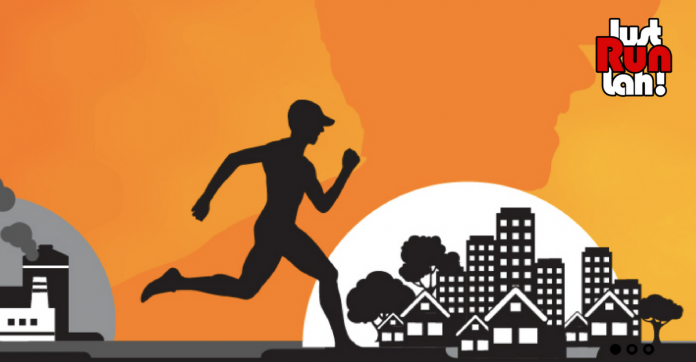 IT IS YOUR TIME! GEAR UP AND FIND OUT ALL THE INFORMATION YOU NEED!
Thank you for doing your part towards building a sustainable environment by running towards Zero Waste! We hope you have a hassle-free race day and here we have the last minute race-day info for you! Check it out and enjoy running for a good cause!
Race Day Programme
3.30AM – Race Village Opens
5.00AM – Flag-off for 21.1km Half Marathon
6.30AM – Flag-off for 10km / 10km Mixed Team
7.30AM – Flag-off for 5km Fun Run
8.15AM – Prize Presentation
8.45AM – Flag-off for 1.2km Kids Dash (9 – 12 years old)
9.00AM – Flag-off for 800m Kids Dash (4 – 8 years old)*
10.00AM – End of Event
Programme schedule is subject to change.
*Must be accompanied by one parent/guardian in the race
Getting There
Date: April 29th, 2018
Venue: F1 Pit Building
Time: 5:00 am
Categories: Half Marathon, 10 km, 5 km, 1.2 km and 800 m Kids Dash.
By Shuttle Bus
When we say we want to Run Towards Zero Waste, we mean it. That's why we have arranged for shuttle bus services for race participants from selected MRT stations to enable participants to arrive at the start point 1 hour before the respective ag off time of the 21.1km and 10km to the F1 Pit Building on 29 April 2018. With fewer people driving, we can reduce carbon emissions and support our eco movement! So, hurry and get your shuttle bus tickets now! Sale of the tickets will be available till 19 April 2018, while stocks last.
Click here for more information.
By Bicycle
Warm up for the race and reduce your carbon footprint by cycling! Bicycle racks will be available on site for you to safely store your bike (capacity of 200 lots). You can also use the free credits from our bike sharing partner, ofo, to get here!
By Public Bus
Bus stop at Raf es Boulevard outside Pan Paci c Hotel (02089): 36, 56, 75, 77, 97, 97e, 107M, 171, 195, 960, 961C, NR2, NR5, NR7, NR8
Bus stop at Temasek Avenue opposite The Ritz-Carlton (02171): 36, 70M, 97, 97e, 106, 111, 133, 162M, 502, 502A, 518, 518A, 700A, 857
Bus stop at Raf es Avenue outside Seating Gallery (02051): 1N, 2N, 3N, 4N, 5N, 6N, 36, 56, 70M, 75, 77, 97, 97e, 106, 111, 133, 162M, 171
By MRT
Below are the closest MRT Stations to the Race Site:
CC4/DT15 Promenade MRT (Circle Line/Downtown Line) – Estimated Distance: 0.38 KM
CC5 Nicoll Highway MRT (Circle Line) – Estimated Distance: 0.94 KM
CC3 Esplanade MRT (Circle Line) – Estimated Distance: 0.98 KM
EW13/NS25 City Hall MRT (East-West/North-South Line) – Estimated Distance: 1.32 KM
Check here for train services schedule.
*Shortened operating hours for East West Lines, please check here.
By Car
You can choose to car-pool on Race Day. Besides reducing your carbon footprint, you can play a part in minimising congestion for the bene t of the public. Pick up fellow runners and get $30 credit if you sign up as a new GrabHitch driver with our exclusive promo code. However, please note that there will not be any parking facility available at the race site due to road closures. Participants are advised to park at the carparks located around the race site.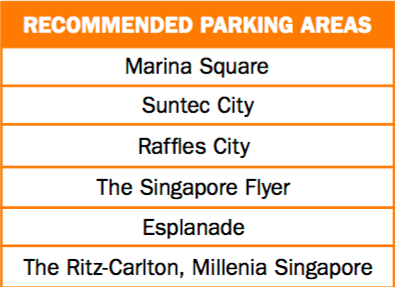 Recommended Drop-off Point
Participants are strongly encouraged to alight along Temasek Avenue towards Raf es Avenue. Do note that Republic Boulevard towards Raf es Avenue will be fully closed from 2.00am to 10.00am.
Road Closure Information


*Subject to change
Race Site Map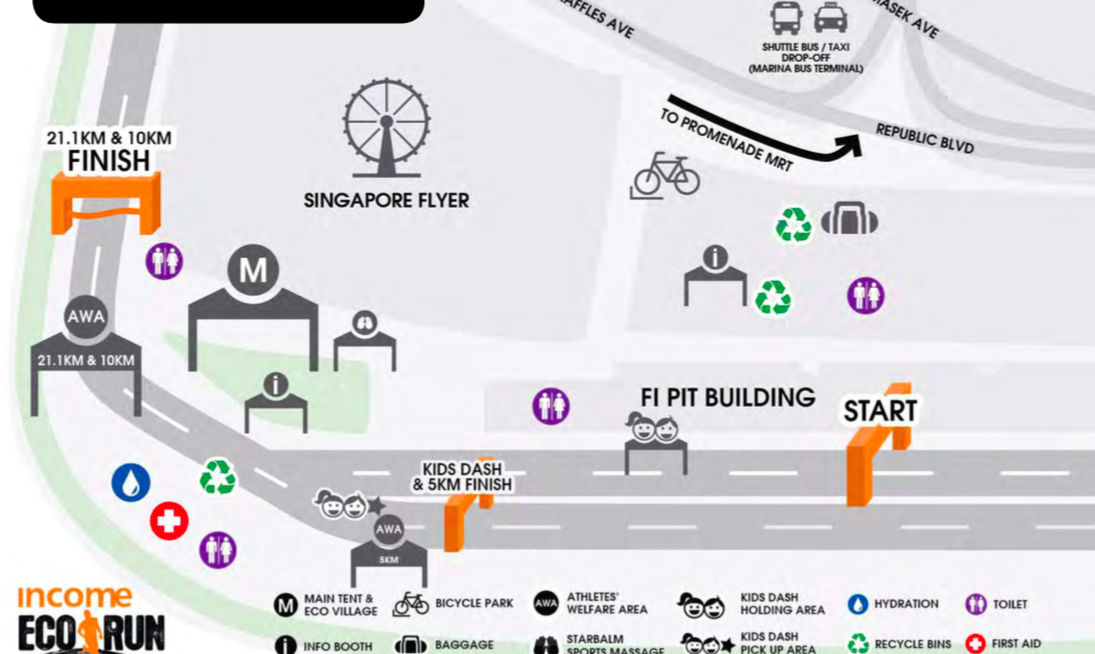 Combined Route Map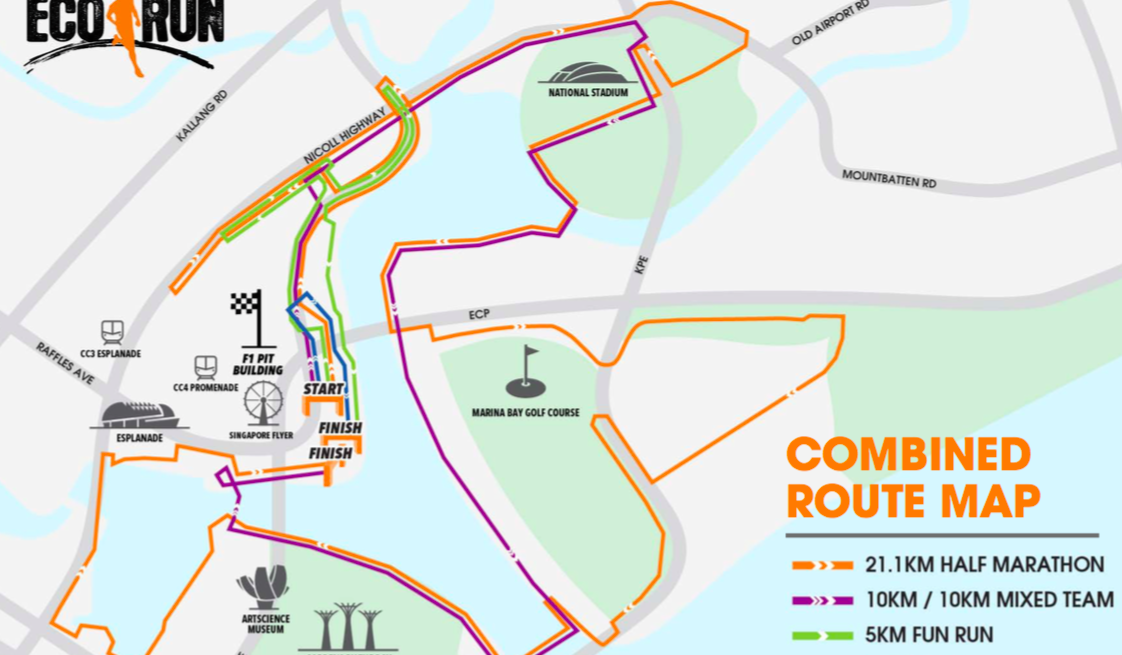 Hydration Point & Support Aid Map
Income Eco Run Pacers
Running Eco 101 – Let's Do Our Part!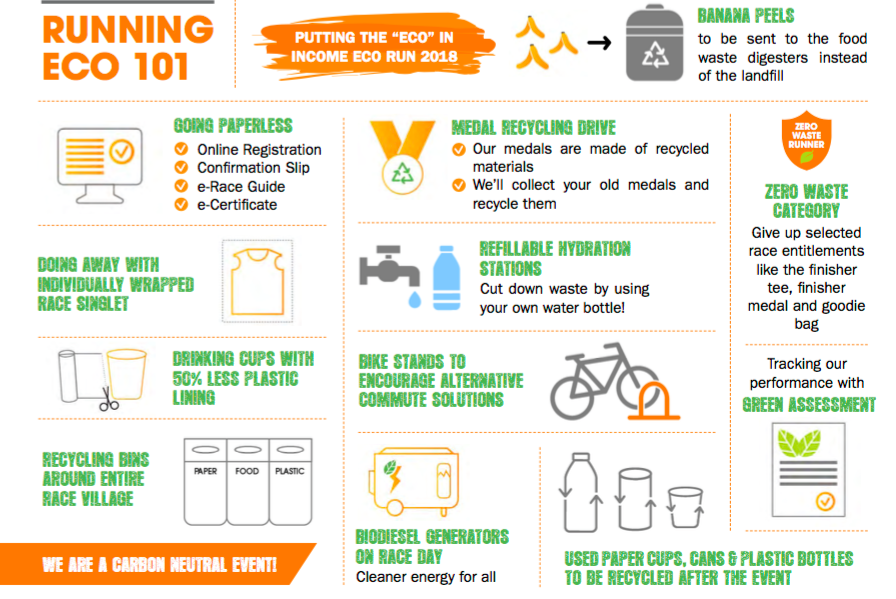 Things Not To Miss
Spot your name & take a photo with the Eco Run structure! #IncomeEcoRun
Try scooting around at the PopScoot Safety Circuit!
Join our mass cool down led by our pacers from Running Department for a good stretch!
Participate in stage games to win prizes from our sponsors!
Recover post-race by getting a free sports massage from STARBALM
Check out the fun activities by our Green Partners!
Recycle your banana peels, plastic bags, aluminium cans, safety pins and more!
Good Luck, See You Soon! #JustRunLah!
The information is retrieved from Income Eco Run official website.