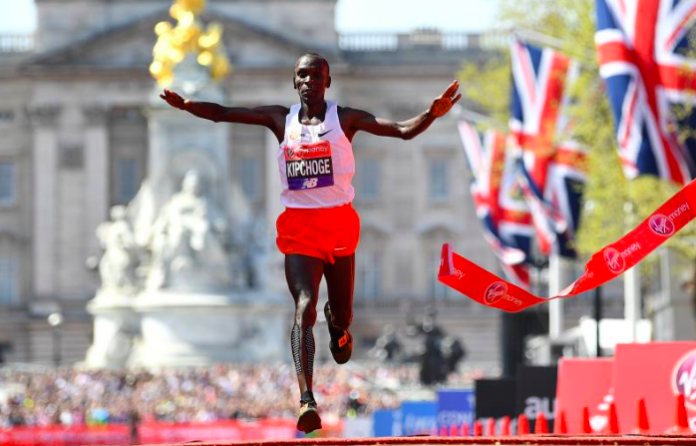 London Marathon 2018 – not quite as dramatic as the Boston Marathon, but just as inspiring! Here are 4 great highlights of the London Marathon 2018:-
#1 Kipchoge Shows Us He Is The Greatest Marathoner Of All Time
Eliud Kipchoge once again shows us he is the greatest marathoner of all time. He won the London Marathon 2018 comfortably with a time of 2:04:17. This will be Kipchoge's 3rd London Marathon win. This also makes 9 wins out of the 10 marathons he has run. His impressive winning streak is also why he is largely regarded as the greatest marathoner of all time. His victory certainly did not come as a surprise.
#2 Sir Mo Farah Becomes Fastest Marathon Runner In British History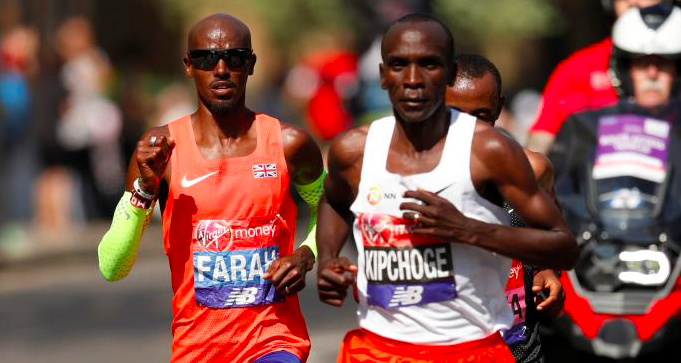 Photo Credits: The Times
Sir Mo Farah was gunning for the British Record and European Record. He vowed to stick with the leading pack regardless the pace despite his own personal best was 5 minutes off what the World's best could do. He stayed true to his word indeed. He stayed with the pack for as long as he could hold on for and grimaced through the remaining. He was grinding hard, and he managed to come in 3rd place. Although his timing of 2:06:21 was just outside the European Record, Farah took the British Record down.
#3 Paula Radcliffe's World Record Was Too Fast Too Handle
Mary Keitany and Tirunesh Dibaba failed to challenge Radcliffe's World Record. It was an epic disaster for the both of them, with Tirunesh Dibaba getting dropped and stepping off the course and Mary Keitany coming in a disappointing 5th. Keitany paid the price for going out at World Record pace for the first half. Her stride significantly shortened towards the end and it was just painful for her and painful to watch.
#4 Vivian Cheruiyot Took The Win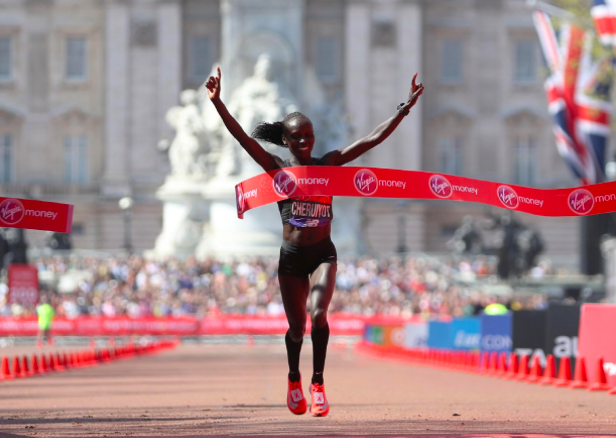 Photo Credits: The Independant 
The limelight was all on Keitany and Dibaba pre-race. Noone was talking about Vivian Cheruiyot. Cheruiyot is actually one of Kenya's most decorated runners. During the Rio Olympics, she trumped Ayana to take the 5,000m gold. She lost to Ayana in the 10,000m event and took Silver. She was running her own race in the chasing pack. When Keitany started to hurt, was when she started to feel strong. She overtook Keitany and never looked back. She ran a huge personal best – taking 5 minutes off her previous PB and won the race with a timing of 2:18:31, the fourth fastest marathon by a woman.
Congratulations to all finishers!
Men's Results:
Kipchoge, Eliud (KEN) 2:04:17
Kitata, Tola Shura (ETH) 2:04:49
Farah, Mo (GBR) 2:06:21
Women's Results:
Cheruiyot, Vivian (KEN) 2:18:31
Kosgei, Brigid (KEN) 2:20:13
Bekele, Tadelech (ETH) 2:21:40
Cover Photo Credits: Bleacher Report