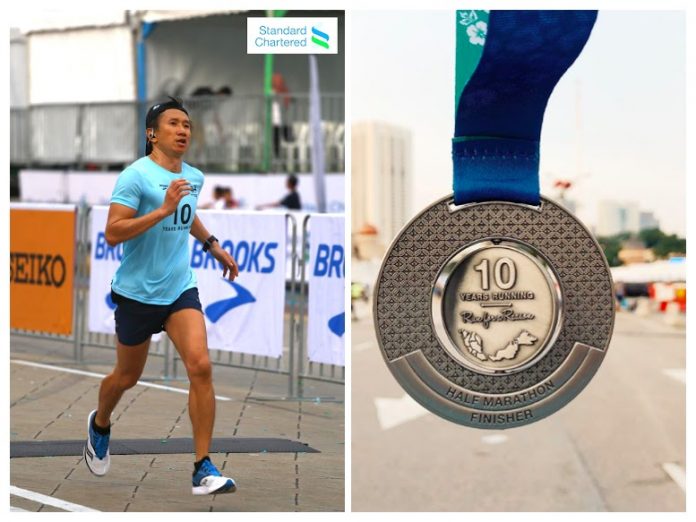 SCKLM2018: 10 Years Running (8 years running for me)
When Standard Chartered KL Marathon was first organised 10 years ago in 1999, I was still recovering from slipped dic and not into running yet. During that time, running was only starting to boom in Malaysia.  I remember I was dragged by my then-colleagues to run with them in mid 2010 in preparation for their Penang Bridge International Marathon. I could barely run 3km then!
Little did I know that my running life has grown over the years with Standard Chartered KL Marathon. And every year, I have been so looking forward to running the streets of Kuala Lumpur at SCKLM.
---
Great thanks to SCKLM's new feature this year providing participants with their participation history! ere is my SCKLM participation history thus far:
2011: I lost my half marathon virginity (HMV) to Standard Chartered KL Marathon (net time 01:54:07).
2012: I lost my full marathon virginity (FMV) to Standard Chartered KL Marathon (net time 4:38:55).
2013: I ran full marathon at Standard Chartered KL Marathon again with a mere 37 second improvement.
2014: I finally broke sub 4:30 hour in full marathon at Standard Chartered KL Marathon (net time 4:06:42).
2015: Standard Chartered KL Marathon was unfortunately canceled due to poor haze condition.
2016: I finally broke into sub 4:00 hour in full marathon at Standard Chartered KL Marathon (net time 3:52:23)
2017: I didn't manage to finish within 4:00 hours at Standard Chartered KL Marathon but thankfully I still managed to make it within 4:30 hours (net time of 4:26:27). 😂
7 years running + SCKLM2018 = 8 years running!
SCKLM2018: Run For A Reason (RFAR)
How about SCKLM2018? My 8th year running at SCKLM? Should I run 42km and attempt to do another sub 4:00 hour at SCKLM2018? Or should I downgrade myself to 21km? 😃 When I told my friends that I decided to run only 21km at SCKLM2018, their jaws dropped! They kept asking me again and again, "Are you sure, Vincent? You are going to run only 21km at SCKLM2018? I thought you never run 21km race and only 42km?" hahahahahaha!
My friends were right though! To date, I ran 32 full / ultra marathons and only 7 half marathons! I ran more full marathons than half marathons! lol! And my last half marathon race actually dated back to 2015's Seremban Half Marathon until I won a complimentary free slot though Saucony Malaysia to run the Bukit Jalil Half Marathon 2018. lol!
Anyway, the main reason for me to register for only 21km at SCKLM2018 was because I have run five (5) full marathons within four (4) months, namely:
February 2018: Tokyo Marathon 2018 (net time 3:53)
January 2018: Twincity Marathon 2018 (net time 3:59)
December 2017: Klang City International Marathon 2017 (net time 4:19)
November 2017: Penang Bridge International Marathon 2017 (net time 4:33)
November 2017: Taiwan Rice Heaven Tianzhong Marathon 2017 (net time 3:49)
Crazy me, huh? haha! My physical body has been feeling rather tired from the 5 full marathons within 4 months. Hey! I'm no longer young, you know! haha! At 50, I think my age is taking a toll on me even though my heart is willing to run more full marathons in short span of time! I thought I should really listen to my body and give it a good rest. Anyway, if you are interested to read the race reviews, you can click here.
Meanwhile, I was thinking of giving back to the society by helping to raise funds for charity organisation through "Run For A Reason" program at SCKLM2018. The first charity organisation that came to my mind was Hospis Malaysia because I personally had three personal experiences with Hospis Malaysia helping out my close friends' family.
I'm very grateful to the kindhearted supportive friends who generously donated a total of RM1,810 to this good cause. You know who you are! Thank you very much for your kindness! 💗 May you all be richly blessed! 💖
Run For A Reason – Run for Hospis Malaysia
Race Entry Pack Collection (REPC)
The same with last year, SCKLM2018 race entry pack collection (REPC) was held at KL Convention Centre. I reached there at 5pm on the first REPC day (Thursday 5 April) and there was no crowd at all. It took me less than 5 minutes receive my race entry pack! Very fast and efficient indeed!
I understand that in the morning and on Saturday there were huge crowds. I was glad that I went there at perfect timing with no crowd! I didn't spend much time at the exhibition because I just came back from the huge Tokyo Marathon Expo (with hundreds of exhibitors and more than 100,000 visitors to the expo as large as Malaysia's Travel Fair MATTA). And I already bought myself two new pairs of Saucony running shoes there. My running gear quota for 2018 is over! lol! 😁
By the way, I told myself that for SCKLM2018, I wanted to find every single opportunity to give thanks to volunteers and the people who have worked relentlessly for this 10th anniversary. So I chatted with the volunteers thanking them for their work. They were really happy for the appreciation given to them.
Route Map: Half Marathon (21.1km)
SCKLM2018 Route Map – Half Marathon 21.1km
SCKLM Half Marathon (21.1km) has a new route in 2018. The route is totally different from the route I ran back in 2011. From the route map, we can see that the route brings runners to run pass beautiful KL landmarks – KL City Centre, KL Tower, National Museum and of course Merdeka Square.  This 21km route also covers hills and highway giving runners a very good variety of views and city elevations to enjoy! A little wish: it would be even more perfect if the half marathon runners can run along Jalan Ampang or Japan Sultan Ismail running passed the beautiful KLCC Petronas Twin Tower in future. 😊
SCKLM2018 Half Marathon (21.1km) Flagoff
SCKLM2018 Half Marathon Flagoff
I woke up at 3.15am, took the 4:15am free LRT Sri Petaling line (thanks Digiro Events for providing free LRT train service!) to Masjid Jamid Station. I was glad to have bumped into a friend who was planing to run his first 21km. So we took the train together.
After putting my bag at the baggage bag counter. A very efficient and smooth process by the way! And yes, I also chatted with volunteer there who were there since 10pm the night before. I also thanked them for their contribution.
I then headed to the start line. My friend went to Pen 4 and I went to Pen 1. I was very glad to have met some running friends at Pen 1 whom we run together during Sunday LSDs at Padang Merbok.
Was I nervous? Not at all! 😜 In fact, I was totally relaxed because this wasn't 42km mah! hahaha! It was already my off running season anyway! 🙂 I knew that if nothing unforeseen happened, I should be able to complete 21km within the 3:00 cut off time. Besides, I wasn't putting much expectation to this run as I wanted to run by feel and enjoy this SCKLM2018 21km experience!
Most importantly, I was going to run for three reasons with a grateful heart:
To honour my friends who donated to Hospis Malaysia.
To show appreciation to the selfless workers behind Hospis Malaysia helping the sick.
To remember our dear Evelyn Ang, who would have been one of SCKLM2018 pacers
We were all excited! As the flagoff started sharp at 5:30am, we were all ready to rock Kuala Lumpur – the whole 21.1km of it!!
SCKLM2018 Half Marathon (21.1km) Race
The weather was very kind to us at 24 degree celsius – much cooler than last year's SCKLM2017. It made the whole running even more enjoyable!
If you know me well, you know that I usually wear running singlet to run. So far, I only ran twice with running tee before SCKLM2018 – Chiangmai Marathon 2014 and Tokyo Marathon 2018 – due to cooler weather. But I decided to wear the light blue RFAR (Run For A Reason) running tee to run at SCKLM2018 to further support the cause and reason for my run! Besides, I really love love love love love the light blue running tee! It's so so so beautiful with the very light comfortable material! Great thanks to Brooks and Hospis Malaysia for the running tee! I felt great wearing it! With my white/blue Saucony Kinvara 8 which I also wore to run at Tokyo Marathon 2018, it was a perfect match in heaven!! lol! 😘
Photo credit: Mr Chan WK. Thank you!
During the first few kilometres, I was running with TPRC's beautiful Grace. Then I continued to run at my own pace without checking regularly on my Garmin Vivoactive GPS watch. I just wanted to run by feel, checking out the beautiful scenery along the route, and completing the race without injury. I also wanted to run prayerfully with the three reasons in mind. Now you know why I was so relaxed!! I could smile while running too! lol!
Photo credit: David Lau / MY Runners. Thank you!
As you could see from below analysis from my Garmin Vivoactive GPS watch, my pace continued to drop and drop and drop! haha! The fastest 1km was 4:07/km at the beginning when I was too excited! And the slowest pace was 6:00/km at KM16. I'm horrible in speed! I can't really run speedily! I enjoy endurance running (ahem! yes yes – full marathons! lol!) more than speed running! I'm worried the heart of this old uncle couldn't take the heart pounding stress of the speed! 😝
Overall, I managed to achieve an average pace of 5:13/km, an average run cadence of 185 spm and average stride strength of 1.04m with maximum elevation gain of 224m. 
I really love the water stations. Virtually I could take a shower with about one water station for every 2km or so. And not to forget the ample supply of Luxozade Sport isotonic drink! Kudos to Dirigo Events for ensuring all runners were hydrated well! At any opportunity that I had, I also said thank you to the volunteers at the water stations with a smile!
May be that's why there were also plenty of mobile toilets along the route. For the last few full marathons (including Tokyo Marathon, Twincity Marathon, etc) I had a habit to use mobile toilets. I remember during Penang Bridge International Bridge Marathon I used the mobile toilet twice! So hey runners – no need to worry if you need to go to pee frequently like me if you were to run SCKLM! 😆
And yes, I managed to snap a banana to eat too. All the while I thought only full marathoners got to enjoy the banana station! I was happy to see banana at one of the stations around KM10. Awesome! Just in time for my hungry stomach on a beautiful Sunday morning! lol!
Oh – how could I forget the high-spirited performers along the route at strategic locations? They helped to put a smile on my face! It reminded me of Tokyo Marathon with may performers at strategic location as well. The only difference was that at Tokyo Marathon, the speakers were very loud making all runners wanna sing and dance along! haha! But hey – kudos to the local performers! You were great, awesome and entertaining! Great job! I smiled at them, said thank you to them, and waved my hands to them to show my appreciation! Without them, the streets would be silent with the running steps of runners!
Photo credit: SCKLM's official photographer. Thank you!
I also noticed at various places, there were also quite a number of supporters cheering along, especially towards the finish line! It really made all of us runners pumped up for the last dash! Thank you!
And yes – I will never forget the safety measure taken by Dirigo Events! There were plenty of marshals and traffic controller at strategic locations. Roads were fully closed for runners to run peacefully! Safety cones were placed along the route. In comparison to Klang International City Marathon 2017, I could barely see a safety cone within my sight! But at SCKLM2018, I actually counted the number of safety cones at around KM18. My stride length was around 1.04m. And I counted that for every 15 steps I ran, I saw a safety cone! That was a safety cone for every 15 meters! I was really impressed by it! At that particular moment, I thought of the greatness and awesomeness, and selfless sacrifice of Evelyn Ang. Because of her, we have a better and safer races to run in Malaysia. Thank you @missyblurkit ! You will always be remembered!
Oh yes!! The awesome photographers along the route. Thank you thank you to all of you who snapped nice beautiful photos of us! You have done such a marvellous job! I really love the photos! I am going to make it my profile picture! hahaha! Thank you once again!
Photo credit: SCKLM's official photographer. Thank you!
About the route, there were 2 places where full marathoners and half marathoners merged and ran together. If I remember correctly, it was at KM25 for FM (Duke Highway) and KM38 for FM close to Carcosa Seri Negara area.  
At Duke Highway, I saw Padang Merbok running friend Little Ling at Duke Highway! At that particular moment, I was thinking to myself, "Hey! How I wish I could run FM like him! I miss running full marathon!" Then I realised that full marathoners probably would have run for 2.5 hours already by then since they started 1.5 hour earlier! I then started to emphasise with full marathoners. I gave some encouraging word to Little Ling before I continued to run at my pace by feel again.
Then at Carcosa Seri Negara area, I saw Malaysia Women Open Champion Chooi Fern making a u-turn running down from Jalan Parliament to merge with us half marathoners! I was so excited for her! I shouted out her name but she was really focusing on her run! Shameless me – I thought I was running half marathon and I probably could try to follow behind her back to finish line. At that point, there were 4 more kilometres to go to finish line! In actual fact, I already slowed down with the hills. But seeing her run passed me, she really motivated me to pick up my speed again trying my best to follow behind! hahaha! I was really shameless! I couldn't follow behind her for even 500 meters! She was so so fast!  I started to feel really old! hahaha! Just joking! Anyway, I felt so happy for her! A big congratulation to her for being the Malaysian female champion. Oh yes, I also saw another friend Cayson. I didn't get to say hi to him though. He was behind Chooi Fern not far away at the point.
(Side note: I understand that more than 300 runners cheated at SCKLM2018. Some cheaters even finished within sub 4:00 hour! I suspect these two places (KM25 and KM38) provided the chance for the cheaters to take short cuts! I really don't know! Just a guess! Sigh!)
After that, I just enjoyed the cheers along the route to the finish line. I saw one supporter showing the sign "Crispy Chicken Rendang"! I burst into laughter asking her if there was crispy chicken rendang at finish line! She jokingly said, "Yes! Yes! Yes!".  Such a cheerful lady!
SCKLM2018 Finish Line
Yay! I finally completed a very enjoyable happy 21km race at SCKLM2018. I had so much fun indeed. Oh the finisher medal – it could revolve! The finisher medal was made with such a high quality! Instantly, I have fallen in love with it and it now becomes one of my most favourite finisher medals along with Tokyo Marathon finisher medal! Just love the design and quality!
Finish line – happy me!
Beautiful revolving medal! #10yearsrunning #scklm2018
Why I was so happy at finish line? I didn't feel very tired – like running a full marathon! haha! I was also very happy because I could a chance to take photos with some friends whom I usually don't get a chance to take photos with at all. Besides taking photo with Grace who completed with an awesome ranking and time at half marathon,
Beautiful Grace!
I also had a very very very very very rare opportunity to take photos with all the sub 4-hour elites!!! Hey – if I were to run full marathon, I might still be suffering on the way back to finish line!! But on SCKLM2018 finish line, I could happily greet my dear Ironman cousin Chan Jun Shen and some of my sub 4-hour elite friends (Khoo Kay Hao, Rooney, Cayson, and Lim Huat) ! What an honour to be able to take selfies with them! I could only smell their fart and see the smoke and probably I couldn't even see their shadows at a full marathon! They are simply too too too fast for me! I was so inspired by them. At the same time, I also gotta accept the reality of my own ability and be contented with what I could achieve. After all, they are elites! I'm a regular runner mah! hehe!!
Selfies with all sub 4-hour FM Elites Chan Jun Shen, Khoo Kay Hao, Cayson, Rooney and Lim Huat! You inspire me!!
SCKLM2018 Results
I must say I'm very impressed by this year's improved version of SCKLM mobile app! It provides Live Tracking, Results, Race Day Program, Course Map, and even Selfie! Wow! A really great mobile app indeed!
I love Live Tracking the most! I could track my friends and find out their finish times. Simply amazing!
Awesome SCKLM mobile app
The E-cert was immediately available the next day (Monday).  The e-certificate design is very nice with KL Skyline as the backdrop and "10 Years Running".
How about my time? I managed to complete happily and rather relaxingly (compared to full marathon! haha!) with a net time of 1:51, ranked 35 at my veteran category. It wasn't my best HM time but I wasn't bothered by my time anyway. I was just happy to have completed SCKLM2018 21km race for the three reasons:
To honour my friends who donated to Hospis Malaysia.
To show appreciation to the selfless workers behind Hospis Malaysia helping the sick.
To remember our dear Evelyn Ang, who would have been one of SCKLM2018 pacers
Everyelse came as a bonus! 🙂
Closing Thoughts
I must say that Standard Chartered KL Marathon 2018 made the 10th anniversary a great success! It has improved greatly over the years! After running twenty over full marathon races in Malaysia, I would like to rate SCKLM as the most well-organised, most high-quality, and most technically-savvy running event in Malaysia. On the safety aspect, I would also like to rate it as #1 for city races, and closely after Penang Bridge International Marathon (due to the full road closure running on the bridge throughout 42 km) overall. Kudos to Dirigo Events!
Thank you once again to friends who donated a total of RM1,810 for Hospis Malaysia. This run was a special dedication to you!
And thank you Dirigo Events for the complimentary running slot for media. I really appreciate this chance-of-a-lifetime experience as a blogger. A blogger? me? hahaha! I actually just enjoy writing to share my experiences to inspire one or two runners out there to do their best! I don't even quality myself as a blogger! I'm forever remembering this life experience in my blogging journey.
And yes – to our beloved Evelyn Ang. I managed to live, laugh, love, and run. (I have written an article about Evelyn Ang's life motto. You can read it by clicking here. )
Will I join SCKLM2019? Most certainly! For me, SCKLM2018 was my 8 years running. And I would continue my 9 years running, 10 years running, etc with Standard Chartered KL Marathon in future!
REVIEW OVERVIEW

Standard Chartered KL Marathon 2018

SUMMARY