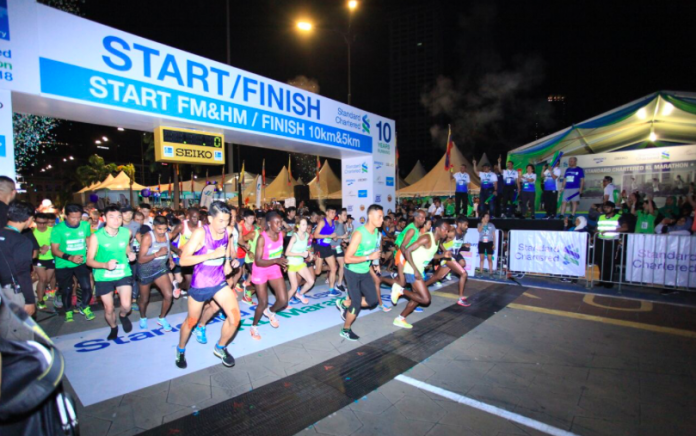 More than 38,000 runners celebrate 10th Anniversary of SCKLM!
KUALA LUMPUR, 8 April 2018: More than 38,000 runners descended on Dataran Merdeka to take part in and celebrate the 10th Anniversary of the Standard Chartered KL Marathon (SCKLM) today. SCKLM has firmly cemented its position as the premier running event in Malaysia and its popularity continues to grow, as evidenced by its race slots selling out in a day when public registrations opened.
Cosmas Matolo Muteti, from Kenya won the Full Marathon Men's Open category for the second year running, successfully defending his title in a time of 2:16:47 to take home USD17,500 while the Full Marathon Women's Open category was won by Elizabeth Chepkanan Rumokol from Kenya in a time of 2:38:48 also earning USD17,500 in the process.
Kiprop Tonui from Kenya came in second in the Full Marathon Men's Open with a time of 2:17:13 while Kennedy Kiproo Lilan from Kenya finished third in a time of 2:18:44. In the Full Marathon Women's Open, Nancy Joan Rotich from Kenya took second place in a time of 2:58:25 and Susan Merrie Swier from USA had to settle for third place with a time of 3:29:53.
The Full Marathon Malaysian Men's category lived up to its pre-race billing as a hotly contested affair as Muhaizar, Leo Tan and Nik Fakaruddin were neck-to-neck for a large portion of the race. Muhaizar reaffirmed his superiority on home soil when he won his fourth consecutive title in a time of 2:37:04. Nik Fakaruddin finished second in 2:37:26 while Leo Tan Huong Leong came in third in a time of 2:38:48. The Full Marathon Malaysian Women's category saw a brand new winner this year when Loh Chooi Fern won in a time of 3:18:44 while Yap Yee Ling clocked 3:30:13 to come in second and Yee Pei Ni got third place in a time of 03:32:26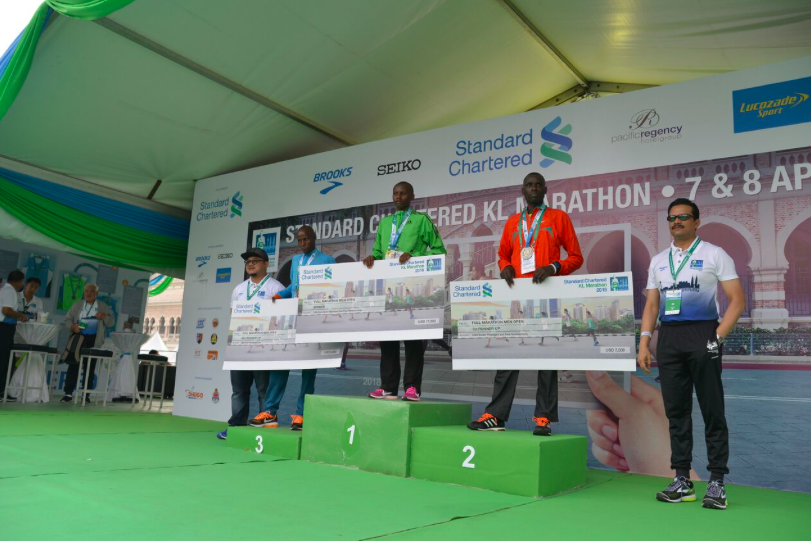 FM Open winner Cosmas was delighted with his second consecutive Standard Chartered KL Marathon win. "This event is becoming quite special for me. My first was last year and I recorded a personal best when I won" Cosmas said. "This year the course was slightly different and more challenging but my training was good and I just kept to my game plan to stay ahead of the others and thankfully, I managed to win again,"
Muhaizar was also thrilled to have retained his title, especially after the intense competition with Nik Fakaruddin and Leo Tan. "It was a tough race especially as all three of us recently competed in the Tokyo marathon which has affected our preparations for the Standard Chartered KL Marathon," he said. "Still, I'm very happy to have won the 10th Anniversary edition and my fourth title," he continued.
Rainer Biemans, Project Director of SCKLM and Director of Dirigo Events, said "It has been an amazing couple of days at SCKLM2018 and we couldn't be happier with the turn-out, which has been our biggest yet, befitting our 10th Anniversary celebrations. We sincerely hope that everyone had a wonderful time and that this 10th Anniversary meant as much to you as it has done for us at Dirigo, as well as for everyone else who had a hand in organising and executing this event."
The Full and Half Marathon were flagged off by Khairul Anuar Bin Mhd Juri, Director of Culture, Tourism, Arts and Sports, DBKL, along with senior executives from title sponsor Standard Chartered Bank Malaysia, led by their Managing Director and Chief Executive Officer, Abrar. A. Anwar, amid showers of confetti and pumping music to celebrate the event's 10th Anniversary.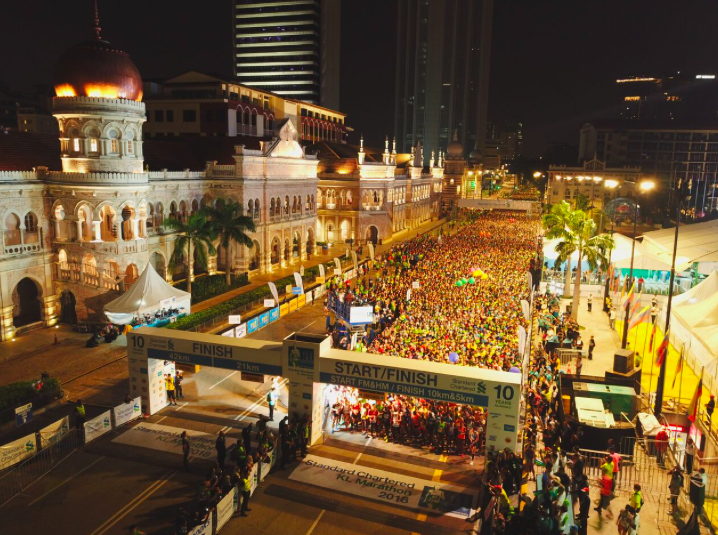 "As title sponsor for the last 10 years, Standard Chartered Malaysia is proud to be celebrating the 10th Anniversary of SCKLM with its biggest event yet. It is heart-warming to see so many running enthusiasts from all over Malaysia and the world come together," said Abrar.
Abrar who also took part in yesterday's Friendship Run, was happy to see growing competitive spirit within the race. "While SCKLM is largely a community event, there is a significant competitive element to it with local runners vying to come out on top of their respective categories. This can only be good for the sport in Malaysia," he added.
The community element of the event is symbolised by SCKLM's charity programme called Run For A Reason (RFAR), which aims to raise funds for deserving charities that assist underprivileged communities and those in dire need. This year the participating beneficiaries are Seeing Is Believing, the National Cancer Society of Malaysia, Dignity for Children Foundation and Hospis Malaysia. Being SCKLM's 10th Anniversary, participation in RFAR was extended to all SCKLM Pacers, as well as media participating in SCKLM's Media Challenge, courtesy of Dirigo Events. "With our initiatives, the total number of RFAR runners have increased and we hope to make this 10th Anniversary even more memorable by raising more money than we ever have before," said Rainer. Donations can still be made until the closing date on 30 April.
The cut-off time for the Full Marathon was extended to 7 hours and 15 minutes this year to compensate runners who have to start from the back, who would take almost 15 mins to get to the Start Line. The continuous efforts to make the marathon more competitive have been embraced by runners who signed up in unprecedented numbers for the Full Marathon, with over 10,000 signing up. There were also over 1,800 running tourists from 70 countries and 79 nationalities involved, making SCKLM a truly international event.
The 10th Anniversary celebrations in conjunction with SCKLM2018 began with the Friendship Run yesterday morning, where over 180 runners took part in a 5km run which ended with a carbo-loading pasta breakfast. The event was meant to be a warm-up run for those taking part in the Full Marathon, as well as an opportunity for runners from around the world to meet and forge friendships.
The Friendship Run was followed by the Kids Dash categories on Saturday evening, which was also a first for SCKLM. This year, the 1km and 3km Kids Dash categories took place a day before the main event so that these categories would have their own prominence rather than be overshadowed by all the other categories on Race Day. For the first time, the kids who took part in these categories got to start under the main SCKLM Arch at Dataran Merdeka, which was pretty exciting for them.
The objective of the organisers this year was to give back as much as possible to its loyal runners in appreciation of their steadfast support of the event over the last 10 years. One particular group of runners were accorded the special honour of having participated in all 10 editions of SCKLM thus far. The SCKLM Juggernauts were able to choose customised bib numbers and personalised Race Entry Tees, and were hosted by title sponsor Standard Chartered Bank in their hospitality Marquee.
SCKLM's 10th Anniversary celebrations also incorporated new routes for the Full and Half Marathons which took in more of KL's iconic landmarks but remained as challenging as usual with its route undulations. The hilly stretch beginning from Km32 was especially gruelling for a lot of runners, who thankfully had SCKLM Pacers encouraging and motivating them all the way. One of these Pacers was Kin K. Yum, a regular Pacer for SCKLM who ran his 100th marathon today. "Today I'm truly ecstatic as looking back, I have covered approximately 4,518 kms spanning 26 countries in this running journey of mine," said KK.
The award-winning SCKLM mobile App was also given a cool update that incorporated a new photo feature that enabled runners to download photos of them taken by strategic cameras along the routes. The Apps seamless social media connectivity then allowed runners to instantly post their memorable running moments on their preferred social media channels.
To commemorate SCKLM's 10th Anniversary, the last finishers to approach the Finish Line were given a rousing end with confetti blasts and cheering spectators urging the runners home.
Apart from the Full and Half Marathons, the Standard Chartered KL Marathon 2018 also featured a 10km distance and a 5km Fun Run for social runners. There were also several categories like the Corporate Challenge, Media Challenge, Universities Challenge and Ministries Challenge to either raise money for charity or provide friendly competition and confer bragging rights to the eventual winners.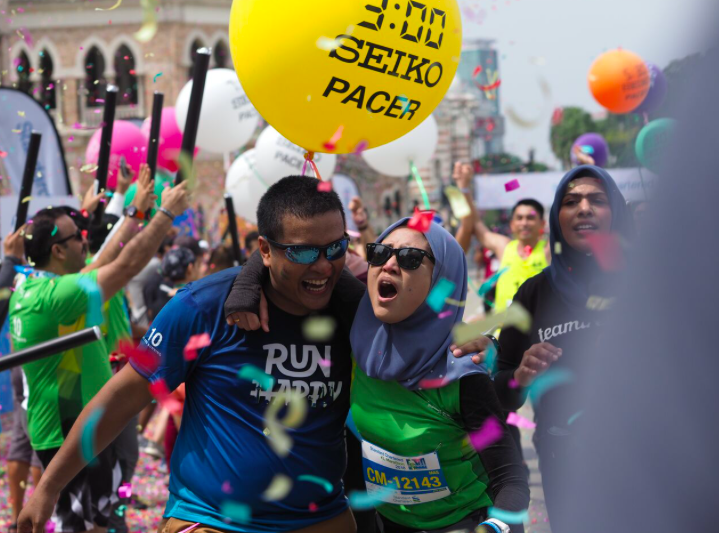 The Standard Chartered KL Marathon has grown to become the premier running event in Malaysia, drawing thousands of local and international runners to the country whilst firmly establishing Malaysia in the global running calendar. The 2018 and 10th Anniversary edition of the race once again saw Standard Chartered Bank Malaysia returning as title sponsor, along with a host of returning sponsors, including Seiko, Brooks, Lucozade and Pacific Regency. The event is owned and organised by Dirigo Events with co-organiser Dewan Bandaraya Kuala Lumpur.
Standard Chartered KL Marathon is sanctioned and supported by the Malaysia Athletics Federation (MAF), Federal Territory Kuala Lumpur Athletic Federation (FTKLAA), International Association of Athletics Federations (IAAF) and Association of International Marathons, Distance Races (AIMS).
Winners of the Standard Chartered KL Marathon 2018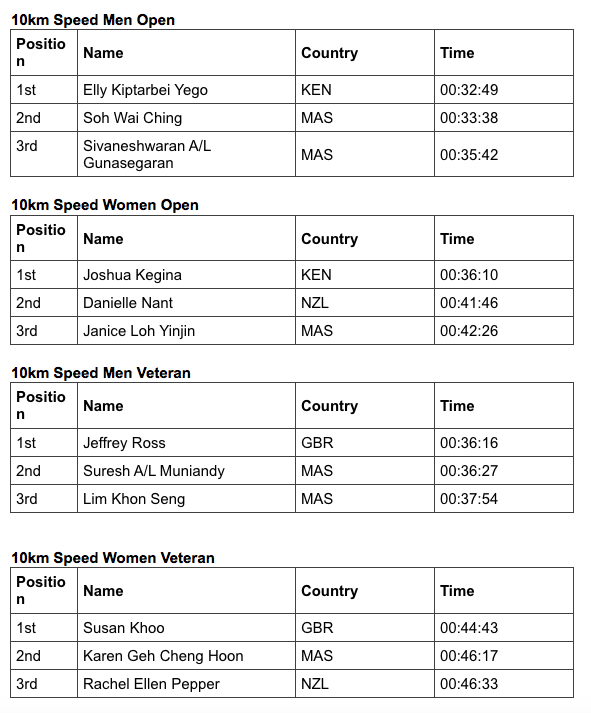 For more information and updates on SCKLM, please visit: