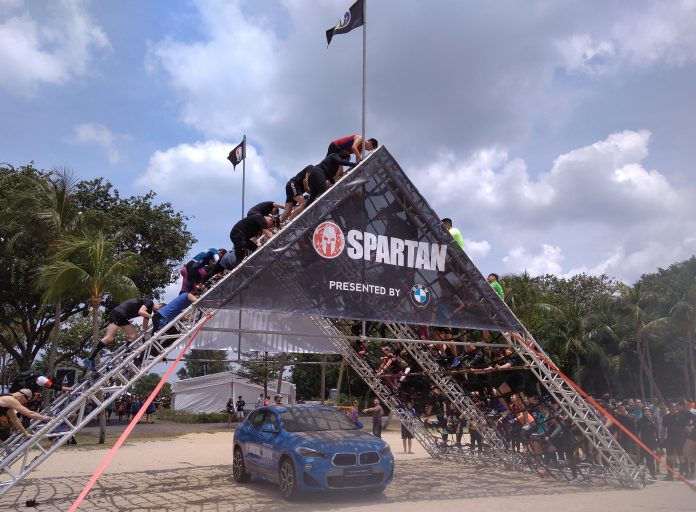 "You will know at the finish line".
This is a famous quote from the Spartan Race. To me, I interpret it as the sweet (plus sandy) taste of achievement after clearing more than 20 obstacles and crossing the finish line.
There are various types of Spartan Race. The more well-known ones are Sprint (5 km), Super (13 km) and Beast (21 km). For the 'Spartans' who desire tougher races, they opt for the Ultra Beast, Hurricane or even Death.
In the Spartan Race, all participants are known as 'Spartans'! Aroo!
Spartan 2018
This year, there were only 2 categories: Kid's Dash and Sprint. It was held at the Palawan Beach, Sentosa. There wasn't a Super category compared to last year's event at Tampines Ave 10. Perhaps this was due to the smaller area assigned for the race at Sentosa?
The Sprint route brings you past Shangri-la Hotel, Fort Siloso and Imbiah Trails. There were 3 hydration points along the race: at the Vertical Cargo, Bucket Brigade and near Finishing Point. There were 23 obstacles to clear.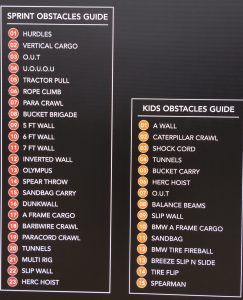 The race fees for the Spartan race weren't cheap if you compare with the  running/cycling events. This year's race fees also appear to be slightly higher than last year's. But you may justify this by considering the costs and logistics involved in setting up the obstacles. Also, the thrill and camaraderie you will experience with your friends or fellow participants, are something unique in Spartan Race. Aroo!
Why I participated
I had intended to take part in Super since last year I went through the Sprint. But this year there wasn't any Super. Still, I signed up to accompany my 'spartan buddy' to relive the camaraderie experience (Aroo!) at the new site, Sentosa. I had never before run at Sentosa even for running events.
Preparation for the Race
Spartan race is not our usual running race. This race requires spartans to run, walk, crawl, climb and roll. Many of the obstacles require strength, core endurance and courage (yes) to clear.
I am not a gym person, but I enjoy my weekly statics training in a 3.5 km run to build up core strength. My advice for first timers to the race is get yourself prepared. Train for at least 3 months (some people told me 6 mths). Being better prepared and at better fitness level gives you more confidence to clear the obstacles, help your friends and more importantly, reduce the risk of getting injured.
Race Day
Last year, participants collected their race pack at Velocity, Novena Square. This year, we collected our headband (bib) and time chip on the actual day. I collected mine at around 8 am. The process was relatively smooth, though I read some negative feedback post race, where some spartans claimed the whole process was messy, registration was not found etc.
There wasn't any event shirt, so participants came in their own attires, some in OSIM Sundown, SCSM etc. I chose to wear back my past spartan shirt.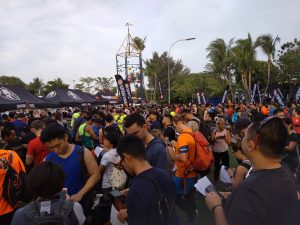 My friend and I belonged to the 9.30 am heat. All spartans were in high spirits and full of anticipation, shouting 'Aroo!Aroo!Aroo!' when the announcer asked what was our profession.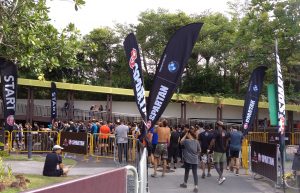 Note: I had tagged the obstacles pictures in accordance to the obstacles guide above. In reality, I think the actual obstacles from #18 to #21 are not in sequence according to the guide.
Obstacle #1 to #7 were done on the Palawan Beach. The obstacle that posed a challenge to many of us is the 'Rope Climb (#6)' I can only muster a third of the climb up, before giving up and had to do burpees as punishment.
Obs #2: Vertical Cargo
The 2nd leg of the run brought us to Fort Siloso. Spartans had to climb 11 storey up the Siloso Skywalk. It wasn't an easy climb after going through some earlier obstacles, but we were treated to a scenic view of Singapore and Sentosa. We could literally view the spartan race happening right below. Some of us stopped to take a breather and photos with each other.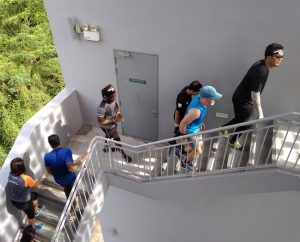 Once we descended from the Skywalk, we had to challenge obstacles #8 to #15. This was the stretch I personally enjoyed most, as we faced the more well known spartan obstacles and encouraged each other, total strangers, when the going got tough.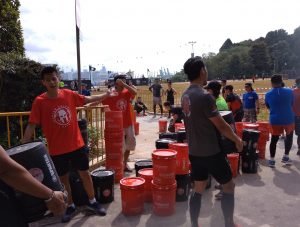 Obs #8: Bucket Brigade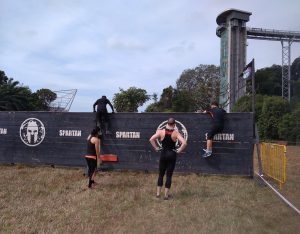 Obs #11: 7 Feet Wall
There were 3 walls to clear – 5, 6 and 7 feet. I had hoped to clear the 8 feet wall, but Sprint does not have. Only the Super and beyond have this privilege.
Obs #14: Spear Throw
Spear throw was one obstacle many did not succeed in hitting the target and had to do burpees as punishment. Well, lets do it together! Aroo!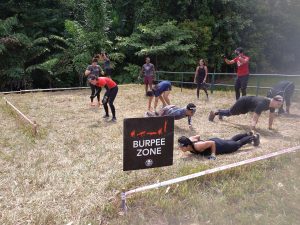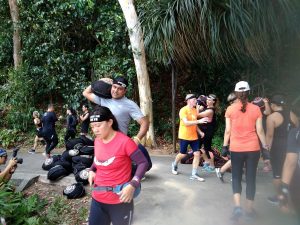 Obs #15: Sandbag Carry
The sandbag carry was the last obstacle before we proceed to the Imbiah Trail. A walk up the flights of steps, into the short nature trail before emerging and heading back to the finishing point at Palawan Beach.
After the 3rd hydration stop, we had to challenge the rest of the obstacles # 16 to #23.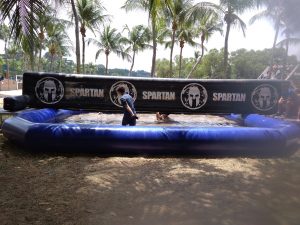 Obs #16 – Dunk Wall (time to get wet!)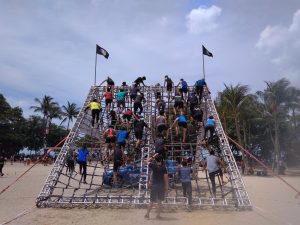 Obs #17 – A Frame Cargo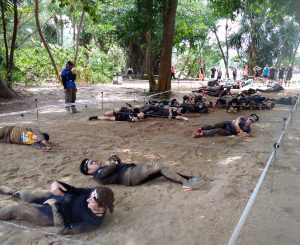 Obs #18 – Barbwire Crawl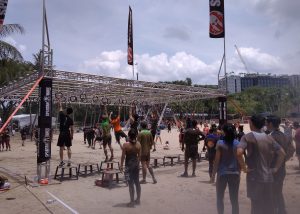 Obs #21 – Multi Rig
After clearing the last obstacle – #23 Hercules Hoist, Spartans were given the finisher medal, finisher shirt and plenish sports water.
Post Race Comments
1) Race Pack Collection – Do it earlier prior race day, just like previous years. Issue the time chip together with the headband, just like in other run events. This will prevent the registration frustrations some encountered during this year's race.
2) Event Shirt – For the high fees we are paying, most if not all, are expecting an event shirt. It would awesome all spartans wearing the same shirt on race day.
3) Finisher Shirt – It was given to finishers on a first-come-first-serve basis. So those in the later heats, myself included, did not manage to get the correct size we want. So for next year's race, either cater in tons more, or during event registration participants can clearly state the sizes they want.
4) Spartan Super – I do not know the reason for choosing Sentosa, but this may be the reason why there is no Super category. For those of us who had been through Sprint, we want to try Super locally.
5) Race Location – Personally, I prefer the Tampines site, as the race really took us through forest trails. The open field area was big and can hold majority of the obstacles. The event itself, that time, was like a mini carnival. I even remember some participants commented the race route was tough, just like what they experienced in other countries.
6) Fire Jump – This year there wasn't any fire jump probably due to space constraint. This is one of the signature of Spartan Race. Without jumping over the fire or smothering ash at finisher line seems something is really missing.
7) Volunteers – Some of us feel there were insufficient volunteers, medical and photographers (well, we may be wrong…)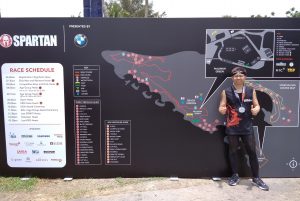 Despite all these feedback, I must say I still like the Spartan Race. I enjoy the teamwork and camaraderie. Few other races come close to giving these experiences to participants.
Aroo! Aroo! Aroo!