This was a race that I actually did back in 2014.  It was the first time I ran a road race in France.  The main draw was because you can drink and run at the same time, making it a really interesting one for me and combining both my interest in running and drinking. The theme for the 2014 version was Celebrations in the World.
Finding Company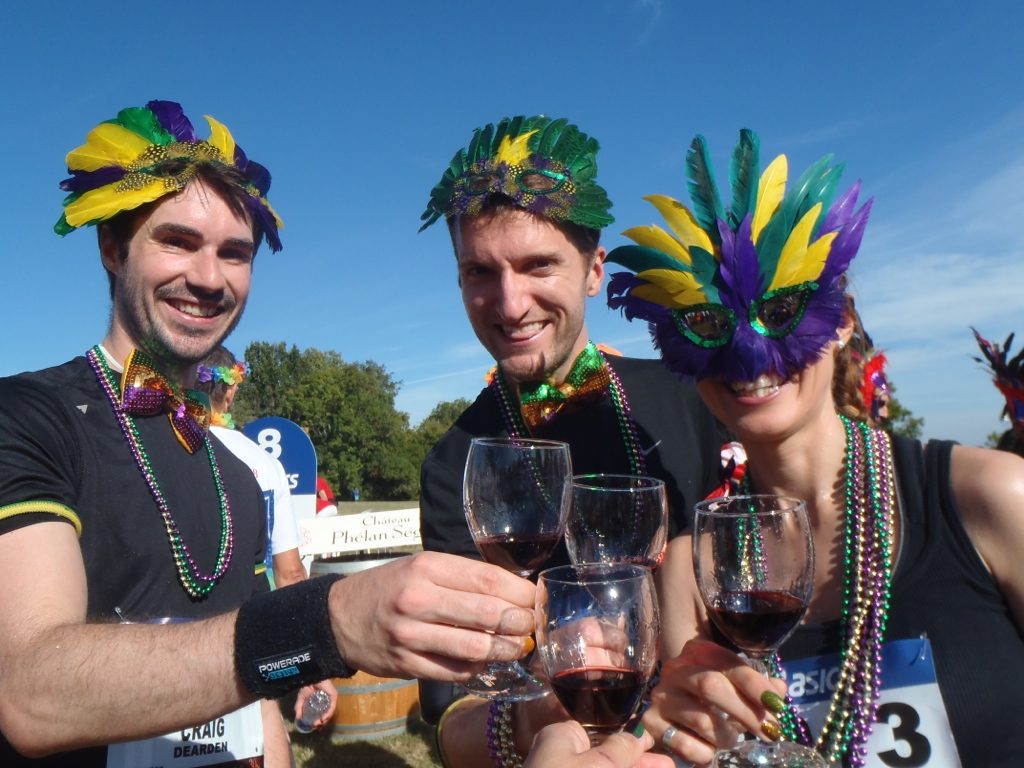 I had registered for the race around March but was only able to get my medical clearance way later due to my condition of lesser red blood count.  Although we still do not know why and could only put it as heredity ( since my brother has such a case lower blood count).But I managed to pull through a second opinion given the record of taking part in 20 plus full marathons.
Knowing no one in the race and going to the race all by myself.  I presumed that I need to find some company to do the race together.  This was where I found a group who needed one more companion as one of the member dropped out.  2 guys and 1 lady, from different countries and we met here together.  It was quite amazing, Heather was the one driving us around.  The race starts at Paulliac while we were staying in a chalet in Hourtin, it takes about half an hour ride to get to the start line.
Preparation
Our Stay in Hourtin
We all met in Bordeaux, from there Heather drove us down to Hourtin to check in the Chalet.  This was one day before the race.  After a short rest, we drove on toe Paulliac where the start line was to collect our race pack.  It comes with a tee shirt, number bib and happen that 2014 was their 30th anniversary, there was kind of a carnival at the race collection point.  Unlike some races which has tons of sporting equipment companies displaying and selling sports stuff.  This race collection was more like a fun and happy carnival with shops selling food.  The most popular item there is the candied canale, a sweet that is really enjoyable for people who appreciate sweet stuff.
Thinking that this race will be running through chateaux drinking and eating, I decided to just take it easy and enjoy as much as I can.  My hydration pack was filled with only water. The theme of the marathon was " Celebrations around the world" , all participants had to dress up to the theme.  So with my team, we decided on the Madi Gras, they even brought nail paint colour up.
For nutrition I was rather shocked that these folks eat peanut butter and ice cream like no body business.  I was just doing the usual banana and some fruits, but there they are indulging in the peanut butter and cream! We rested early and it was starting to get cold despite it was Autumn.
Race Day
All dressed up for the event and also floats!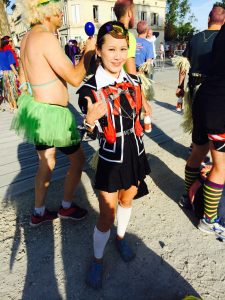 My costume
Early in the morning we drove back to Paulliac to the start point.  There were too many cars and we had to park by one vineyard and track back.  I could feel the cold and breeze , luckily we brought some ponchos to cover up.  Shivering in our shimmery costumes, we saw many funky dressed runners, it was strange that the French men all like to dress up as women, with the wigs and bra.  The start line was like some carnival with so many costumes and even floats around.  It did not feel like some real run here more like a party.
First stop in the chateaux, they already started feeding us with wine.  Some of the runners even filled water bottles of wine for the rest of the race.  After two glasses, I was feeling tipsy.  But somehow it helped to hype up the mood.  There was noise and music every where.  Some of the runners brought their own MP3 players.
Food and Wine all the way
Beside wine, there were also real fruit juices which were a local produce, and loads of food. Beginning with just croissants and bread, cheese and ham, biscuits and sweets to 38km where I could not believe my eyes, people shucking oysters and real fresh oysters on the spot for runners..I simply could not get out of the tent and stayed there really long.  Some of the runners also stayed and lazed around the gardens of some of the chateaux.  There were many locations with good picture moments.
Towards the end, there were entrecote beef (grilled beef) chocolate ice cream.  Before you reach the finishing point, there is even a dress up table to make sure you look good before the ending line.  Really a fun, full with food and wine , costumes and laughter race.  I had never felt so relaxed and enjoyable in a marathon so far!
The ending point has proper makeshift bath rooms for you to clean and wash up before you leave. There were many small stalls, pubs and cafes alongside for those who like to take a break before heading home.
Overall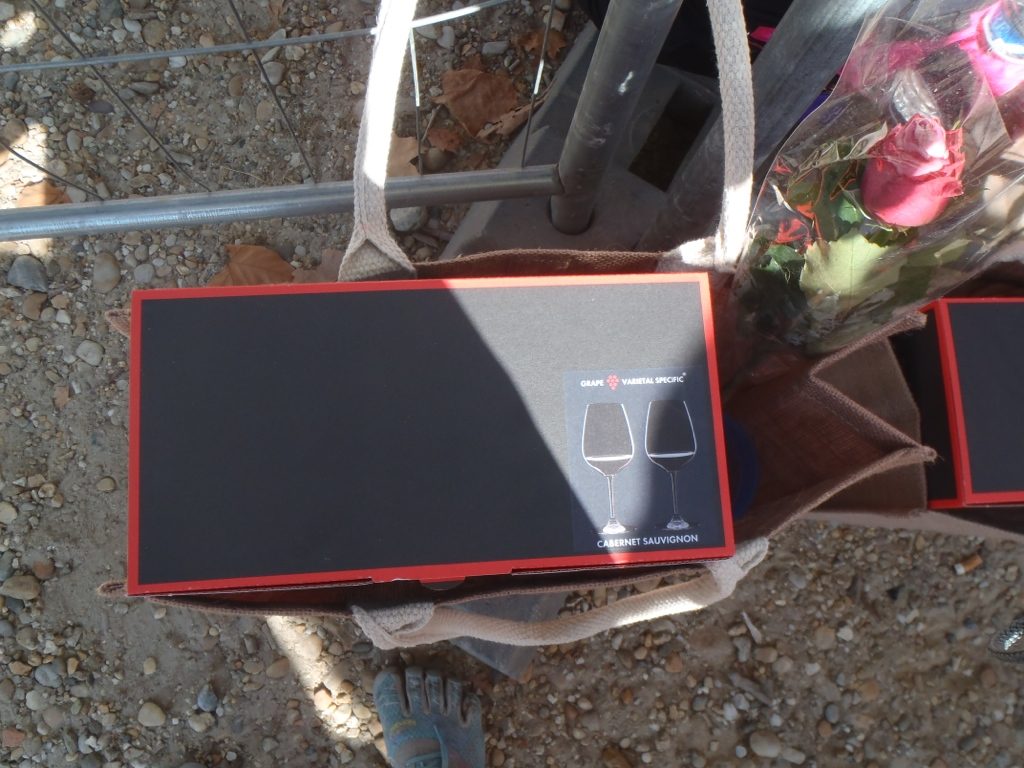 For the price of 120 Euro for the race entry, I felt it was worth it as it comes with a second day recovery walk and luncheon.  The 3 course lunch had unlimited wine served and also another party for all.  Finishers also get the medal, a set of wine glasses and a stalk of roses for the ladies.
If you have the chance to visit France, do make it a point to join this race, usually around mid early September.
Race website: www.marathondumedoc.com