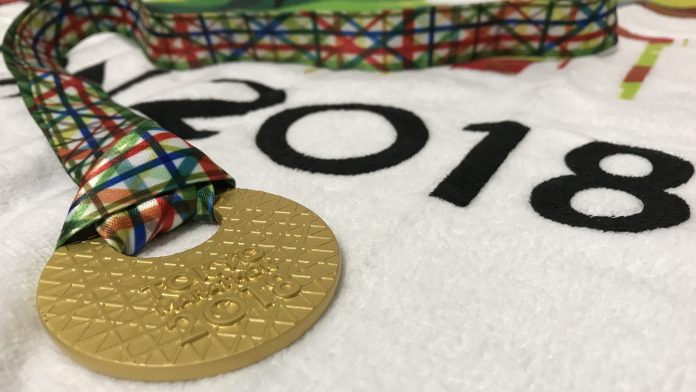 This was my first overseas race and was very excited when I received the good news that my application was successful. Read that many had tried several times and yet to win the slot, so it made me even happier. I began to do my research to prepare myself, but there were not much blogs that share tips on the logistics and experiences. As such, I would like to share my experience and hope that it would provide some useful information to fellow runners for future race.
My first worry was the cold weather as I read in one of the post that the average temperature is only 7 degC. As a sun bear from the tropic, this temperature is not what I can handle easily, so I started looking for long sleeve compression top, glove and light wind breaker for the run.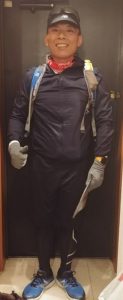 While these should handle the cold during the run, what about from hotel to start point and while waiting at the start pen? The organiser actually provide service to collect your warm clothings before the start line and donate them to the needy. So you can wear your warm clothings that you are prepared to donate out to the race and drop in the collection bin when the race start.
As the race start at Shinjuku and finish near Tokyo station, another question was where to book your accomodation? I prefer to stay near the finish point, so I can walk back to my accomodation immediately and have a good shower. Also because the start time is 09:10, there is already public transport available. From Tokyo Station to Shinjuku Station, you have the option of JR Chuo line or Metro Marunouchi line, both cost 200yen. If you are using the Metro pass, you can use the Marunouchi line.
During the registeration, you have the option of whether you want to have baggage drop. I worried that the collection will be a mess, so I opt without baggage drop since I have decided to stay near the finish point. From the map given, runners with baggage claim are divided to two locations away from the finish line. For us without baggage claim, we can collect our Finisher Towel, Medal, Jacket and Poncho just after the finish line and diverted to the train station enterance. I think the jacket and poncho are only for those opt out of baggage drop.
Before a marathon, most people will do carbo loading. I am not a rice person, but I love the gohan in Japan. I can finish a big bowl of rice in Japan, we even bought the "koshihikari" rice back to cook. Anyway, we went to try out many of the popular restaruants recommended by our airbnb host.

Race Bib collection was held at Tokyo Big Sight which was a bit out of the way. To access, you would need to take either the Rinkai Line and Yurikamome Line which are not Metro line and cannot use the Metro Pass. I did my collection on Friday as afraid that Saturday will be more busy with locals. Runners were to print out the confirmation slip for the collection, the process was swift and easy. After the bid collection, it leaded us to the Expo area which was open to everyone (Bib collection area for runners only). There was this wall of names and of course I also joined in to search for my name.

There were many exhibitors in the expo, lots of photo taking, free gifts, and shopping. Be prepared to spend time walking through the expo area, probably an hour or two.
Getting to the starting area was easy, there were many volunteers that held banners and show the ways to different gates. Runners were divided to 5 gates and runners could only enter the area through the correct gate indicated on their bib. There are security screening and water was not allow. I had specially brought a hydration pack for the race, thought it could help to keep my back warm, and also the hydration points were about 5km apart. But I was told that water was not allow and I had to pour away the water before entering. Luckily I found a water point before the starting pen and filled up my hydration bag. There were also many bins that Runners could "donate" their warm clothings.
I was allocate to the starting block K which was the 2nd last block right at the back. We had to wait patiently for the front blocks to move before we could get into the main "runway". Probably due to the cold weather, I started to get a bit "urgent", but there was no toilet in the starting block. Everyone standed close to each other to keep warm. When we got on to the main "runway", I started my watch and started running. But wait! the start line was right in front, few hundreds meter away. Stopped my watch and moved slowly towards the start line.
Finally, we got to the start line which was very wide across few car lanes, lots of spectators lined along the two sides of the route cheering. I had always made mistake to go too fast at the start, so I kept telling myself to go at the pace as planned. Also to keep my heart beat within the blue zone.
Not long after, I saw the toilet sign, and was very happy. But there was already a long queue. Not to waste time, I kept going and the there were long queue for toilets. Finally I saw a short queue by the far right and quickly diverted my course and joined in the queue. By now, my body had already warmed up and getting a bit hot. I had to remove my jacket and packed into my hydration pack. What a relief, I am now feeling fresh and ready to hang on till the end. There were many toilets along the way, so not to worry about it.
Seriously, seeing is believing. There were probably more spectators than runners, they lined the entire route, cheering loud. Saw some were in their companies' uniform, I even saw chef (or kitchen assistance) cheering. Many supporters from Taiwan and China, and I saw two ladies with Singapore flag not far after starting. I must say the spectators were great, and added lots of fun to the run.
There were also many volunteers at the hydration points, giving out drinks, fruits, energy pack, etc. I think the hydration points were 5km apart. Along the route, there were also volunteers holding plastic bags for runners to throw their rubbish. Thank you very much for volunteers and thank you for the supports.
I could say the whole route was very lively, there were many performances along the way. Music, dances, cheers, etc. and there was one point they played YMCA, and when we pass by, we also did the YMCA sign. That lifted up my spirit. And we also passed by famous tourist attractions, for example the Asakusa Kannon Temple where many runners stopped for photo taking.
I think every runner has an objective in this race, and mine was to finish within 5 hours. Looking at my watch, I thought I would probably miss my target. But hey, whether or not, I must do my very best since had travelled so far. Finally, I struggled passed the 41km marker, and toldl myself to hang on. Near the Finish line, both sides are lined with spectators cheering, cannot walk!hand on! I told myself. Gonna make it, I told myself to keep going as may not be lucky enough to do this again. And there the Finish line in sight, I made it!!
After the Finish line, there were clear banners showing runners which way to go. Following the colours of the bid, we walked to our various channels to collect our Finishers' entitlement – Finisher's Towel, Medal, Jacket, Poncho and a bag of goodies. Saw a booth for the 6-stars runners, I wish I could be one of them one day. But I know it is not possible, as I will not be able to meet the requirement for Boston. Had ran passed few of the potential 6-stars runners, and I wonder how did they get to participate in Boston.
After the collection, we were leaded to the entrance to the underground pass that go to the Tokyo Station. Nativate my way through the busy Tokyo station to meet my wifey at the other end of the station. We walked back to our airbnb, had a shower and out for our lunch. Thank you for her support!
A japan trip cannot go without an Onsen and Kaiseki dinner. Next day, we were on our way to Kinugawa Onsen to relax. I found the Onsen really help to relax my muscles and I was all good after the stay.

I hope to be lucky enough to be back next year.
And to all with the Tokyo Marathon dream, Good Luck!