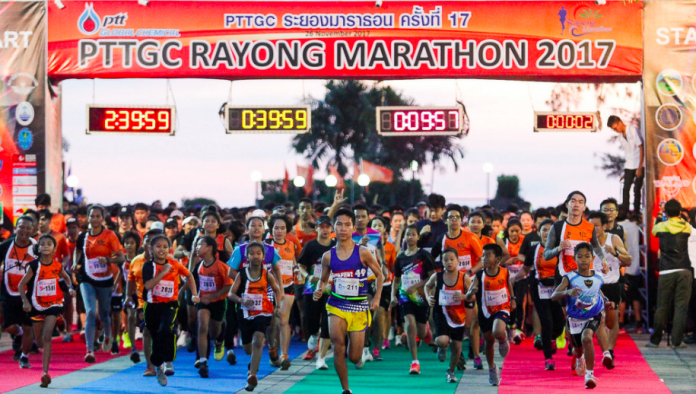 My last marathon of the year, took me sometime to pen it down.  In 2017, I did quite a bit of trail instead of the usual road races, I guess I was getting tired of rushing for time.  For trail races, there are more time to relax and enjoy the scenery and besides I know I can never be faster in the forest.
RAYONG MARATHON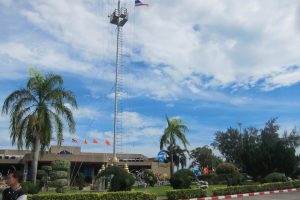 Set in the idyllic beach of Rayong, which is in the Southern part of Bangkok about a good 3 hours drive away.  Main tourist attractions are Mae Ramphueng Beach, Khao Laem Ya, and Samet Archipelago where the famous Ko Samet is.  Less rowdy and not so foreigner infested Rayong is good for a quiet peaceful get away minus the boisterous beach full moon parties, which Thailand is quite famous for.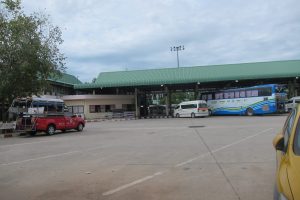 This race has 5 categories, the longest is full marathon 42.195km, however, after the race, I realise that the total distance clocked was about 41.8km.  It might be because of the GPS or just the winding road.  I took part in Full Marathon which starts at 3:30am.  This makes it very much a night marathon.  Most of the participants are locals and it is very much a local community kind of race.  Starting off from the Rayong Aquarium itself, the area is very scenic and relaxing.  This is also the race expo, race pack collection and ending point for all the categories.
Official Website: http://rayongmarathon.com/
The race can be signed up at the official website itself with a transfer of funds to their Thai Bank, this can cost a lot more because of the transferring fees.  Full marathon runners will be entitled to a race tee, the finisher medal and tee, race water point support throughout the race, the best of all is the buffet spread of local delights for your breakfast when you finish the race.  This is also the main draw for me for Thailand races.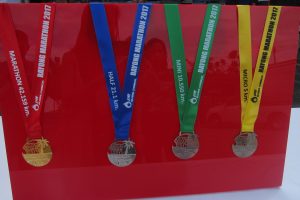 ACCOMMODATION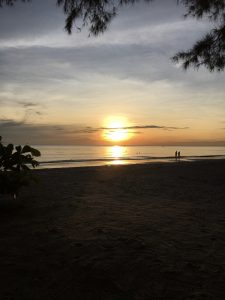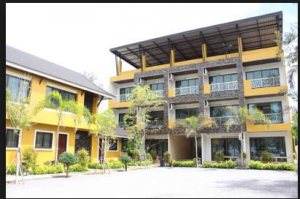 There are many nice beach inns and houses along the beach, and you can rent a scooter to get to the race start point at an affordable price.  I stayed at the Yellow House, this is a simple inn with good hot water shower along the beach itself.  There are many seafood stalls along the beach for a good decent dinner, you can take a short ride to Baan Phe for night market and enjoy the night market food there.
RACE COURSE
The race course is actually very ideal for a PB, its just two U turns for the FM, starting and ending the same place which is the Rayong Aquarium.  The whole route is flat, breezy and when daylight comes it its actually scenic as you can see the beach of Rayong and also brings you through the Ban Phe town.  The water points are very substantial, all giving out ice cold water, isotonic drinks and also some with banana and watermelon.
Towards the 30km mark, staff with muscle rub and spray are also there to ease you muscle cramp and pain.
LOGISTICS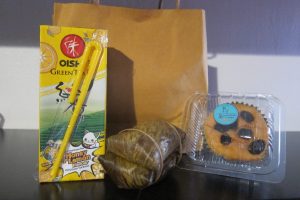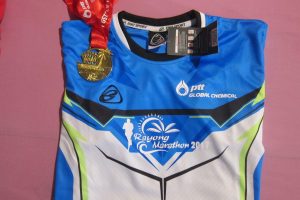 This road race is very enjoyable, it has a good starting and ending point, full of amenities, there is always food to serve you at the ending point.  The baggage drop is well organised and you can collect your bag pretty fast, for the full marathoners, there is a special packet of breakfast packed for you: with two rice dumplings, with a cupcake.  There is also a packet drink.  This is good because usually after a marathon, I do not have much appetite to eat a lot.  These snacks will come in handy for a later meal.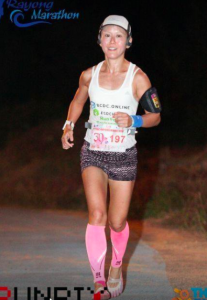 Generally this race was enjoyable and a good getaway with pit stop at Bangkok to have good massages and Thai delicacies.  You do not have to spend much and also you will get to enjoy the quiet and tranquility of the Rayong beach.