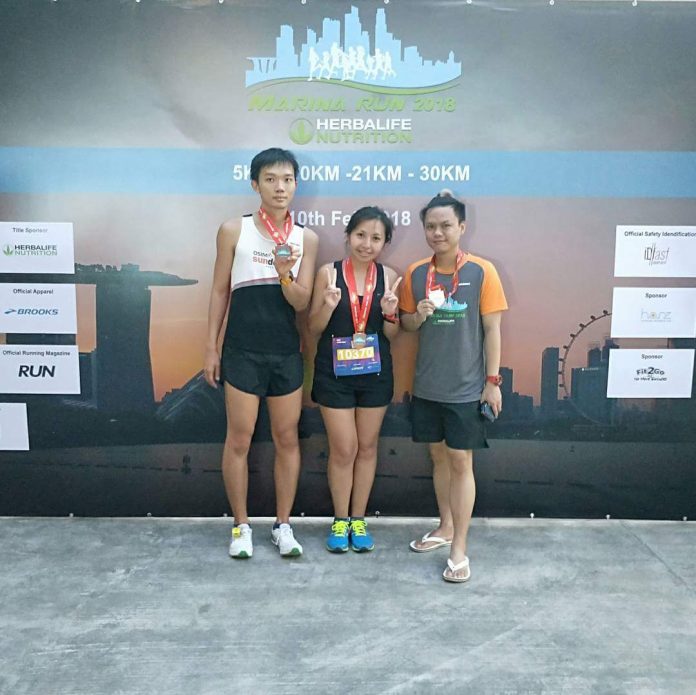 Blur sotong me! Mistaken the date of Safari Zoo Run, I thought it's supposed to be on Sunday! 😱 On that Saturday, I even woke up early and roll on bed, watched a few episodes of Drama of the Empress Wei Zi Fu on YouTube, happily go buy lunch then nua till afternoon, then I was scrolling Instagram and I almost heart attack when I saw people posting photos of medals and photos of them at zoo run. Limbu missed a sibeh memorable run! 😱 It's a run where Limbu first met my stead leh and I missed it just like this! 😱 (Limbu eh engleash standlerd is wers dan Premium Lian lah 😝)
At least I got this Marina Run but anything more than 10km is very scary to me currently 🤢 I just want to rest rest, run short and happy distance for a few months so this 10km category is just nice for me. For this run they also offered the 5km, 21km and 30km distance and the 30km is a new category.
Race fee is subjective I think, to me this race fee not cheap 💸 When signing up for race actually many considerations, such as brand of the race singlet, organise by which organiser, got finisher tee or medal bo or race site at where etc. But all these factors can don't matter at all too. You happy, you want to run you will just register for the run. Though I kept complaining the race fee in Singapore sibeh expensive, but then hor the Blacksmore Sydney Marathon slot I register recently cost me USD180! 😨 But I know kennot lidat compare la.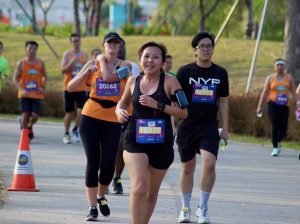 (Photo Credits: Red Dots 123)
On race day, I need to collect my Prosperity Walk Entry Pack at Marina Square so after that I meet my friend then we walked to the race site. I was craving for milk tea with pearls and we even detour to Marina Bay Sand's Liho just to get it 🤣 I was actually also dreading to run 😕 The Sun still sibeh bright, my eyes kennot open, and I can feel the heat. I rarely run before 7pm because of the heat and wish I can have fair skin like Snow White which is Misssion Impossible. I was wishing that there's no cut off time to the flag off as we're already super late but I'm still dilly dallying and determined to get my Liho.
When we reached Marina Barrage, it was just nice 5.30pm, and off goes the 10km runners running towards Bay East. By the time we went for toilet, deposited our bags, pinned our bibs, wore our shoes the last wave, wave 3 of 10km was already flagged off. It was 5.49pm when I started my Garmin, my first time ever so late for a race 😆 At least I turned up 🤣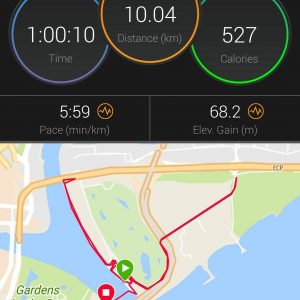 Quite happy with my unofficial timing for this 10km as it's my longest run after SCHKM and I've gained weight, not easy to carry extra kilos and run hor 🤣 Recently just eat and eat but run very little. I'm just optimistic, convincing myself that I can lose it easily when I start preparing in a month or two for my next marathon 😆 Maybe that's how I got my BMI to 29 in the past and became obese 🤐
I'm not a fast runner but it's nice to be overtaking instead of being overtaken. But not always have the luxury to be overtaking in all the race and run with ease without weaving in and out unless the lanes is wide enough and without bottlenecks. I didn't stop at any hydration points as I can feel the Liho bouncing around in my stomach 🤣 At 5km point I noticed there's a hydration point at the opposite direction but runners were cutting across which is pretty messy and jammed as I think it's for runners who came back from the opposite at their 9km.
When I returned to barrage, finishing my run, the 5km runners were at the start pen waiting for their flag offs. Collected my finisher tee which was printed "10km.21km.30km" which I heard from some of my running friends complaining that it's not "special" to the runners who put in their effort to run the extra distance. And there's no bottled water given and we only get a small cup of water upon completion of the run 😨 Where got enough to drink? Erm, on one of their latest post in Facebook they asked runners to bring own bottle of reduce wastage. But not many people are used to running with bottles eh.
After finishing I saw many familiar runners and chit chat a little wishing them the best for their 21km and 30km before I went to collect my baggage. Although when I deposited my bag there's no queue as the 10km runnners were already flagged off but when I went to collect my baggage it's about a 20 minutes queue, with maybe just 20 runners ahead. When I was leaving, the queue was at least 100m long and I was like wish them good luck 😂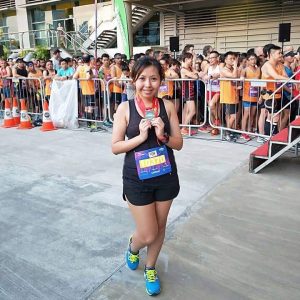 Marina Barrage is not a really easy accessible place, though there's shuttle bus service but we just Grab out. It's still a better location than Bay East at least. I remembered last year at Bay East my shoes were all muddy. The 30km purple medal looks super nice and the 10km medal looks just nice red red and auspicious just like the Chinese New Year mood but can't help relate the color combination the red and green of the 10km finishers medal with the Chinese tombstones I saw when I went tomb sweeping in Malaysia (Its the similar same shade of green and red some more) 😅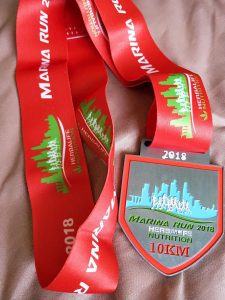 Ever since I came back from Standard Chartered Hong Kong Marathon I've become a potato 🤣 I'm just like low battery, need to recharge as I'm lazy and unmotivated to run. Happily nua-ing in my room munching Pineapple tarts. The thoughts of wanting to retire from full marathon comes up, which was supposed to be my "once in a lifetime" bucket list item to do but I've done it for six times already 😆 Really salute those runners who can easily run a marathon and even ultra marathon so frequently machiam its just a piece of cake. Anyway, I honestly had the less sore and tired legs than the rest of the marathons I had ever completed. Wonder was it because I walked a lot during the marathon or it's the foot massage I had before and after the marathon. Quite tough to find a massage shop at ground floor along the streets as most have signboards that indicates that it's at level 2 onwards, which I don't want to try my luck 😝 The masseur has muscular arms and looks like he's in his 40s but is already 60 years old and he told me he transferred me his 內功 (internal energy) which kept me wondering was he serious or he's just joking 🤣 I was screaming because he uses so much strength but he assured me it will be fine, I won't break a bone(although I heard a few cracks) and both my foot will be very relax after that. It's a good massage place and after the marathon, I went back immediately. 😆 Anyway, a few days later my itchy hands were on my phone and taaadaaaa, I've registered for another 42.195km to run in September in Sydney, another marathon after Gold Coast marathon in July 😂