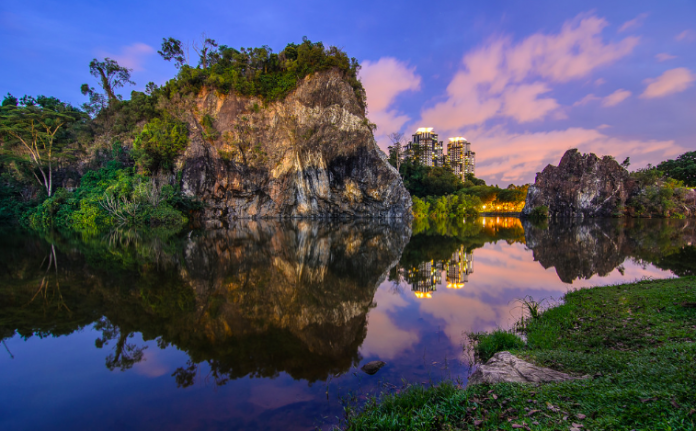 Looking for a place to run in Singapore? Here are the 5 best places to run in Singapore (West). They are beautiful and offers you great serenity. Whether you are living in Singapore or travelling, it's a great idea to check these places out for a run! They will leave you impressed!
#1 Pandan Reservoir
Pandan Reservoir has a circumference of 6 km. Bear in mind that unlike parks with a canopy of trees, the running route is completely unshaded. But it offers some sort of unexplainable serenity to runners that come here. It is peaceful and quiet and has great views of the reservoir.
Read More: Running Guide To Pandan Reservoir Singapore 
#2 NUS Kentridge Campus
Challenge yourself with some hills at the NUS campus. Prince George's Road and Kent Ridge road offers you steep climbs for you to get stronger. It's perfect for a hilly long run and hill repeats. Of course, if you're looking for something flat and speedy, head to the track of NUS Kentridge campus and get your speed on!
Read More: Running Route – NUS Kentridge Campus
#3 Jurong Lake
Jurong Lake Gardens is envisioned to be the new national park of Singapore. It is a true people's gardens – where people young and old come to do their outdoor activities. You will see people running, rowing, dancing and doing tai chi. It is a great sight – to see young and old coming out together to spend family time. This, together with the lush greenery just puts a smile on your face when running along Jurong Lake Gardens.
Read More: How to get there? – Jurong Lake Park
#4 Bukit Batok Town Park, Little Guilin
If you've been to Guilin, you would know why this place is called Little Guilin. The place is so picturesque and the views are stunning. Many people flock here to capture their wedding photos – a true testament to how beautiful this place is. Running here is as though you're being transported to China. It's a short running route that features the beauty of this little town, for when you feel you need a change of view for a run.
Read More: Running Route – Bukit Batok Town Park 
#5 Ulu Pandan Park Connector

The Ulu Pandan Park Connector connects you from Buena Vista to the Pandan Reservoir. It's so cool because it features a 7.1 km route rich in flora and fauna and consist of an elevated park connector. If you're looking for a longer run, you can run the Park connector and do a loop around Pandan Reservoir which is about 6 km and head back. That would give you a great 20 km long run. Get up close and personal with nature when running this route!
Read More: Running Route – Ulu Pandan Park Connector 
Looking for other places to run? Check out our Singapore Running Routes.