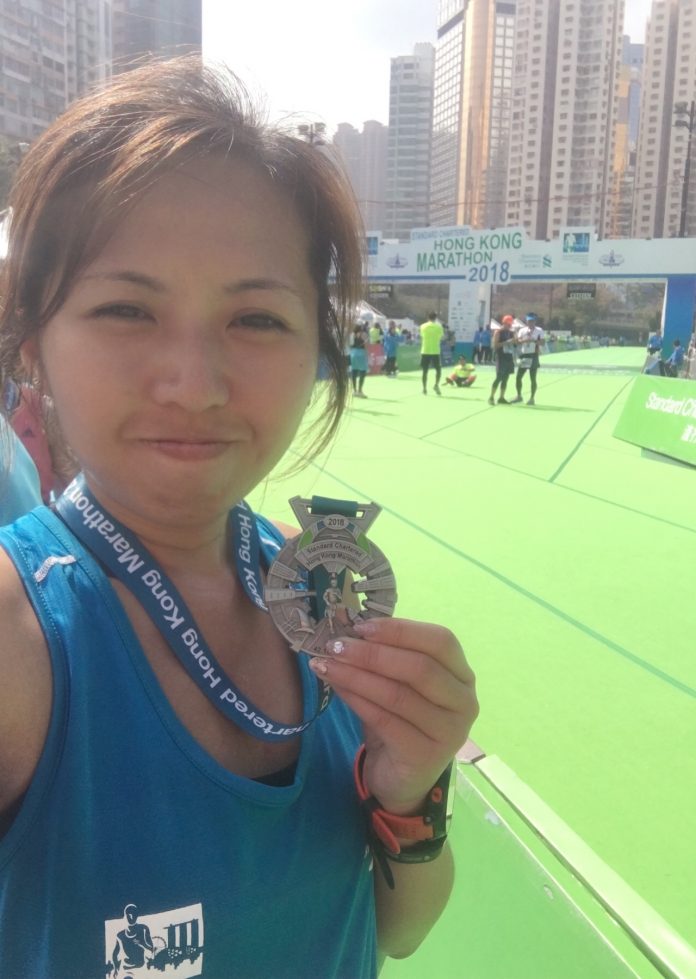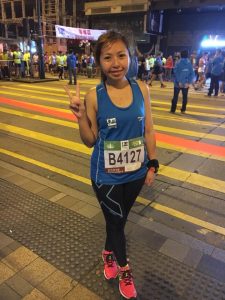 It's my runcation trip with Sabrina! 😍 Thank you Sabrina for accompanying me 😘 But it's a dim sum and hiking trip for Sabrina as I'm the only one who balloted for the Hong Kong Standard Chartered Marathon slots 😆 Yup, other than running SCHKM, I enjoyed the hike at Violet Hill and Dragon's Back and the dim sum most 😁
Though I've just ran Standard Chartered Hong Kong Marathon last year, I decided to try to ballot and register for it this year as it's a place I'm more familiar with and in the recent years I won't be brave enough to run 42.195km in the humid and hot Singapore 😂 Hong Kong is cold, with a nice temperature to run in during this time of the year. Luckily when I was there, I didn't experience any haze.
I think it's baby steps for me to register for overseas races such as SCHKM, Osaka Marathon and Vietnam Mountain Marathon in Asia last year before going to places further, and I have Gold Coast Marathon in Australia coming July. I have a really long list of marathons I would love to run in mind and use running as a chance to explore other parts of the world as well 😍
Last year I joined the SCHKM with a running club after unsuccessful in balloting and got a marathon slot won during a contest with a condition which was to purchase a travel package to the marathon with the running club. So accommodation and transport are taken care of and I didn't have to make any plans at all. But this time, I've balloted successfully for a marathon slot, bought my own air tickets and booked the accommodation myself. It's much cheaper and I saved about 50% of the money than what I've paid for than last year 🤑
It's a pity that I didn't manage to go to the race expo as it was held one week before the race unlike many of the international marathons which their race expo held just a few days before race. International runners only collect our race pack in Kowloon Park and there's no queues when I went to collect my race pack.
It doesn't seem real that I am running SCHKM, another 42.195km again just shortly after 2 months running the Osaka Marathon till I was in the start pen when they started counting down to flag off. Maybe that's part of the reason why I didn't train for this marathon. I wanted to rest, I was only doing my happy 5km or 10km runs. Too much LSD is just so scary 🤢 To run happy is what matters most right? If it's so gruesome then it's too much for me to handle then I shall really cut down in running long distances? 🙊🙉🙈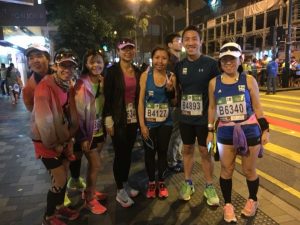 The temperature is fine, about 17 degrees not very cold so I just turn up in singlet and went to deposit my baggage in the truck. The baggage deposit and collection is efficient and took only few seconds as there's a bag given at race pack collection and it's the same bag that we need to put everything in it and there's a baggage tag with our bib number on it to retrieve it.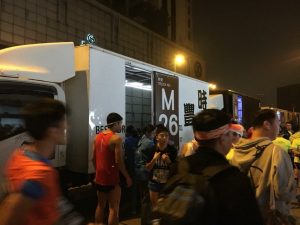 But the queue for the portable toilet is crazily long 😨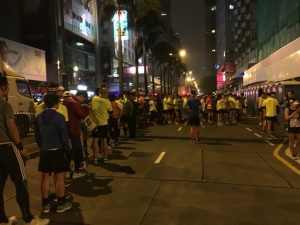 Theres different timing for the flag off and my flag off was at 7am. I heard that those who went to the the wrong wave could not get their official timing. I didn't study the route but I think it's the same route as last year. Many killer slopes and I started walking after 18km. There's nothing wrong with me, legs no pain, not super breathless but I was just so not motivated to run and start doing the maths calculating the amount of time I can walk so that I can finish within the 6 hours cut off time. Yes, it's a strict 6 hours cut of time but it's really doable and there's cut off times at various check points they will stop the runners who can't meet the cut off times at the check points to board the sweeper bus back to the finishing. When I was at the last underground tunnel towards Central, I met this guy from Britain, he's running his first marathon and we had a good chat, about an hour later I met him again and ran the last km towards the finishing. Thank you for motivating me, Eukon (Didn't know how to spell his name but I hope the spelling is correct)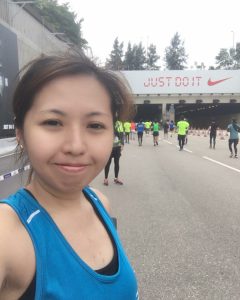 When the sun is out already, I tell myself I really need to start running already. The day before I was mistaken as from Nepal and Philippines. I'm so universal, previously people thought I'm Taiwanese, Indonesian ot Japanese 🤣
It's nice to meet many friends from the running community that I know of on Instagram and Facebook along the way at the marathon and have little chats and just simple words of encouragement meant a lot when you're running the 42.195km. I feel so tempted to board the bus to the end point at various check points, the bus with seats looks really so shiok parking by the side of the road and I was seeing it as if there's red carpet inviting me to board it. I then convinced myself just finish it, I don't want to have my first DNF. At times I really hope that Willis was with me by my side, maybe I will be more motivated.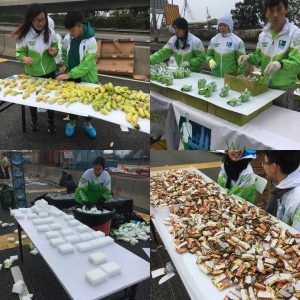 There's many hydration points along the way and each hydration points is like 100m long and spread out, there's water, isotonic drink, peeled or not peeled bananas and chocolates along the way. Really love the chocolates but still, Osaka Marathon hydration points is my best experience I ever had so far. Maybe Nagoya or Tokyo marathon if I'm lucky enough next year? 😍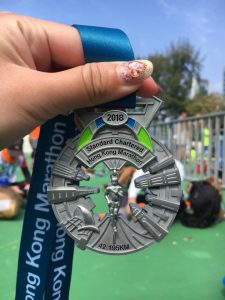 And interestingly, now then I realised that the little human on the medal can be taken out to use as a pendant for necklace! That's so awesome! 😍 The medal was sponsored by Lukfook jewellery and the podium runners medals have real diamonds! 😍