ONEathlete and National Marathoner Mok Ying Ren held his traditional wedding ceremony and michelin-starred luncheon banquet this afternoon, with his wife Belinda Ooi at the Regent Hotel. The Double SEA Games Gold Medallist struck another holistic gold. Family and their close friends were present on this joyous occasion to extend their blessings and well wishes, including school teachers, coaches, partner sponsors, as well as Belinda's water polo teammates, friends from her alma mater and colleagues from the medical fraternity.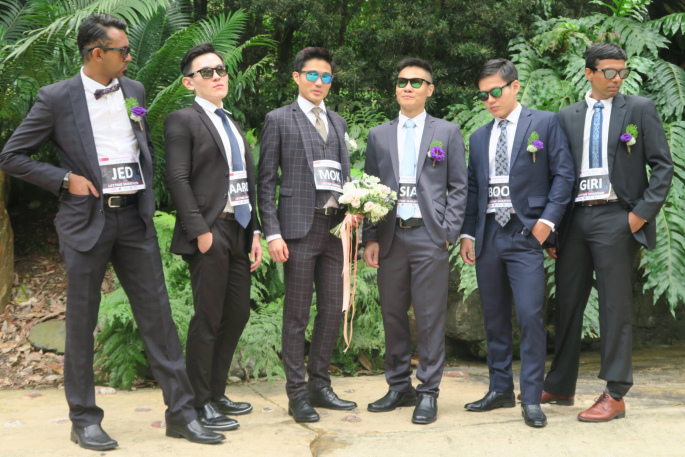 Being a national marathoner, Mok's wedding theme was aptly set as the start of a 'lifetime marathon'. Therefore, as a tribute to the brand partners' unwavering support for Mok at each and every monumental milestone in his life, the gatecrashing 'brothers' were ceremoniously decked out in sponsors' attires featuring ONE, New Balance, Oakley, Keypower Sports and 100 PLUS SG as they once again help Mok overcome the various 'gate-crash' hurdles to the dream of his life.
While the couple had initially preferred a cosy and quiet wedding ceremony, their minds were changed after seeing how many wanted to be present for their start of a new chapter in life. Mok and Bel also hoped this would be a fitting nod of grateful appreciation to those who have witnessed and helped them grow and mature throughout the years.
Mok and Belinda were clearly enjoying every moment together, mingling with the guests during the cocktail reception and sharing anecdotes over the years of friendship. The stage-shy Mok also overcame his fears and performed a magic trick said to have won him Belinda's heart years ago.
We all wish Mok and Belinda a blessed marriage and many years of joy in their lifetime marathon ahead.
* Adapted from press release. Author and Photo Copyright © 2017 ONEathlete. Reproduced with permission.