*Best Viewed With Google Chrome*
Time really flies and we are almost coming to the end of the year. I know this review is a tad late but I thought it would still be good to pen down my thoughts for my last run event of 2017. This is my first time joining SCSM after the new organiser Ironman Asia became the organiser.
The Standard Chartered Singapore Marathon (SCSM) is one of the biggest and most popular run events in Singapore. Currently SCSM's is in its 16th year running and this year's event attracted 48,400 participants comprising 126 nationalities which spans over all categories. It was also interesting to read that out of the 48,400 participants, 48 per cent of them were non-Singaporeans.
Earlier this year, SCMS announced its bid to join six of the largest and most renowned marathons in the world – London, Berlin, New York, Chicago, Tokyo and Boston – as an Abbott World Marathon Majors (WMM) event. Currently, the Singapore marathon has been recognised as a Gold Label event by the International Amateur Athletic Federation (IAAF) since 2012 for its world-class excellence in global sporting significance, organisational quality, athletes' safety and compliance with the IAAF Rules and Regulations.
Race Entry Pack Collection (REPC) – (30 November 2017 to 2 December 2017)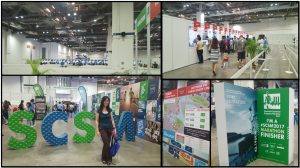 As SCSM attracts lots of international participants, the REPC was held on race week so that it would be more convenient for the overseas participants. The race expo was held at the Marina Bay Sands (MBS) Expo and Convention Centre and this was the first time that was held there. The organisers plan to have the REPC for SCSM there for the next 2 years (until 2019) as they aim to offer SCSM runners a bigger and better race expo, while facilitating convenient and seamless pick-up of race packs.
I went to collect the race pack during the Friday lunchtime hour with a colleague of mine. MBS Expo and Convention Centre was just a short kilometre away from my office so it was very convenient for us. Upon entering the expo hall, I was just wowed by its sheer size.
Organised Collection of race packs – Participants were quickly filtered through clearly labelled lanes that lead them to their respective race categories for collection of the race packs. We did not have to wait long for our turns. Collection should be an easy and fuss free process but this time, it was slightly different. Normally for locals, presenting your NRIC would normally suffice, however this time, even though she had found my record, she wanted me to present my confirmation slip which had a QR code to verify who I was. In my opinion, I thought this step was redundant as the NRIC is an official document.
My feedback would be for the organisers to look into this as this "extra verification" step as it does take up extra time (additional 1 to 2 mins tops). If there were lots of participant collecting, this would definitely increase wait times and eat into what limited and precious time the participant has to spend and explore the huge expo awaiting them.
| | |
| --- | --- |
|   | Plenty of Photo Opportunities – After collecting the race packs, the next section was the Race Info Zone. The huge letters #SCSM and oversize medal standee immediately caught my attention! Check out my photos below. There were also other nice photo boards with the SCSM branding and the route maps of the different categories there. |
A suggestion would be to place volunteers near those photo opportunities so that they can keep the space clear and help to take photos for participant. This will definitely enhance the photo taking experience.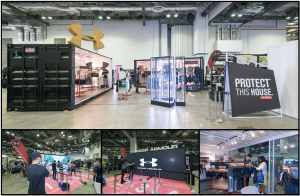 [Photos (Above) from UA South East Asia Facebook Page]
Vendors Galore – As we moved out from the Race Info Zone, we skipped the Standard Chartered Zone and headed right for the Under Armour (UA) and Race Merchandise Zone. We walked past the UA Virtual Race Screen, it looked really cool but I was too shy to have a go even though there were UA goodies to be won. Walking round the UA area was really hard not to be tempted by the 20% they were giving off their products. I bought the UA Bandit 3 and 2 caps! The Race Merchandise Zone was also very tempting and I had to stop myself from buying more things. What caught my attention were the caps and the category tees which had participants name on them.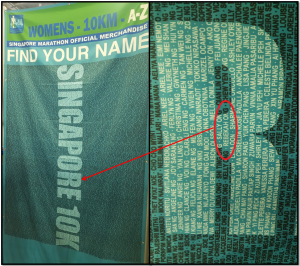 [Photo: Sample print of the name category tee]
After all the shopping done at the UA and Race Merchandise Zone, we had to walk past the Market Place section of the expo. I went to check out the Sundown and 2XU Run Event booth but a little bit disappointed that they didn't have any further promotional pricing or attractive freebies other than the rates on their website. As we exited, there were sooo many other booths offering great discounts/deals but thankfully we didn't succumb to any more purchase!
Race Pack and Contents – One of the things that I liked about this year race pack was the new and improved design of the bag. It's definitely more functional and more comfortable when carrying. The sponsored contents in the bag for this year are also pretty good. I had high expectations for the event tee but I was disappointment was with the sizing as it was too big and the poor quality of the material. I had used the measurements provided during registration on the website but still it turned out to be too big.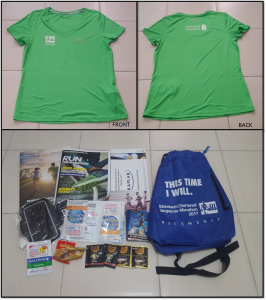 Race Day – 3 December 2017
I took part in the 10KM category for this year's edition SCSM and the flag-off timing for this category was 07:15 hrs as stated in the runners guide. I woke up around 04:50hrs as I need about an hour to prepare. Yes I'm slow and I get distracted; I was reading a few well wishes messages from friends that I received during the course of the night wishing me a good race later. Normally there aren't such messages but this being the last and biggest race for most; I was pleasantly surprised but encouraged by those messages. Now you know why I need time to prepare haha…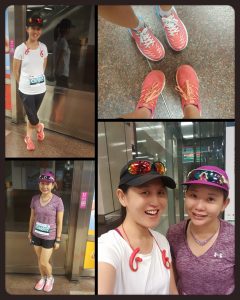 [Above: Arrived at City Hall MRT Station]
One thing about having later flag-off timing is that I can take the MRT to the race site rather than taking GRABHitch or a cab. I boarded the 06:05 hrs train from Yishun and arrived at City with more than enough time to use the toilets and walk to the race site.
Entry to Pens – Entry point to the start pen was not clearly labelled, but my friend, Cheng Yee and I managed to find the entry for START Pen C. It would have been helpful if there were signs denoting the opening to these START pens, at least participants would have a visual and walk towards that direction. The security personals were efficient in ensuring that participants were filtered into the correct pens. Once in the START pens, the waiting game begun!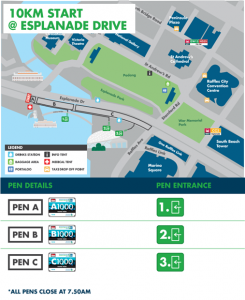 LONG wait time for Flag-off – As Cheng Yee and me had been auto assigned to Pen C because of our estimated finish timings; our flag-off was a long wait from what was stated in the runners guide. The organisers had flagged-off the first group promptly at 07:15hrs but it was after more half an hour then we got flagged-off. Initially we were super pumped for the race but the long wait just killed off that excitement. We were soooo bored in the pen and even though the emcee was trying to keep the spirit of the participants up, his charm wasn't enough! Finally the time (07:52hrs) came for us to be flagged off, off we went! Because of the long wait, most of us had started off the first KM too fast and were also parched upon flag-off.
Here are a few suggestions that I think the organisers should consider to DECREASE WAIT TIME:
Revert back to the first in first out concept for 10KM – Being the last and latest category to be flagged off, the sun was already out in full force which made it a difficult race especially at the Benjamin Shears Bridge and Esplanade Bridge where there's the least shelter.
List the various pen flag-off timings in the runners guide and open them accordingly – This would help to decrease wait time in the START pens. I think participants will be more than happy to get a few more minutes of beauty sleep.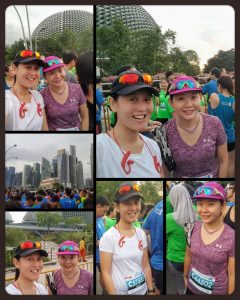 Well planned routes – This is the first time that I'm running this route and I did enjoy the first 4KM before the Benjamin Shears Bridge. Though it was scenic when on the Benjamin Shears Bridge, the long up slope was a killer though the gradient was gradual. There was not much shelter there and the late flag-off did not help! I really liked that we got to see different landmarks which kept the run interesting for me.
At the 8KM mark near the Pit Building there was a mist gantry and that was the first time that I ran through one. I thought these mist gantries would be like passing by a room which has air-conditioning on and supposed to cool you down when passing through but it was way far from that. It was like mist in humid air and it did not help in cooling me down sadly but it was an interesting experience.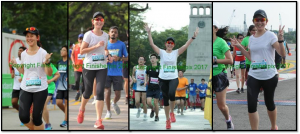 [Photo: Me in action – FinisherPix]
Hydration stations were position at strategic points of the 10KM route and were well-stocked serving cold drinks which were refreshing on a super-hot and humid morning!
The distance markers were placed clearly and the encouraging quotes are always nice to read when you need motivation to continue.
Post-Race Experience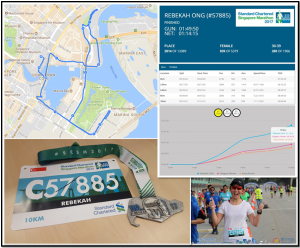 Finishing this race was not an easy one especially with the sun showing no mercy and the extra 300m. I crossed the FINISH line with an official nett timing of 1:14:15. All participants were filtered to clearly mark out lanes to collect the Finisher entitlements.
The Finisher entitlements included my hard-earned Finisher Medal, two fruits (apple & banana), a bottle of mineral water, a can of non-carbonated 100PLUS and lastly a super cold towel which was much welcomed by all! I really liked that ice-cold towel as it was a nice relief for my sweaty self.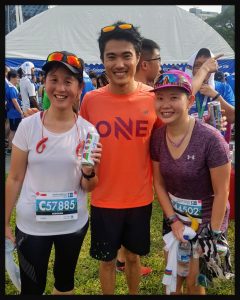 The walk to the race village was crowded and there was a bit a jam. It took me forever to walk like a 100m. When I reached the race village, I saw 7-time SCMS winner, Dr. Mok Ying Ren, as well as, Jed Senthil at the 100PLUS booth. It was really nice seeing both the co-founders of ONE (RunONE & ONEathlete) and I went to say hi to them. It was double Happiness for their team as Ashley Liew & Evan Chee (both managed by ONEathlete) won 2nd & 3rd respectively, in the Local Men's Marathon Category!! More info can be found here.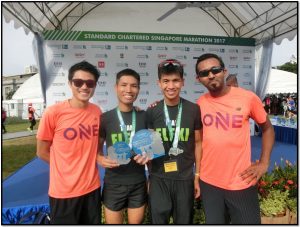 [Above Photo Credit: RUNOne]
I then headed to the Cenotaph to meet up with a few more friends and take some photos before leaving the race site. It's always nice seeing familiar faces. SCSM 2017 was definitely a good race to end off 2017! Though tough, it was enjoyable to run a new route. Like all races, there is always room for improvement and that step of becoming a world major is much nearer. Till my next write-up, happy holidays and keep training!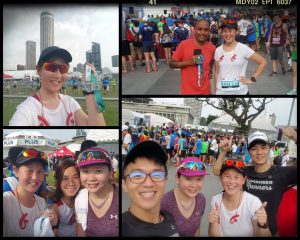 [Above: Catching up with Friends after the event]
REVIEW OVERVIEW

Race Entry Pack Location
Race Pack Contents
Race Site
Race Route
Hydration Points
Distance Markers
Finisher Entitlements
Overall Race Experience

SUMMARY