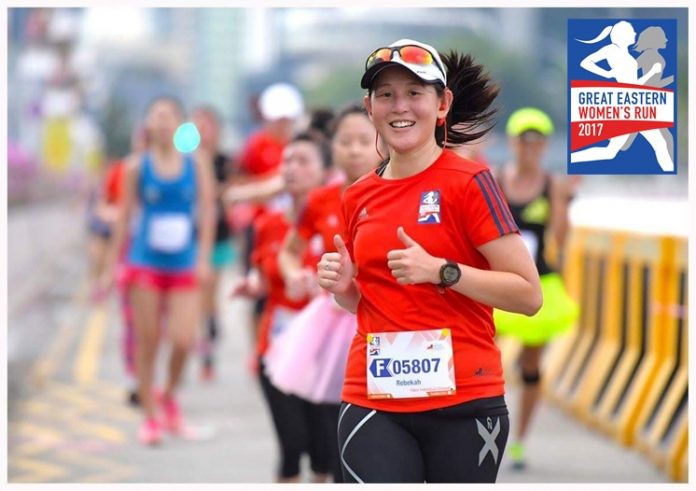 Cover Photo Credits: Dave Poh (Pictureart Gallery)
*Page best viewed with Google Chrome*
Long overdue review of 2017's Great Eastern Women's Run (GEWR). I was sooo busy and the reviews had to take a back seat for a while. Anyway, hope you guys and gals enjoy the read!
The Great Eastern Women's Run (GEWR) is a run which I have been participating since 2015. This marks GEWR  12th year of unifying women in health and fitness! I always enjoy participating in GEWR run because it's really fun and well organised!
In this review, I'll highlight what makes GEWR soooo popular that keep participants coming back for more.
LEAD UP TO RACE DAY
GEWR Mobile App – Introduction of new elements to spice up a run event is a great idea! For this year's lead up, the GEWR team launched a new mobile app which they encourage their participants to download. It's a simple Mobile App which tracks your daily step count and participants have to complete monthly challenges to win attractive rewards. I personally downloaded the app and managed to win 2 Boost $5 E-vouchers. Though a small reward, it's actually nice to receive these small treats to motivate you to get active! The GEWR team is definitely moving in the right direction to prepare participants for the actual race day.  The app also keeps you up to date on the latest information about the GEWR by notifying you of all the fun and exciting activities available. My feedback on the app was that it didn't sync with Samsung Health, unlike the Healthy 365 App by HPB where the pairing options are plenty.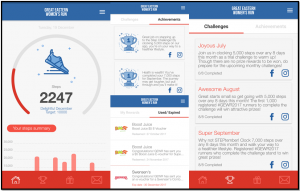 [GEWR Mobile App Printscreens]
Fringe Activities – GEWR is also known for its fun Fringe Activities. There was one in particular event that caught my attention which was the Breakfast Run on the 26 Aug 2017.  Participants had a training run followed by a breakfast session of pancakes and waffles at the South Beach. What a way to work out and have a nice breakfast thereafter! I couldn't make it for that event but when I saw the photos on Facebook, I wished that I was there. The other fun activities included group exercise classes and seminars. Hopefully next year I can join them for one of those sessions.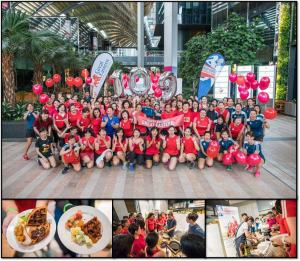 [Photos from GEWR's Facebook Page]
Introduction of new elements – For this year 5km Live Great! Fun Run, the organisers introduced New Features like:
Win a Solitaire at 5km Live Great! Fun Run
Instagram-worthy photo walls
Colourful ball pits en route

[Photos of the 5km Live Great! Fun Run Ball Pit from GEWR's Facebook Page]
I thought these were really interesting because it takes the stress of running and encourages participants to have fun! I did not get to see these new features as I took part in the 10KM category.
The introduction of the rose gold-plated medal for 21.1KM finishers was a genius idea! I personally saw the medal and it just made determined to do 21,1KM for the 2018 edition. This year medal design differed from previous years and even though the 10KM participants received a gold-plated medal, I still loved it!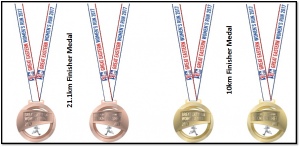 [Photos of the 21.1KM & 10KM medals from GEWR's website]
RACE ENTRY PACK COLLECTION (REPC)
REPCs for GEWR are something to look forward too rather than being dreaded. This year REPC this was held at Marina Square Atrium and like other years, it was very well organised! I collected my race pack with my friend, Kalsom on a Saturday late morning before lunch. The collection was really fast and efficient though there were a few ladies in front of us.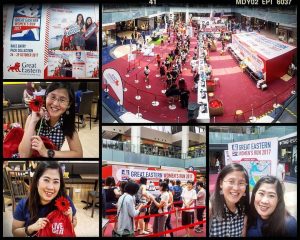 [GEWR REPC]
The highlights of the REPC were the following:
Generous goodies in race Pack – The race pack was heavy but that's a good thing because that means that there are goodies inside! I always like to be surprised by what's in the race pack and this year was no different. The race pack contained goodies from Tsubaki, Bengay, Heliocare, SPH etc. just to name a few.  Check out the race pack goodies.
[GEWR Race Pack Contents]
| | |
| --- | --- |
| | Gerbera Flowers – A stalk of Gerbera was given out to each participant that collected her race pack. This has been a norm at every GEWR REPC and I love this little touch as sometimes the simplest thing like a flower can put a smile on your face. I love Gerberas! They are hardy and most of colourful and beautiful. |

Cosy section to meet your GEWR pacers – There was a section set up for participants to get to know the pacers for both the 21KM and 10KM categories. I loved how the organisers made it so cosy by putting a few bean bags where the ladies could get comfortable and have that chillaxed chat with the Pacers.
Awesome volunteers and staff – Having enthusiastic and helpful volunteers and staff on REPC really makes a difference! They set the tone for the event! At the GEWR REPCs, both volunteers and staff never failed to greet you with a smile or have any qualms about answering queries about the event.  Here's a shout out to the volunteers and staff for a job well done guys!
Facebook (FB) contests – Like last year, there were FB contests that were held during the REPC period. I like this idea because it engages and excites participants who are there. It's a like a form of a daily lucky draw.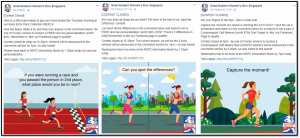 [GEWR FB contest]
Photo booths – I love visiting the photo booths because of the little-printed photo souvenir! These are memories that I know I will keep.
RACE DAY
Flag-off for the 10KM category was at 06:30 hrs.  It's always a love-hate relationship for me when I have to go for run events. Waking up early definitely is not the most fun part of the experience but it becomes worthwhile only after you've completed the race! For GEWR, Share Transport was the vendor for the shuttle bus I took to the race site. The bus pick-up was at 05:00hrs and the journey was a long one but thankfully I did manage to catch a bit of a shut eye on the way.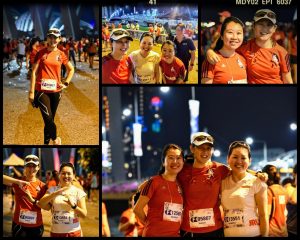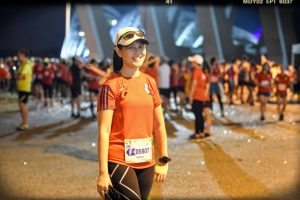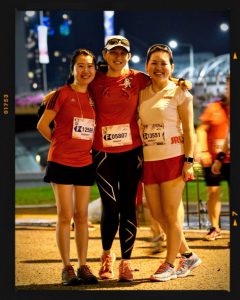 [Before entering the START Pen – Photos By Terence Ang]
Upon reaching the race site, I walked over to the Singapore Flyer which was the START point to meet-up with Terence, Yi Hsiu and Priscilla. Initially, I was supposed to meet 5 other friends but 3 of them had fallen ill and decided it was best to give the race a miss. Terence had come down earlier to support his girlfriend for her very first 21KM and he being a photography enthusiast decided to try his hand at sports photography at the same time.  After some introductions and photo taking, the three of us (ladies) headed into the START pen and Terence headed to his spot at MBS to take photos. We were glad that we managed to get into the first wave and were starting off close to the START line. The emcee, Ross, and the flag-off party started the race exactly at 06:30hrs.
Yi Hsiu and I decided to run the race together as she wanted to go for that Personal Best (PB) timing and I thought it would be nice to have company as that would motivate me to keep moving. Along the way, we met Yi Hsiu's hubby, Zhiyong and he was there to support Yi Hsiu in her journey. We ran together until the 4KM mark where I told her to continue as I needed a short walk break. From then onwards, it was catch-up race for me because I could only jog and brisk walk.
Race Route – The 10KM route was a familiar one as many races use it.  Participants would run past iconic Singapore landmarks and they would have fantastic views of the Singapore skyline. The parts that I hated most were slopes at Crawford Street and the footbridge beside the Double Helix Bridge. Slopes just wear you out really quickly and they do slow you down quite a bit especially for a person like me who doesn't like slope training.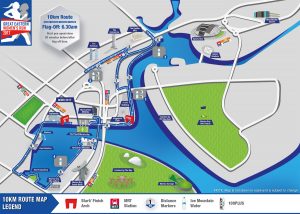 [GEWR 10 KM Route]
Hydration Stations – The water points were well spaced out and well stocked. Volunteers mended these stations superbly and handed out the water efficiently to the participants. There were no jams at the water points.
Photographers – Along the route, especially near the FINISH line, there were sooooo many photographers! I think it's the most I've seen in a run event ever! Big thanks to all for capturing those moments; be it picture perfect or unglam haha… They are memories that I will keep and treasure.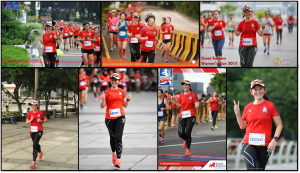 [Photos from various photographers]
Supporters/Motivators – Like the photographers, were also lots of people along the route that were cheering the participants on. Special shout out to Lexxus and Zhiyong for the encouraging words and support that definitely gave me the extra push to go a bit faster.
POST RACE
I crossed the FINISH line with an official net time of 1:11:1. Nice numbers for a finish timing right?  I was happy just to have completed the race. Yi Hsiu had just finished a few seconds ahead of me and she got her PB! Congrats gal! You did fantastic by keeping pace and pushing forwards! We collected our Finisher entitlements and headed to the floating platform to catch up with some other friends and enjoy the ongoing festivities.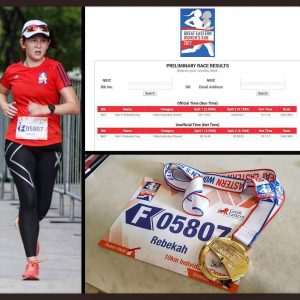 Race Village – The race village was situated on the Floating Platform.  There were lots of activity zones and stalls that were giving out freebies to the ladies after the race. My friends and I had queued to get our free breakfast sets, yoghurt, carbonated water etc.  Though the queues were snaking, they moved pretty fast. We initially wanted to stay and enjoy the festivities but it started to drizzle which quickly developed into a heavy downpour. We quickly left the Floating Platform to find for shelter at a nearby shopping centre.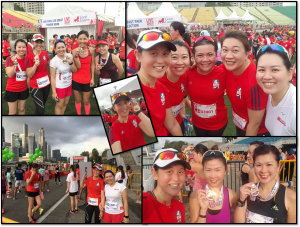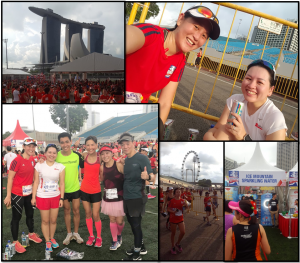 [Post Race Fun]
Overall it was a fun race! The organisers did superb from the organisation of the Pre-Race Events to the Post Race experience (Too bad it had to be ruined by the downpour). Knowing their strengths of the previous edition and the successful introduction of new elements to the event was a nice touch in keeping the event constantly refreshing and fun.  Two thumbs up to the organiser! I'm definitely looking forward to next year event where I'm aiming to do the 21KM Category! Until my next review! Let's all Live Great and stay healthy!
REVIEW OVERVIEW

Race Entry Pack Location
Race Pack Contents
Race Site
Race Route
Hydration Points
Distance Markers
Finisher Entitlements
Overall Race Experience

SUMMARY